Something Blue: From Sapphire to Turquoise
When it comes to jewellery, blue is an eye-catching, universally flattering and infinitely wearable option. Here is our guide to the best, brightest blues to look out for in antique and vintage jewellery.
There's something about the colour blue. It is gloriously evocative at all ends of the spectrum. Deep, velvety blues carry undertones of aristocracy and sovereignty, romance and eternity. Clear, pale blues are clean, pure and ethereal. All are eye-catching and universally flattering.
To make your hunt for the most vibrant and exciting shades of blue easier, we bring you our guide to the finest blue materials that antique and vintage jewellery have to offer: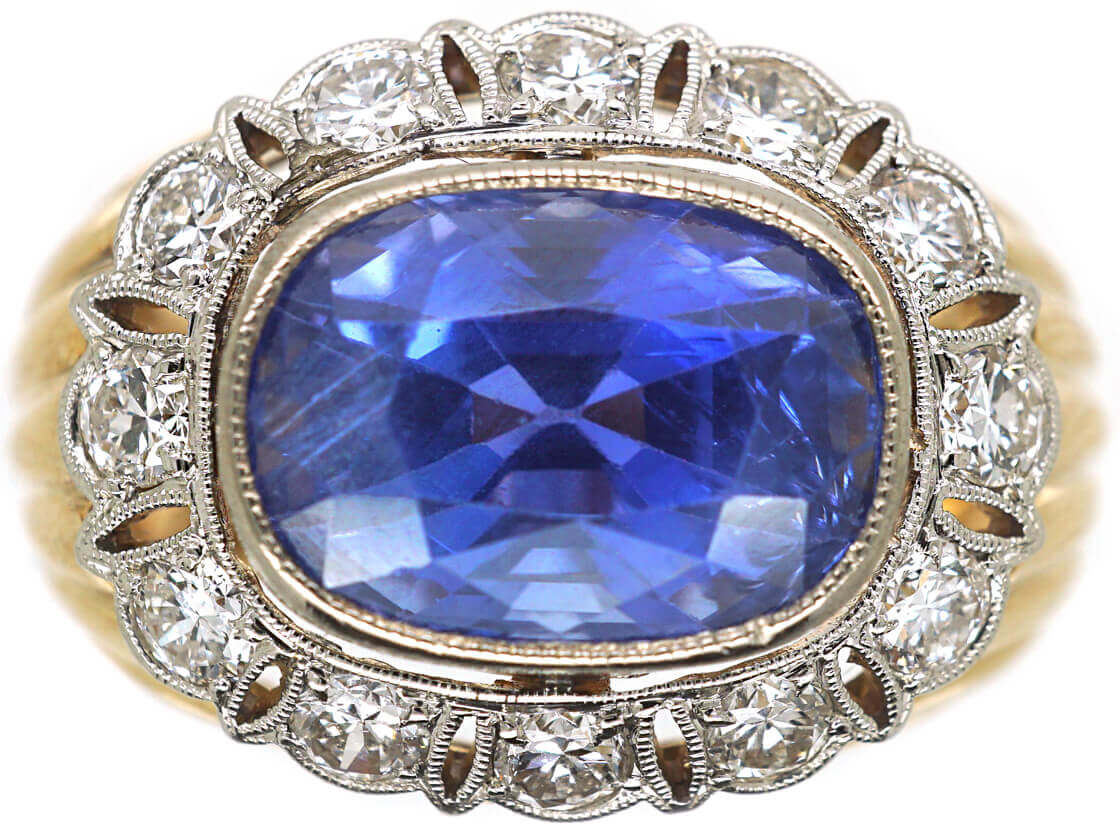 Sapphire
We'll start with the bluest of the blue. Brilliant, luxurious and intense at the finer end of the scale, sapphires are amongst the world's most desirable gemstones. They are also durable – measuring an impressive 9 on the Mohs scale – which means sapphires are long lasting and a really good investment. (Read more about antique sapphires here.)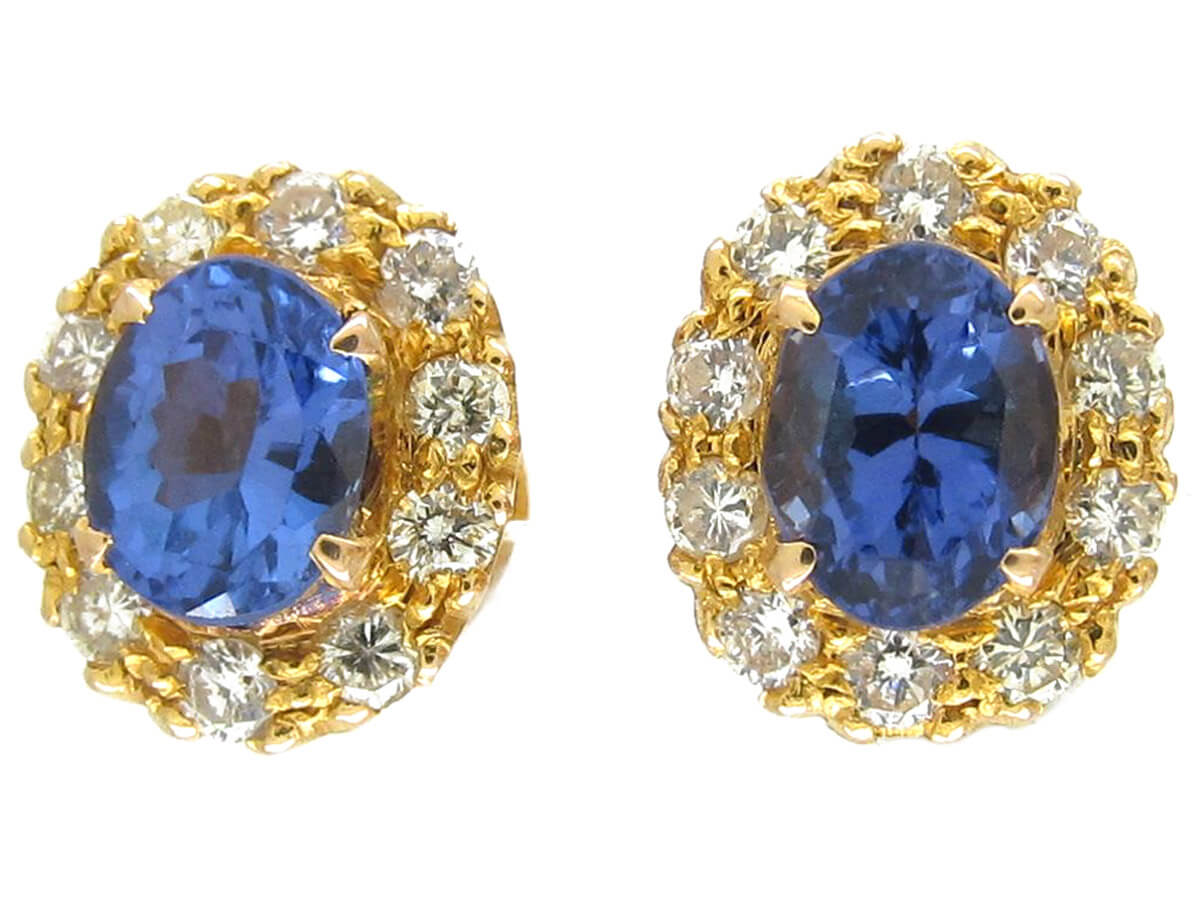 Tanzanite
Exclusively mined in Tanzania and only discovered last century, tanzanite was launched to the world by Tiffany & Co in the late 1960s and was an instant hit. A fine quality tanzanite stone tends to be a stunningly vivid, violet-blue colour. Its vibrancy is eye-catching and, while softer than sapphire, tanzanite is an extremely beautiful gemstone.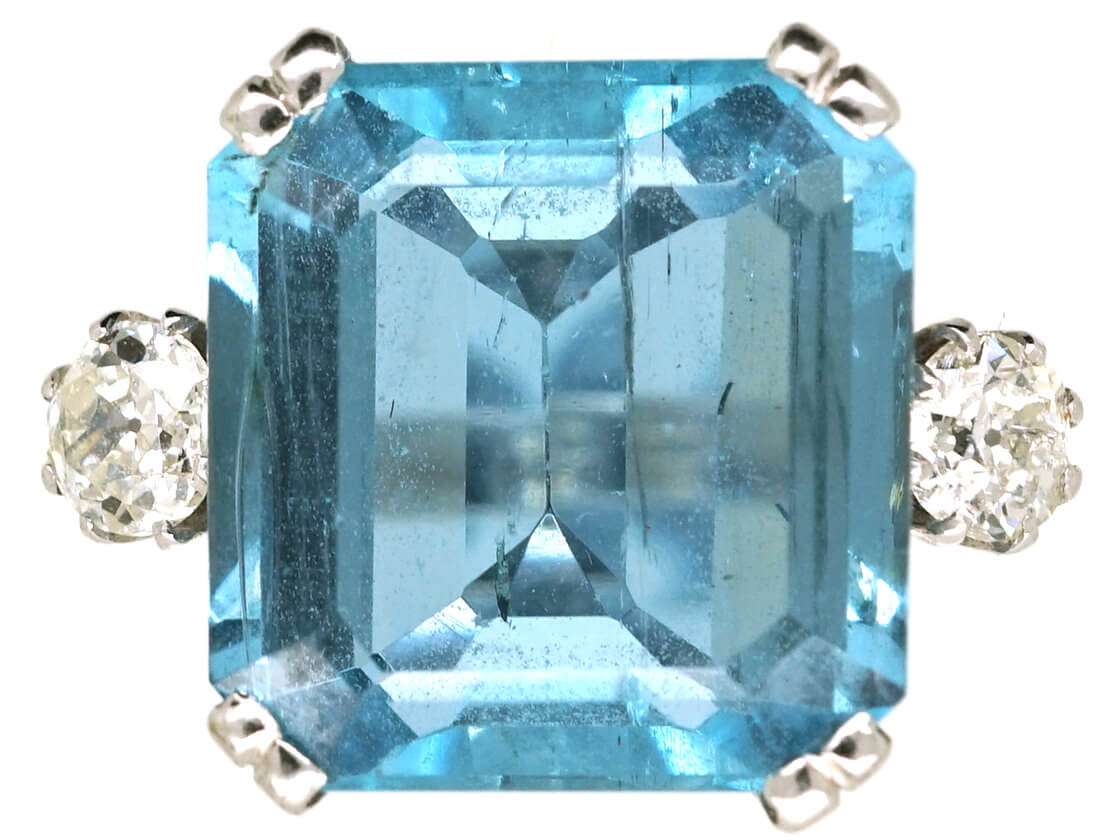 Aquamarine
Named after the sea, fine aquamarines are fresh, eye-clean and the same clear, pale greenish blue as the shallows of the Indian ocean. They are mined high up in Pakistan's Karakoram Mountains. Its fresh, clear beauty is as sympathetic to pale skin as it is spectacular against darker skin.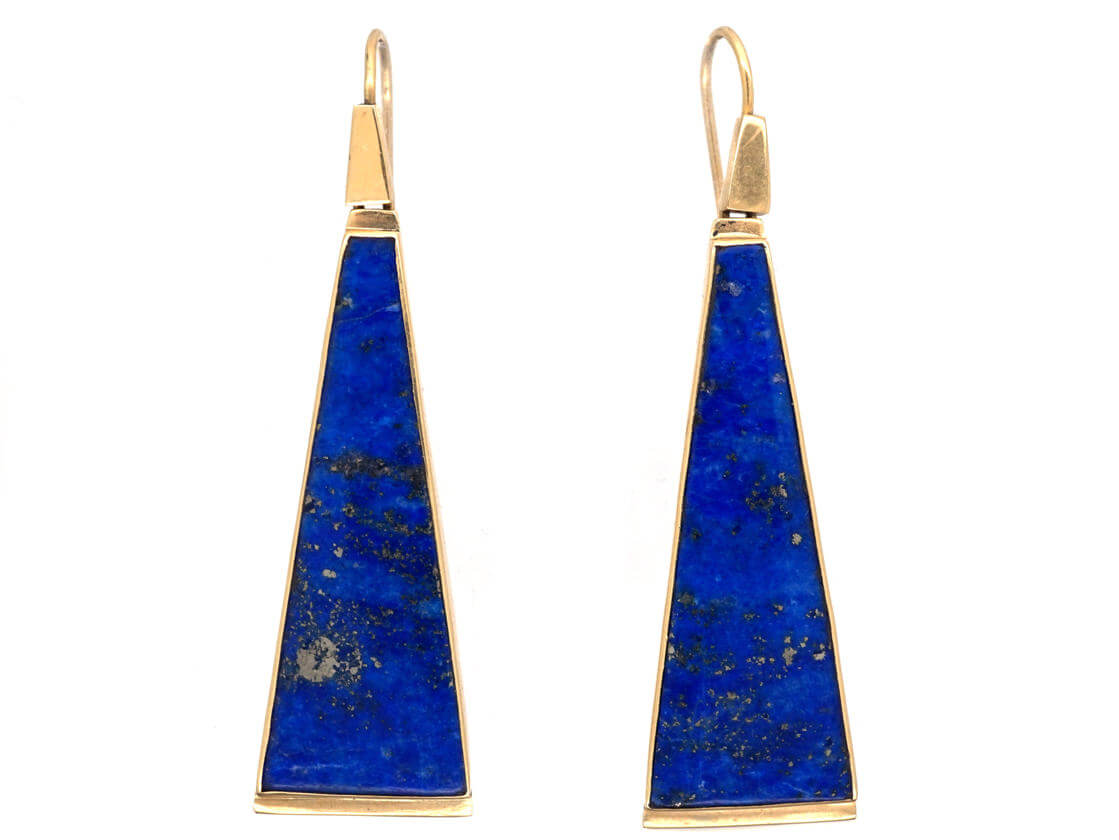 Lapis Lazuli
This beautiful, bright royal blue stone has been revered for its beauty and sculpt-ability for over 6000 years. Its vivid colour, often flecked with gold-coloured pyrite, is extremely attractive and lapis lazuli is an affordable option for anybody in search of a strong, rich blue. Such is the vibrancy of its colour that Renaissance painters used lapis to create "ultramarine" blue, an expensive pigment prized for its bright and stable colour.
Turquoise
Bright blue and exotic, this ancient gemstone is loved around the globe and held particular significance in the jewellery of Mesoamerica, China and Ancient Egypt. Its vibrant Azure, Robin's Egg and (at its finest) Persian blues are at once striking and extremely wearable. Turquoise is an affordable, fun way to bring blue into your jewellery.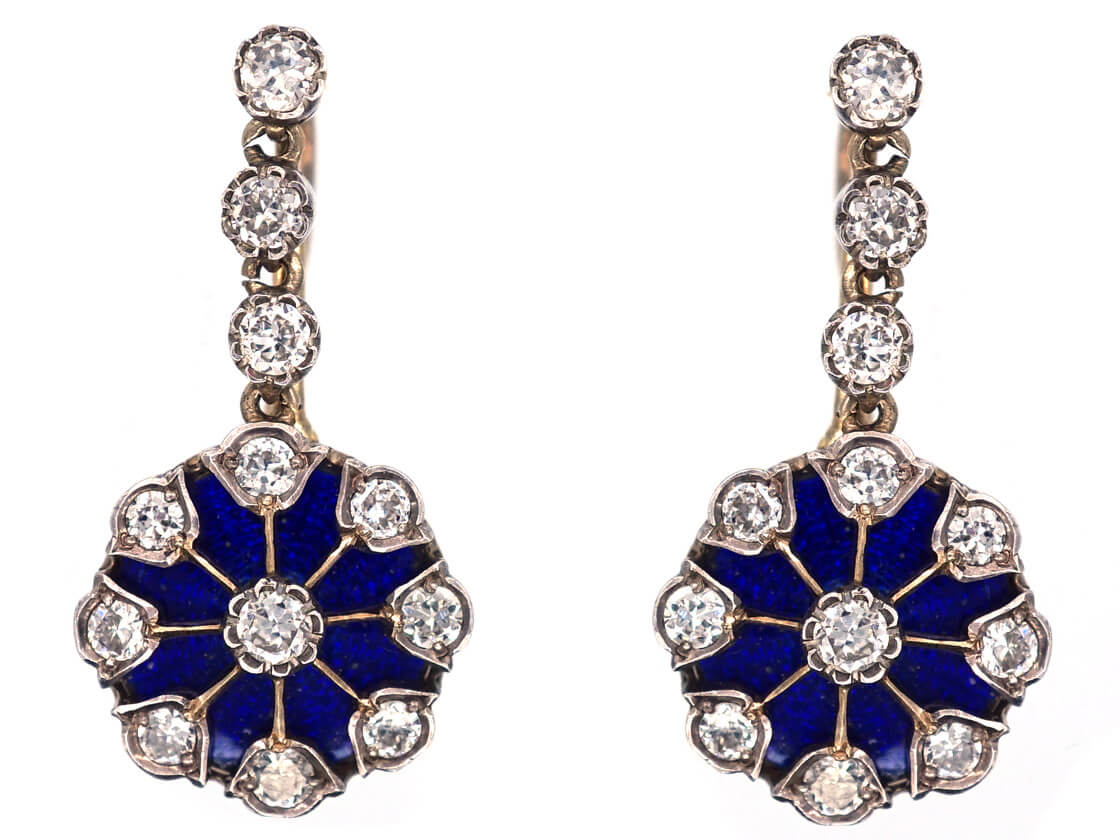 Blue Enamel
While not a gemstone, enamel has been used throughout the ages to decorate jewellery with powerful, glossy colours. The techniques can be used to flamboyant effect, producing vivid, long-lasting colour. Blue enamel has been popular with jewellers throughout history and is a great material to look out for in antique and vintage jewellery, for an affordable pop of colour.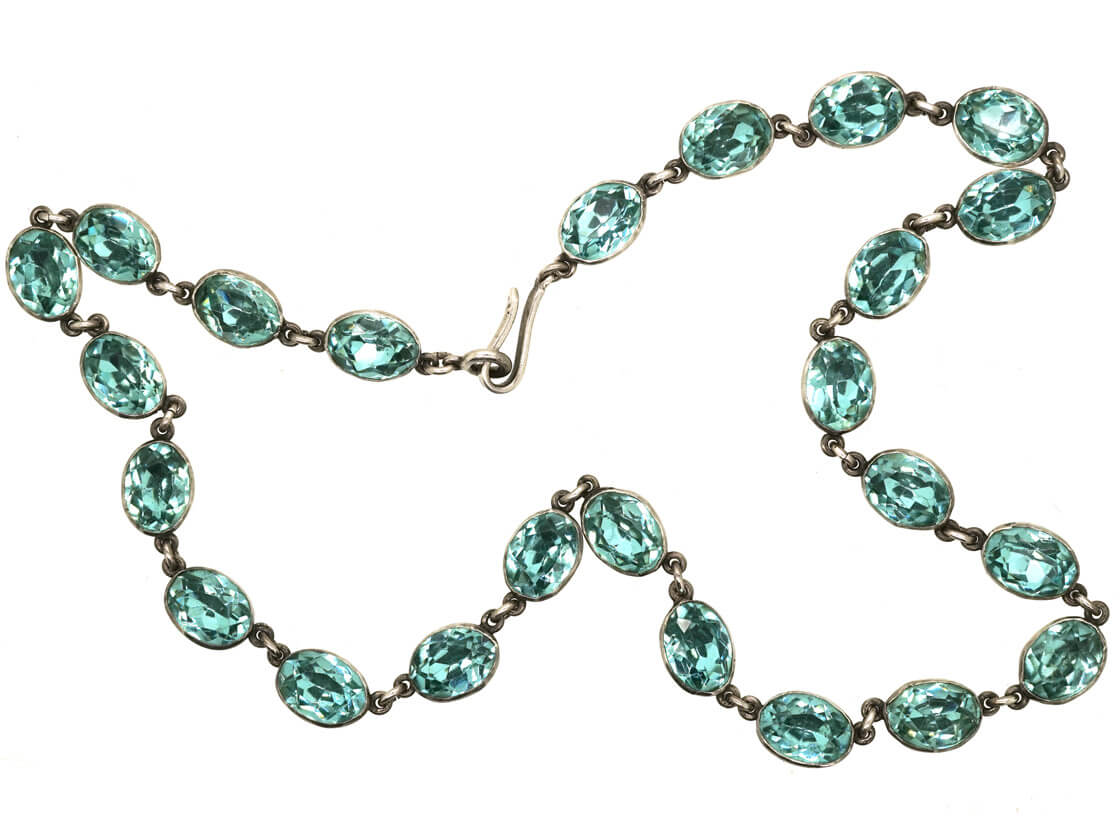 Blue Paste
Paste jewellery uses glass to very effectively simulate the fire and brilliance of real gemstones and is not to be shunned. The production of paste is an ancient skill and there are some magnificent, vibrant examples of beautiful paste antique and vintage jewellery, valuable and collectable in their own right.
Our Pick of Blue