The 18 Most Jaw-Dropping US Celebrity Engagement Rings
It is a truth universally acknowledged that an American celebrity in possession of a good fortune, must be in want of a showstopper engagement ring. The following stars from across the pond are no exception and certainly do not do things in half measures. On last count, they have been engaged a grand total of 31 times and with each passing love story the rings only seem to get bigger and better! Without further ado, we present to you the crème de la crème of American celebrity engagement rings.
1. Jennifer Lopez
J.Lo famously sung 'My love don't cost a thing'. Well, if her FIVE engagement rings to date are anything to go by, then we call BS. Take for example, the most recent stonker from baseball legend Alex Rodriquez – a giant emerald cut diamond ring measuring 10-15 carats, flanked by baguette set shoulders.
However, this isn't even Jennifer's most famous engagement ring. This accolade belongs to the Harry Winston pink diamond three stone that she received from ex-fiancé Ben Affleck. Rumour has it the value of pink diamonds increased dramatically with the sale of this splendid ring. Sadly Bennifer never made it down the aisle (they have since rekindled, so watch this space). Jennifer's next engagement ring – from salsa crooner Marc Anthony – was a staggering 8.50 carat blue diamond ring. It is safe to say that J.Lo has one of the most magnificent engagement ring collections that we have seen! No wonder she never settles…

2. Mariah Carey
The most expensive celebrity ring ever? Look no further than Mariah Carey's 35 carat diamond ring, bought by billionaire ex, James Packer. The enormous emerald cut stone cost Packer a cool $10 million – a mere drop in the ocean! Mariah was so obsessed with the ring that she continued to wear it for over a year after their breakup. Eventually, in true diva style, she sold it to a Los Angeles jeweller at a $7.9 million loss. You go girl!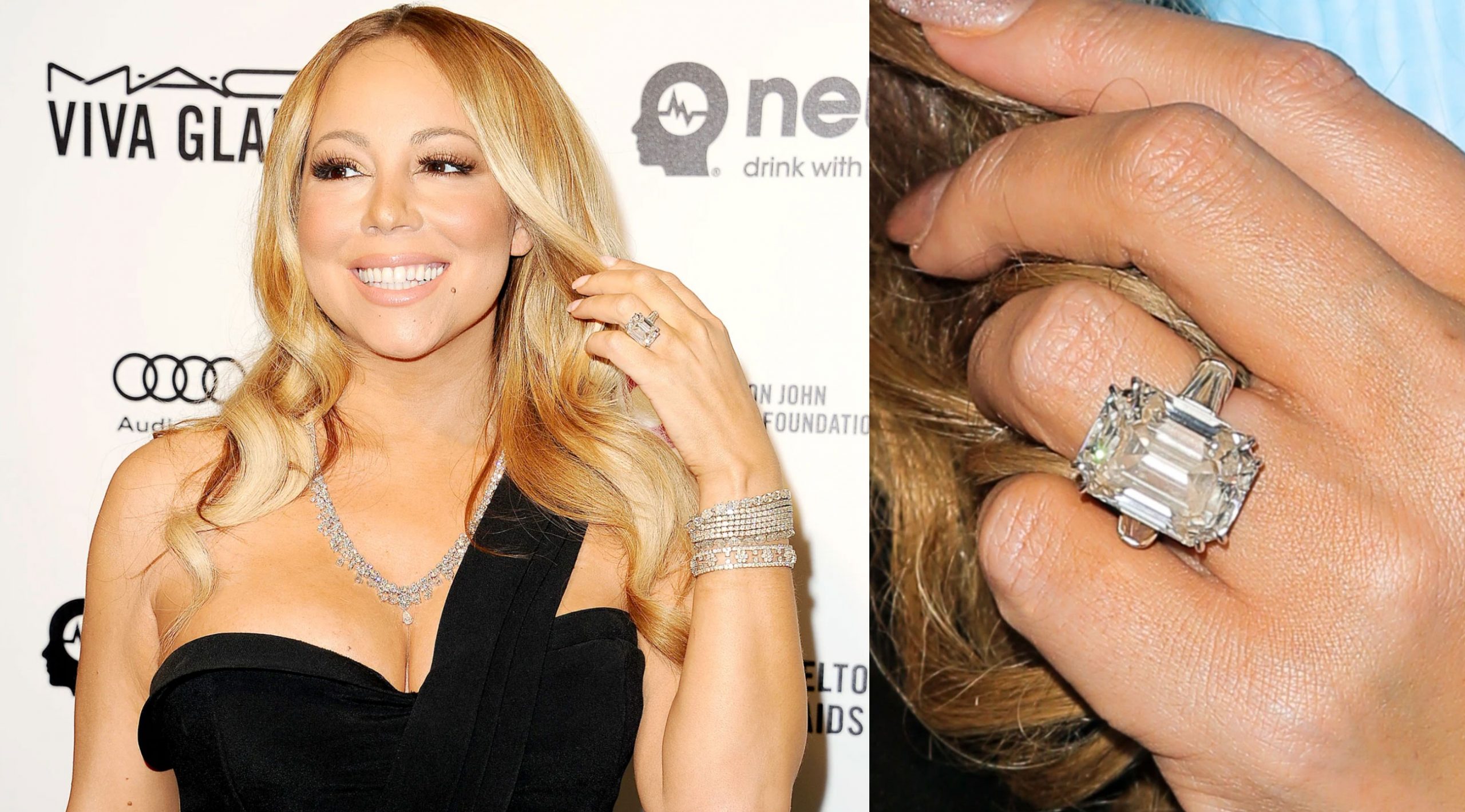 3. Arianne Grande
Arianna Grande's engagement ring from husband Dalton Gomez is certainly one of the more unusual ones on this list. The quirky piece features an oval shaped diamond set at an angle with an adjacent beautiful white pearl. Arianna's fans have speculated that this pearl was from her grandfather's tie pin which adds a lovely touch of sentimentality. The finished article reminds us of the pearl and diamond crossover rings that we were so popular in Edwardian and Art Nouveau jewellery.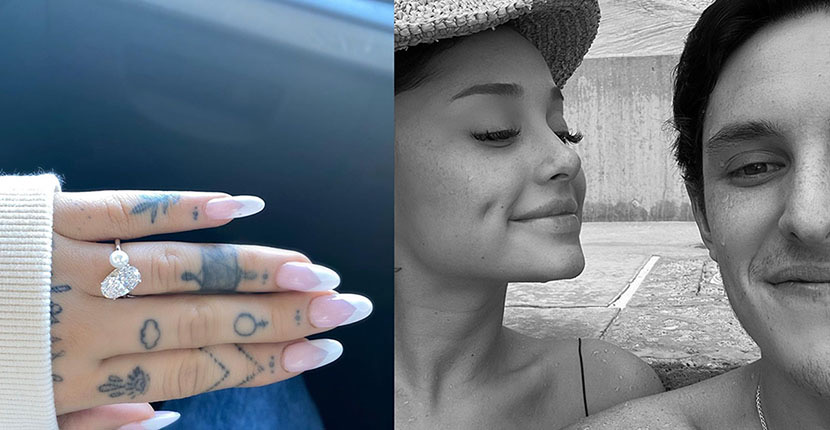 4. Lady Gaga
Lady Gaga's most recent engagement ring is an eye-catching 6-7 carat pink sapphire, surrounded by a 3-4 carat diamond cluster. Like Gaga, it's a showstopper you simply cannot keep your eyes off. Alas, her fiancé Christian Carino quite literally couldn't keep his eyes off Gaga and she had to call the whole thing off due to his jealousy issues. If it's any consolation, we're jealous of the ring.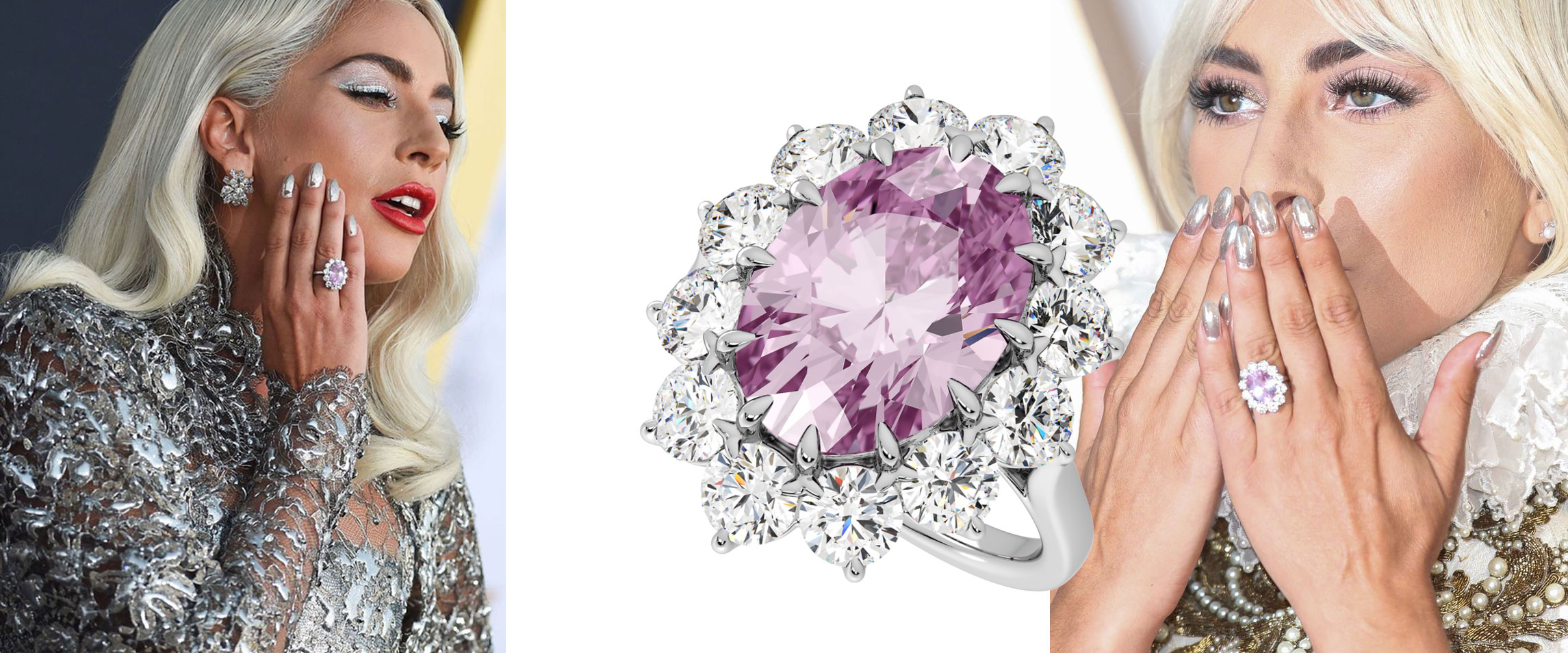 5. Demi Lovato
Like a lot of people on this list, Demi Lovato's engagement to Max Ehrich unfortunately did not stand the test of time. However their engagement ring is still very much in our thoughts! With a total weight of 9.50-11.50 carats the emerald cut stone is like something out of a dream! Unlike Mariah, Demi reportedly returned the ring to her ex-fiancé and is moving on to better (but possibly not brighter) things!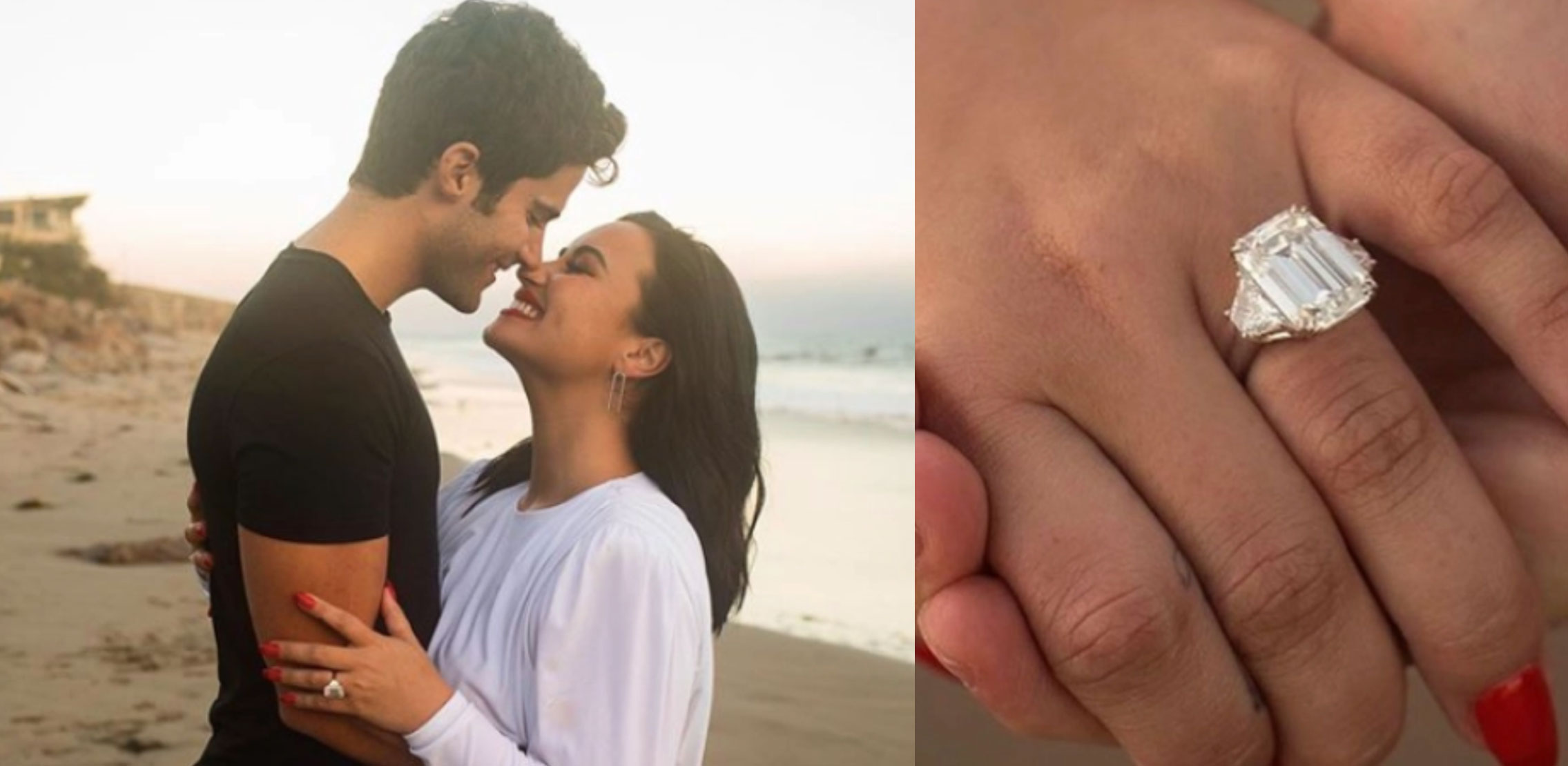 6. Katy Perry
Katy Perry's engagement ring from reformed swordsman Orlando Bloom draws a great deal of inspiration from the past. The stunningly traditional ruby cluster features beautiful millegrain detailing -a technique where beads of metal are raised along the edge of a setting in order to add texture and enhance sparkle. This stunning effect was popular with rings from the Edwardian era. The central ruby is reported to be 2.50 carats and is surrounded with a further 2.50 carats of diamonds. A timeless piece, and we're pleased to report the marriage is still going strong!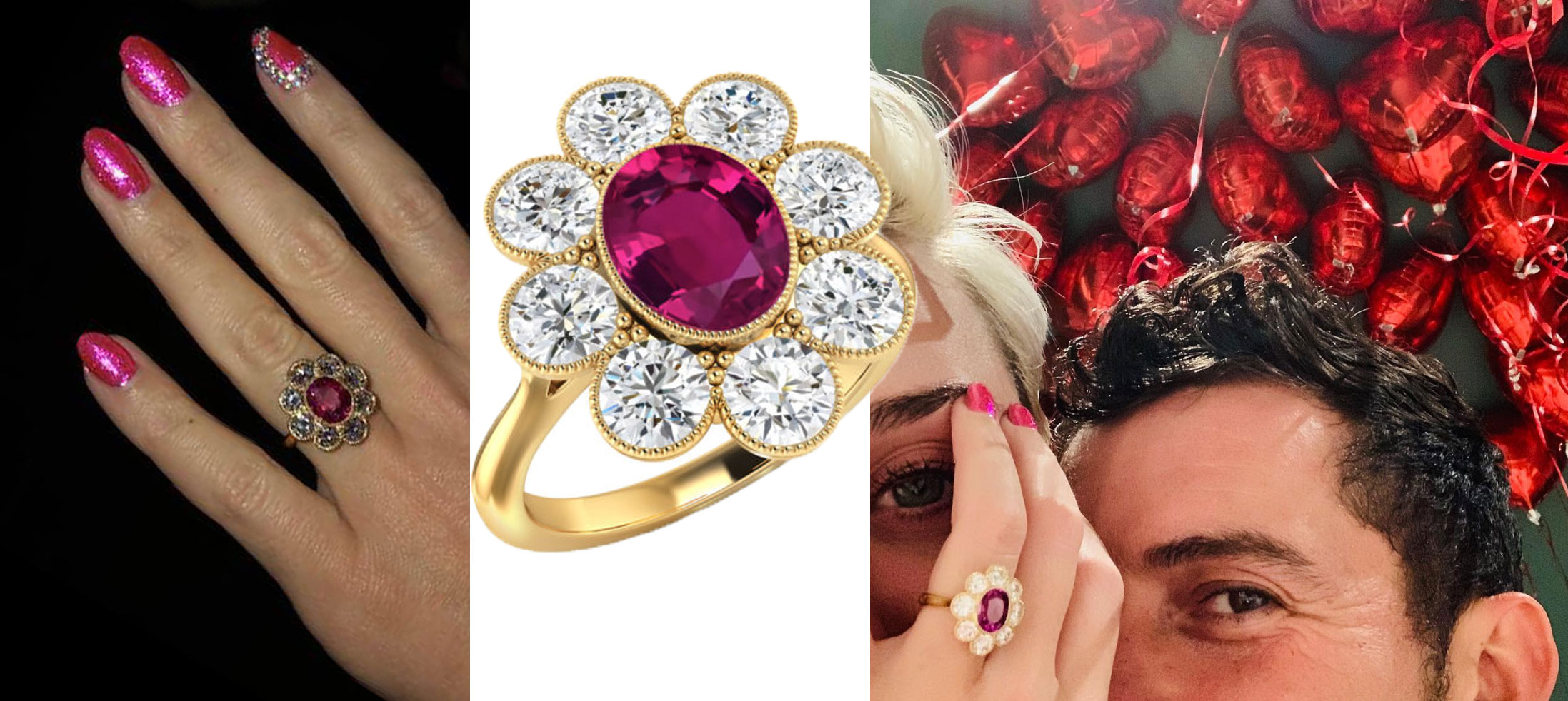 7. Jennifer Aniston
Unlucky in love Jen's two high-profile engagements have both come with high-profile rings! First up, Brad Pitt, who proposed with a beautiful single stone twist ring, reminiscent of rings from the Art Nouveau era. Then along came Justin Theroux with a stunning rose cut diamond ring. Rose cut stones were popular in the Georgian period as they sparkled elegantly in candlelight! We're sure Jennifer has electricity in her LA mansion, but we still love that both of her engagement rings have a link to a simpler past! Sadly, so have both men.

8. Emma Stone
Emma Stone's beautiful pearl engagement ring features a cultured pearl and 0.37 carats of diamonds. Designed in Japan by Yoshinobu Kataoka, it is a lovely take on an antique pearl ring. And unlike the other rings on this list, it was a snip at just $4,780! Bravo to Emma's fiancé, Dave McCary, for choosing such an understated and original ring.

9. Amal Clooney
Gorgeous George unsurprisingly stuck to the classics when choosing an engagement ring for his elegant girlfriend, barrister Amal Alamuddin. Her Art Deco inspired emerald cut platinum engagement ring weighs in at a hefty 7 carats and is the epitome of refined grace. No wonder Amal has such a smile on her face!
10. Paris Hilton
The hotel heiress and early 2000s phenom Paris Hilton was once proposed to with a stupendous 20-carat diamond engagement ring… which she promptly lost in a nightclub. For her previous engagement, Paris received an even larger 24 carat rock. She put this one to better use this time, auctioning it off to raise money for victims of hurricane Katrina. Fast forward to today and her current fiancé recently proposed with a beautiful emerald cut diamond ring – a very popular style amongst US celebs!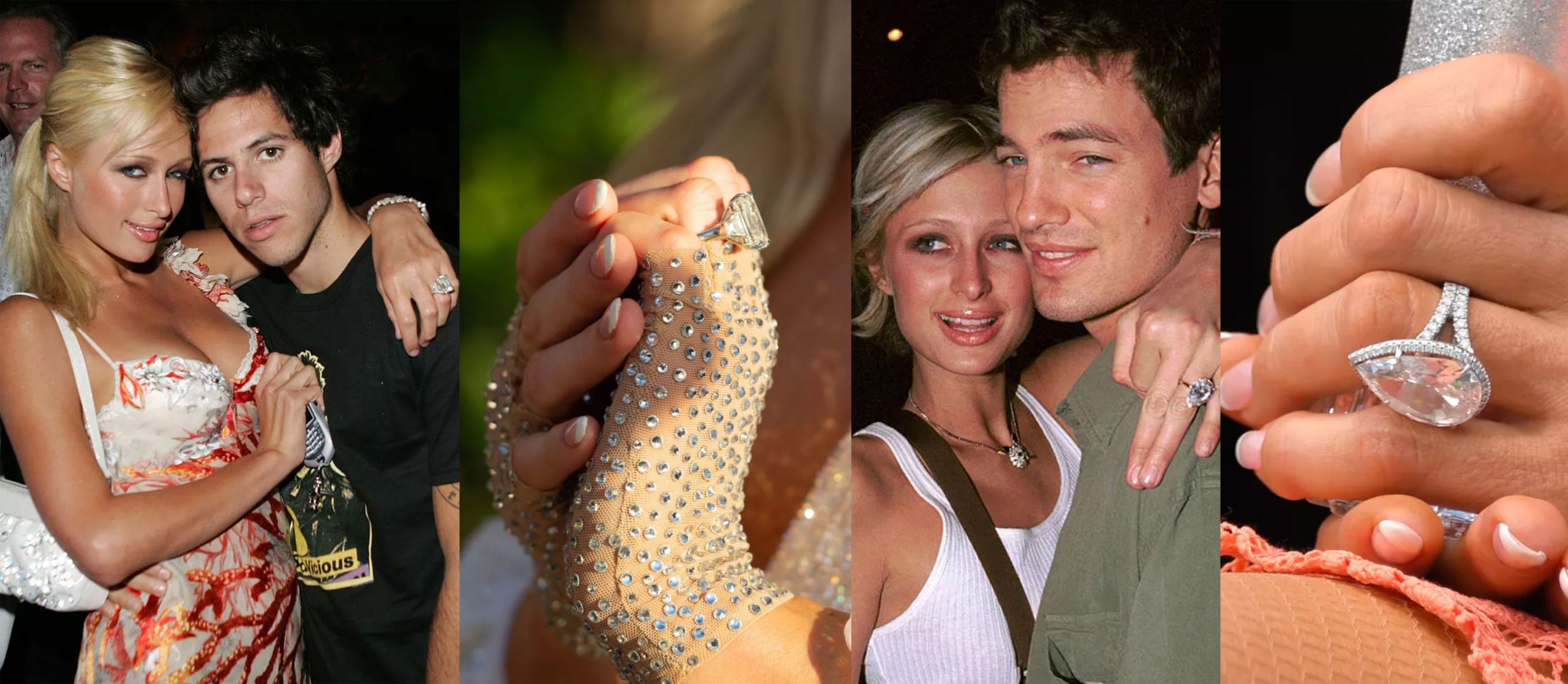 11. Emily Ratajkowski
Emily's beau, Sebastian Bear-McClard, designed a truly original ring to mark their engagement. Featuring two contrasting and massive diamonds – one a princess cut and the other a pear shape – the Blurred Lines beauty's engagement ring provides a genuinely stunning effect. Opposites really do attract!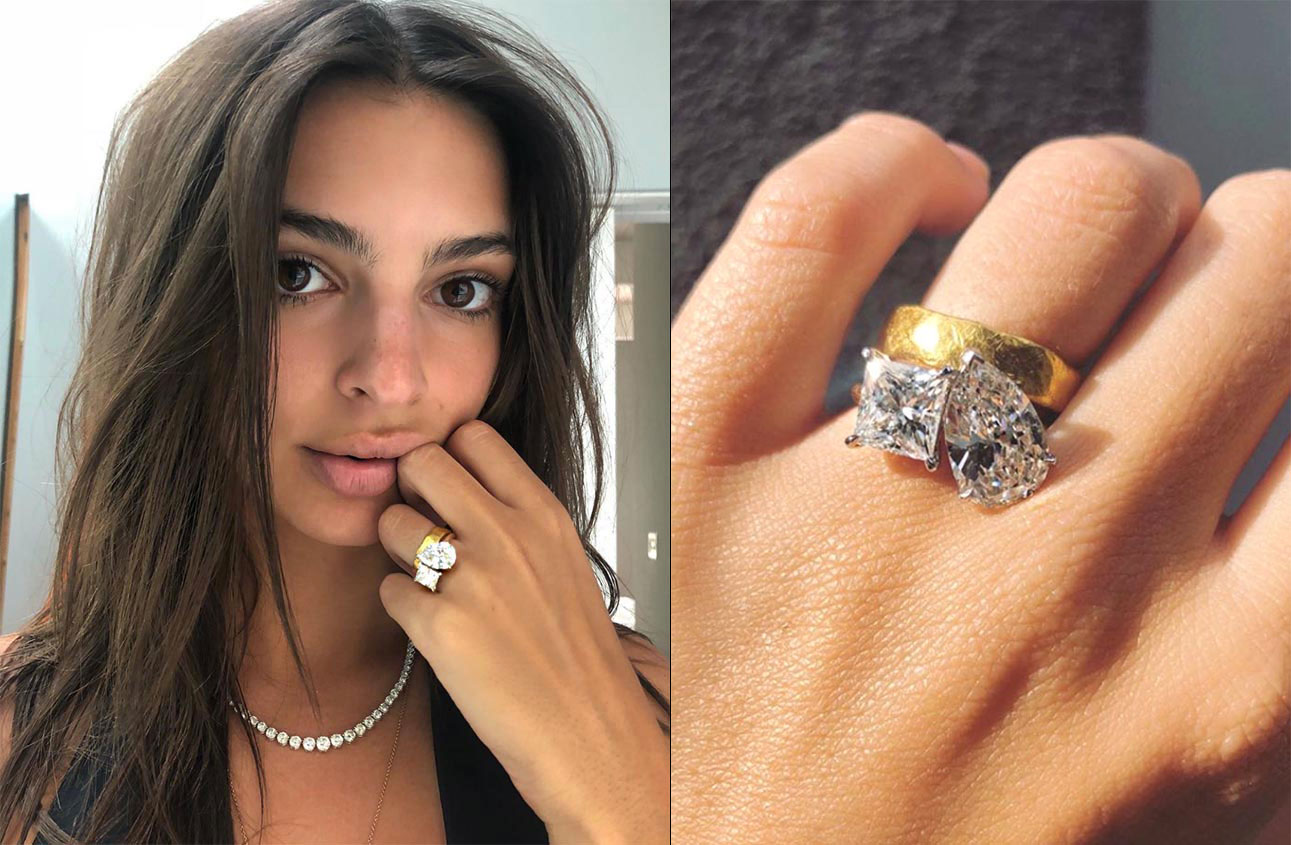 12. Kim Kardashian
Kim's Kardashian's first engagement ring contained a buxom 15 carat cushion cut stone, reported to be D flawless – AKA as flawless as it gets! Another even larger D flawless stone followed with her second engagement to self-styled Messiah, Kanye West. Sadly, both marriages were far from D flawless. Furthermore, Yeezy's engagement ring received so much publicity that it was later stolen in a terrifying robbery in Paris. Now a single gal, it's only a matter of time before we spot Kim rocking more mega rocks!

13. Blake Lively
Gossip Girl star Blake Lively's jaw-dropping pink diamond ring sure has attracted a lot of press! Ryan Reynolds worked with the celebrity jewellery designer Lorraine Schwartz to design this beauty. It features a 12 carat oval cut pink diamond set in rose gold with diamonds surrounding the shank. When asked if she had a hand in the design, Blake responded "no – I married a gentleman". No wonder the likeable couple are still going strong!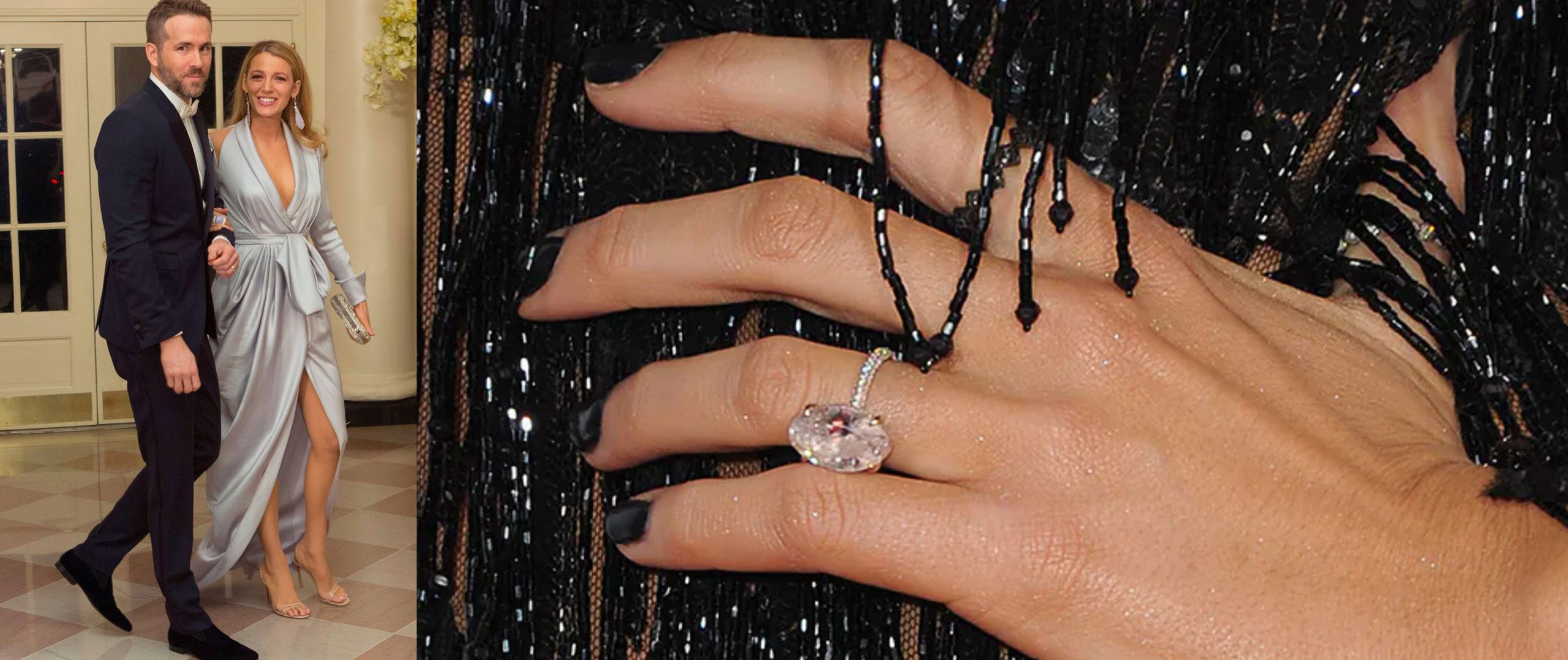 14. Hailey Bieber
Hailey Bieber's $500,000 engagement ring from iconic man-child, Justin Bieber, is a super sparkly oval cut diamond, weighing somewhere between 6-10 carats. It is in the form of a traditional solitaire ring with, you guessed it, an enormous stone! Eagle-eyed fans pointed out that Hailey once retweeted a post which read: "If my ring isn't as big as Blake Lively's, I don't want to get married." Well, JB definitely took this into consideration when choosing this ring.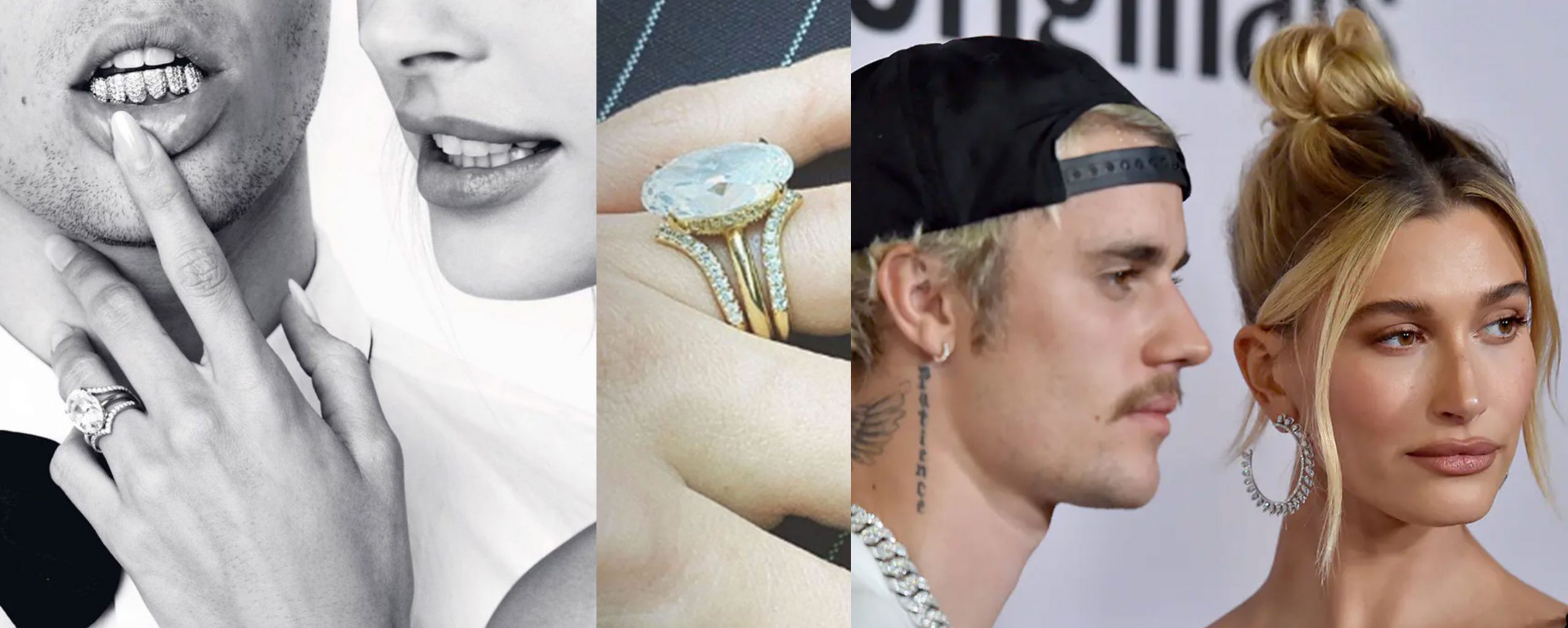 15. Khloe Kardashian
There has been no clear information suggesting whether or not Khloe and basketball player Tristan Thompson were ever actually engaged. But with this ring, who cares!? This 13 carat pear shaped stone has featured on Khloe's glittering Instagram feed quite a few times recently. Never mind if we have no real idea what it's purpose is… after all, we're all in a simulacrum.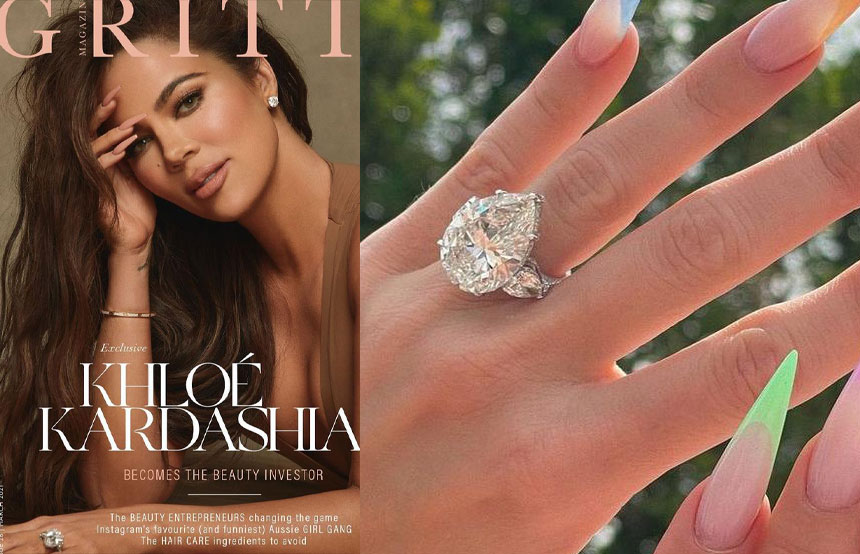 16. Scarlett Johansson
Scarlett Johansson's engagement ring is a fancy coloured, light yellow diamond that weighs a mammoth 11 carats! The magnificent pear shaped stone hovers over a black ceramic band, in what is a truly original and memorable effect. Incidentally, diamonds of a brown or yellow colour have been considered practically worthless in the past. However, the craze for coloured stones such as this one has seriously upped their price in recent years.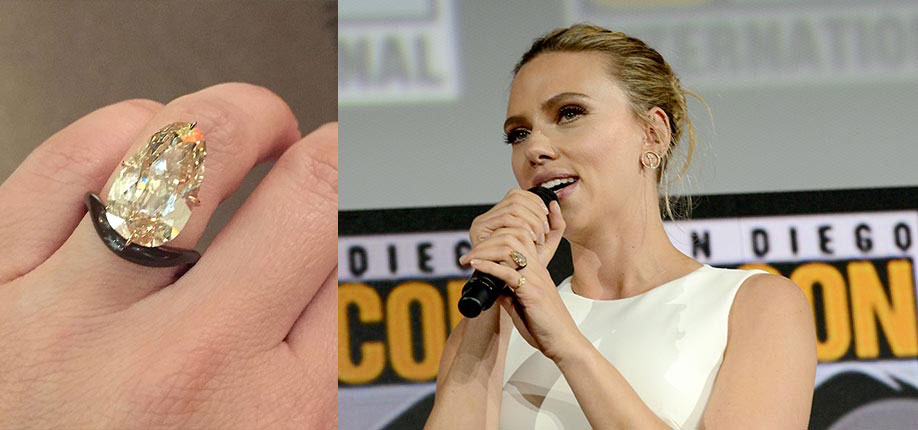 17. Cardi B
American rapper Offset proposed to the flamboyant Cardi B with this juicy 8 carat diamond ring. The pear shaped central stone is mounted in platinum and surrounded by further diamonds. In recent years it has become iconic amongst Cardi's 108m followers! Offset also gifted Cardi an unbelievable 100 carat 'Titanic' heart shaped diamond ring for her 27th birthday! Yup you heard it right – 100 CARATS. That's enough to sink a ship!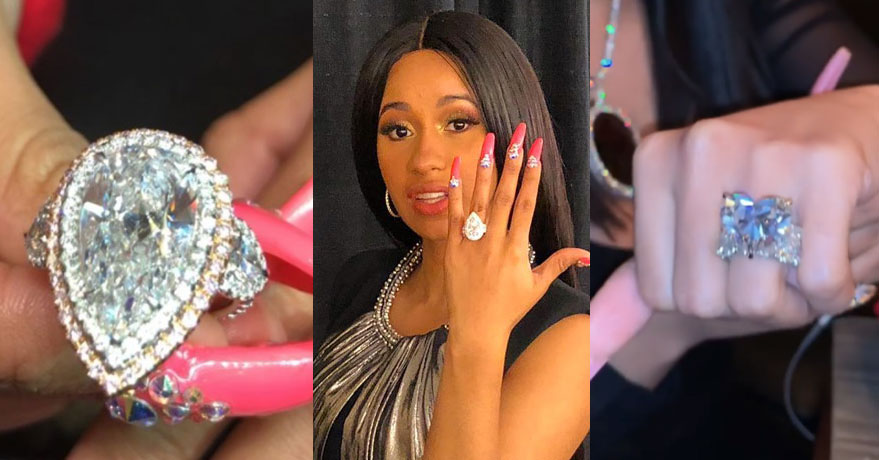 18. Gwen Stefani
Gwen's engagement ring from Blake Shelton is a beautiful square princess cut diamond. Estimated to be around 6-8 carats, the ring is set in platinum and features two side diamonds. It has a geometric, Art Deco feel, which perfectly fits Gwen's modern and punky look. Two months on from her wedding, the pop starlet joked "they let me back on stage after 18 months of no shows and 8 weeks of eating cake!". You go girl!