The 14 Most Iconic Royal Engagement Rings
1. The Queen
Queen Elizabeth's engagement ring is a platinum ring set with 11 diamonds, a 3 carat round solitaire and 5 smaller stones set on each shoulder. The stones are especially significant as they were taken from a tiara owned by Prince Philip's mother, Princess Alice of Battenberg. The Duke of Edinburgh also used stones from his mother's tiara to design a bracelet for his soon-to-be wife. Her Maj went on to wear this for numerous events and portraits.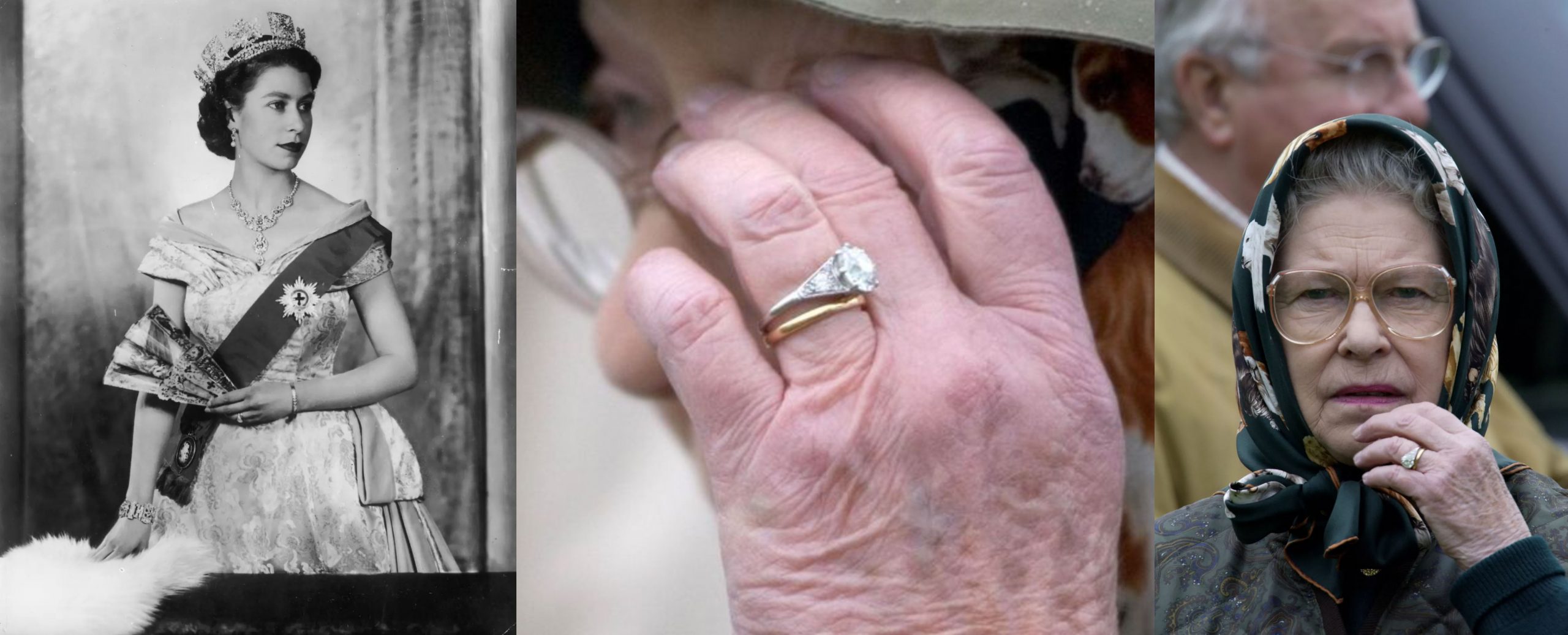 2. The Queen Mother
It took many proposals for Elizabeth Bowes-Lyons to accept the Duke of York's hand in marriage. Elizabeth eventually caved in to a stunning Kashmir sapphire with diamonds either side. Kashmir sapphires are the most rare and highly prized of all sapphires. However, this didn't stop the Queen Mother from later exchanging her engagement ring for an equally impressive pearl and diamond cluster.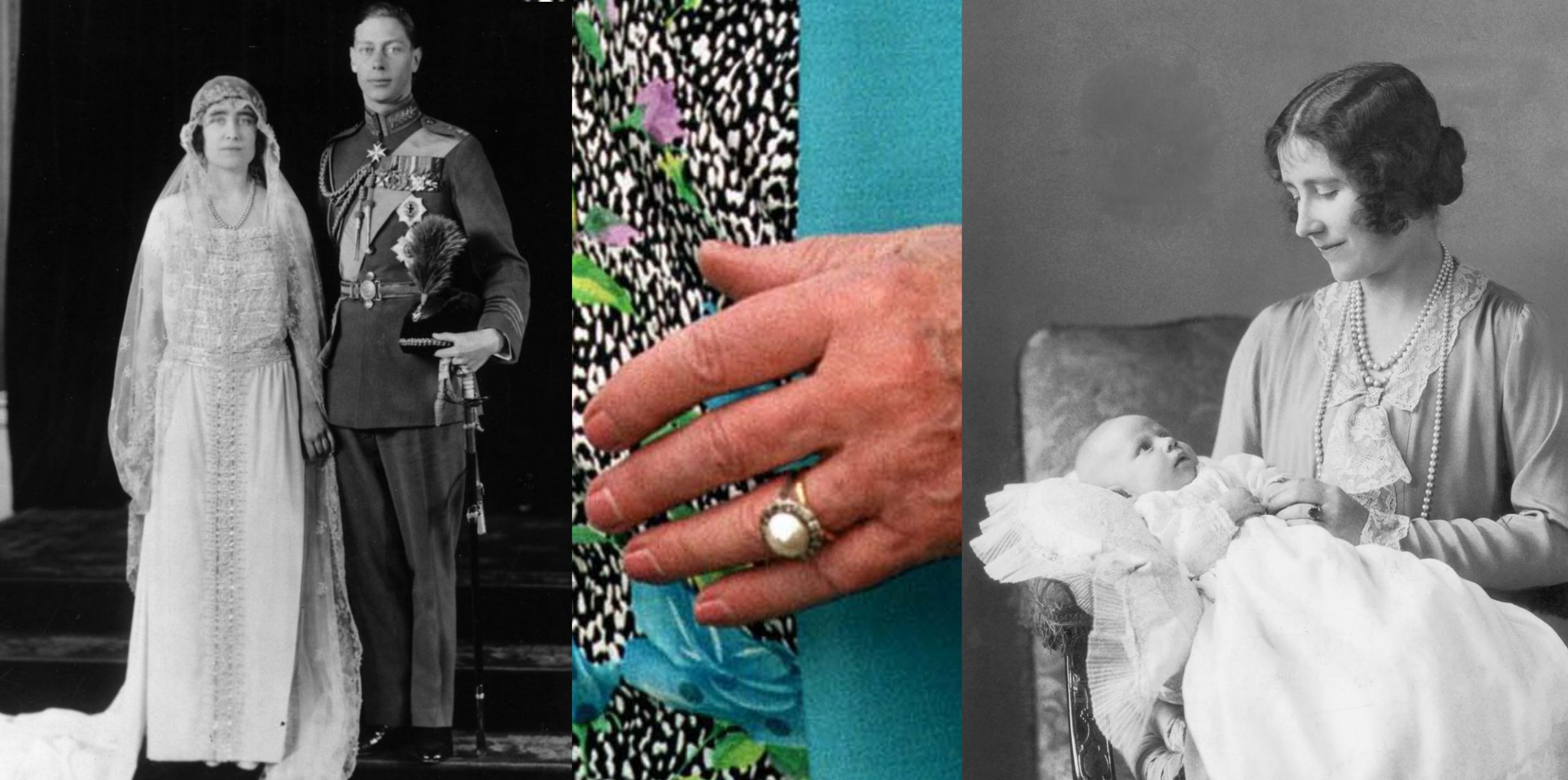 3. Princess Margaret
Sadly there are not many photographs of Princess Margaret's engagement ring. Antony Armstrong-Jones wanted the ruby and diamond cluster ring to resemble a rose, which was Margaret's middle name. A beautifully romantic gesture.

4. Princess Anne
Dashing Captain Mark Phillips proposed to Princess Anne with a classic sapphire three stone ring. The Princess received another sapphire ring from her second husband, Timothy Laurence. The ring – a cabochon cut sapphire with three diamonds on each side – is a little less traditional but still splendid!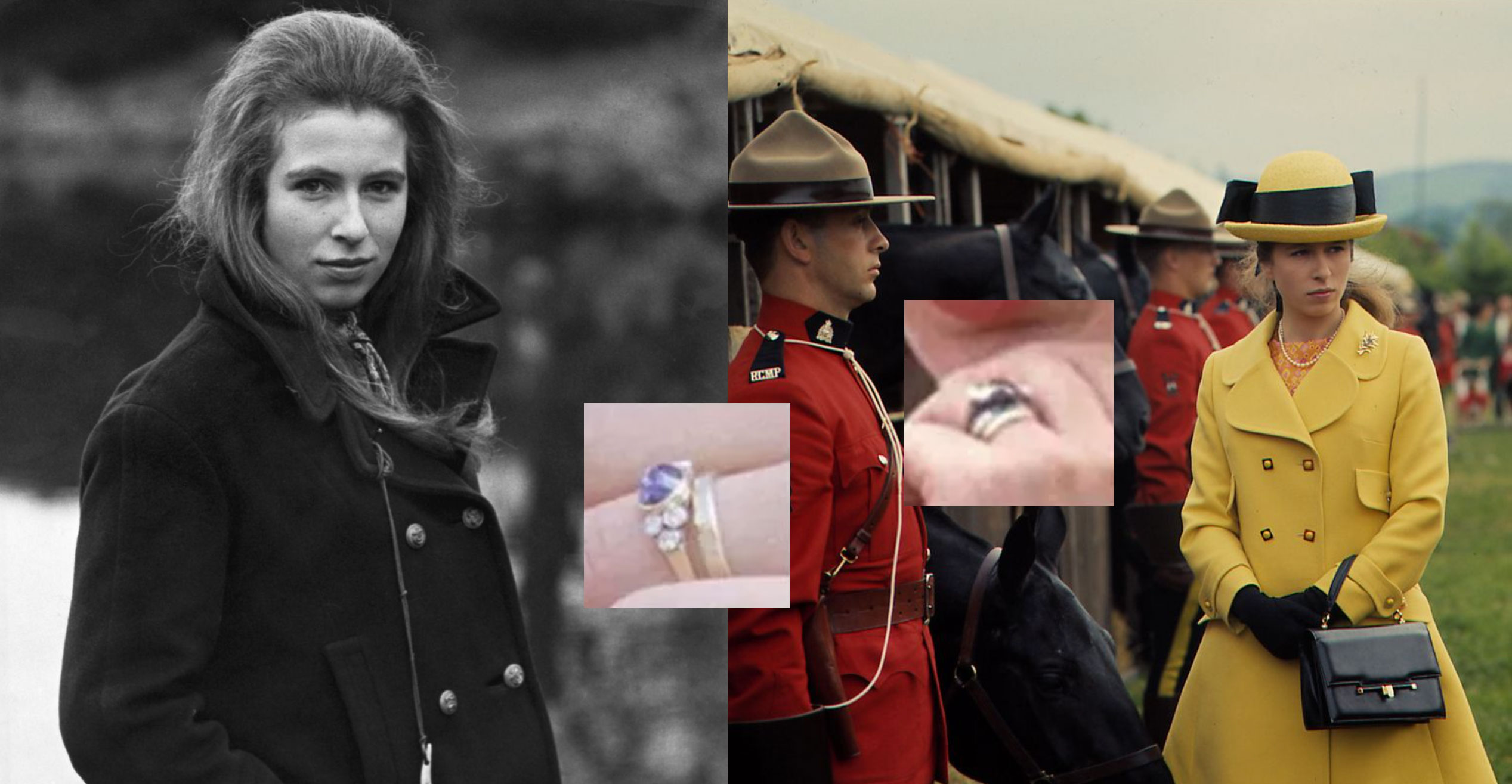 5. Princess Diana
In 1981 Prince Charles presented 20 year old Diana Spencer with a selection of rings from Garrard and asked her to choose her favourite. Diana opted for a 12 carat Ceylon sapphire stone surrounded by diamonds and set in white gold. The ring was featured in Garrard's catalogue at the time, so anyone with £60,000 could have purchased the very same ring for themselves! This led to some criticism, however Diana loved the ring so much that she wore it even after her divorce. This iconic ring led to a trend in coloured stones, so much so that sapphire clusters are now one of the most popular options for engagement rings!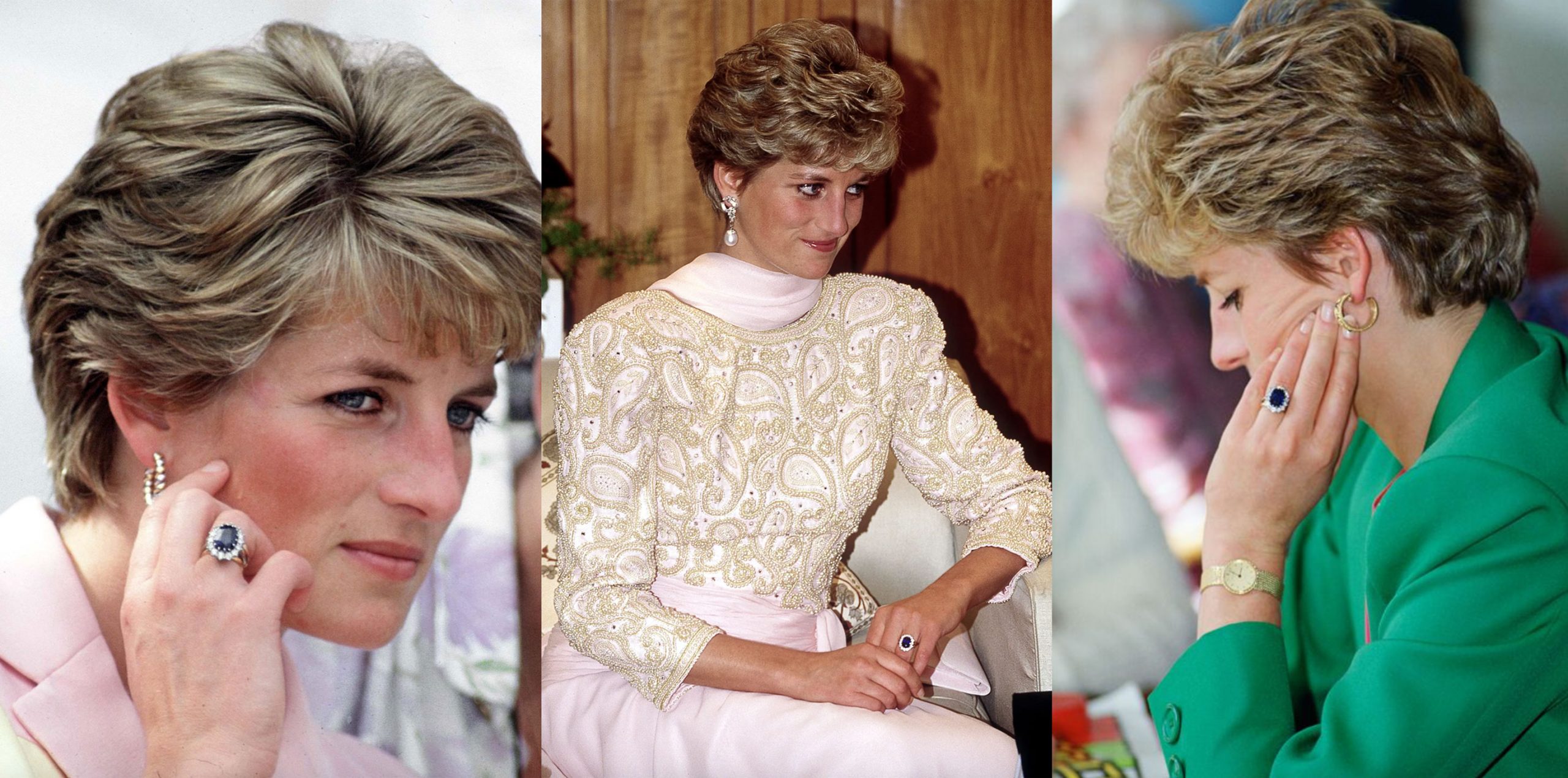 6. Camilla Parker-Bowles
The Duchess of Cornwall's engagement ring has an endearing provenance. Prince Charles chose a ring from the Royal Collection that had belonged to his beloved grandmother, the Queen Mother. This classic Art Deco ring features a five carat emerald cut diamond at its centre with diamond baguettes on the sides. An absolute timeless classic!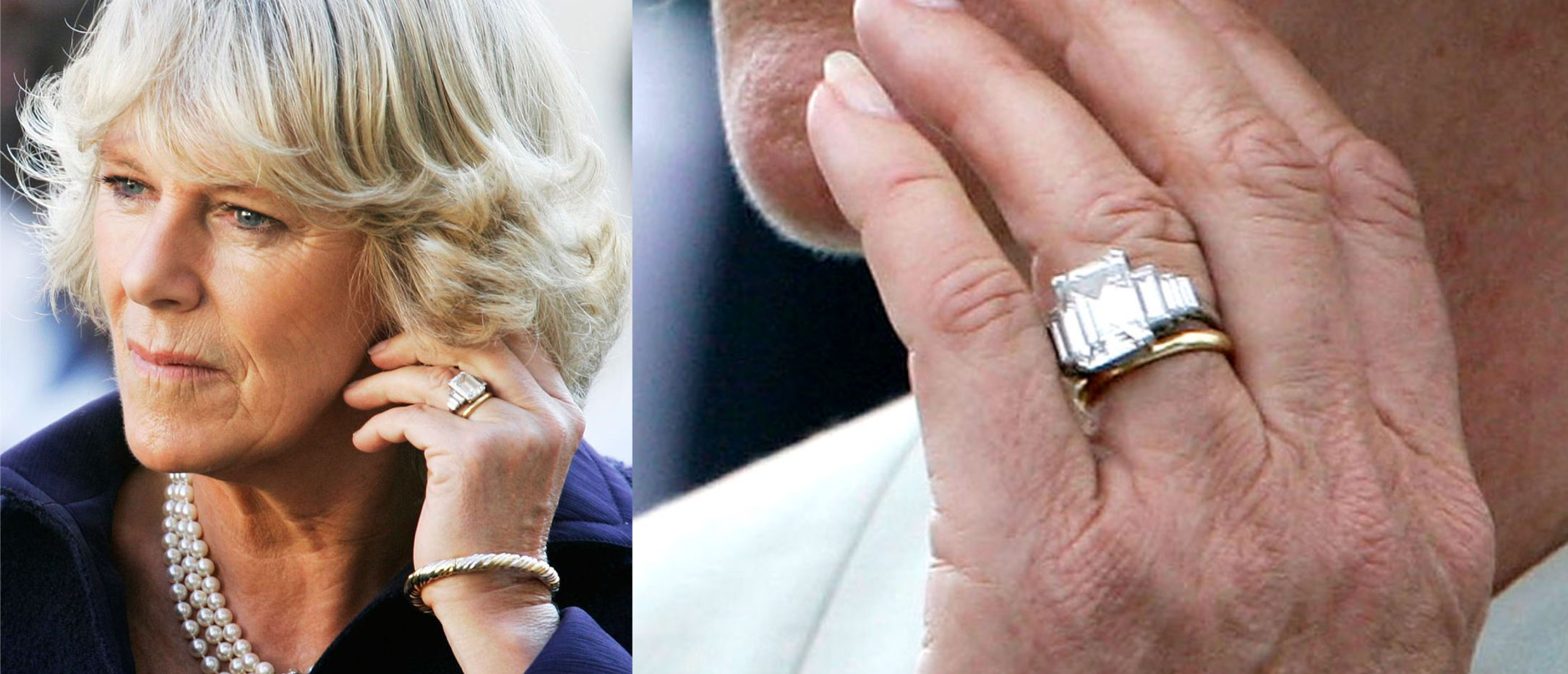 7. Kate Middleton
Following her untimely death in 1997, Princes William and Harry chose two of Princess Diana's most personal possessions to keep. William opted for his mother's gold Cartier watch and Harry picked her iconic sapphire engagement ring. However, once Harry saw William's love for Kate, he gallantly offered the ring to his brother in exchange for the watch. William went on to propose to Kate Middleton with the 12 carat Ceylon sapphire engagement ring. It goes without saying that this ring is one of the most famous engagement rings of all time.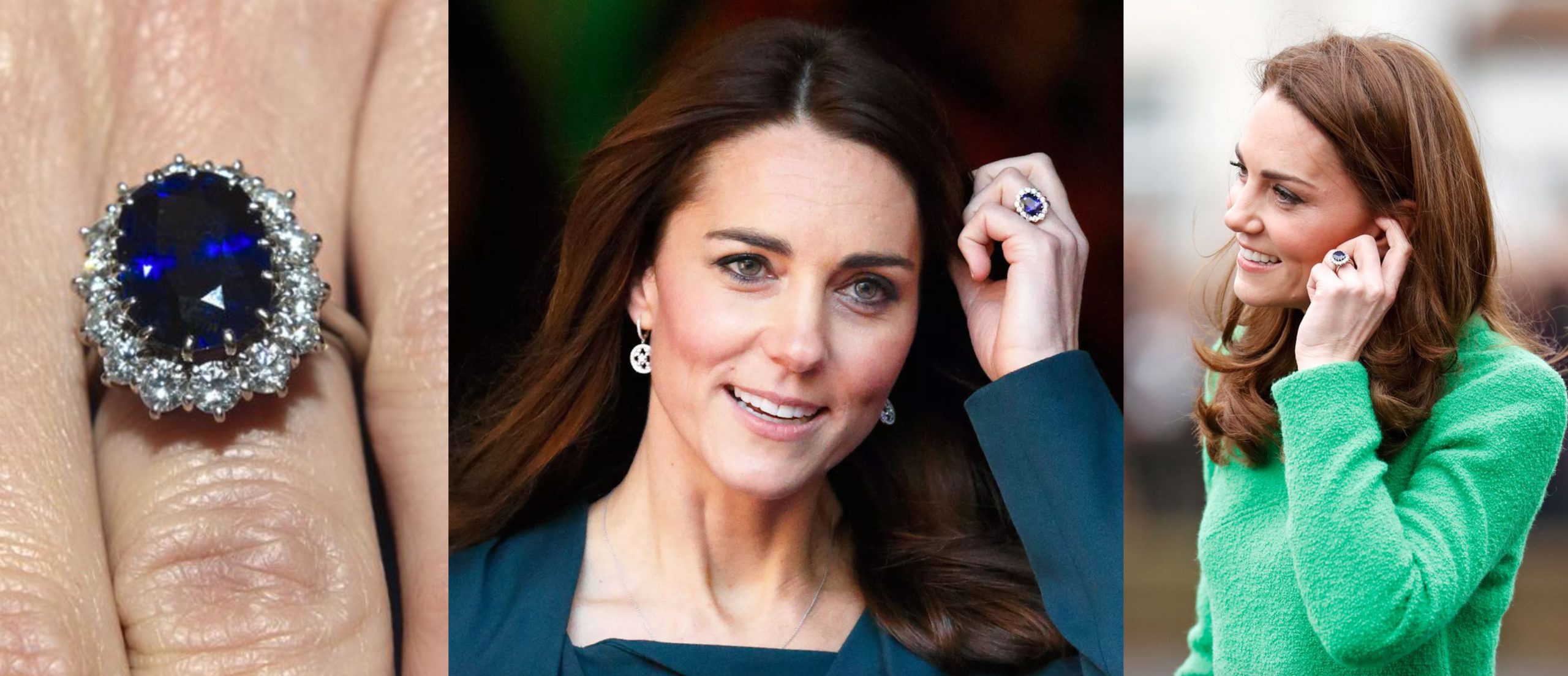 8. Meghan Markle
Love her or hate her, we all know that Meghan fights for what she wants and her engagement ring is no exception. Harry designed the three stone stunner all by himself, sourcing the three carat cushion centre stone in Botswana, a place close to both their hearts. The Prince then followed in his brother's sentimental footsteps by adding two diamonds from his mother's collection to either side. So far so good. However, shortly after the news of Meghan's pregnancy, many noticed that the fantastic three stone was missing from the star's finger! It was later reported that Meghan Harry had enlisted celebrity jeweller Lorraine Schwartz (who also designed Kim K's ring!) to resize and reset the ring so that the original simple band was replaced with a thin, yellow gold band set with micro-pavé diamonds. What Meghan wants Meghan gets!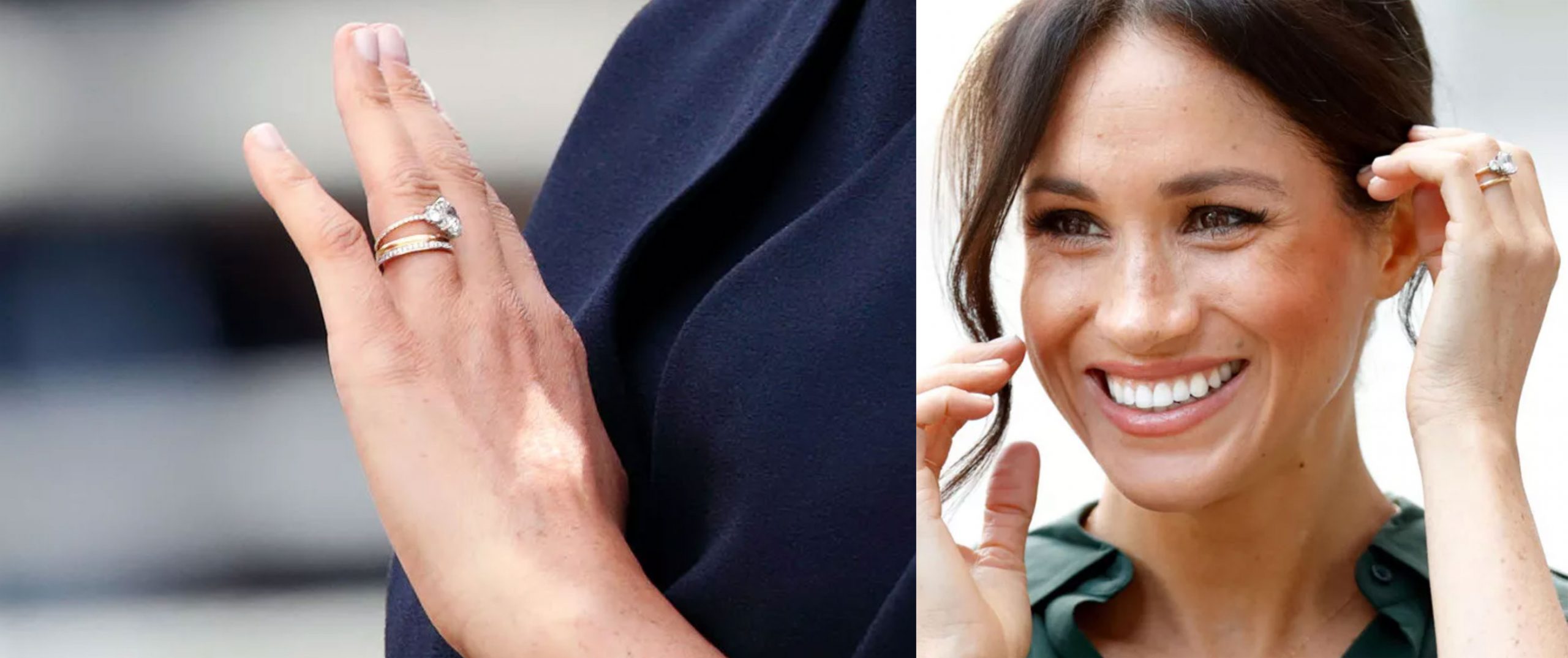 9. Sophie Wessex
Prince Edward proposed to PR Executive Sophie, now Countess of Wessex, with a knockout two carat oval diamond ring, set in white gold, with two heart shaped diamonds either side. Like his brother, Charles, Edward turned to Royal jeweller's Garrard, who had also designed Princess Diana's engagement ring. A beautiful and romantic piece!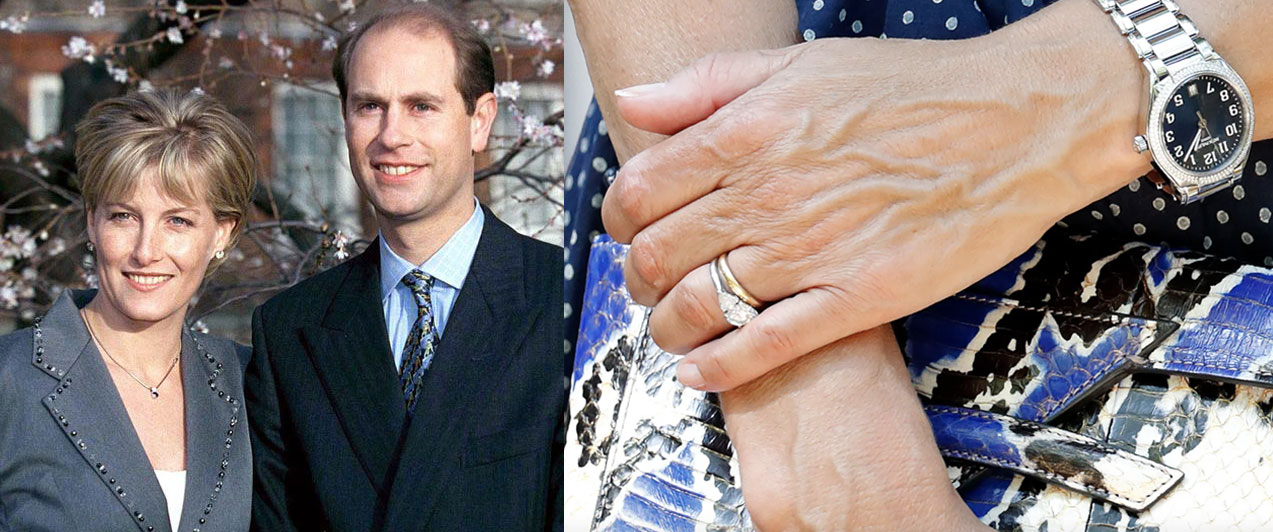 10. Princess Beatrice
Slickster Edo Mapelli Mozzi opted for a more modern look when choosing Princess Beatrice's engagement ring. The diamond solitaire ring features a 2.5 carat brilliant cut centre stone with two 0.75 carat tapered baguettes on either side. Edo later shared that his love of Art Deco and Bea's love of Victoriana led them to mix the two styles together to create their perfect ring.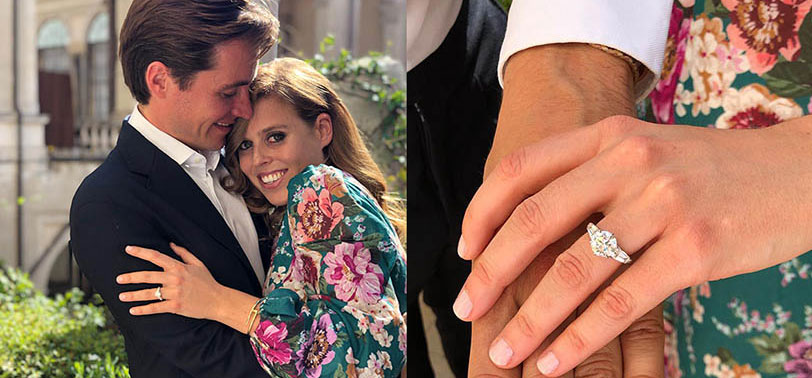 11. Princess Eugenie
A large Padparadscha sapphire is the focal point of Princess Eugenie's engagement ring. This rare sapphire, set within a cluster of diamonds, has a famously gorgeous pink tint to it. Tequila salesman Jack Brooksbank said he chose the ring as, "it changes colour when it hits certain lights, much like Eugenie" – very romantic! The sapphire measures 3-4 carats and is surrounded by 10 brilliant cut diamonds and two pear shaped diamonds. A beautiful and unique ring!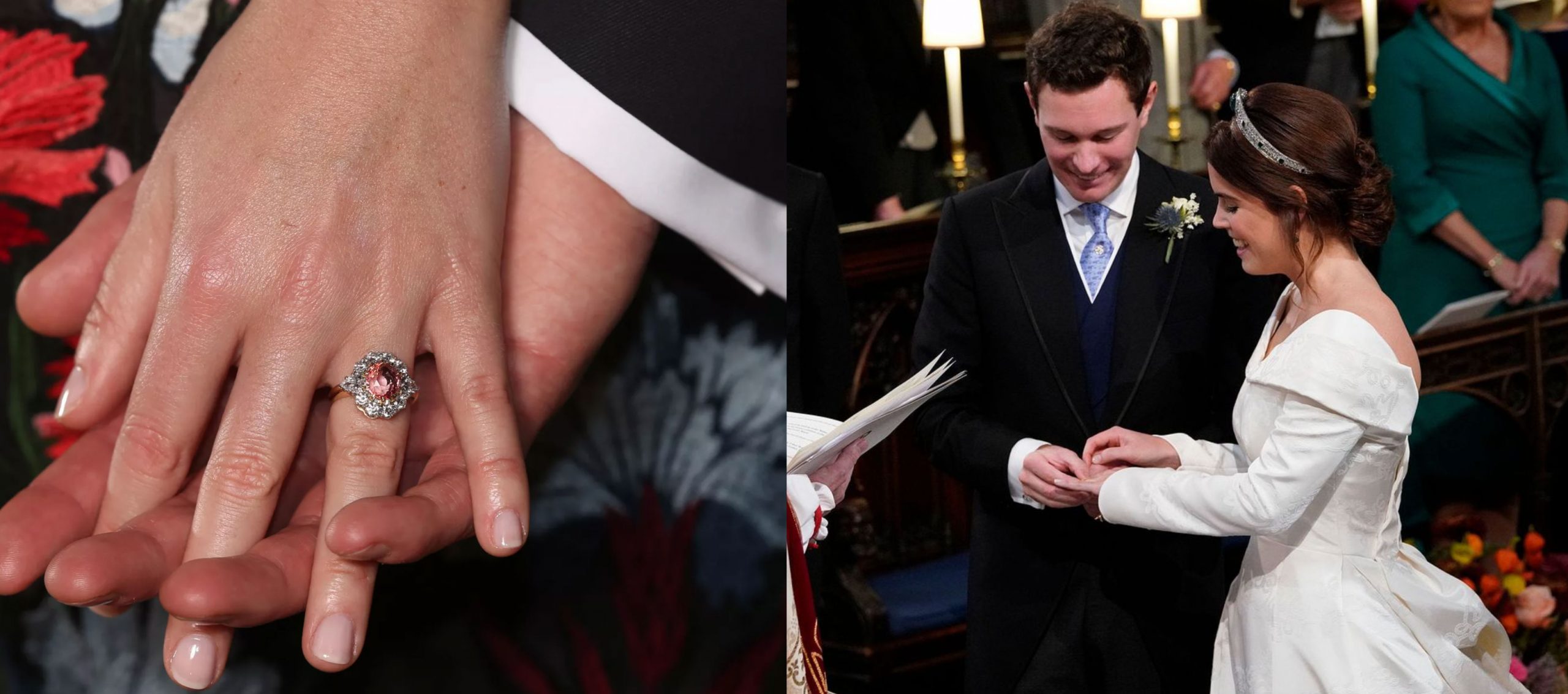 12. Pippa Middleton
Pippa's stunning engagement ring features a three carat Asscher cut stone, surrounded by a unique octagonal cluster of diamonds. The Asscher cut, invented in 1902 by Joseph Asscher, is particularly rare and valuable due to the sophistication of the technique used. Only diamonds with the highest clarity are worthy of such a cut. Pippa's ring is no exception. Virtually flawless, it is perfect for the Duchess's little sister!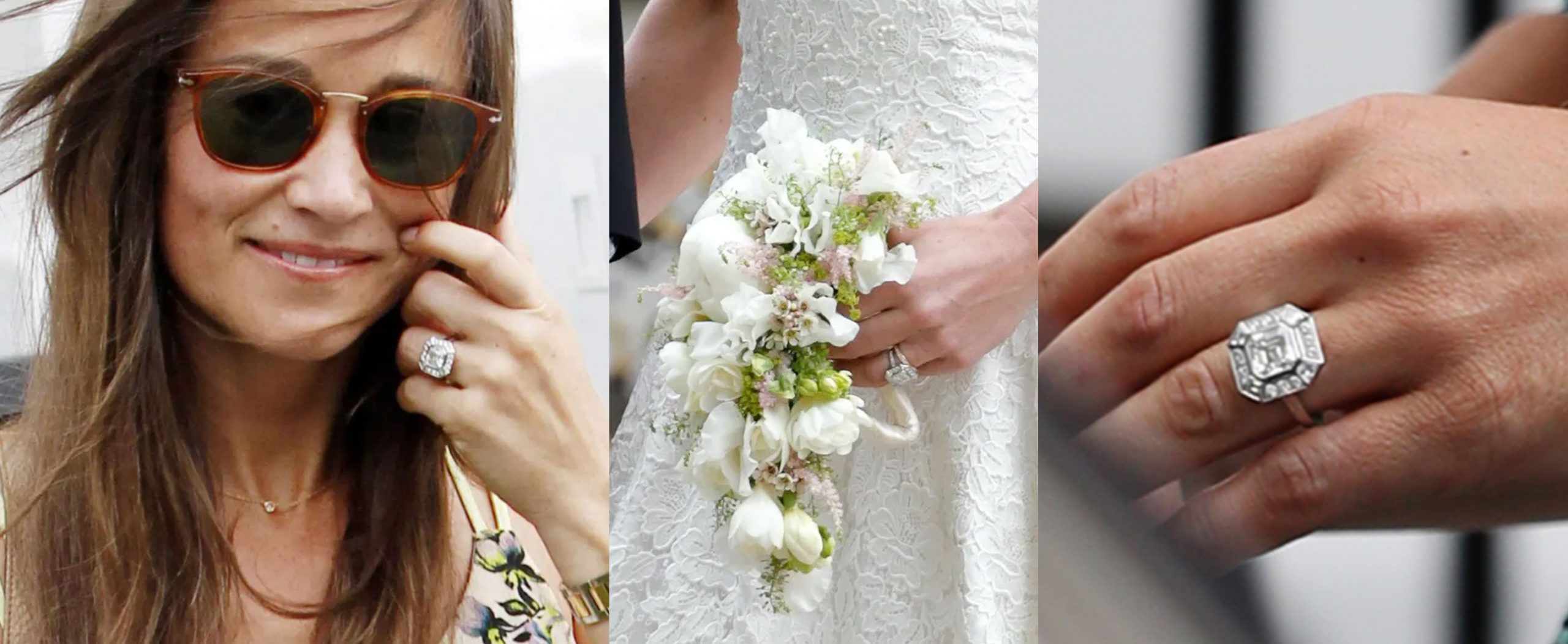 13. Grace Kelly
A lesser known fact of Grace Kelly's engagement is that her original ring was a Cartier eternity ring. Set with rubies and diamonds from the Grimaldi collection the ring's design is a homage to the colours of the Monegasque flag. The purchase of Grace's second engagement ring, the iconic Cartier 10.48 carat emerald cut ring, was a reaction to the costume designer of the movie 'High Society' wanting to source a larger ring for Kelly to wear on screen! Both rings are now in the House of Grimaldi in Monaco.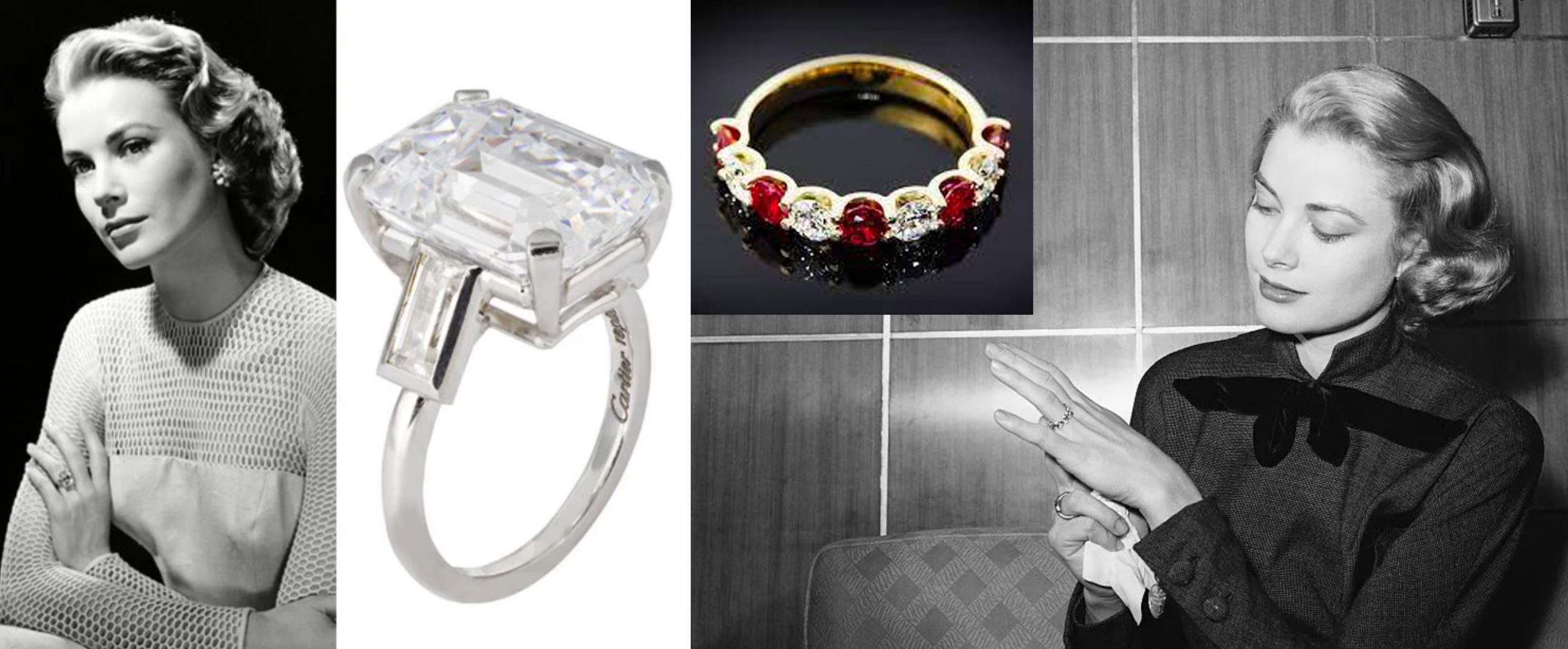 14. Elizabeth Taylor
Technically not a Royal, but we're including her anyway. Elizabeth Taylor's celebrated engagement ring collection reflects a lifetime's worth of love and loss. The Hollywood icon was engaged 10 times, married eight, divorced seven and widowed once. Both her collection and personal life were just as colourful as each other. The largest engagement ring that Elizabeth received was a 29.4 carat emerald cut diamond ring from film producer Michael Todd. She began wearing it at the end of 1956 whilst in the process of her second divorce! Dame Elizabeth, we salute you!