Choosing the Perfect Engagement Ring
Buying an engagement ring for the woman you love is one of the most significant, exciting purchases of your life, both in financial and symbolic terms.

Our Engagement Ring Guide will help you revel in the romance, buy confidently and avoid being overwhelmed by the options:
Do your homework
Knowledge is power and some observation before you begin your search for an engagement ring is well worth your time. Here are our top tips for that recce:
The basics
Does she wear a lot of gold or is she a silver kind of girl? Is she passionate about a certain colour or stone? Her engagement ring should complement the rest of her jewellery box, particularly if she wears rings day to day.
Skin tone
If you're uncertain about which metal to buy, take a look at her skin tone. There's no hard and fast rule, but dark skin tones are best suited to yellow gold, whereas very pale skin looks good with white metals, such as silver, white gold or platinum. Most skin tones suit a classic gold or a rose gold tone.
Style
Is her day-to-day style classic? Delicate? Alternative? Does she like bold colours? Is she a romantic or super practical? Having her characteristics in mind will help you choose a ring to suit her personality and style.
Hints
If your relationship is going strong, chances are she may be dropping hints. Pay close attention to comments she makes about friends' engagement rings, favourite gemstones or to rings she points out in shop windows or magazines. It's not a coincidence!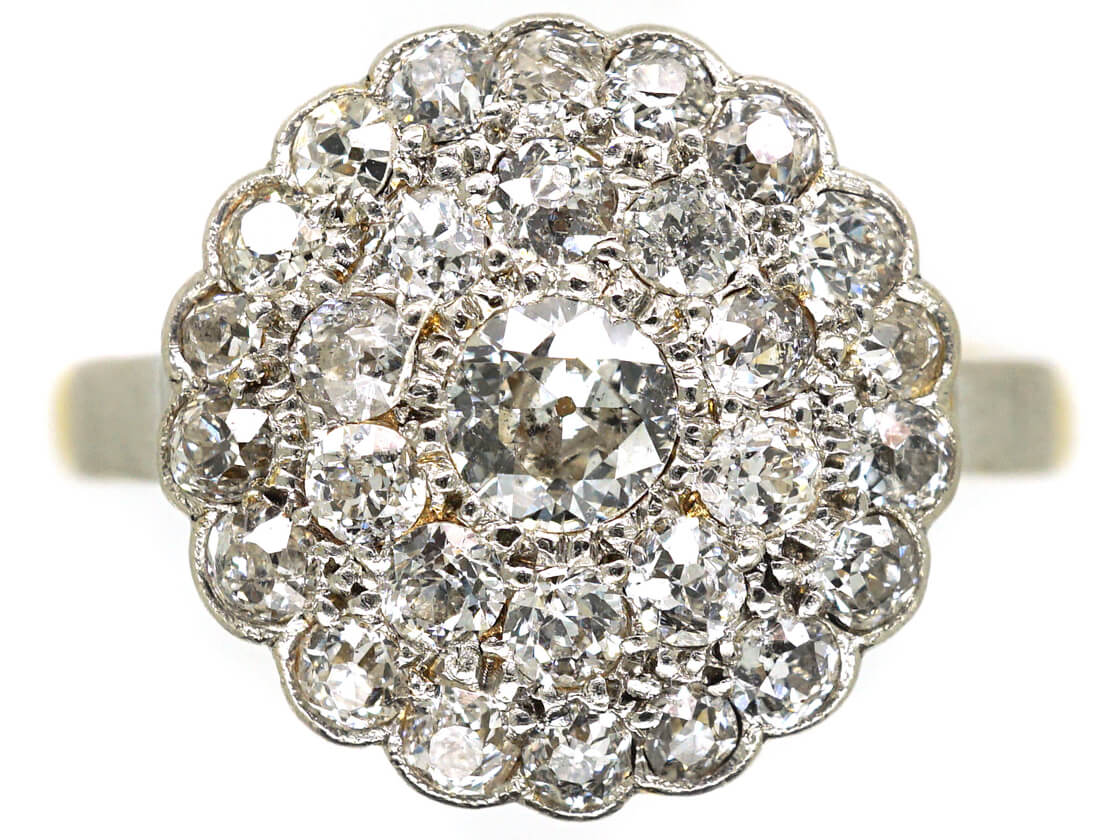 Be Practical
Wear and Tear
The daily habits in one's life have an impact on a ring. If your other half is a gardening fanatic or a competitive athlete – even if she simply drives or works out a lot – then you should bear this in mind when selecting an engagement ring.
If you are buying an antique ring, the Victorian, Edwardian and Art Deco eras all produced sturdy designs that were built to last.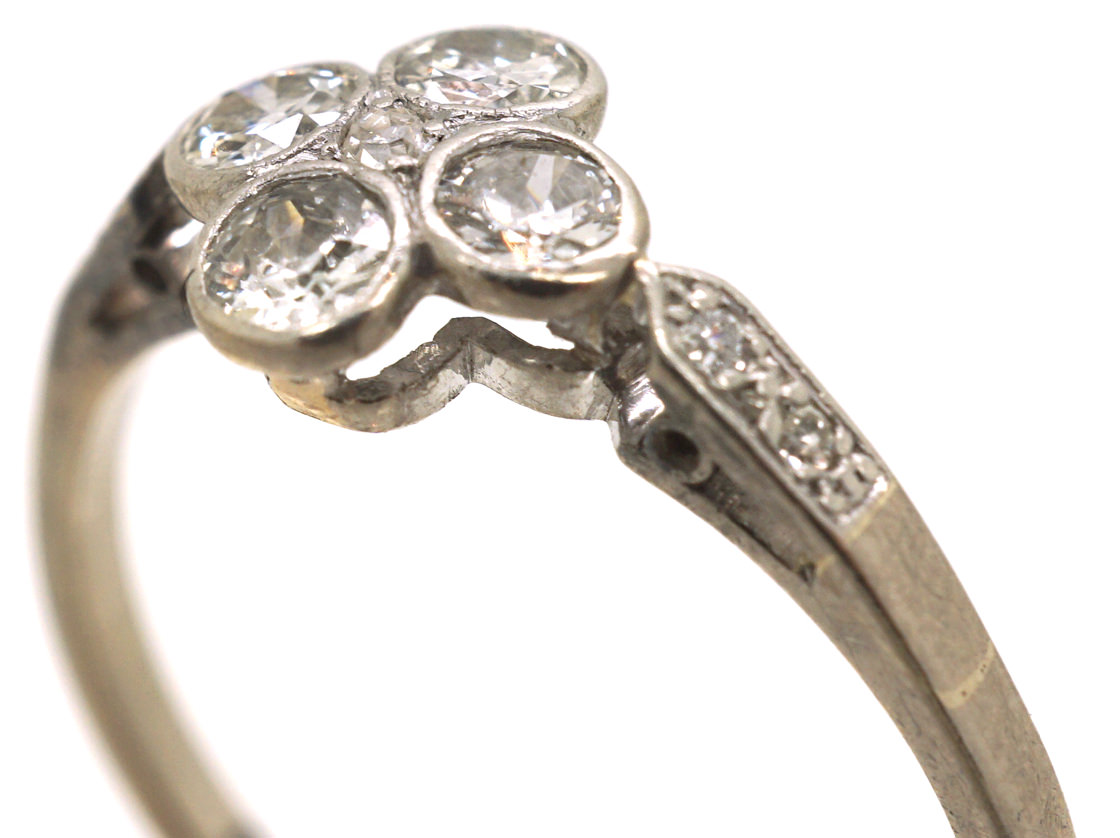 Have a budget in mind
How much this should be is the million dollar question! People often say that an engagement ring ought to cost between one and three months' salary, but this unromantic (and, for many, unrealistic) guideline is completely against our philosophy. It's far more important to find a ring that you will both love. After all, it doesn't come with a price tag on it! We advise our clients to have a spend limit in mind and then set about finding the perfect ring within your budget.
If you really want a budget guideline, Annabel Davidson, jewellery editor for Vanity Fair, suggests the 'wince test':
You want to wince just slightly when making that transaction. If you can comfortably afford it, you're not spending enough.

Annabel Davidson, Vanity Fair
Make sure it fits
So that the engagement ring fits comfortably and securely, you will need either to buy the ring in the correct size or have it adjusted once it's in the possession of your wife-to-be. Before you set out, you could download our Online Measuring Tool to get an idea of her ring size using an existing ring, but it's important to check with your dealer that the ring you buy can be resized and what their resizing policy is, if so.
Bring a wingwoman
If you're happy to share your big secret with her best friend or a relation, bring them along. They will have a good idea of which styles your lady is lusting after and which will best suit her style. They will also be in a better position to do some last minute digging without raising suspicion!
Pick the right metal
Knowing whether your other half prefers wearing silver or gold tones will help you decide what to go for in an engagement ring. If she's into silver, your best bets are platinum – the strongest of all the heirloom-quality metals – or white gold.
Gold comes in various other shades too. Rose gold is feminine, with a tinge of pink, where yellow gold is the most familiar shade – the tone can vary from a bright yellow (which is best worn against darker skin tones) to a more traditional hue. Gold is a great metal for jewellery as it's tough, classic, beautiful and less expensive than platinum.
Some women like to mix metals, in which case simply find a ring you love and don't worry about the colour of the band.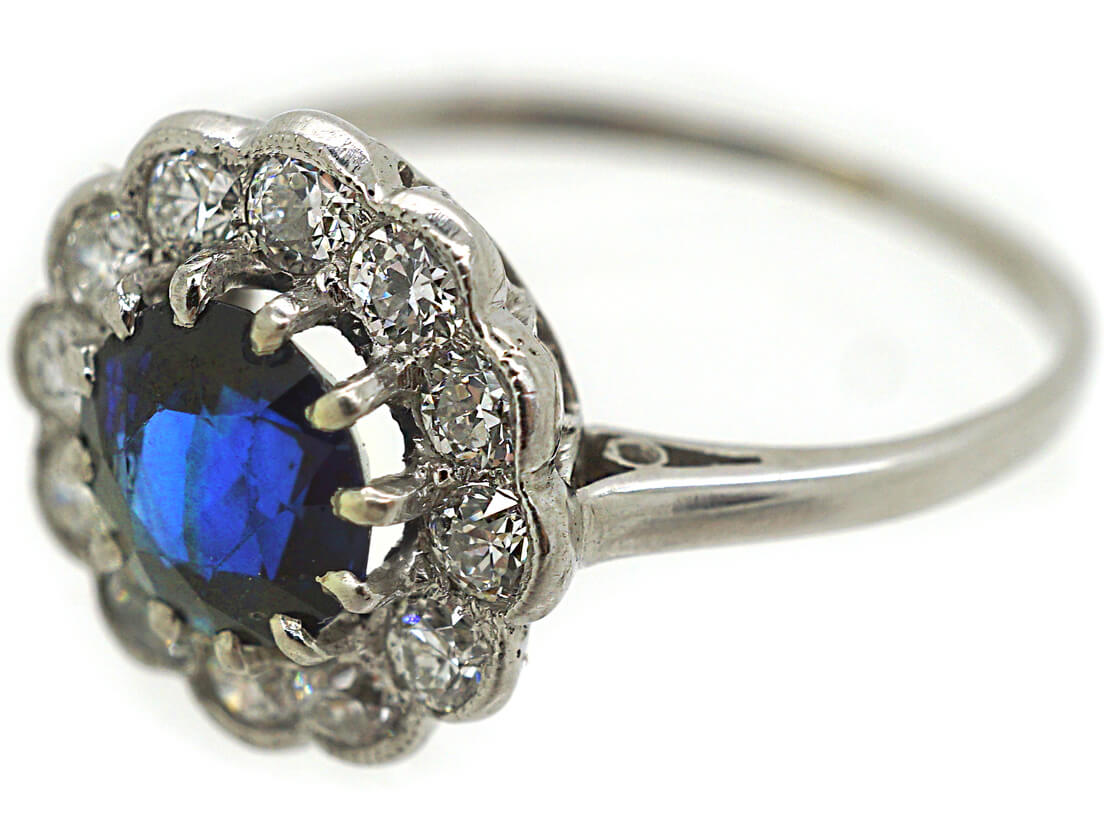 A bit about diamonds
Luminous and brilliant, diamonds have long been the most traditional stone (although by no means the only great option) for engagement rings. Extremely strong with a timeless elegance, they are popular and long lasting. Diamonds can be up to 3.2 billion years old!
Gemstones are graded using the 'Four Cs', so it's worth getting to grips with this before you set out…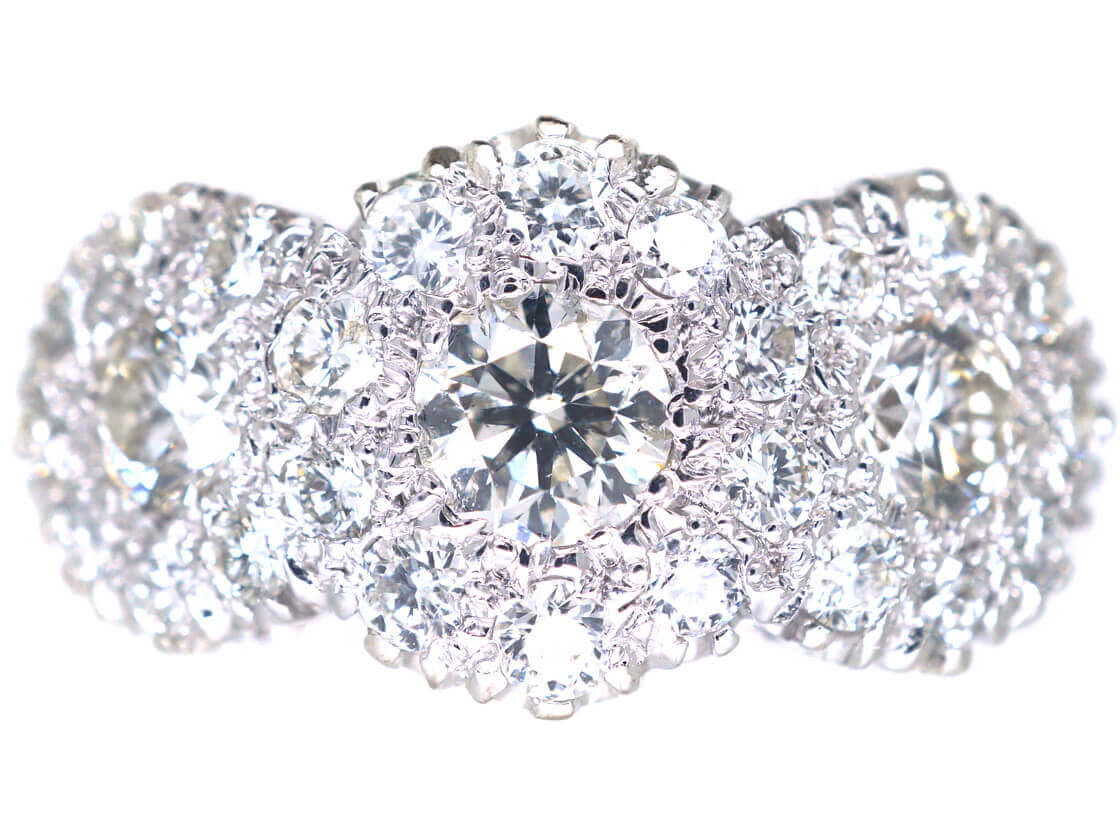 The Four Cs, explained
The "four Cs" are the criteria used to grade diamonds. Any good dealer will be happy to talk you through these criteria in detail when you look at diamonds.
CARAT represents the weight of the diamond. The most popular weight for a diamond falls between one and two carats.
Ranging from 'Flawless' to 'Heavily Included', CLARITY refers to the number of visual imperfections throughout the diamond.
COLOUR is graded in alphabetical order from D-Z. (D is completely colourless and considered the best grade, but it comes down to preference). True 'coloured' diamonds are graded separately.
CUT refers to the shape of the diamond and the way the stone is cut to refract and play with light.
With antique diamonds you don't need to get as caught up with the Four Cs as with modern diamonds. This grading system is only accurately carried out on diamonds which have not yet been set into a ring.
Antique diamonds are assessed by antique experts. Due to old school techniques the older cut stones tend to have a subtle, sophisticated sparkle, coveted by women around the world. (Read more about Antique Diamonds here.)

Coloured Stones
Coloured gemstones such as emeralds, rubies and sapphires are also popular for engagement rings and provide an eye-catching, stylish alternative to diamonds, particularly where a specific colour has resonance for you: emeralds for Ireland, sapphires to match blue eyes, and so on.
Not all stones are practical for everyday use so do interrogate your dealer about the practicalities of the stones you're buying.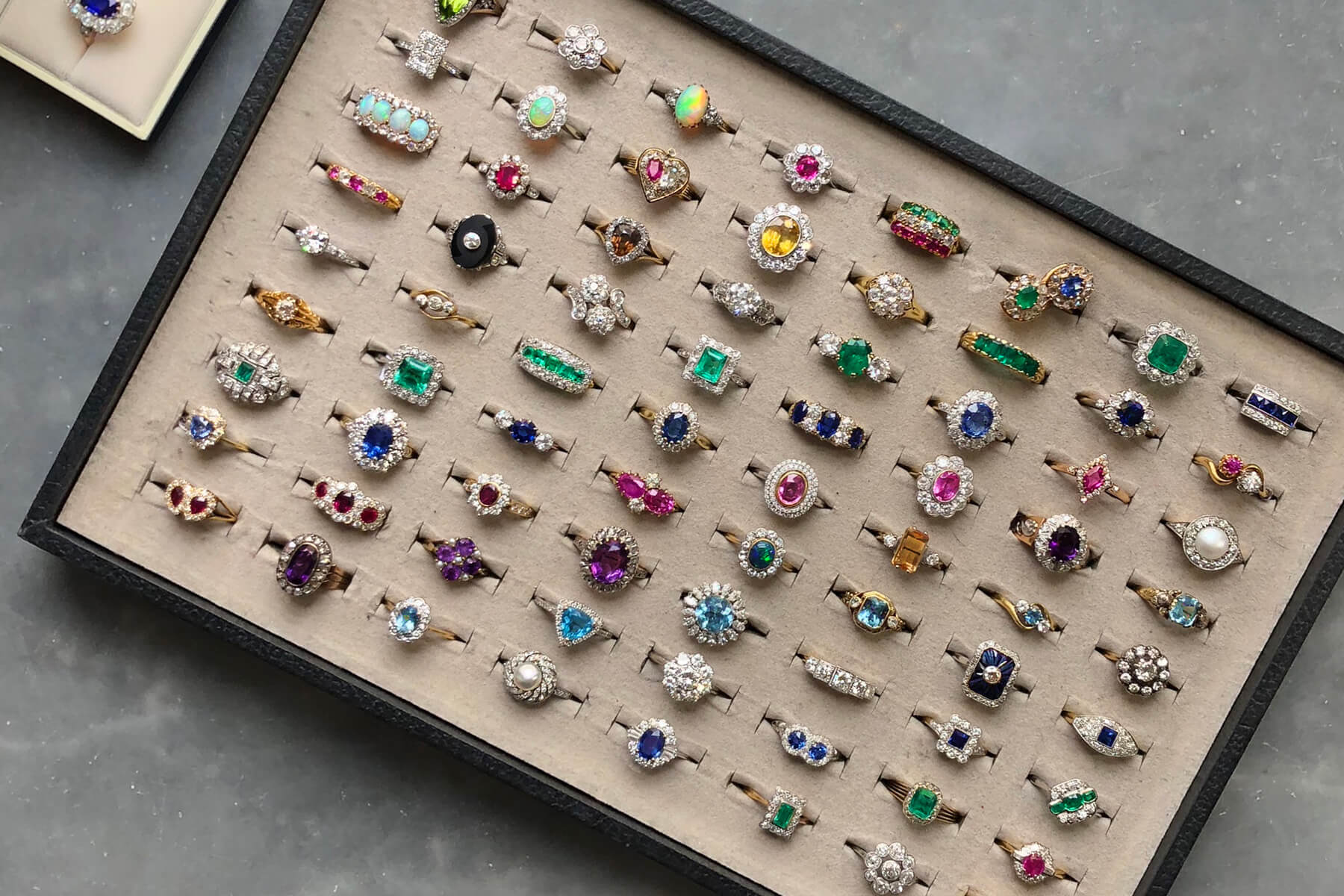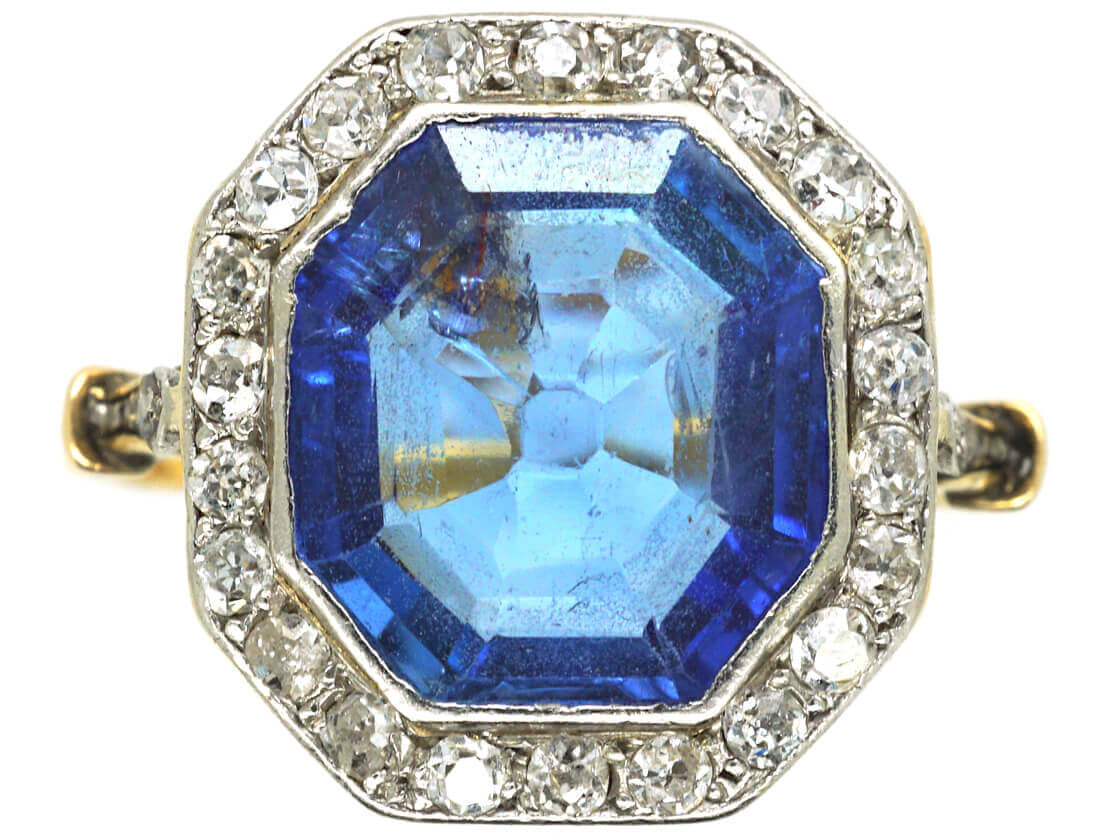 Think about shapes and styles
Engagement rings come in a wide variety of shapes and styles, from the classic 'solitaire' to a 'boat' shape packed with tiny gemstones. In all likelihood, certain shapes and styles will simply 'speak to you' when you start looking at rings and there's no need to get too caught up in this, but here are some of the more popular styles to consider as a starting point: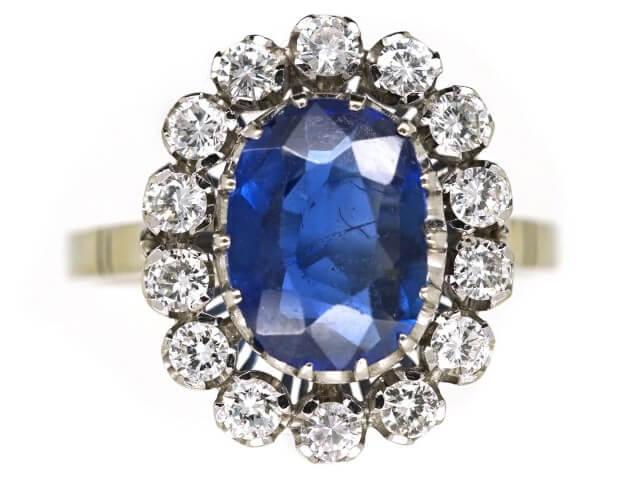 Consider something truly unique
You can't go far wrong with a classic solitaire or a 3 stone diamond ring, but even with these styles there is something special about a one-of-a-kind ring. Something as individual as the woman wearing it.
If you are looking for something bespoke, you could start with a stone or a piece of jewellery that resonates with you – whether it's from the family collection or a place you've visited together – then design a completely new ring from scratch. This can be a rewarding, creative experience.
Alternatively you could buy an antique or vintage engagement ring. Because mass production was not feasible in centuries gone by, you are highly unlikely to ever find an exact match of an antique ring. A trusted dealer with excellent experience will have a collection of fine rings in shapes and styles from across the eras. Aside from the ethical benefits of buying an antique ring, it tends to be considerably cheaper than buying new, without sacrificing quality or beauty.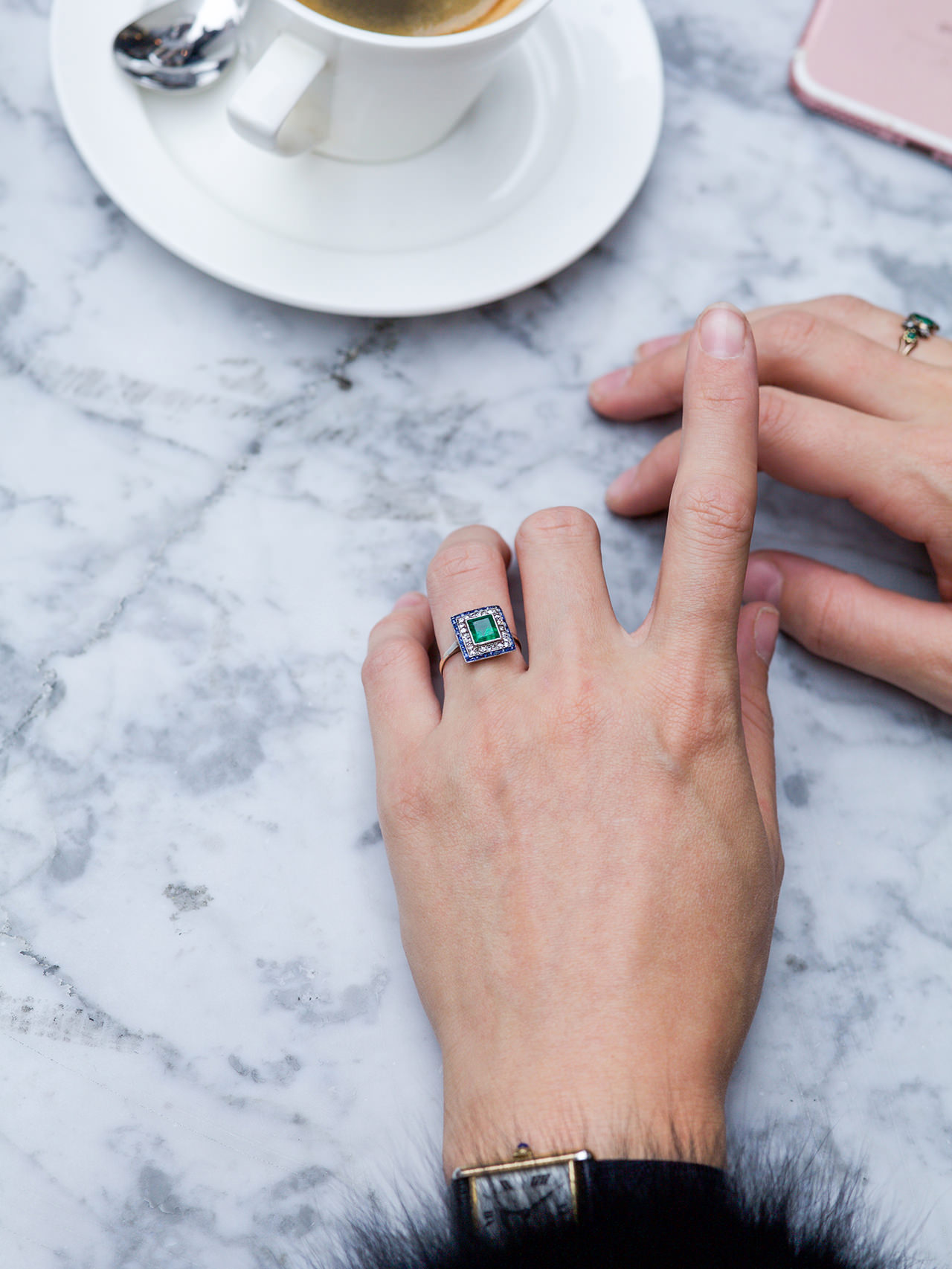 A bit about antique rings
Buying an antique or vintage engagement ring offers serious beauty, style and quality without the high price point that comes with buying new.
If you are buying an antique engagement ring, there's no need to feel overwhelmed by the different eras and styles. It's nice to know the context of the ring, but our suggestion is simply to go with your gut and look for something you know she will love.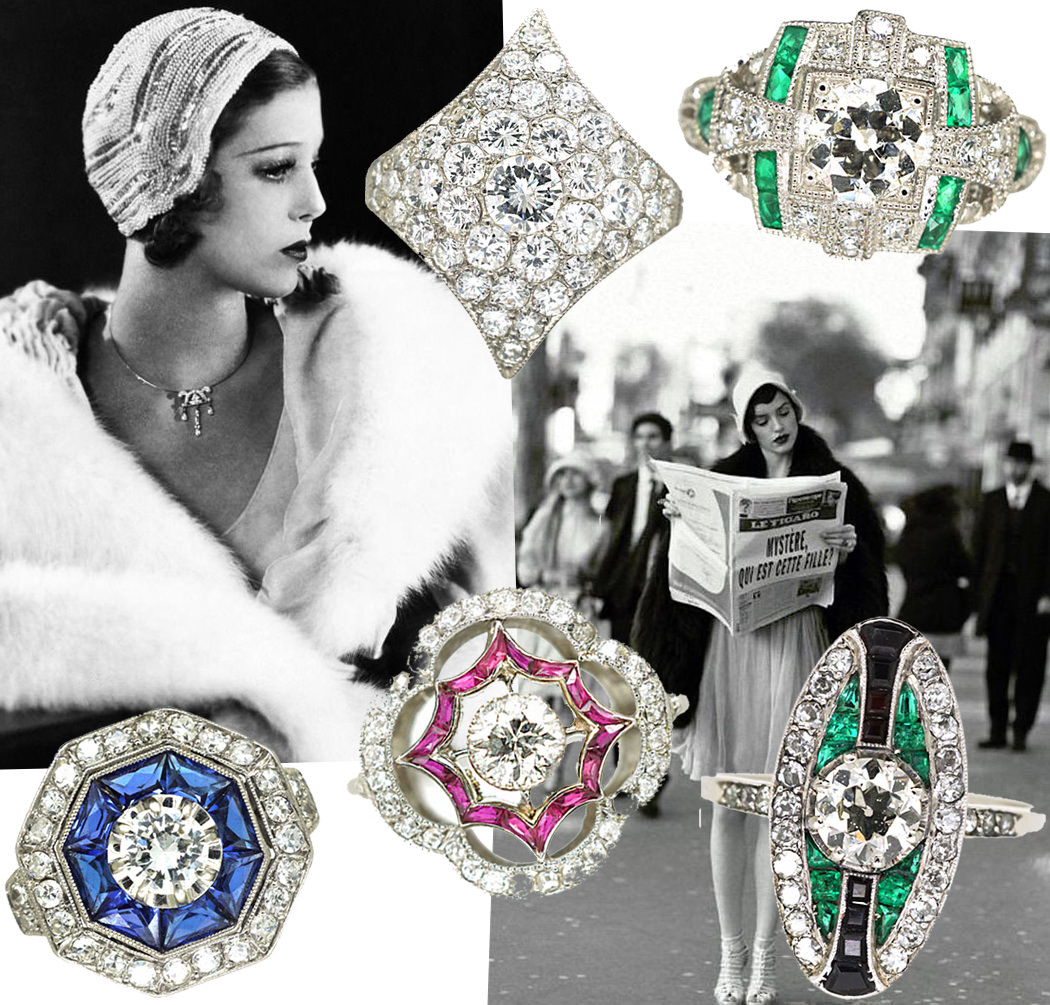 If you or your partner is interested in particular moments in time or design movements, then of course this may influence your choice. Certain eras, such as Art Deco, with its geometric shapes, are easy to recognise and popular. You can discover more about the eras and search for rings by period in time.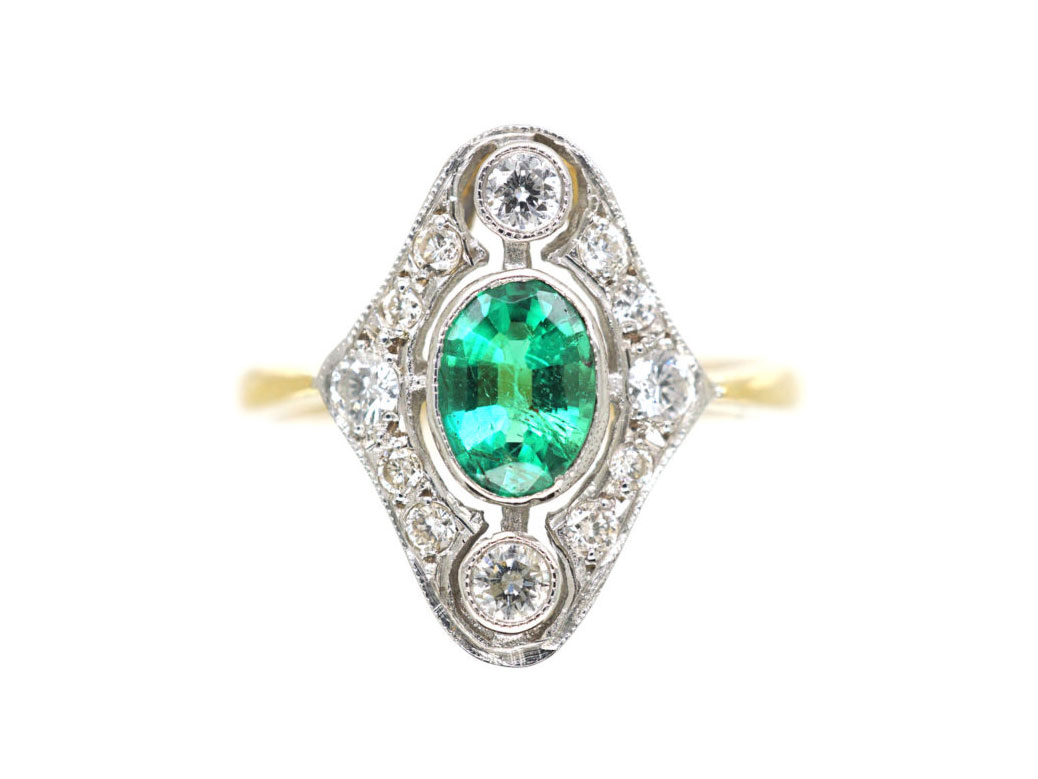 Find a trusted dealer
When it comes to buying an engagement ring, trust and credibility are essential. Look for a dealer with excellent, authentic reviews.
Antique engagement rings are no exception. Find an established antique jewellery dealer with excellent experience. They will be able to assess the worth of an antique ring by looking at its materials, construction techniques, hallmarks, signatures and cultural context.
A good dealer will always be happy to meet in person and talk you through the quality, history and practicalities of a ring.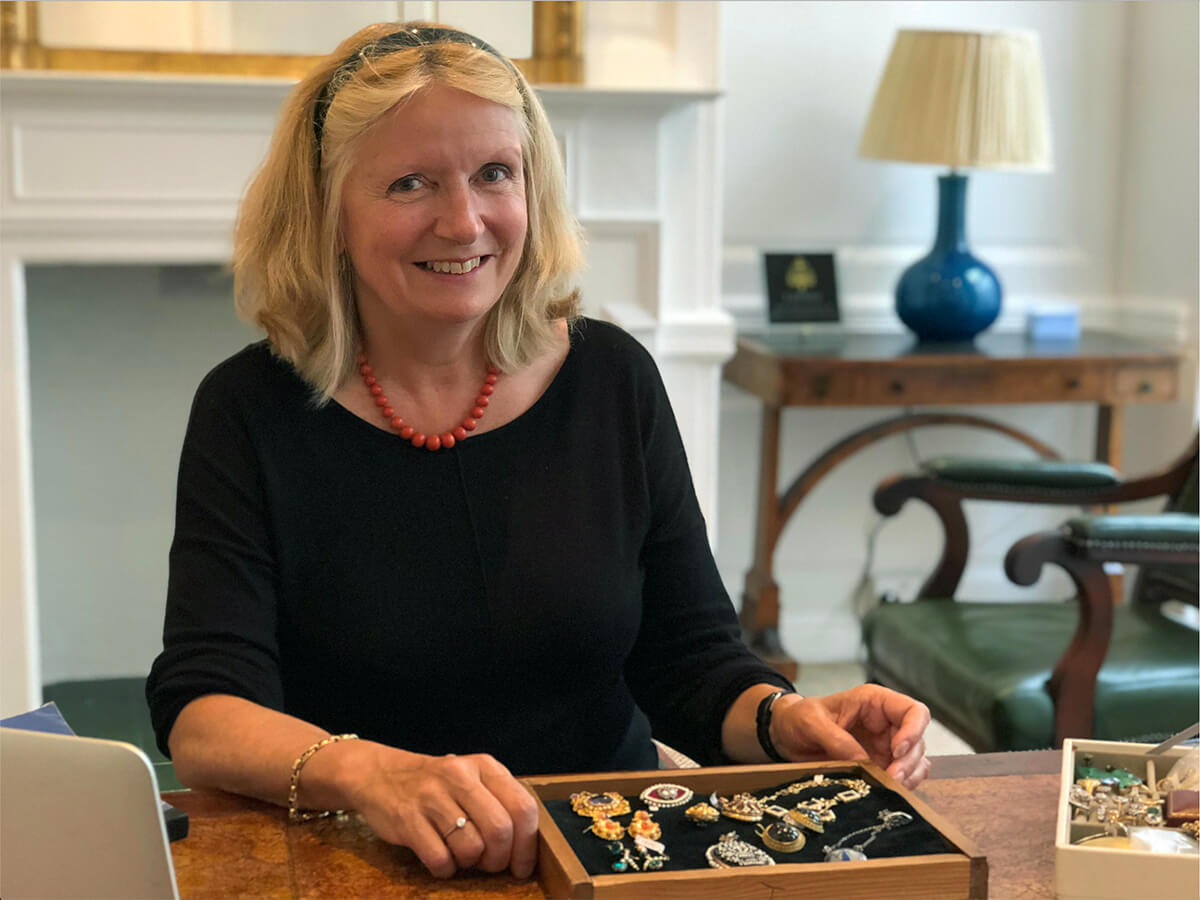 See the ring for yourself
Where possible, we always recommend seeing and holding a ring in your hands before you commit, to get a feel for the scale, proportions and sparkle. Certain gemstones, such as emeralds, appear even more vivid to the naked eye.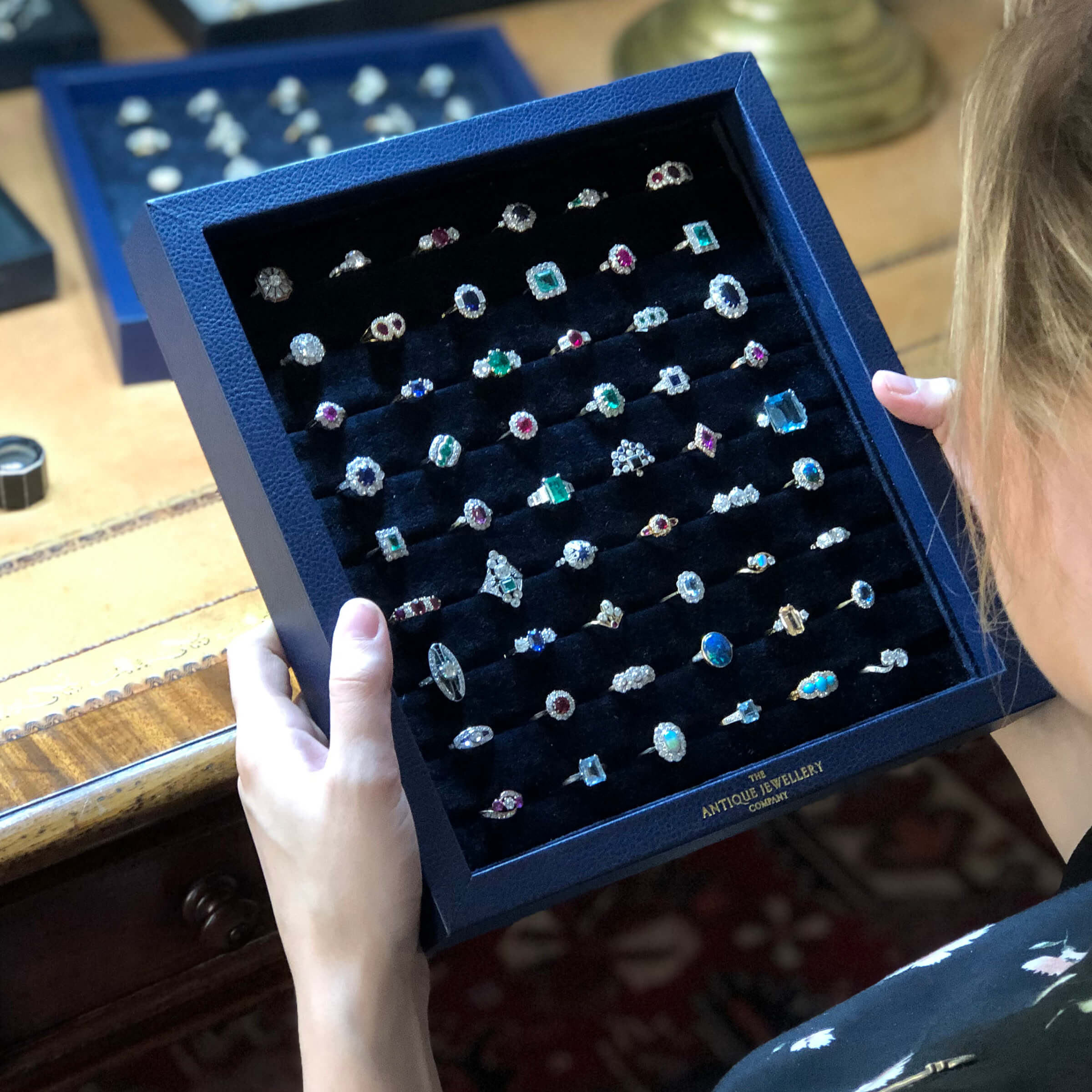 If you buy online, do check your seller's returns policy. They may have showrooms or retail stores which you can visit to see the collection close up.
Have a Plan B
If you are not 100% confident about buying a ring or your other half has strong views about jewellery, make sure you can return it and get your money back.
Talk to your insurers
It's important to protect yourself against your engagement ring being lost, damaged or stolen.
We recommend contacting your existing household insurers – many will already insure for up to £3,000 worth of jewellery worn at any one time, anywhere in the world. Ask them exactly what they would need in order to insure against the ring and how they assess the value of replacing an antique ring.
We advise that the best solution for protecting antique jewellery is to cover the cost of finding an 'equivalent' ring rather than providing a modern replica, which lacks the original appeal of an antique ring.
We provide all our clients with a proof of purchase so that your insurers know what you spent on your ring.
Check the ethics
These days, savvy shoppers are increasingly aware of how ethical products and brands are. Diamonds in particular have been surrounded by controversy since the 1980s, when African 'blood diamonds' (also known as 'conflict diamonds') were generated by war.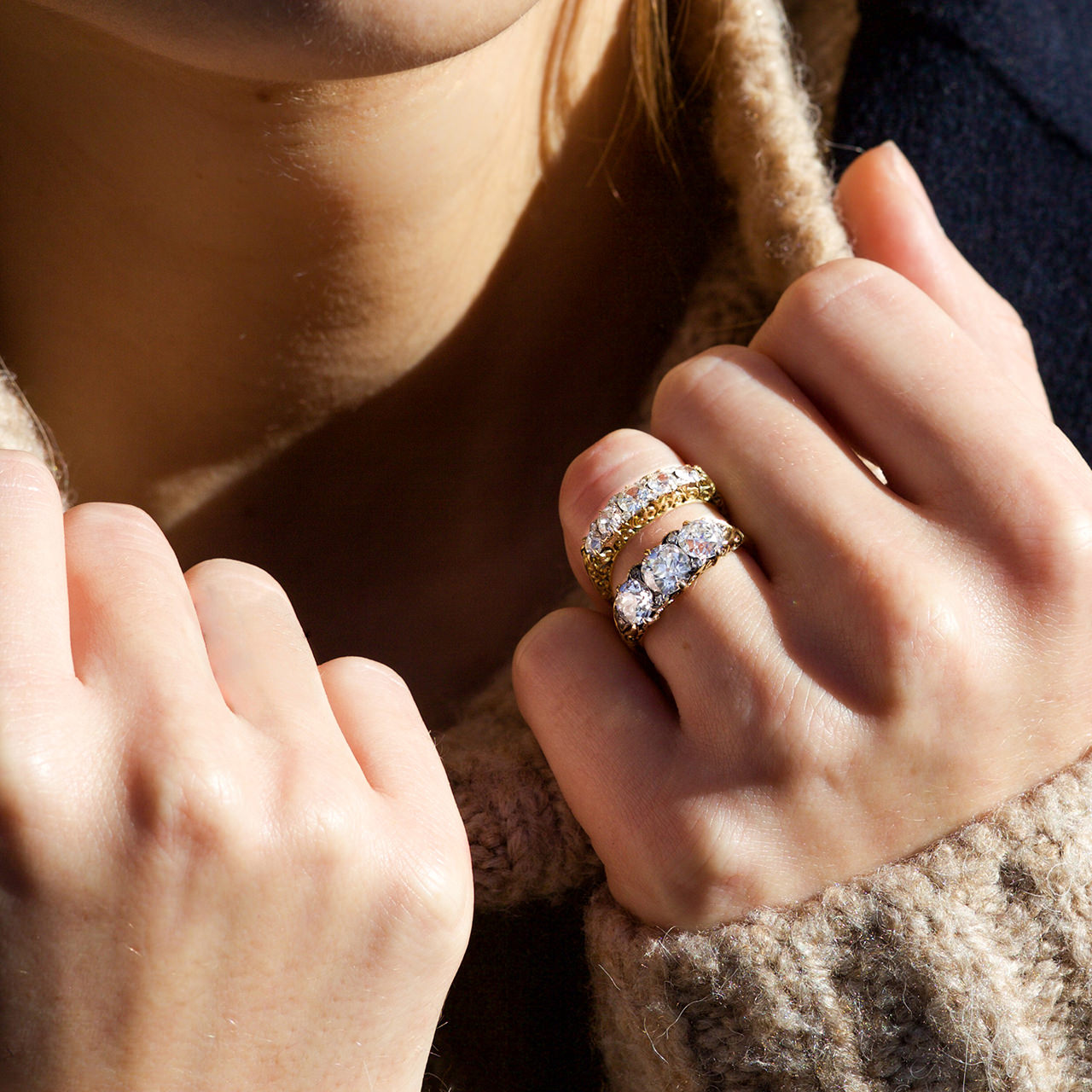 Go with your gut
It's easy to get caught up in budgets, technicalities behind the stones or fads and fashions, but at the end of the day remember that the most important thing is that the ring feels right for the woman of your dreams. The likelihood is that she will love it, if you do. The gesture itself of giving her a ring to represent your commitment is everything.
Just choose a ring that resonates with you, feels right for your lady and that is timeless and easy to love, day after day.
Good luck!
---
AJC Engagement Rings
The Antique Jewellery Company is proud to be one of the world's leading online destinations for antique jewellery. Our collection of antique engagement rings spans from 1714 to pre-loved rings from recent years.
Our founder, Olly Gerrish, has over 40 years of experience with antique jewellery and is an expert in her field. She puts her respected name behind every piece of jewellery we sell.
Antique rings have a subtle, sparkling allure, a story to tell. Plucked from moments in time, their next chapter is yours.
We hope you enjoy exploring our ever-changing collection and look forward to meeting you at our London showroom, should you wish to come and see them for yourself. We never rush our clients or pressure them into buying and welcome any questions you have about the condition, size of stones, age or even just finding the right style for your wife-to-be.
We also offer Free Worldwide Returns, so you can order from our website safe in the knowledge that you can return the item if it isn't perfect.