Art Deco 18ct White Gold, Diamond & Synthetic Sapphire Rectangular Ring
A very stylish 18ct75% pure gold (or 750 parts pure gold and 250 parts other metals) More white goldWhite gold is an alloy of gold and at least one other white metal - most often nickel or palladium (both of which act as a bleaching agent to reduce the natural yellow colour of the gold). More Art DecoJewellery made in the Art Deco era (1920-1935). More ring that was most likely made in Switzerland. It is set with a good twenty five pointA unit of weight for a diamond, being one-hundredth of a metric carat. It is used for weights that are decimal fractions of a carat, and all figures after the second decimal point are, in the diamond and jewellery trade, generally discarded. More diamondA precious, lustrous gemstone made of highly compressed carbon. Diamonds are one of the hardest materials known to mankind. Colours of diamonds range from colourless, yellow, orange and brown to almost black. Natural coloured (or 'fancy') diamonds can be extremely rare. The cut, colour, clarity and carat weight of a diamond are the criteria jewellers use... More in the centre. It is surrounded by syntheticA man-made material with essentially the same optical, chemical and physical properties as its natural counterpart, but completely artificial. Commonly used for calibré settings due to the colour matching possibilities. More sapphires which in turn have a border of small diamonds. I am fascinated by synthetic stones as the process is brilliant and complex. The Parisian chemist Auguste Verneuil collaborated with Fremy on developing the method, but soon went on to independently develop the flame fusion process, which would eventually come to bear his name. In 1909, Vernueil realised that synthetic sapphires could be created with the addition of iron and titanium and in 1911, he and his employer, the Heller Company, were given two patents for this discovery. So this beautifully made ring is set with wonderful and very convincing synthetic sapphires. These stones were widely used in the 1920s especially in Europe between the wars. What a beautiful engagement ring this would be for the price!
£2,250
or from
£194.32/month
with
0%
for
12 months
More Info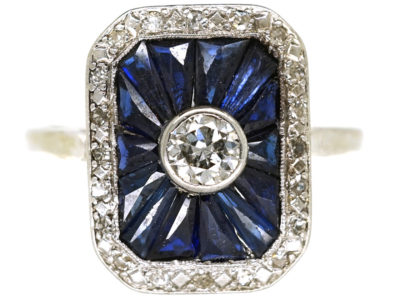 Materials
DiamondSapphire
Hallmarks
Unmarked, tested to 18ct white gold
Measurements
Top 1.5 cm by 1.2 cm
Centre diamond 25 points
Small diamonds approx total weight 21 points
Current Size
UK P Free Resizing
Unsure of Your Size?
Want to View this Item?
Discover our hidden gem in the heart of London's Mayfair.
Book Your Appointment
Best antique jewellers in London. So helpful, honest and friendly. And have amazing stock!

— Toby Wafta

Buying an engagement ring isn't an easy experience but the team not only made the process pain free, they also helped me pick the perfect ring. Friendly, knowledgeable and with a great selection of antique rings. Would highly recommend

— Jack McCombe

Highly recommend. So excited to give this engagement ring a new life to live ❤

— Francheska Palmer

The engagement ring we bought from the AJC was perfect, and the service provided was very friendly and attentive. I haven't got anything bad to say!

— Jack Allen

Excellent service and managed to supply exactly the ring I was looking for after weeks of search elsewhere.

— Christopher Darlow

Service was unbeatable - worked to an extremely tight time scale and delivered without a hitch. The ring is perfect and I'm proud to see it on the hand of my fiancé. You guys have made us both very happy!

— Oscar Barrett

Excellent experience from start to finish, I didn't have a clue what I was doing when looking at engagement rings but was very happy with my purchase. And it seemed to do the trick as she happily said yes :)

— Matthew Carpenter

Can't say enough about the amazing service we received. They have the most exquisite selection of jewellery and really take the time to help you decide. I would strongly recommend a visit.

— Jane McNicholas

Olly was so lovely and helpful, which is exactly what you need when you're buying an engagement ring.

— Grant Zubritsky