Lauren Cuthbertson
The ballet icon visits the AJC
Photography: Giulia Savorelli
Wardrobe: Speciale
The principal dancer of The Royal Ballet and new mother on her return to the stage as the Sugar Plum Fairy.


Lauren Cuthbertson has just arrived at the AJC Townhouse on a grey Tuesday morning. Fresh from a full dress rehearsal for The Nutcracker, she will be soon be reprising her role as the Sugar Plum Fairy. The star's diminutive frame is accentuated by an oversized puffer jacket, chunky trainers and and pony tail. "Show me the jewellery!" she laughs as we walk upstairs to the showroom.
In ballet circles Lauren Cuthbertson needs no introduction. For over 20 years the prima ballerina has been captivating audiences across the world, dancing the lead roles in some of ballet's best known works.
Showing rare talent and resilience at a young age in her native Devon, Lauren won a place at the prestigious White Lodge at aged 11. She received her first professional contract with the Royal Ballet at 17 and was made a principal dancer – the pinnacle in ballet – in 2008, aged just 24.
Since then, name any major production from the Royal Ballet repertoire – from Swan Lake and Sleeping Beauty to Manon and the Nutcracker – and Lauren has led the line to universal acclaim.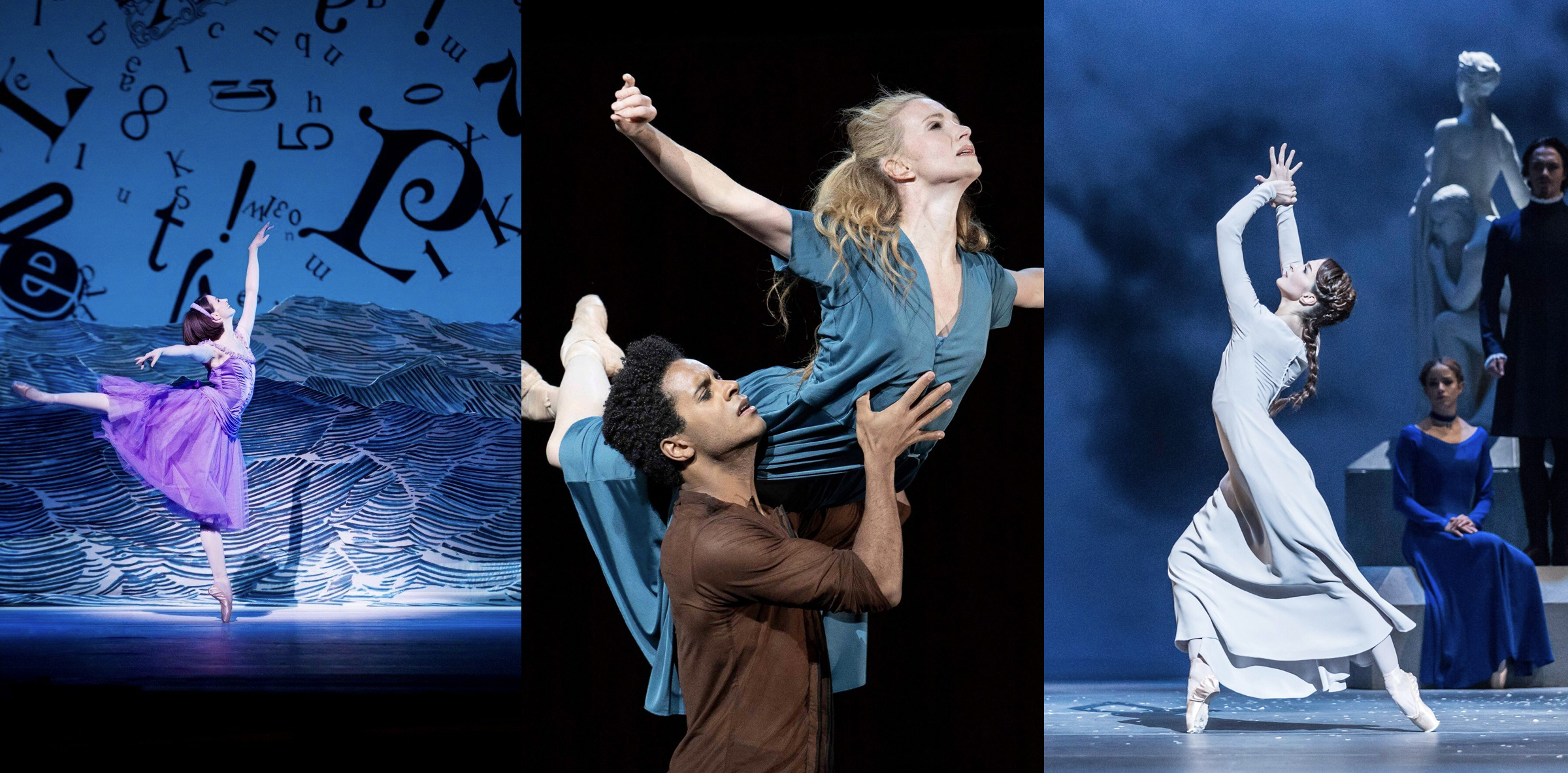 Outside of the classical repertoire, Lauren has been behind some of the ballet world's most notable new productions, conceiving and playing the lead roles for Alice's Adventures in Wonderland (as Alice), The Winter's Tale (as Hermione) and most recently The Cellist (as Jacqueline du Pré).
Major setbacks – including a career threatening foot injury and 18 months out with post-viral fatigue – tested Lauren's courage and resilience. On each occasion she overcame adversity with great dignity and returned to the stage even stronger.
Now at the peak of her career, Lauren is facing a whole new challenge. At the end of 2020 she gave birth to a daughter, Peggy. The long journey back to world-class levels has been another milestone in Lauren's remarkable career.
Today, Lauren is back where she belongs, enthralling audiences on the world famous Royal Opera House stage.
Here at the AJC we're delighted to have the chance to sit down and talk to Lauren at this crucial moment in her career and life.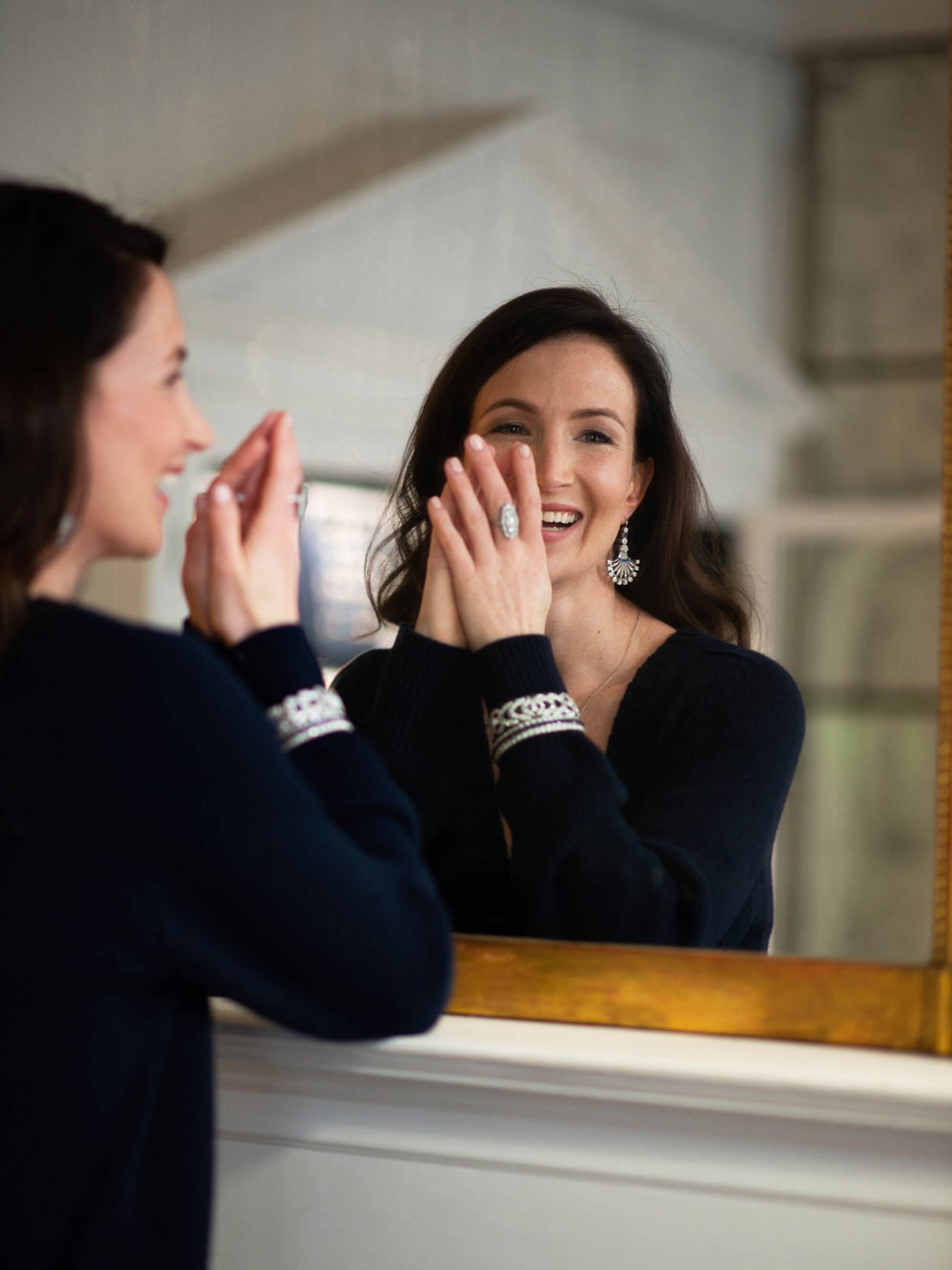 So Lauren – you seem pretty relaxed for someone who's just been in a full dress rehearsal for The Nutcracker.
I'll take that as a compliment! Well, it was far from relaxing I can tell you. The Sugar Plum role is so full-on, especially the two pas de deux (with William Bracewell). When I finally come on stage in Act 2, the dancing is relentless. My coach Darcey (Bussell) has really inspired me to find my confidence again in this classic.
And the solo looks pretty full-on too. I've heard your rendition is one of the most viewed ballet videos on YouTube.
Yes, so I've been told. I'm happy to be known for my interpretation of the Sugar Plum Fairy – it's one of my favourite roles. I know it might sound clichéd but The Nutcracker really is such a magical world to be involved in. It is definitely one of the highlights of the calendar for me.
And it must be particularly special this year as you recently gave birth to a daughter?
Yes – Peggy came into the world at the end of 2020, in the depths of lockdown, and has been a total ray of light ever since. I just had a dance with her on stage after my rehearsal in full Sugar Plum costume. It was such a magical moment, even if she's a bit too young to have fully appreciate it. She loved all the Nutcracker backdrops and props, especially the drumming bunny and Drosselmeyer's workshop. Our family Christmas cards are sorted for the next decade!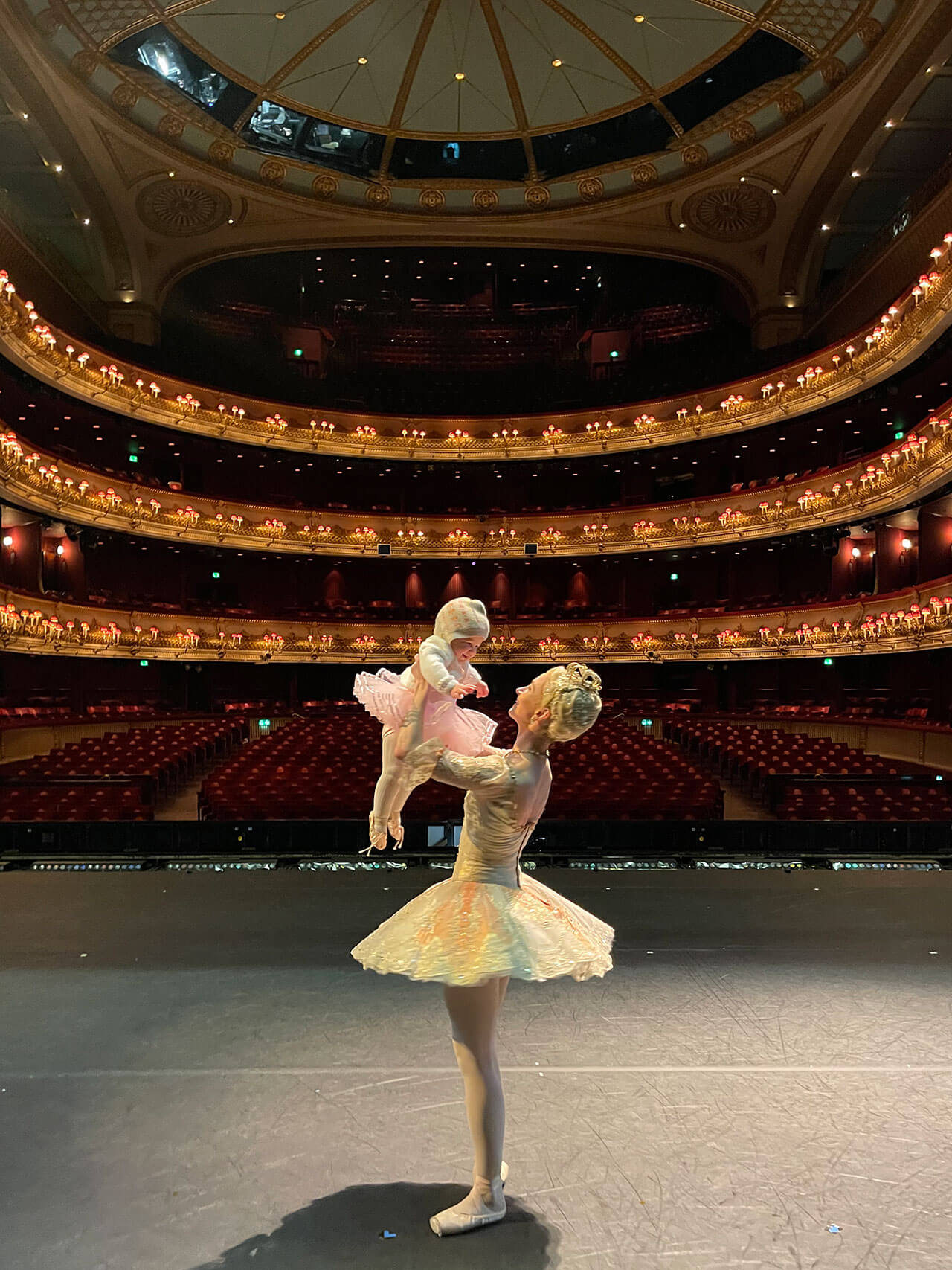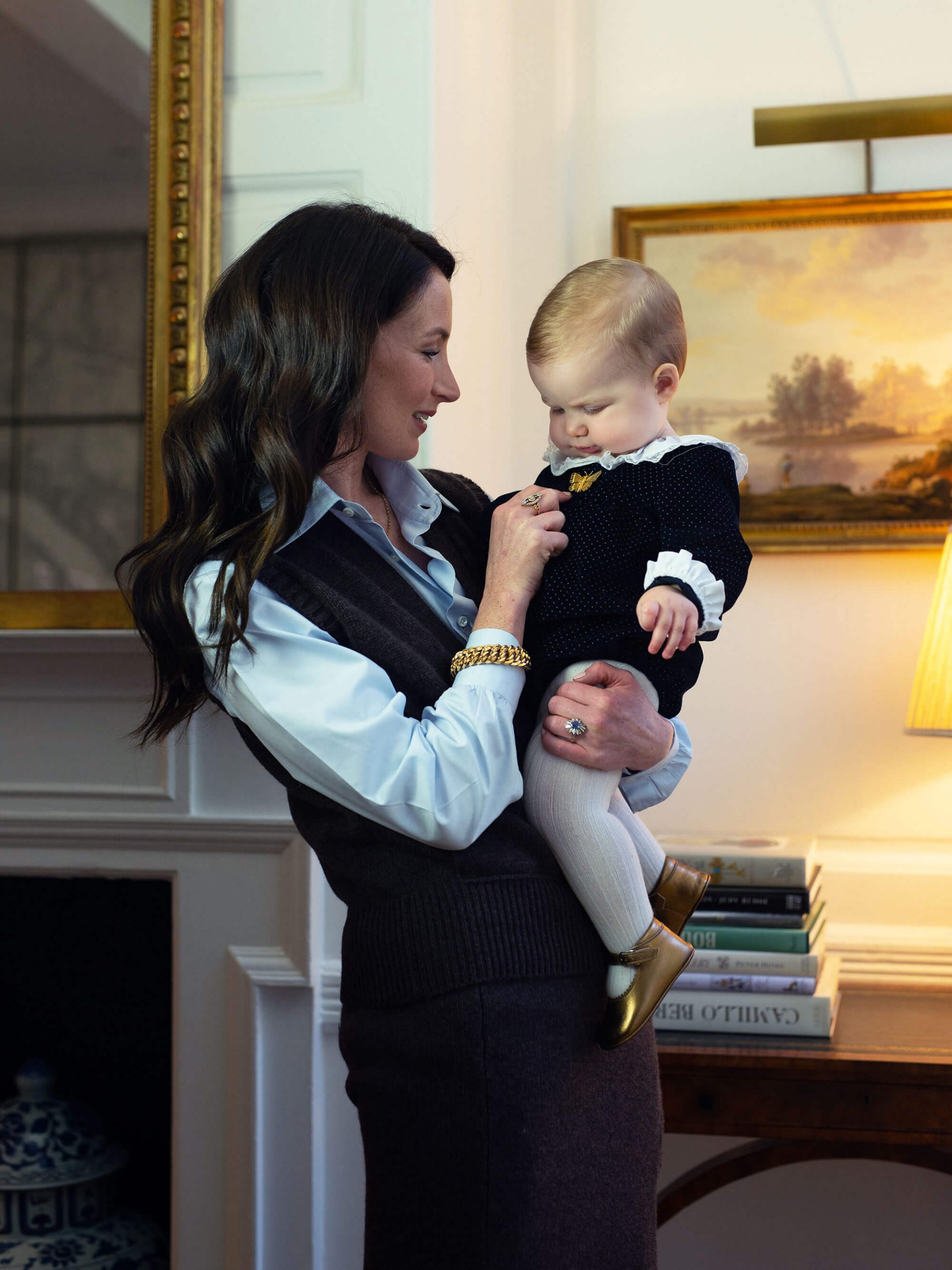 It goes without saying that it must have been quite tough returning to the stage after having Peggy?
Well, yes, you could say that! For lots of reasons, both physically and mentally. Peggy has given me a whole new purpose and has put many things into perspective. I now see my life beyond the stage, which can be a bit intimidating at times. But Peggy also inspires me to make as much of the opportunities I have when I still have them.
It has been a long road to recovery – a lot of it not pretty. But I'm so proud to be back doing what I love, and it's better than ever with my little tinker side-stage.
I now see my life beyond the stage, which can be a bit intimidating at times.
You've been at the top of your game for over 20 years. What's the secret to your success?
It's not that complicated – I just love what I do! Being on stage under the lights is like a drug. It's hard to describe the feeling but you just can't wait to be back there in this amazing zone. Ballet as an art form is endlessly fascinating – both as a discipline and a vehicle for creativity and expression. I've been lucky enough to create ballets alongside some truly incredible human beings. Knowing that these opportunities may arise again keeps me extra motivated.
One of your most memorable recent roles – your last before Covid and Peggy – was playing Jacqueline du Pré in The Cellist. Did you feel the extra pressure playing a real-life legend?
Yes, definitely. Playing Jacqueline was a huge challenge. As one of the all-time greats of Classical music, she has left such an enormous imprint on so many people. I had to approach my depiction of her with great sensitivity but without being too sentimental. It is a very human story and I was humbled to get the chance to play Jacqueline.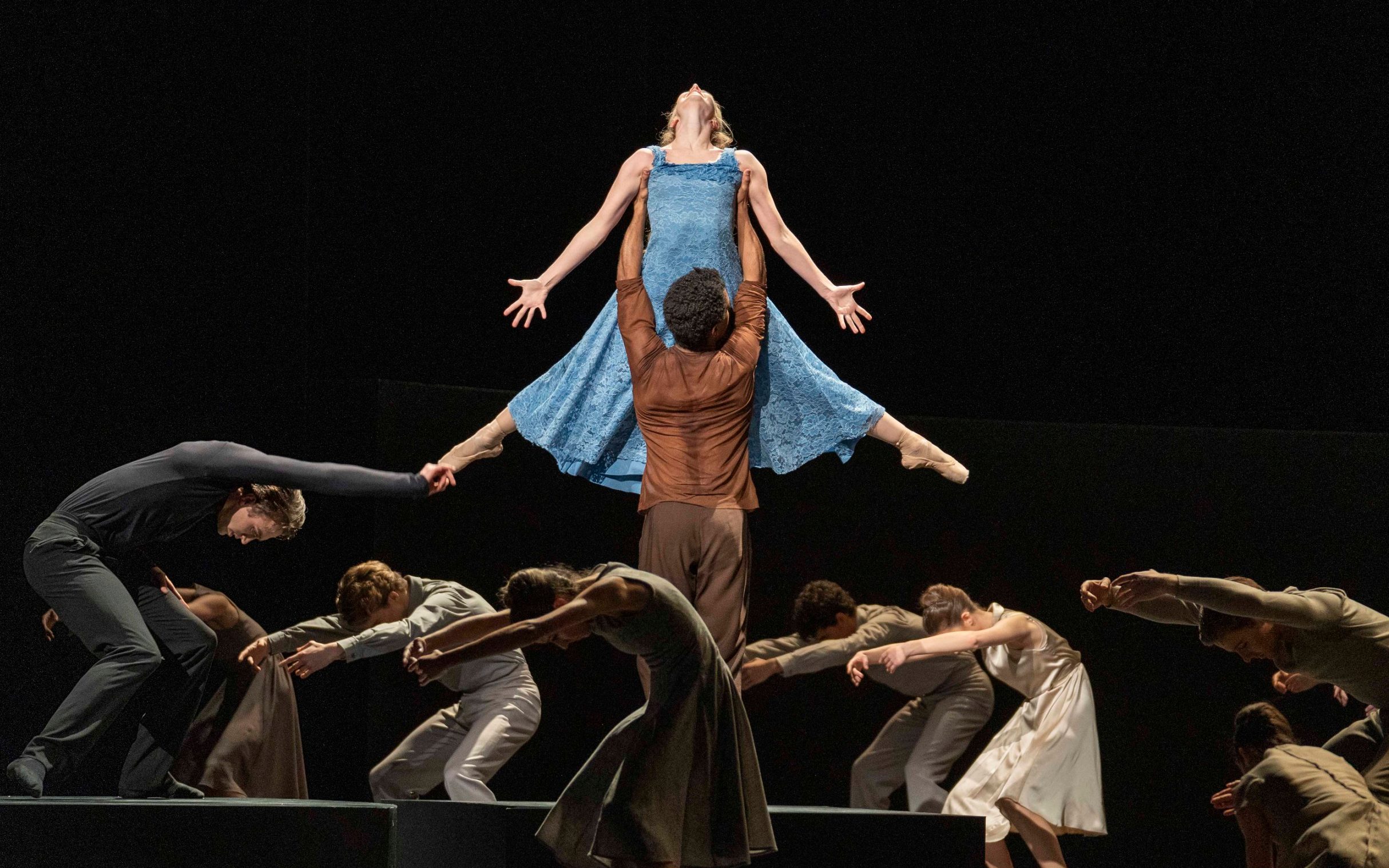 From a personal point of view it was incredibly special finding out what Jacqueline was like in person, away from the limelight. I was lucky to meet some of her friends who regaled me with tales of her mischief and sense of fun. She was a force, to say the least! The Cellist was one of my career highlights and I really hope I get the chance to reprise my role in the coming years.
Given the immersive nature of your roles, how do you maintain a healthy work-life balance?
It is very hard! Ballet is not so much a job but a part of who we are… we live and breathe it. I've definitely become better at switching off, but it's still hard. Even when switched off I will still be darning shoes for the next show! Being a ballerina is a pretty intense place to be and not for the weak-hearted, but the sacrifices are well worth it.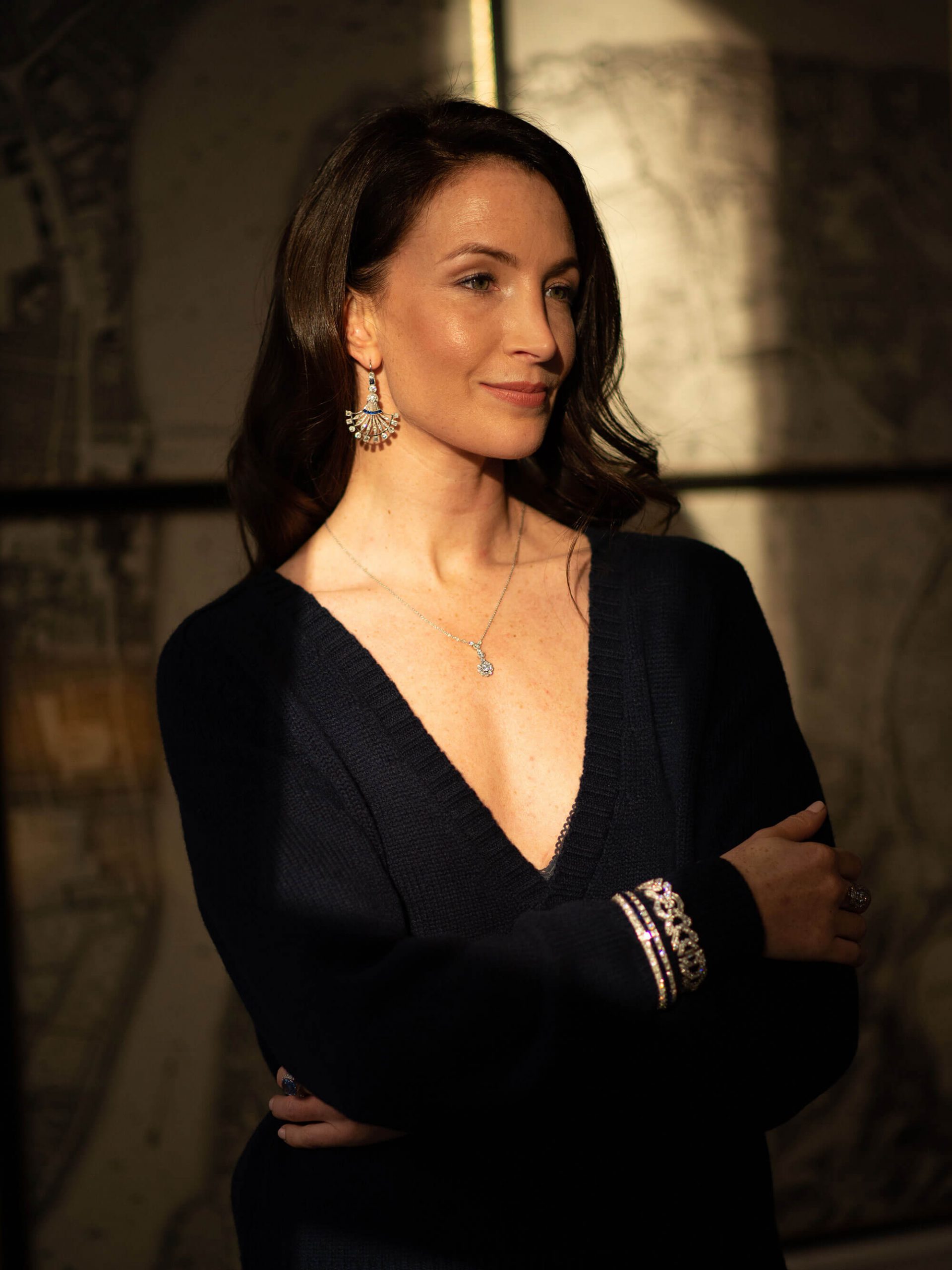 Ballet is not so much a job but a part of who we are… we live and breathe it…
So what are your passions outside of ballet?
We have almost finished a lockdown cottage project in the Peak District. The process has opened up a whole new world for me to discover. I've loved learning about colour, pattern and texture – and antiques. I am currently obsessed with an auction website called The Saleroom. We've pretty much furnished the whole house with antiques discovered on that website. I can't wait to spend our first Christmas there as a family in a few weeks.
I've loved fashion for as long as I can remember. Through my work at the Royal Opera House I've been involved with some incredible brands and designers. I feel there is a natural synergy with ballet – the dressing up, the craftsmanship, the drama… I used to collect vintage magazine adverts when I was younger and would bring the retro looks to life. Thank goodness Instagram wasn't around then!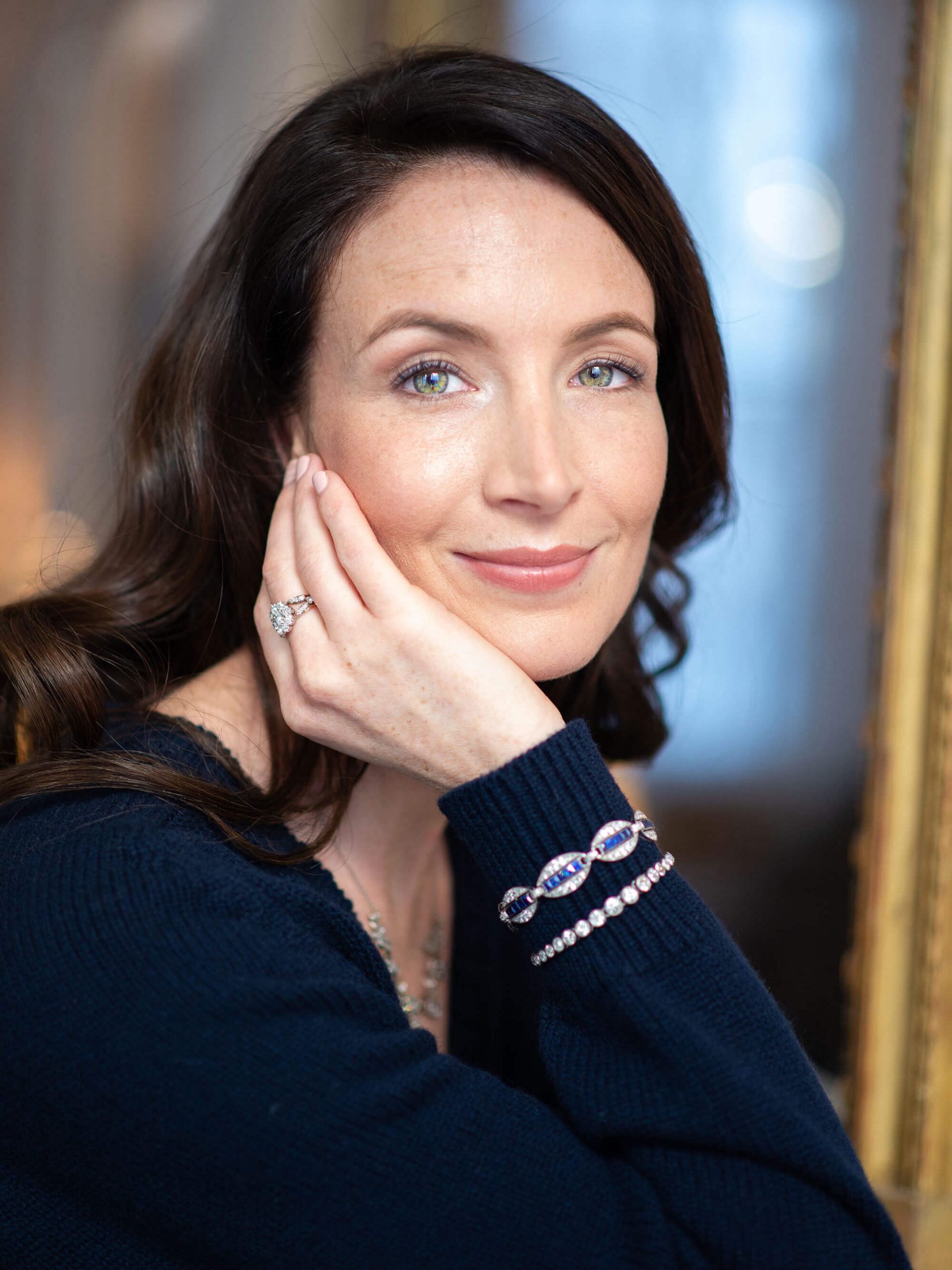 And antique jewellery – we hear you are a bit of a fan as well…
Yes – I am a massive antique and vintage jewellery convert. After digging a little deeper into the history of jewellery, it opened me up to the joys of old! Antique jewellery gets my imagination going…the people who may have worn them and the parties they've been to… There's a special type of feeling that each piece gives off. Sometimes happy, other times reflective. I like how you are the next chapter in their story. In times like these I feel these types of feelings are reassuring.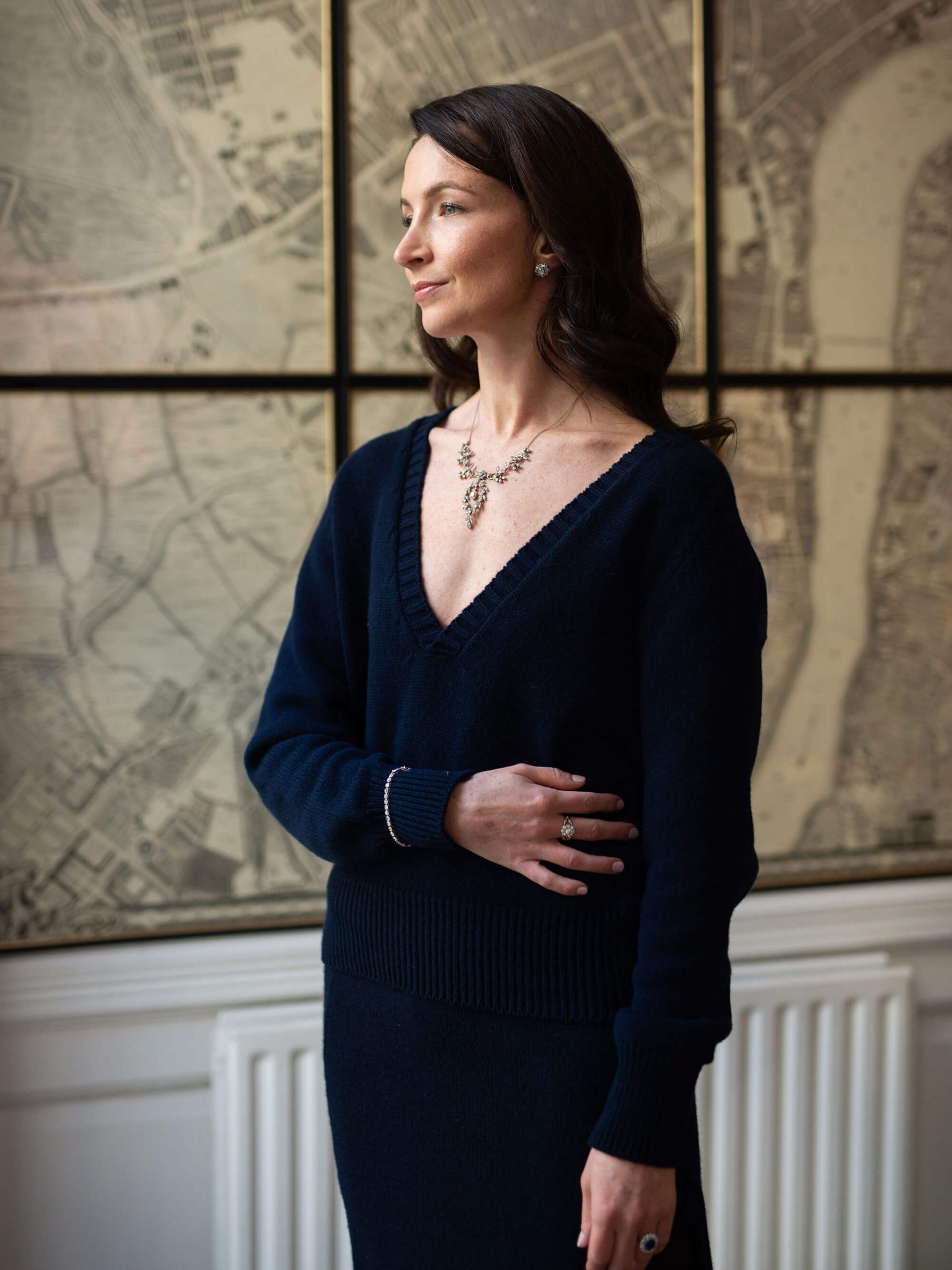 Antique jewellery gets my imagination going… the people who may have worn them and the parties they've been to… There's a special type of feeling that each piece gives off.
Sustainability is a big buzz word at the moment – does it mean anything to you?
Sustainability is definitely one of the main appeals of buying antique or vintage. I like to know that I'm not contributing to anything nasty when buying. The world is starting to wake up to some pretty scary realities. I feel the circular economy is one way we can help preserve the planet for future generations. I never understand why people go down the fast fashion route!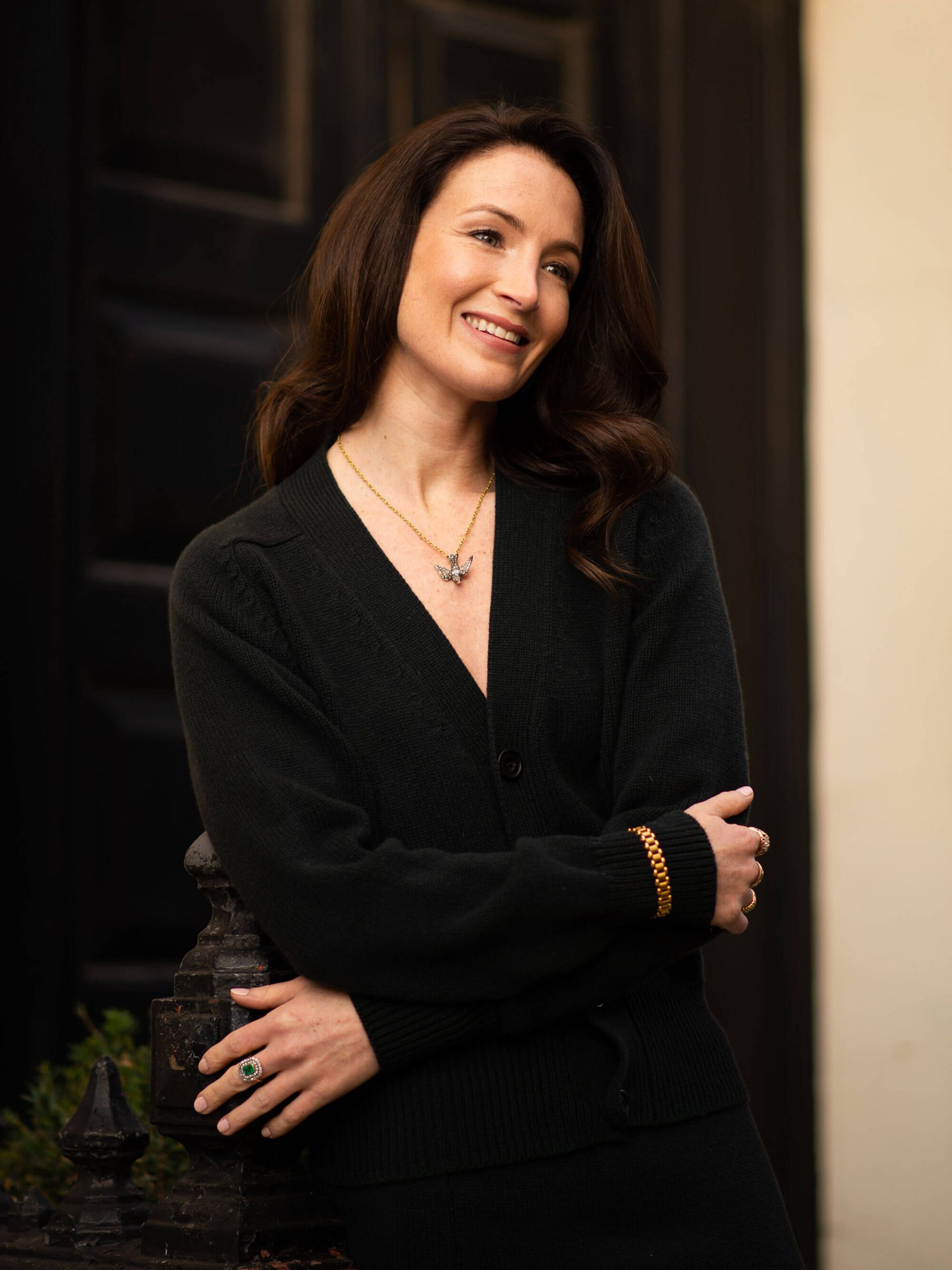 Music to our ears! And are there any pieces that you are particularly drawn to in our collection?
Where do I begin? I'm naturally drawn to the Art Deco pieces. They are fabulous and evoke a fun moment in time! In particular I love the Art Deco platinum and diamond bracelet, it's currently my standout piece from the AJC collection. Despite being 100 years old the geometric design is so fresh and I can imagine wearing it a lot. The emerald target earrings are also incredible, they speak for themselves really. As does the big Ceylon sapphire ring. Discovering the AJC collection in person at the Townhouse was quite something. I'm looking forward to developing my taste and knowledge of antique jewellery. It definitely feels like the start of long (and dangerous) love affair…
Finally, what kind of legacy would you like to leave?
Up until lockdown and Peggy I haven't really had much time to think about legacy. But now that I am a mother I'm more aware than ever of the responsibility we have to future generations.
Professionally, I'd love to be remembered as one of the leading dancers of my generation who hopefully brought a lot of smiles to peoples' faces. I'm proud that my name will always be attached to some of the most celebrated productions of recent years.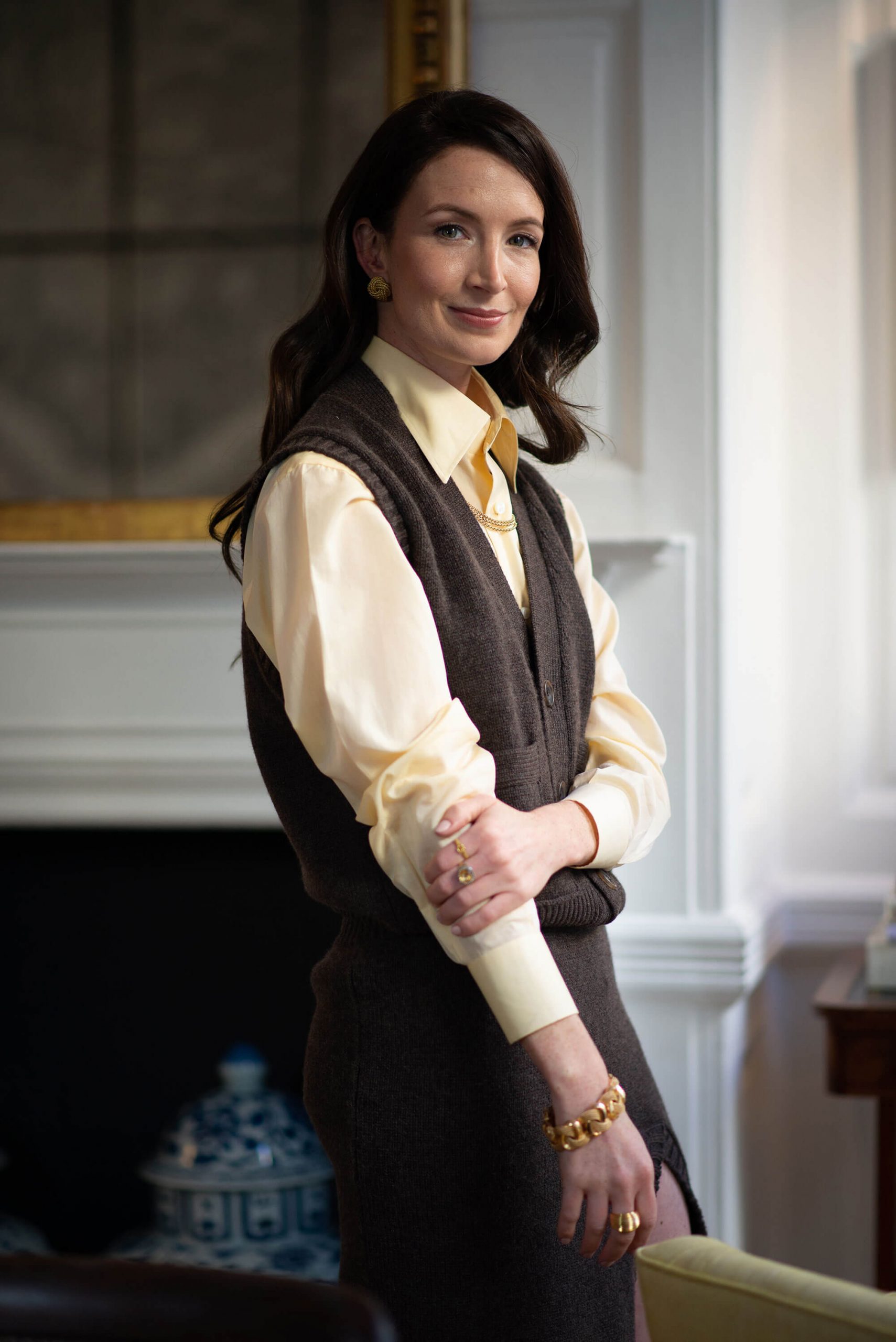 I hope that I've helped in some ways to inspire the next generation of dancers. I was once a little girl in Torquay with big dreams. In fact, my Mum only sent me to my first dance class to try to stop me being so naughty! I found ballet out of the blue and was fortunate to have people around me who believed in me every step of the way. If I can give back in some way in the future that would make me very happy.
Looking ahead, I still feel that I have a lot to offer ballet as it moves into new and uncharted territories. Like I said, ballet is part of who I am. I won't miss the darning though…
Lauren performs in The Nutcracker on 4th, 10th and 13th December. For tickets, visit roh.org.uk.