Early Victorian Royal Blue Enamel & Diamond 18ct Gold Ring
An elegant 18ct75% pure gold (or 750 parts pure gold and 250 parts other metals) gold early VictorianJewellery made in the the Victorian era (1839-1901). ring, with Royal blue enamelA pigmented glass-like material used in powdered form and fused onto the metal surface of a piece of jewellery. intersected with lines of graduated rose diamonds and old mine cuts. It is a bombe shape and in good condition. The centre diamondA precious, lustrous gemstone made of highly compressed carbon. Diamonds are one of the hardest materials known to mankind. Colours of diamonds range from colourless, yellow, orange and brown to almost black. Natural coloured (or 'fancy') diamonds can be extremely rare. The cut, colour, clarity and carat weight of a diamond are the criteria jewellers use... More is an impressive clear old mine cutAn 18th, 19th and early 20th century diamond shape, typically cushion or asymmetrical, marked by a small table, a high crown and a large culet. Culets are the small flat facets at the bottom of a stone which appear to the untrained eye as a hole in the middle of the stone. Before the advent of modern machinery which allows for the precise faceting we see tod... More diamond weighting approximately 0.40 caratsThe unit of weight for a diamond or other gemstone and also for a pearl. Abbreviated 'ct', 1 carat is equal to 0.2 grams. In reference to gold, a unit of purity or fineness of gold and gold alloy, expressed as a number out of 24 parts by weight, e.g. '24 carat' signifies pure gold, '18 carat' 18/24th gold in the alloy, et cetera. Also abbreviated as 'c... More. It is inscribed 'William C Brant obut (died) 24th August 1867 qaat (aged) 75 yr'.
Sold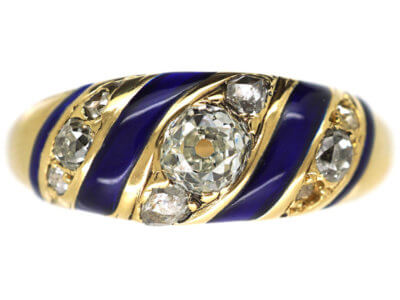 Love this ring!
Materials
Gold Diamond Enamel
Hallmarks
Inscribed 'William C Brant obit (died) 24th August 1867 aet (aged) 75 yr'.
Measurements
Diamonds approx total weight 70 points
Centre Old Mine Cut diamond approx total weight 40 points
Colour I/J
Clarity VVSI (Very Very Slight Included)