A Guide to Art Deco Jewellery
The flamboyant and dazzlingly bold style of Art Deco jewellery perfectly reflects an era that refused to look back, only forward.
After the devastations of World War I, the Art Deco era – an intoxicating whirlwind of hedonistic living and giant leaps in innovation – blew in, lifting everybody's spirits. This period is widely remembered for its cocktail-sipping, fringe-shaking flappers, its jazz and its Great Gatsby-esque lifestyle. It's also known for its spectacular, bold jewellery. In fact, the styles of Art Deco jewellery are still widely imitated today.
Women's fashion dramatically changed in the 1920s. The new, hands-on roles required from women in the absence of their wartime heroes had transformed fashion from the relative formality and restriction of the Edwardian era and the war time years to fun, elegant, and practical styles (think Coco Chanel) that highlighted the freedom of modern women and allowed them to participate in activities that were previously for men only. Corsets disappeared, hemlines grew shorter. This freedom and sense of fun was reflected in the new, exciting jewellery styles and fashions.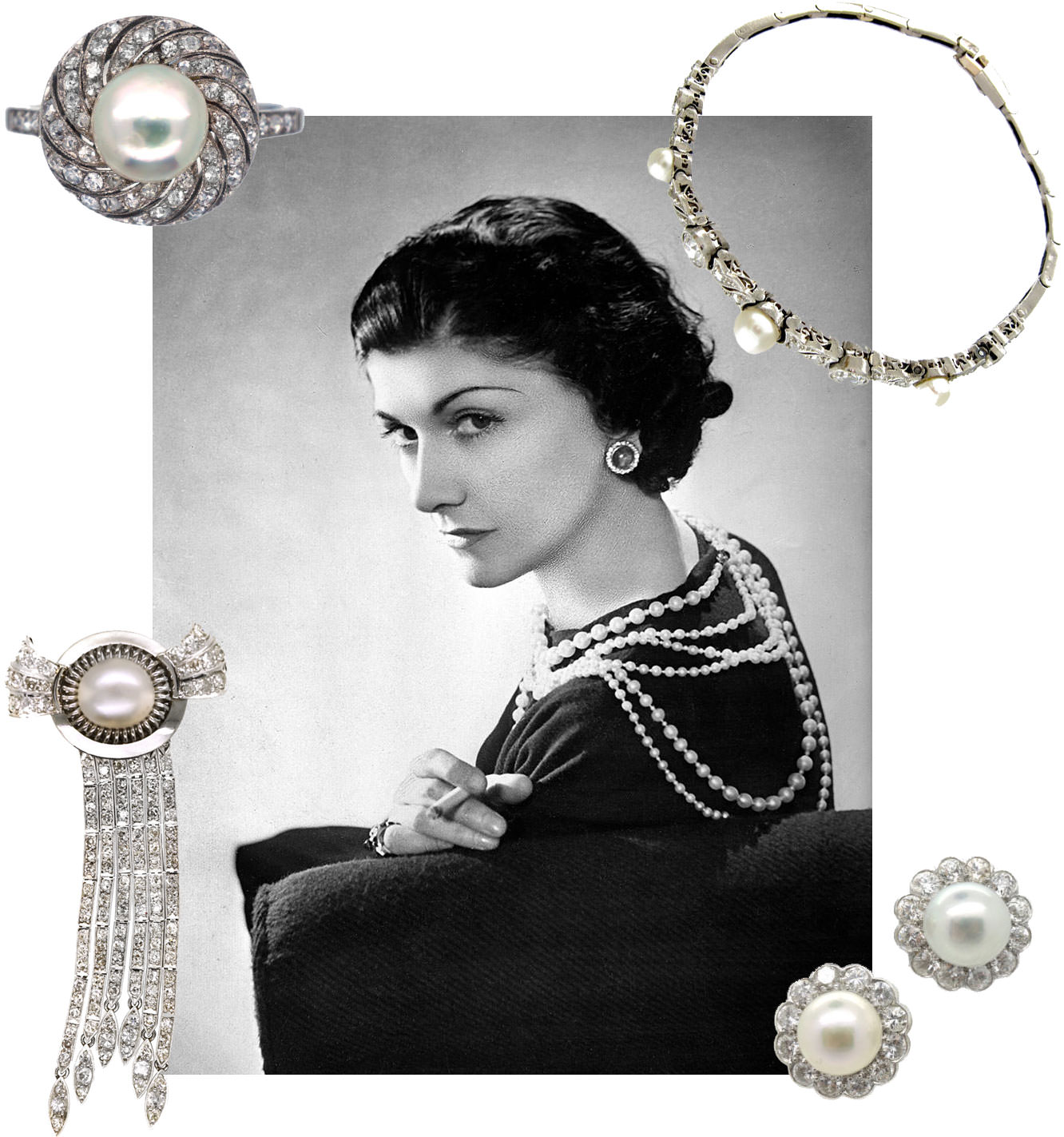 Innovation
The term "Art Deco" comes from the Exposition International des Arts Décoratifs et Industriels Modernes, held in Paris in 1925 – an important design exhibition which was largely dedicated to the art of jewellery. The key emphasis of the exhibition was on the association of art and modern industry.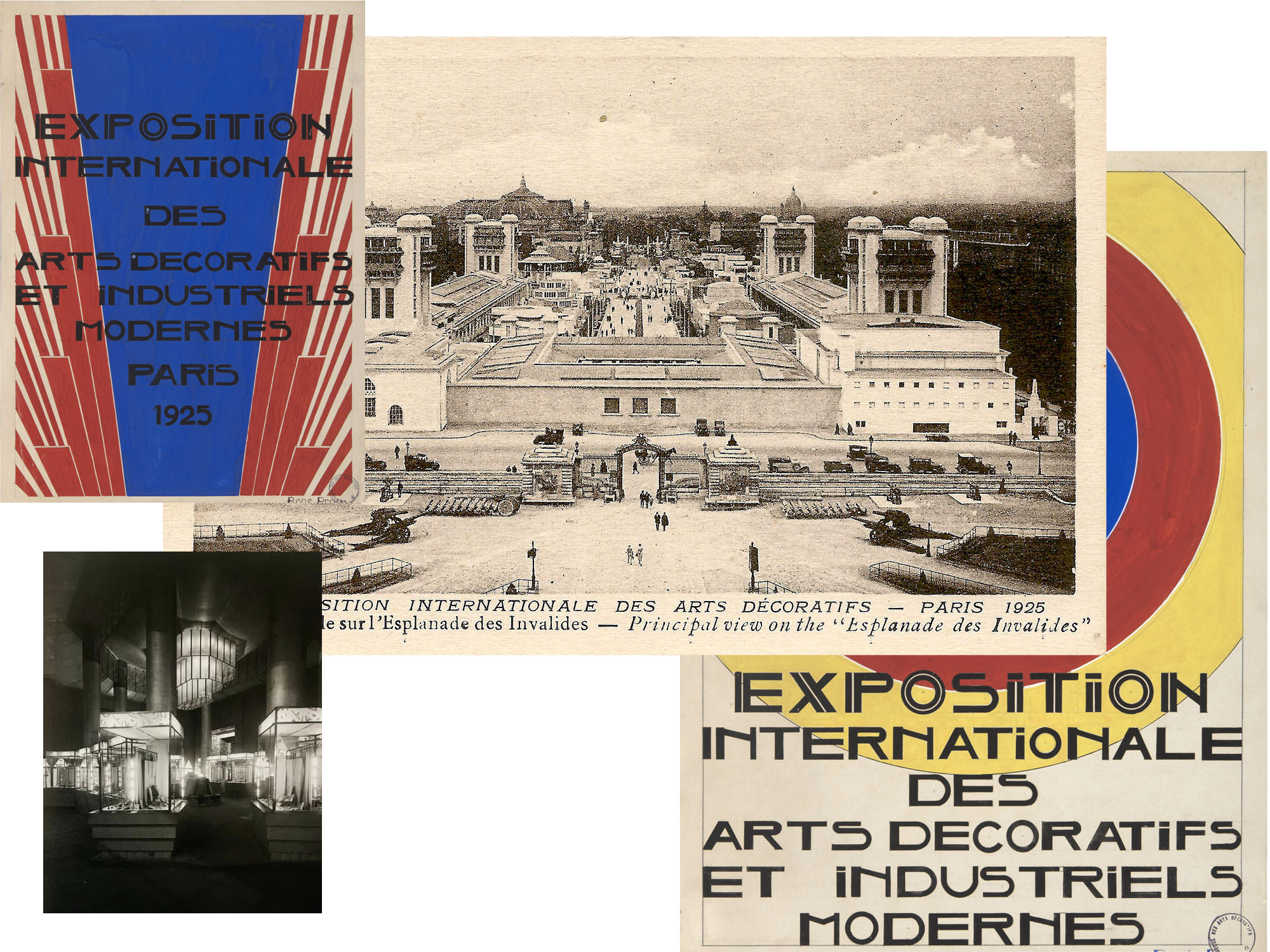 The Art Deco period was a time of cutting edge industry techniques which brought us the following jewellery innovations:
Platinum
Following the end of the war, platinum was back in play, as well as a new, less expensive material called osmior, plator or platinor. These strong materials led to light, airy gemstone designs without as much metal required.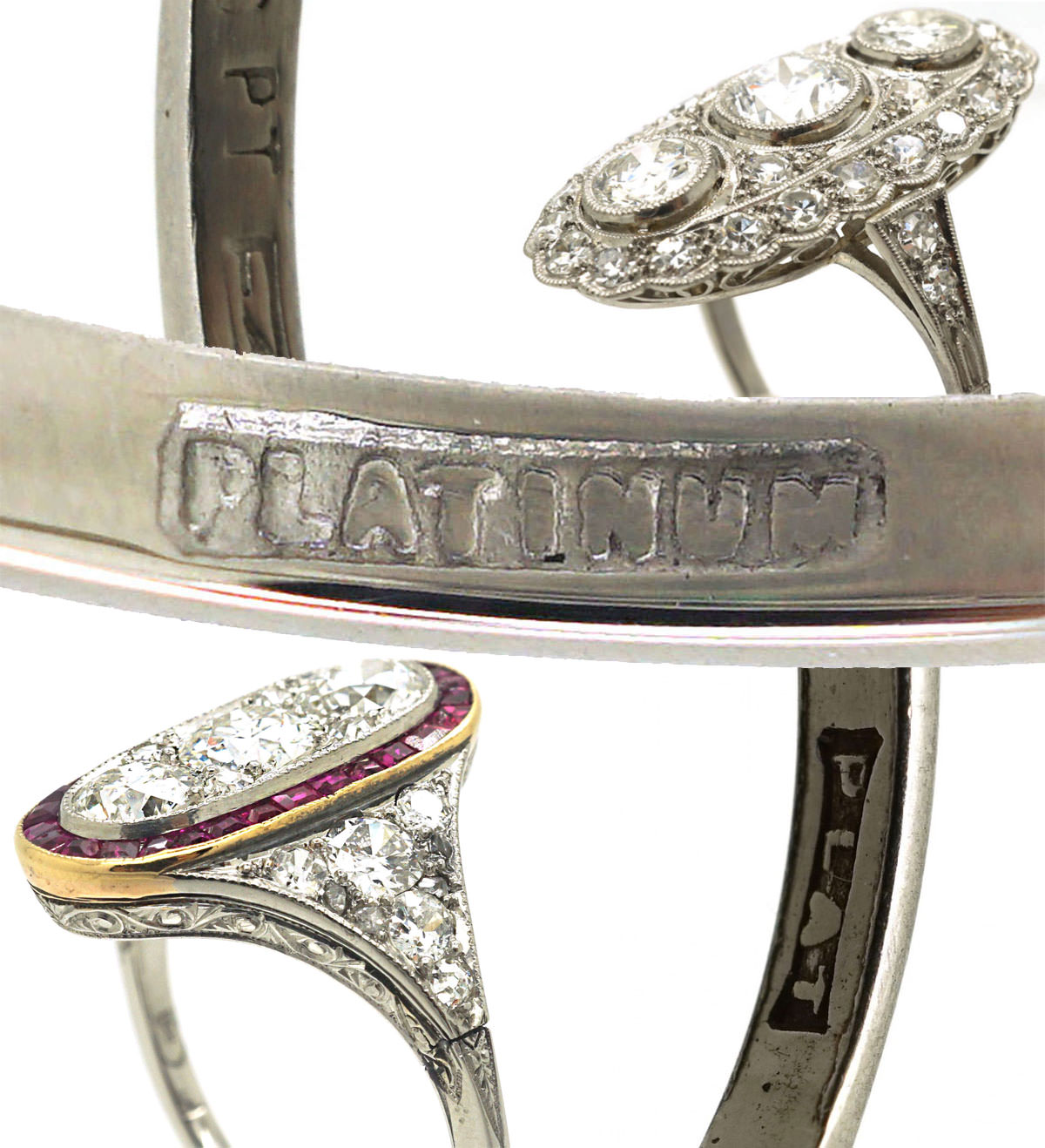 Invisible Settings
Jewellery giant, Van Cleef & Arpels, developed the significant 'mystery setting' or serti invisible ("invisible setting") which allowed gems to be mounted in such a way that no metal was visible.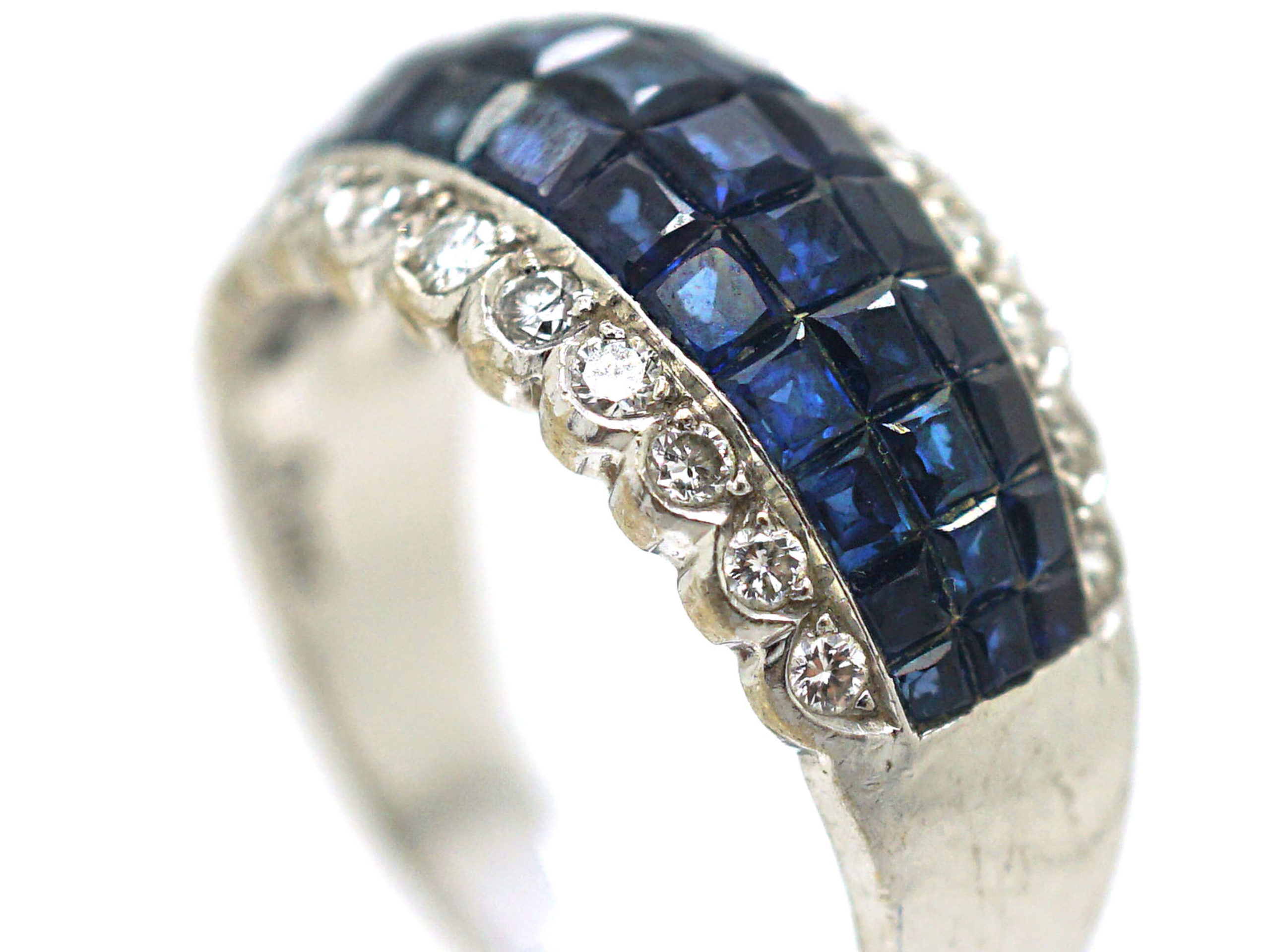 Gem Cutting
Gem cutters developed ways to cut and shape gems in new and exciting ways, allowing for the glittering 'mosaic' designs of the era.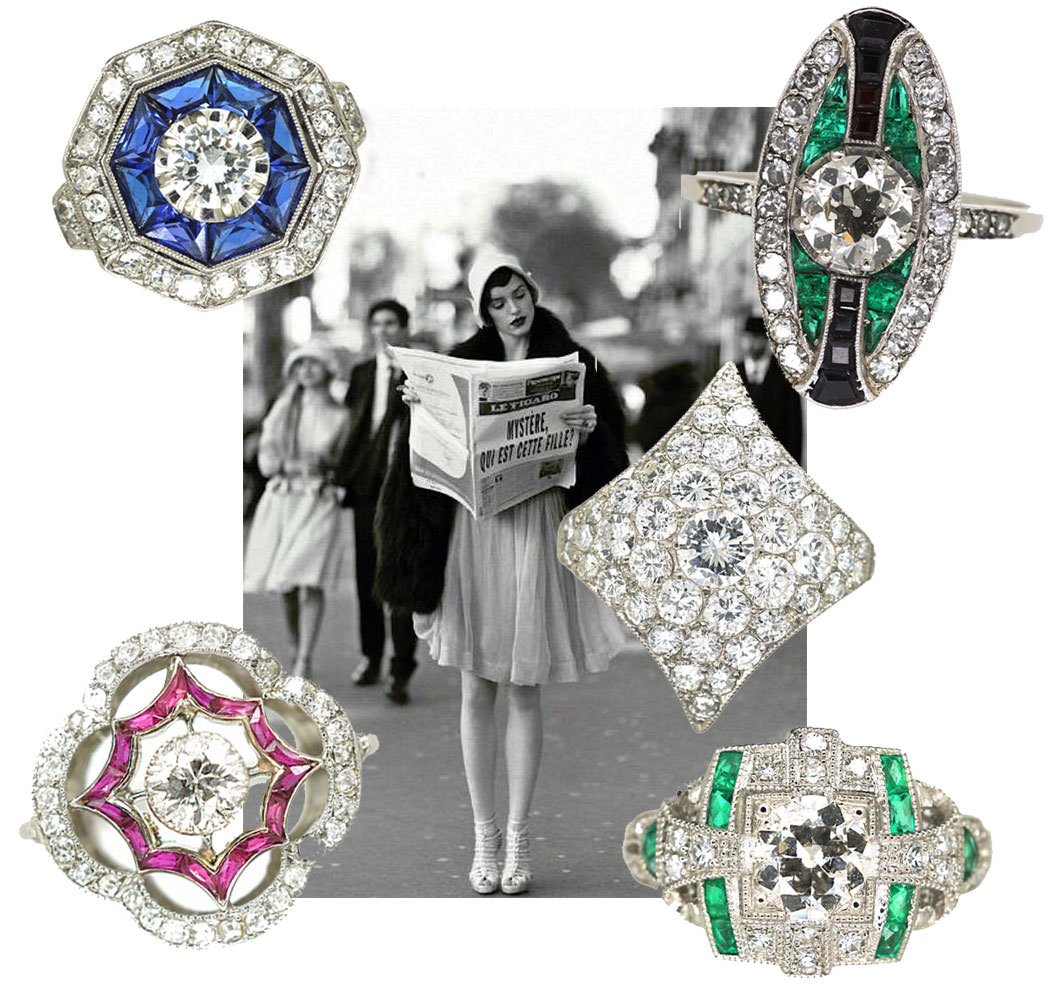 Lacquer
Enamelling – which was labour-intensive and expensive – was replaced by sophisticated lacquer techniques from the Far East. Chinese workers who had lacquered airplan propellers during WWI began to polish and lacquer jewellery instead.
Synthetic Materials
Synthetic materials such as Bakelite became widely available and were used to imitate gemstones, amber, wood and bone and other natural materials.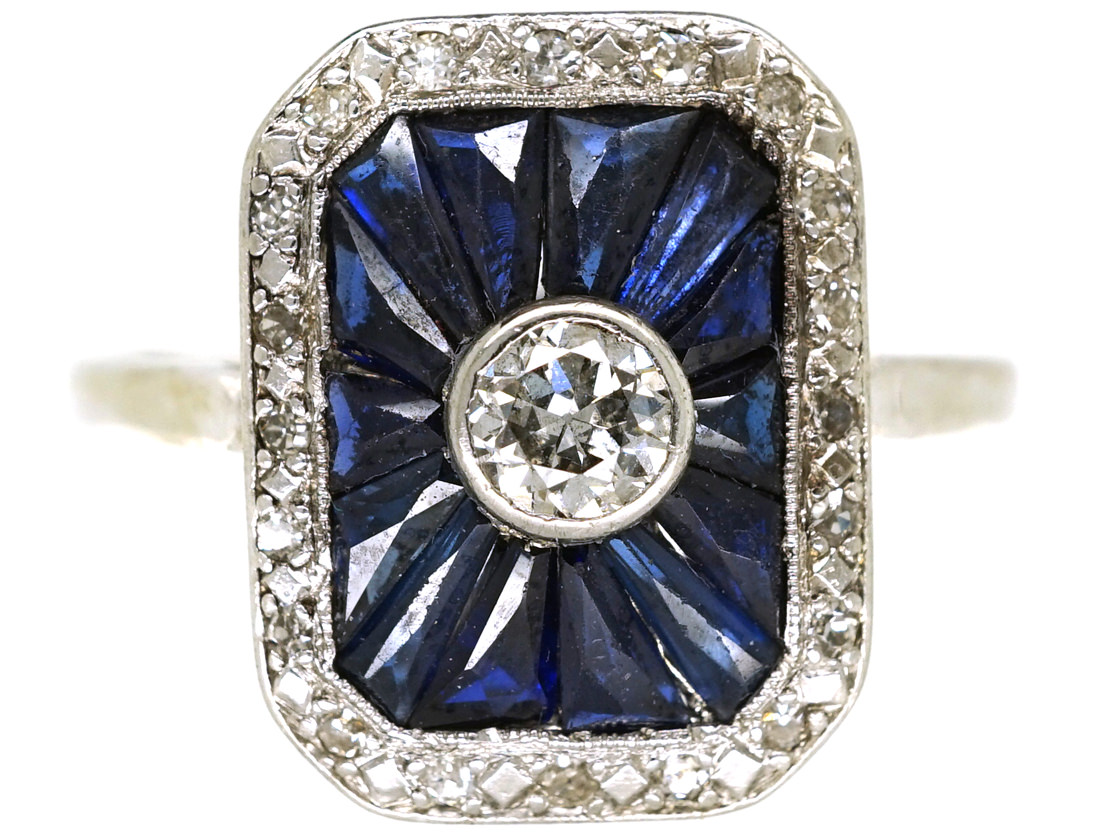 Cultured Pearls
A process was developed to 'cultured' or 'cultivated' pearls by implanting pearl-bearing oysters with mother-of-pearl beads. Cultured pearls were produced in abundance and these stones consequently became an iconic jewel for the 1920s.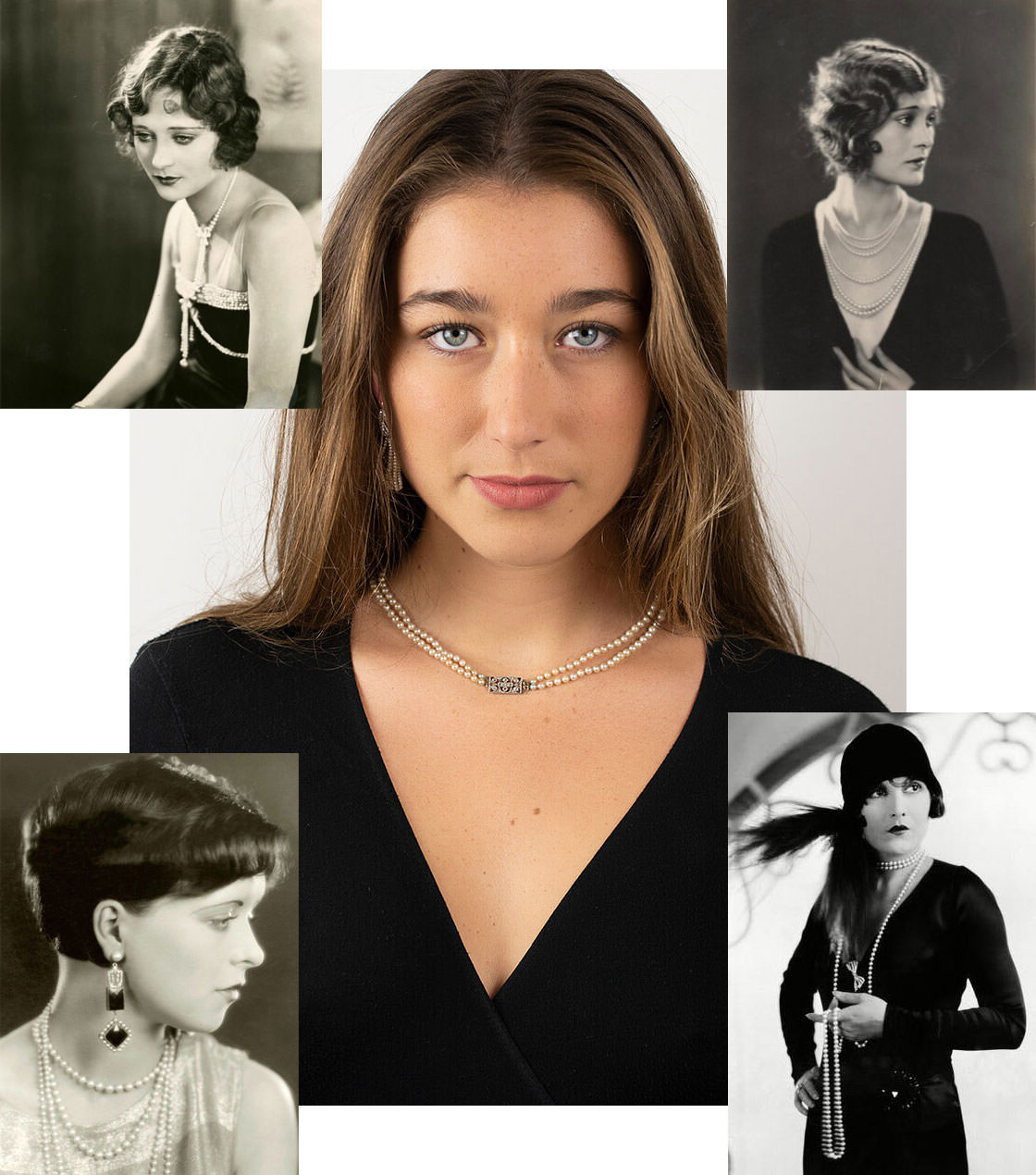 Geometrical Design
The jewellery designers of the Art Deco era were keen to break away from the fluid lines and natural themes of Art Nouveau jewellery. Instead they embraced modernism and the advances in technical innovation and machinery. A new genre of design was born – bold, geometric shapes with clean lines and symmetry. This style of design – also called "style moderne" – is instantly recognisable and much coveted (and copied) today.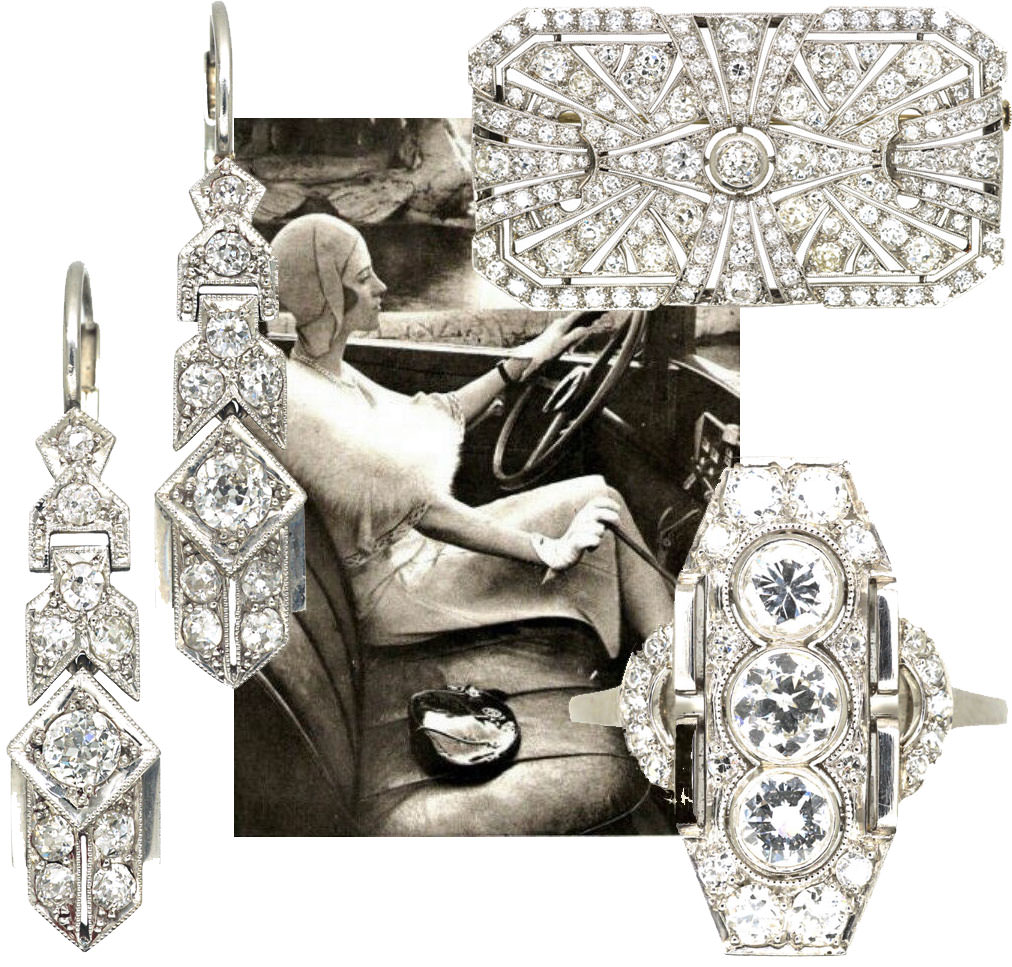 The term "Cubism" was often used to describe jewellery of this era because of the angles, geometric lines and figurative representations employed.
International Influence
Cultures around the world influenced the Art Deco era and introduced new jewellery trends, from Far East Asian motifs and Indian gemstone-carving to exotic, new colourful materials such as lapis lazuli, turquoise and agate.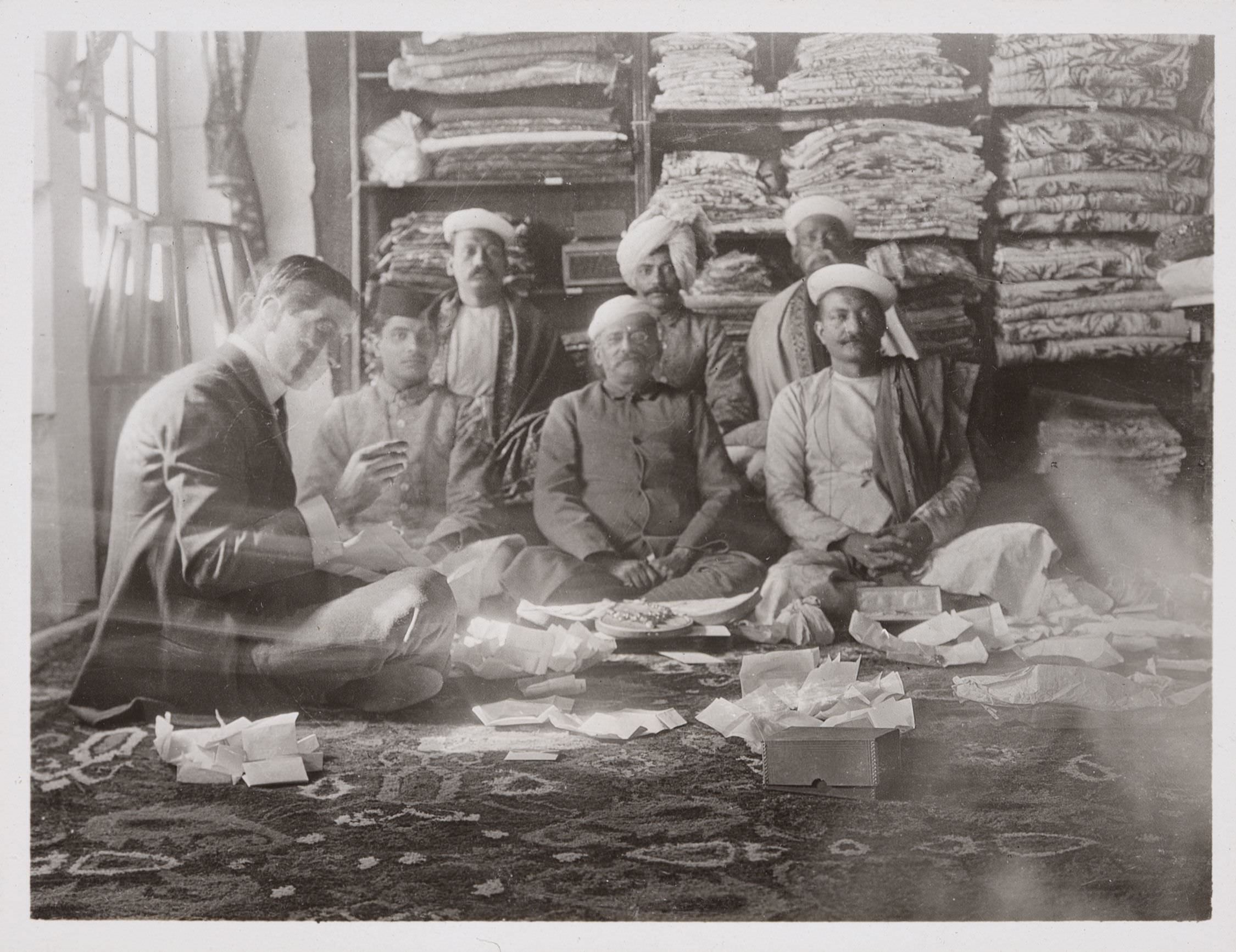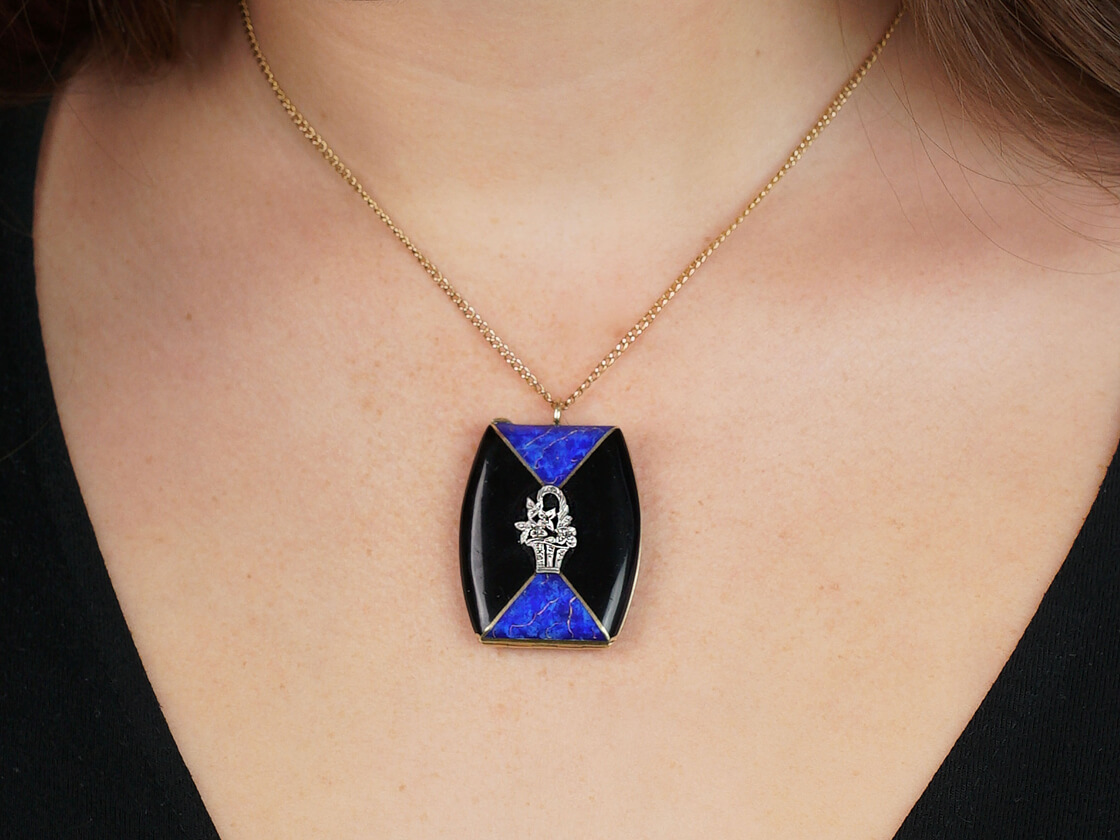 The 'Egyptian Revival' stands out in particular. Exciting new archeological discoveries in Egypt, primarily the tomb of Tutankhamen, had a huge influence on Art Deco design motifs. New combinations of materials – lapis lazuli with gold, cornelian with turquoise – were inspired by the Pharaohs. Lotus blossoms, scarabs, pyramids and the eye of Horus are among the ancient Egyptian motifs that can be spotted in Art Deco jewellery.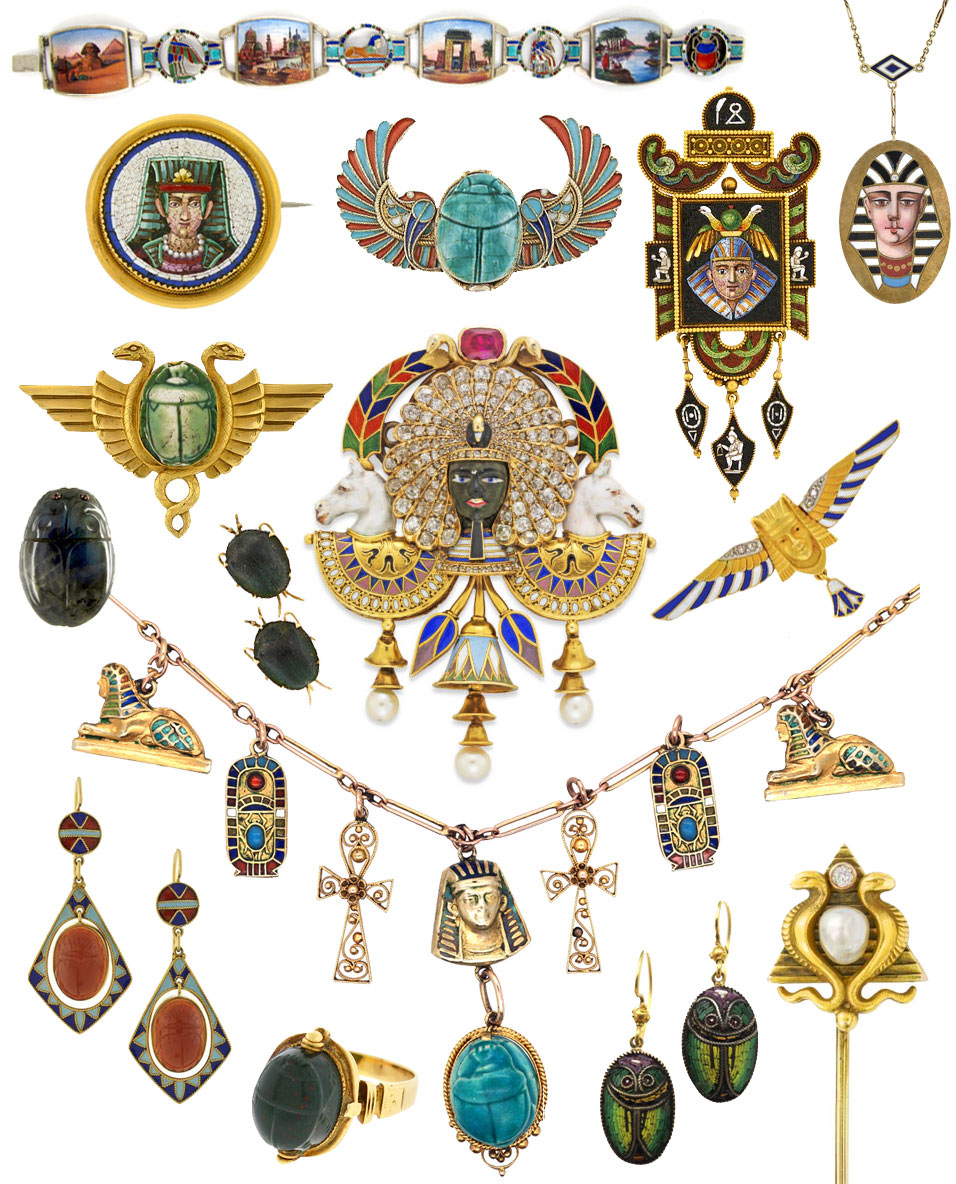 Two Schools of Design
Collaboration between the different design arts was commonplace in the Art Deco era and jewellery designs were often created by and with artists who were not 'jewellers' by trade. Architects, sculptors, painters, jewellers and other design artists enriched and inspired each other's disciplines enormously throughout the Art Deco era. The result was a group of jewellery designers known as the bijoutiers-artistes, who placed more emphasis on design than intrinsic value. They used gemstones as 'punctuation' rather than the focus of the piece.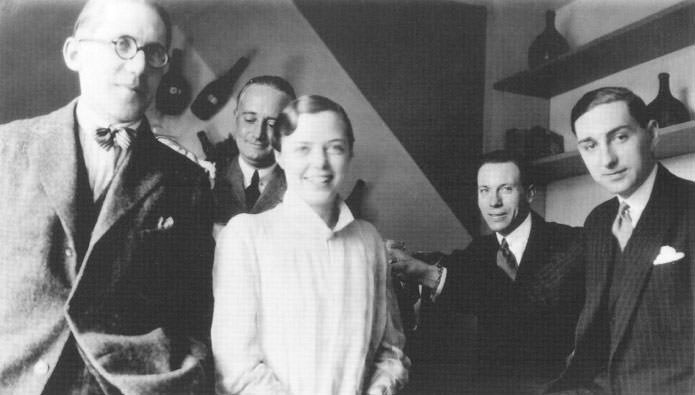 The bijoutiers-joailliers at the well-known Parisian jewellery houses, on the other hand, were creating geometric designs from tightly packed, calibré cut precious gemstones (always coloured) to surround a centre stone or flank diamonds.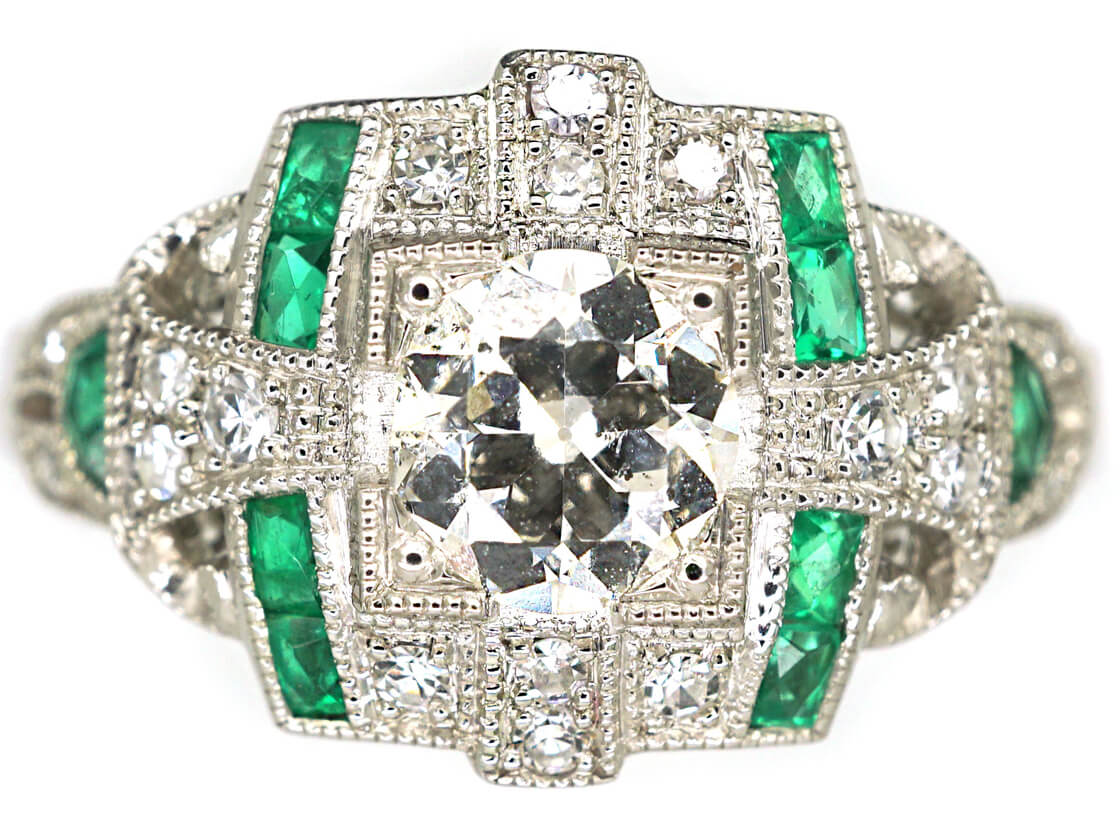 Many unusual diamond cuts were developed in this time, including trapeze, half-moon and triangle cuts. They drew inspiration from the Far East and India, carving designs into gemstones and mixing precious stones with coral, lapis lazuli, agate, turquoise and rock crystal quartz.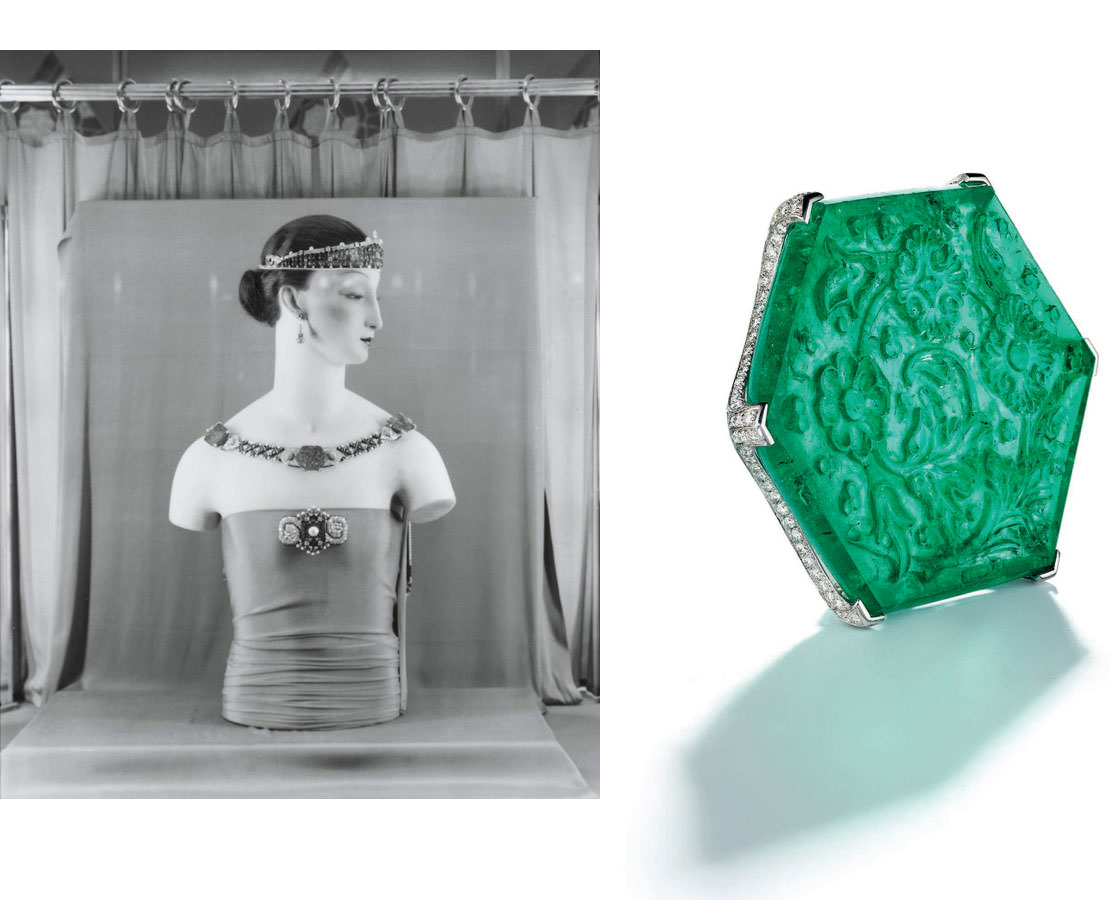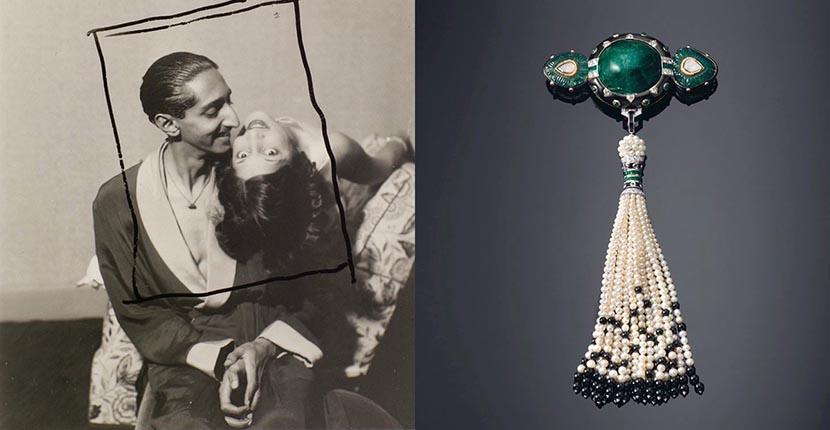 Art Deco Jewellery Styles
Earrings
Early Art Deco earrings were long and delicate, exposed by the new, short hairstyles. They tended to be geometrically shaped, with diamonds and perhaps a large, coloured gemstone. The late 1920s brought with it monochrome styles which showed off the new diamond cuts. There was a fashion for earrings which doubled up as brooches.
The 1930s saw a transformation in earring styles and they bounced back up to the ear lobe, onto which they were often clipped. Large, natural shapes like shells, leaves and flowers were popular.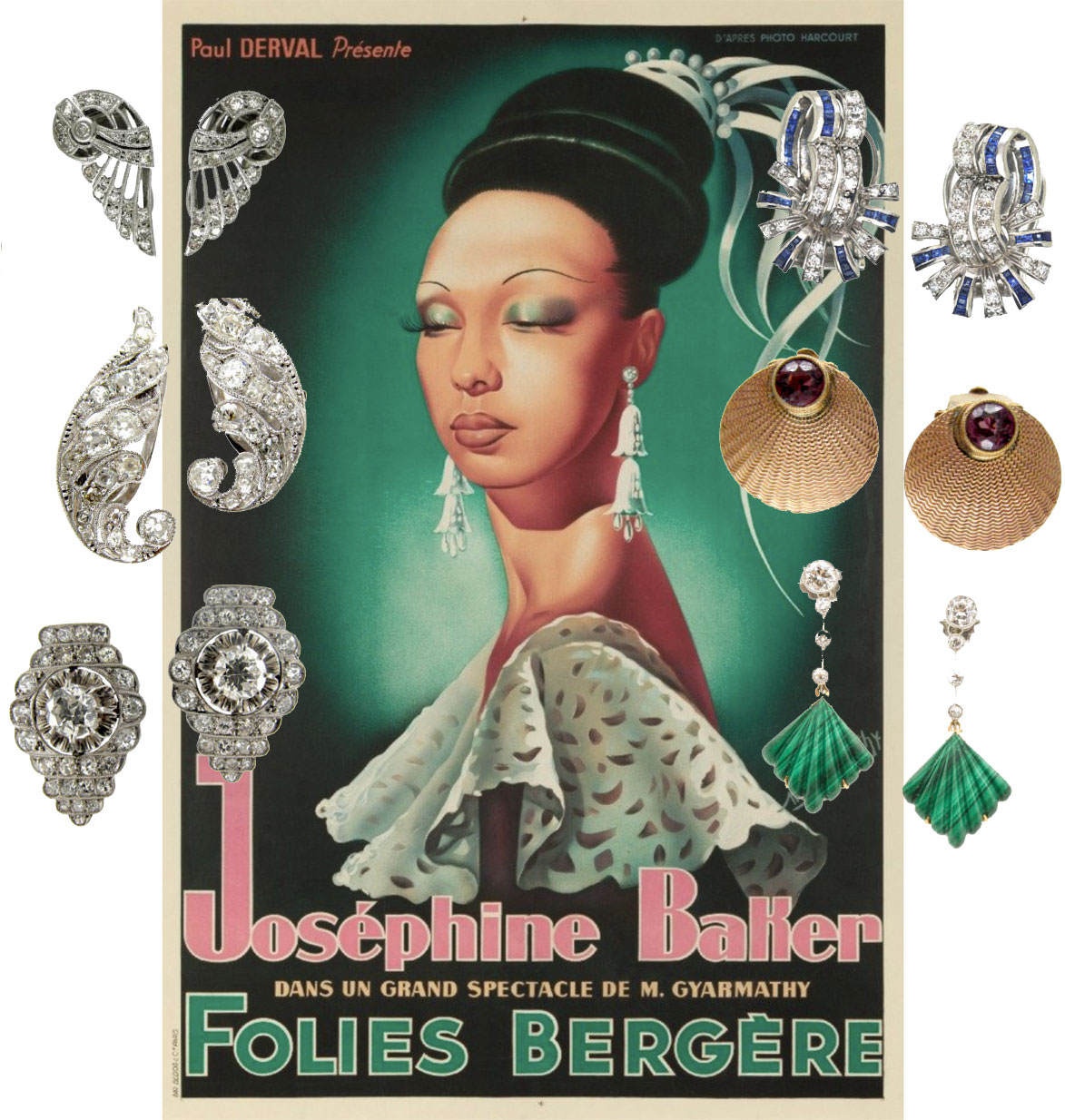 Necklaces
The icon necklace for the 1920s was the sautoir. These were extremely long and often featured a tassel or a pendant. Long strands of pearls and beads were worn any which way around the neck, down the front or back depending on the style of the dress. Pearl necklaces were widely worn during the day and evening. They were often made with cultivated pearls – a brand new innovation – and flattering against all shades of skin.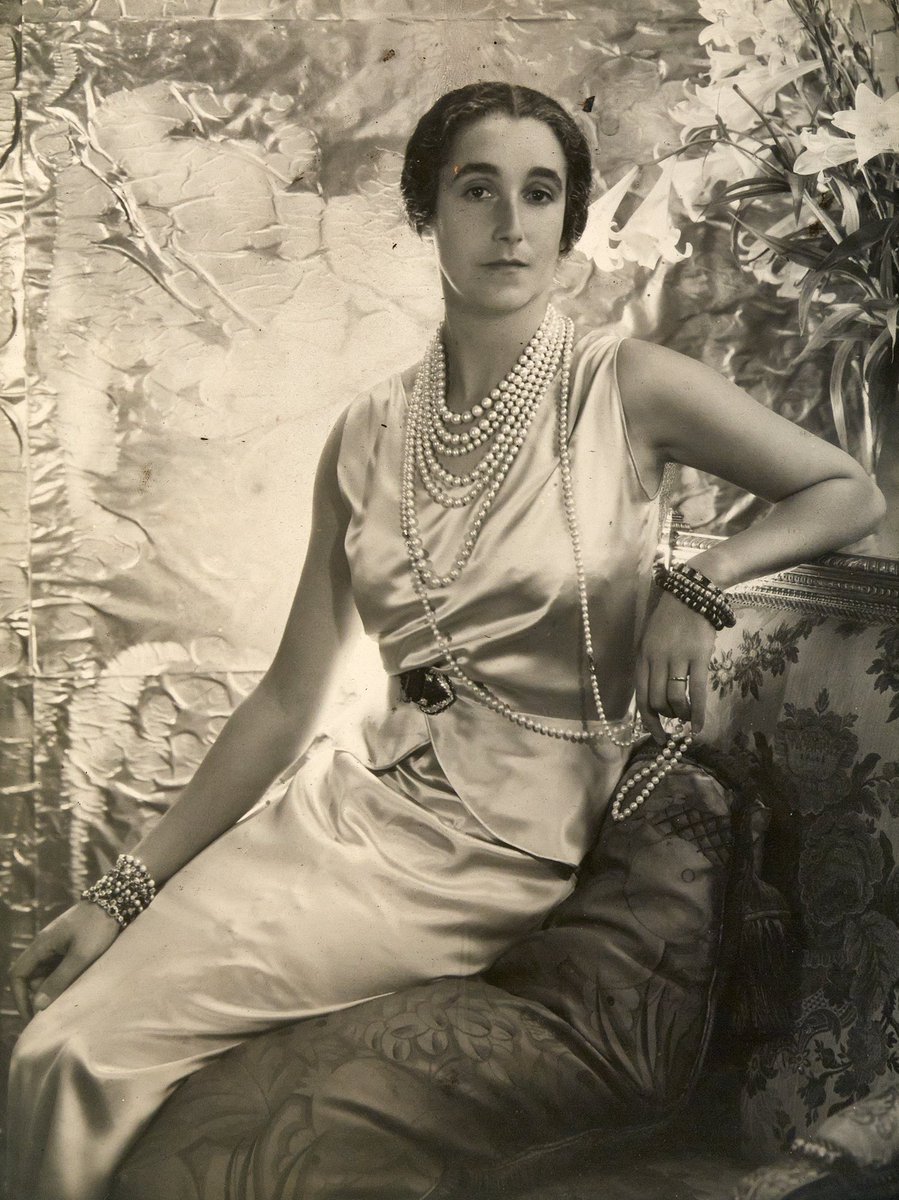 Shorter necklaces were often made with gemstone beads or by mixing diamonds and carved gemstones. They would typically terminate in a plaque-shaped pendant which could sometimes detach for use as a brooch, for example.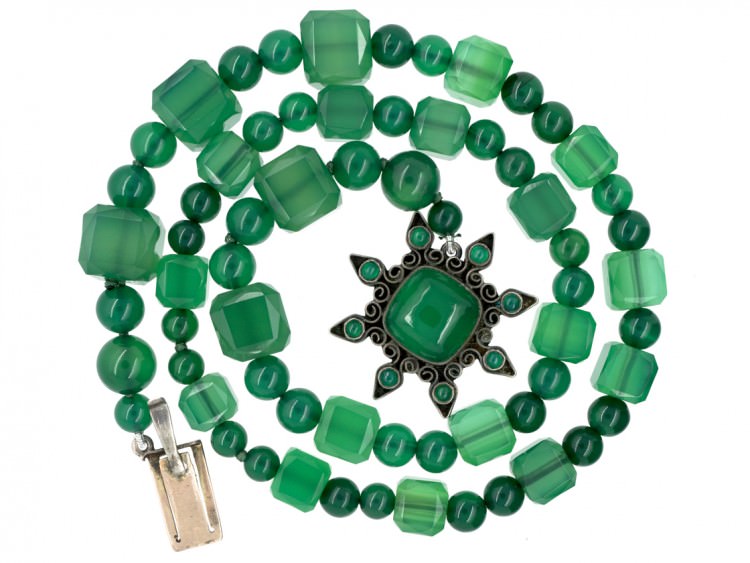 Another popular style was a multi-strand pearl or gemstone bead necklace with gemstone plaques on either side, in a festoon effect. Spectacular bib necklaces boasted impressive diamonds, rubies, emeralds and sapphires.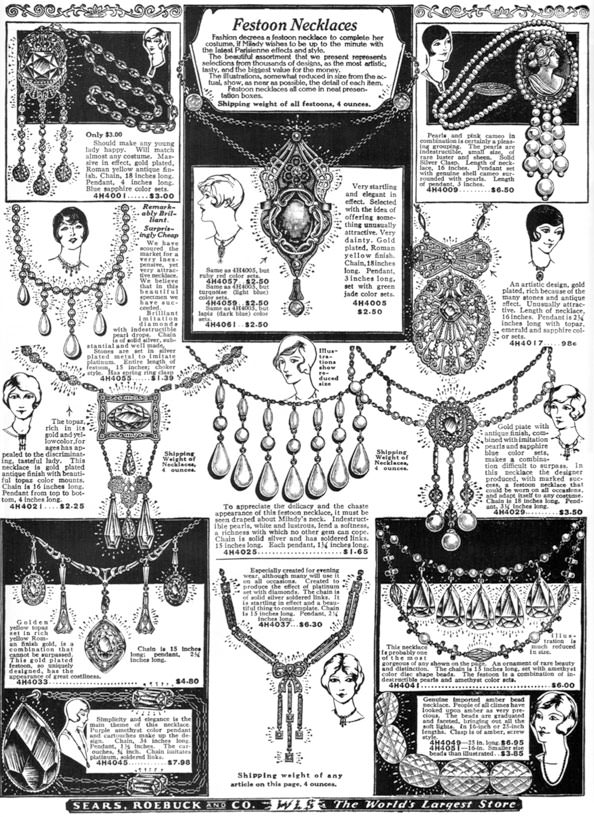 Pendants
Pendants were a significant feature of Art Deco jewellery. Designs were often geometric and featured patterns and materials influenced by Chinese, ancient Egyptian and Indian cultures.
In line with the tubular, fringed dresses of the time, tassels or fringes often swung from the bottom of the pendants. Pendants would hang from chains – often interspersed with gemstones and pearls – or from silk cords. They would hang at various lengths, depending on the dress they were accompanying.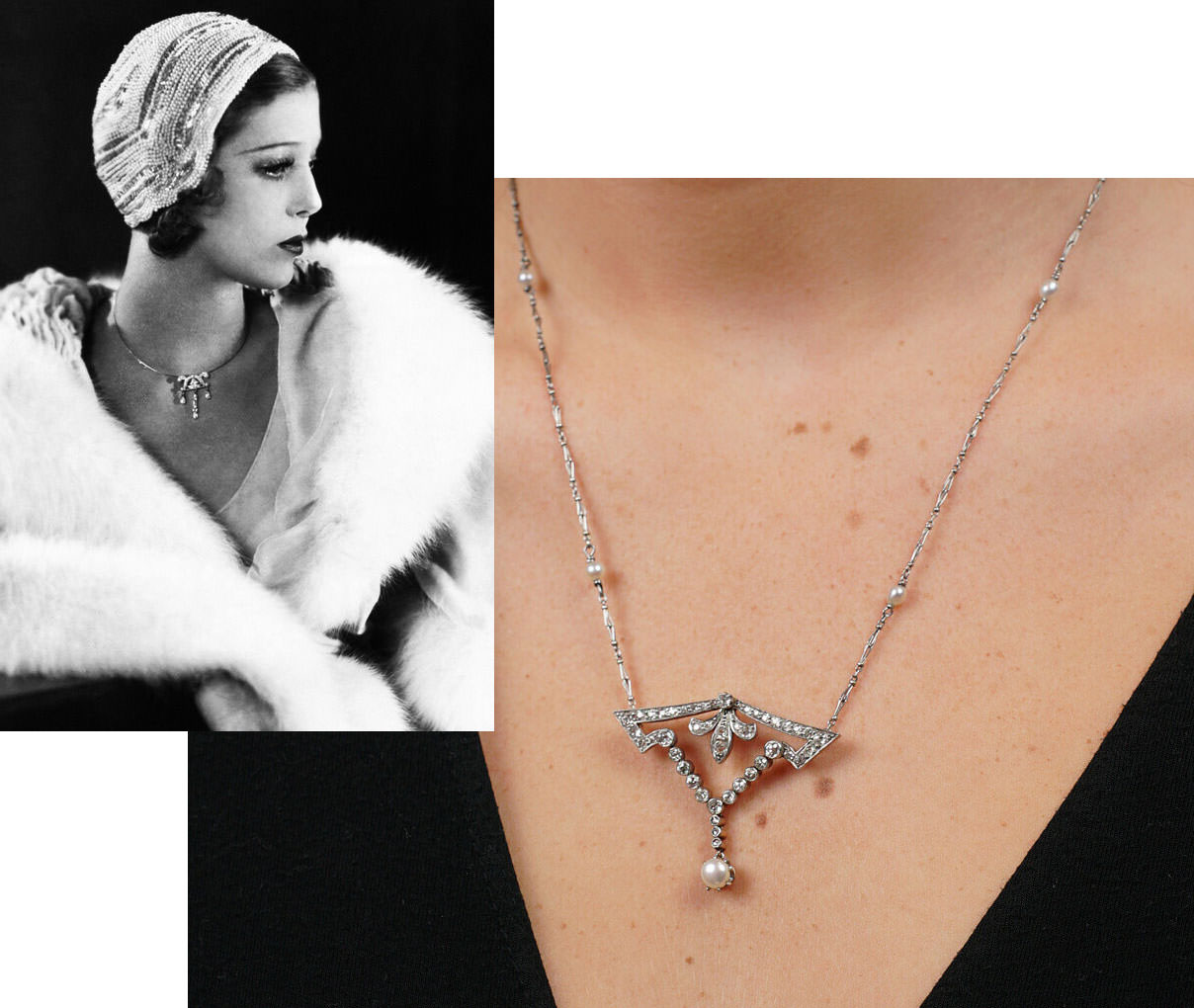 Rings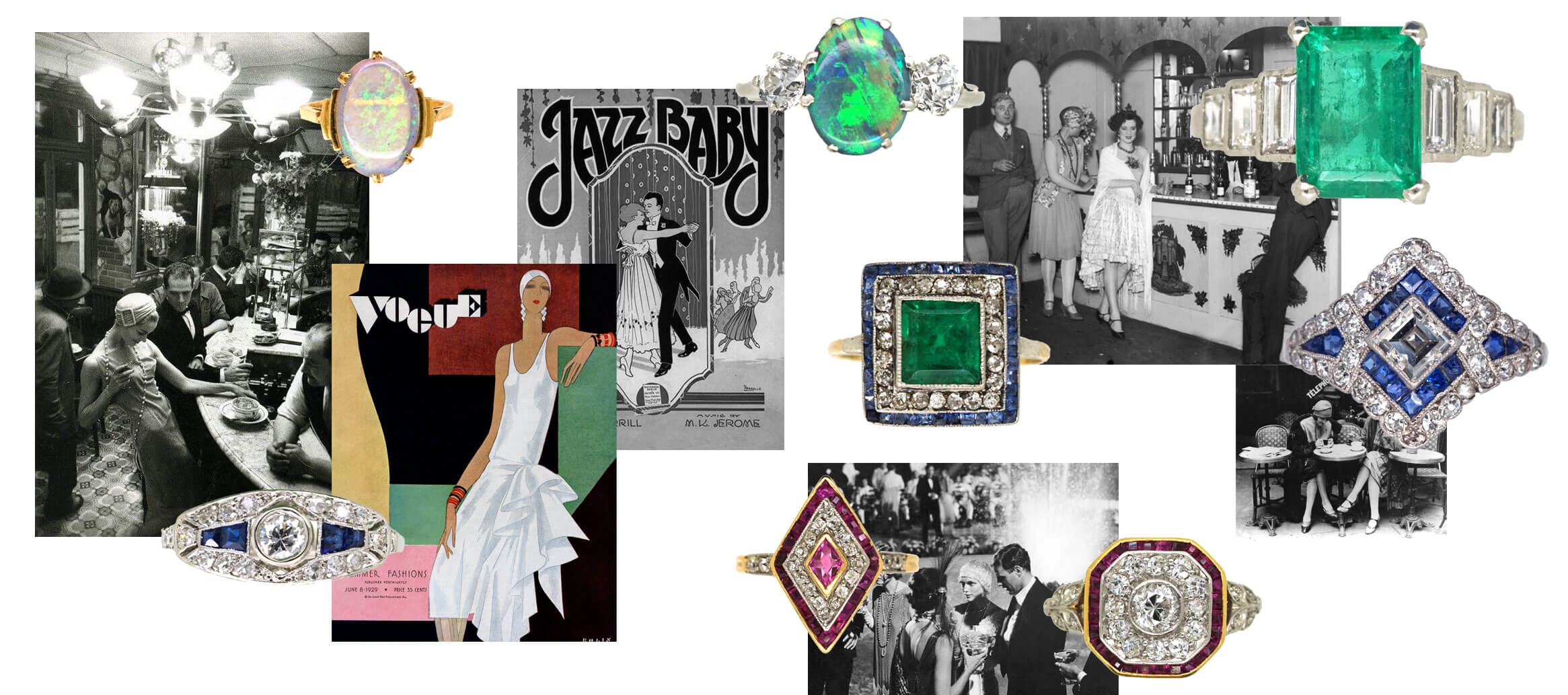 Art Deco rings are bold and beautiful. You often see large, emerald and step cut gemstones surrounded by smaller, tightly packed diamonds.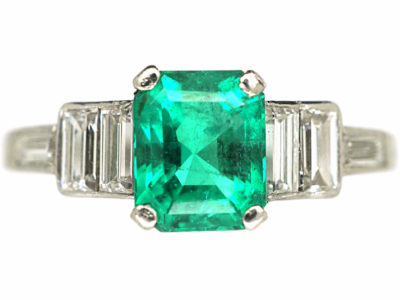 Cabochon cut coloured gemstones were popular, as was filigree work, where handcrafted threads of precious metal were used to create intricate designs. It is nearly impossible to replicate the crisp, refined filigree work from the 1920s today because most rings are made through the use of wax moulds.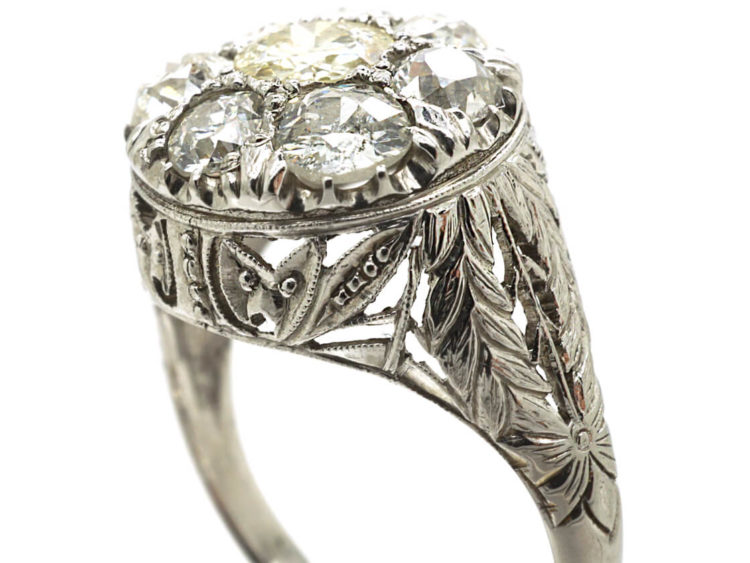 Calibre cut stones and pavé ring settings were also typical of this era, resulting in designs which were tightly packed with gemstones cut to fit together perfectly, with little or no metal showing.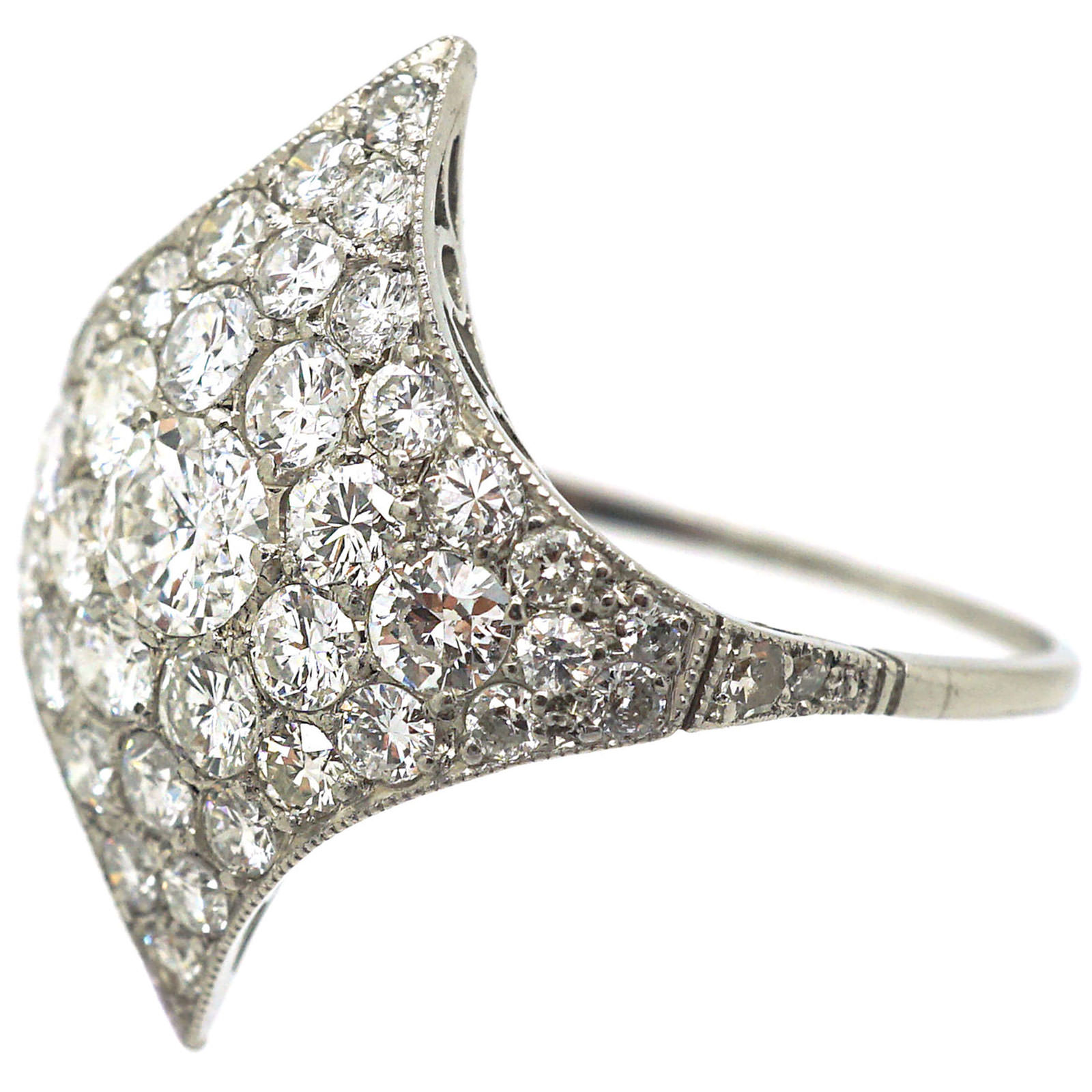 Stacked bands set with gemstones were popular, as were rings designed to emulate the stacked band effect. Cartier's three-band 'rolling ring' was created in this period and the style is still extremely popular today.
Bracelets
Art Deco bracelets combined all the styles of the era – geometric patterns, pavé settings, carved gemstones and other, less precious materials. Narrow bangles were stacked and jingled along to the jazz music of the day, as did the popular charm bracelets.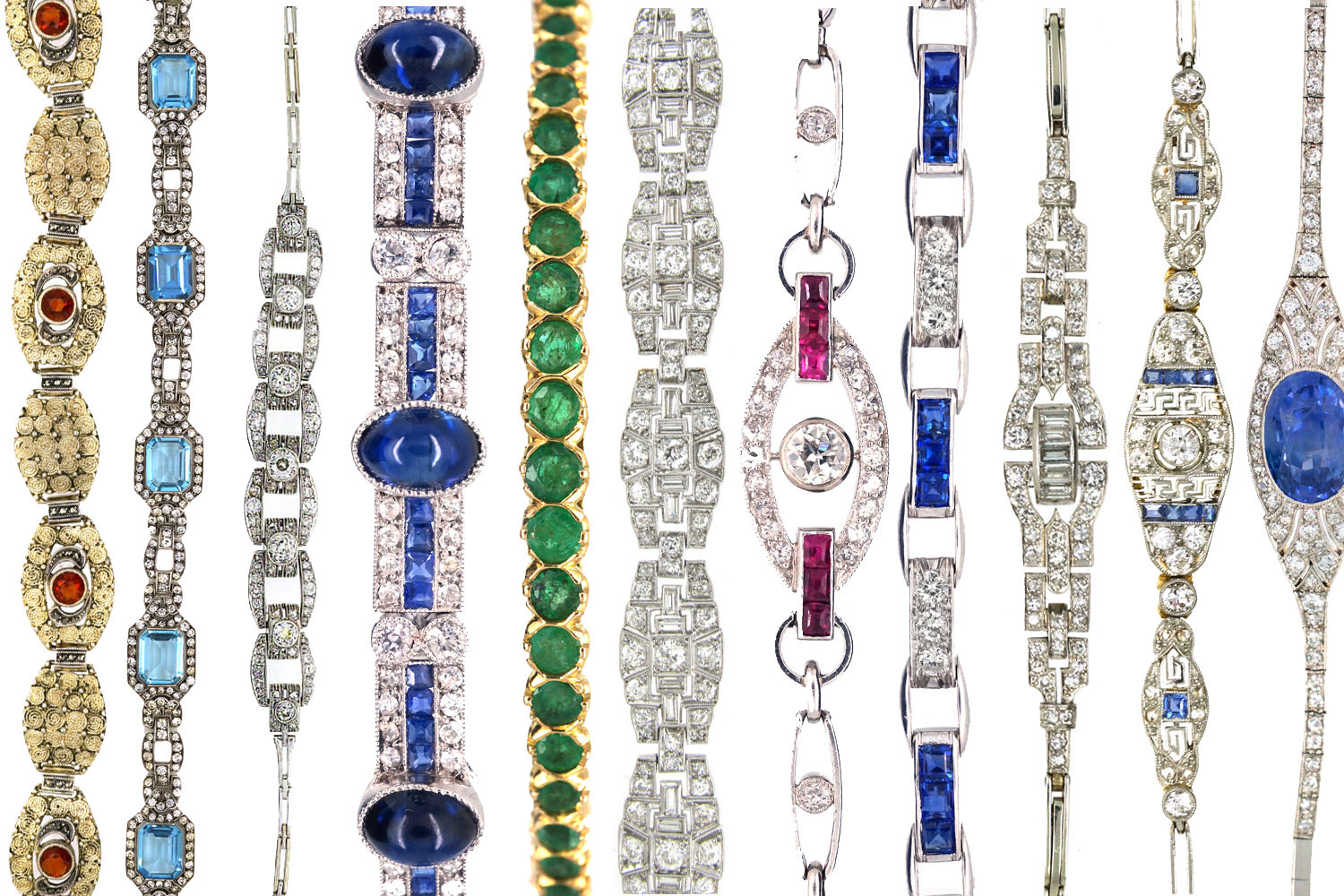 Later in the period, bracelets became wider. Generous, pictorial 'strap' bracelets told entire stories, using symbolism or carved gems. Cuff bracelets and styles onto which the versatile 'clip brooch' could be attached became popular at this time.
Hair Ornaments
English court etiquette dictated that tiaras be worn and so they were produced with Art Deco design motifs and techniques for state events. Other than that, shorter hairstyles meant that tiaras were replaced with bandeaus, which were worn further down, on the forehead. Often these bandeaus converted to necklaces or bracelets.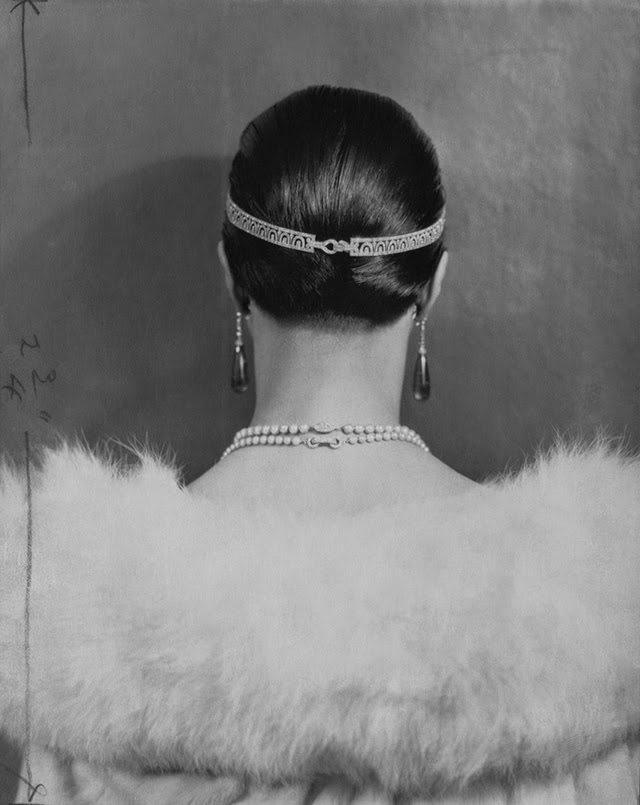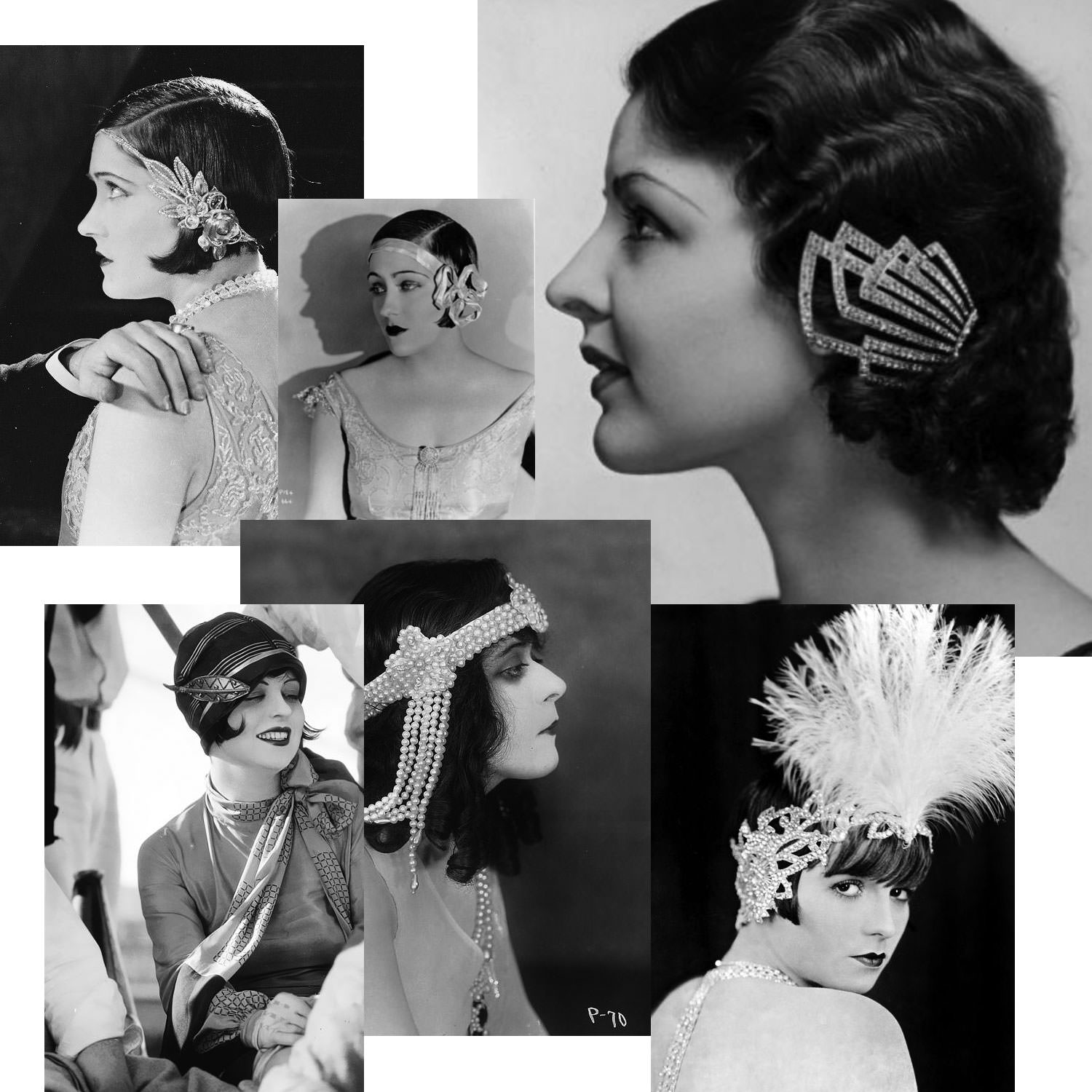 Brooches & Pins
Brooches and pins were extremely popular in the Art Deco period and were worn on every item of clothing, including hats. All manner of eye-catching Art Deco motifs, techniques and styles were employed. In the 1930s, clip brooches became popular and were often worn in pairs which may or may not have had pins or frames allowing them to be worn as one larger brooch or separately either side of a dress, for example.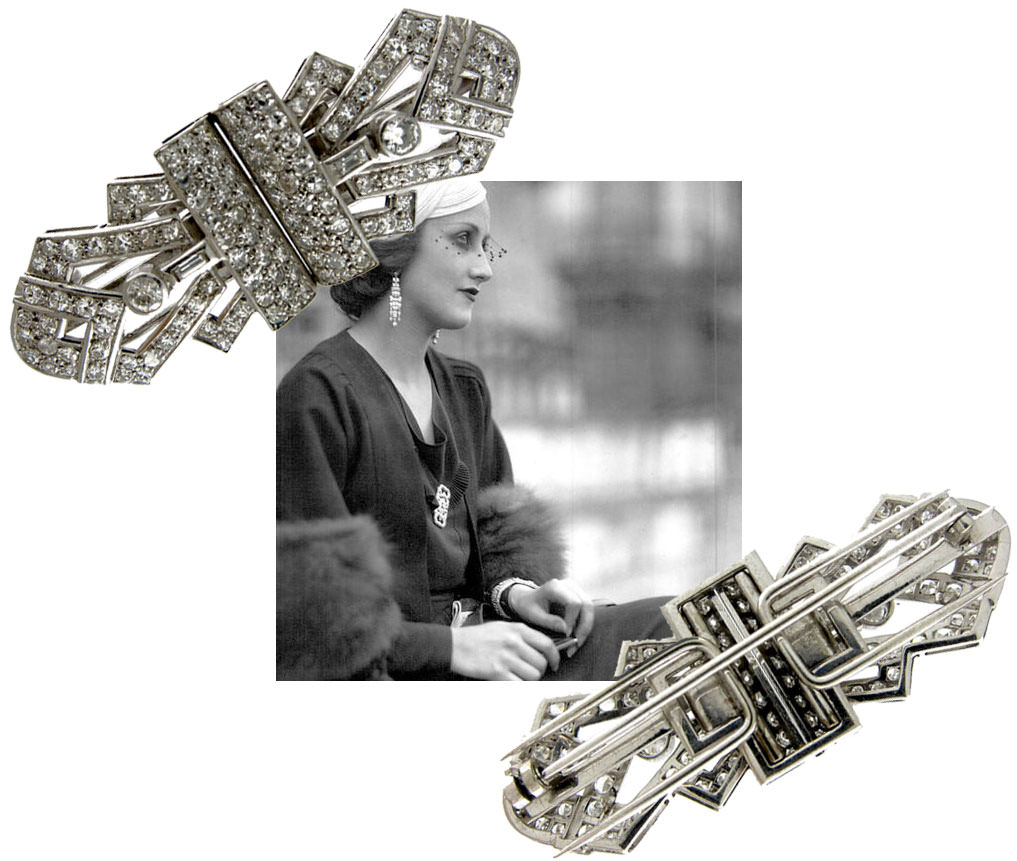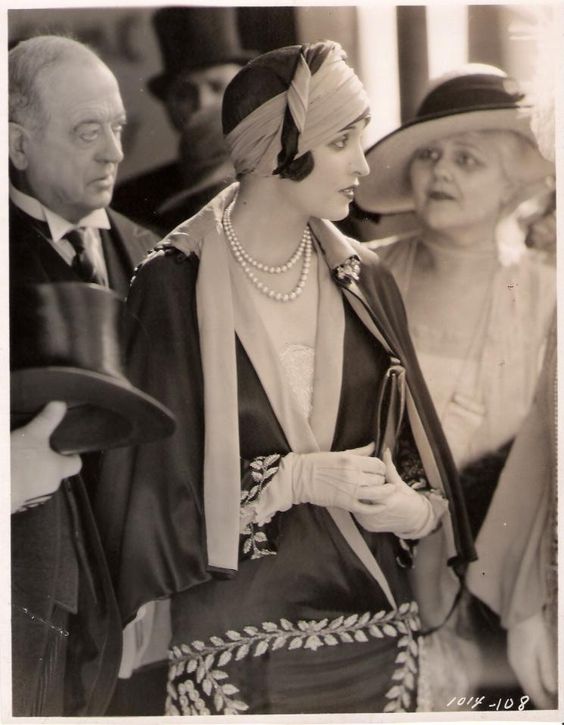 Art Deco Highlights from our Collection