13 Celebrities Who Love Antique and Vintage Jewellery
Many fashion and jewellery blogs fail to spot celebrities wearing antique and vintage jewellery, but we don't miss a thing! Here are 12 fabulous celebs with fantastic taste sporting some of the finest pieces of the early 20th century!
1. Rita Ora
We often spot Rita adorning beautiful antique pieces. The London pop star rarely leaves her house without a vintage ring on her finger, often several! Many of the fantastic jewels in her collection were made in the Victorian and Edwardian eras. We love how Rita mixes the old with the new and always seems to make space for another piece!

2. Anna Wintour
Anna Wintour is more often than not seen sporting very rare Georgian riviere necklaces. These necklaces contain such incredibly bright stones that, when layered, compliment one another magnificently. It's amazing to think such cool, colourful pieces are over 200 years old! We wish that we could find more of these treasured pieces – to date we have only had three in stock.
3. Mary-Kate Olsen
Although teenie twin Mary-Kate and paternal French banker, Oliver Sarkozy, didn't get the marriage thing quite right, they smashed it with their engagement ring! This stunning vintage Cartier ring is absolutely show-stopping and has a striking resemblance to the target rings that we often see from the Art Deco era. We wonder where it is now…

4. Rihanna
We often see Rihanna incorporating antique jewellery into her bold, eclectic style. The Bajan beauty's love of crosses make her the perfect candidate for a fantastic Georgian paste cross. We've also spotted her wearing a cameo ring, typical of the Georgian and Victorian eras. At a recent Met Gala Ball RiRi broke the internet with her Pope-inspired look. Around her neck was hanging an antique Saint Esprit pendant – a Christian symbol of the Holy Spirit represented in the form of a dove. Rihanna – you rock our world.

5. Behati Prinsloo
Victoria's Secret model Behati Prinsloo often wears a stunning Art Deco solitaire ring, given to her by her husband, Maroon 5's Adam Levine. The 1930s ring features a 1 carat, old cut diamond and is set in platinum with an intricately engraved shank with a scroll pattern.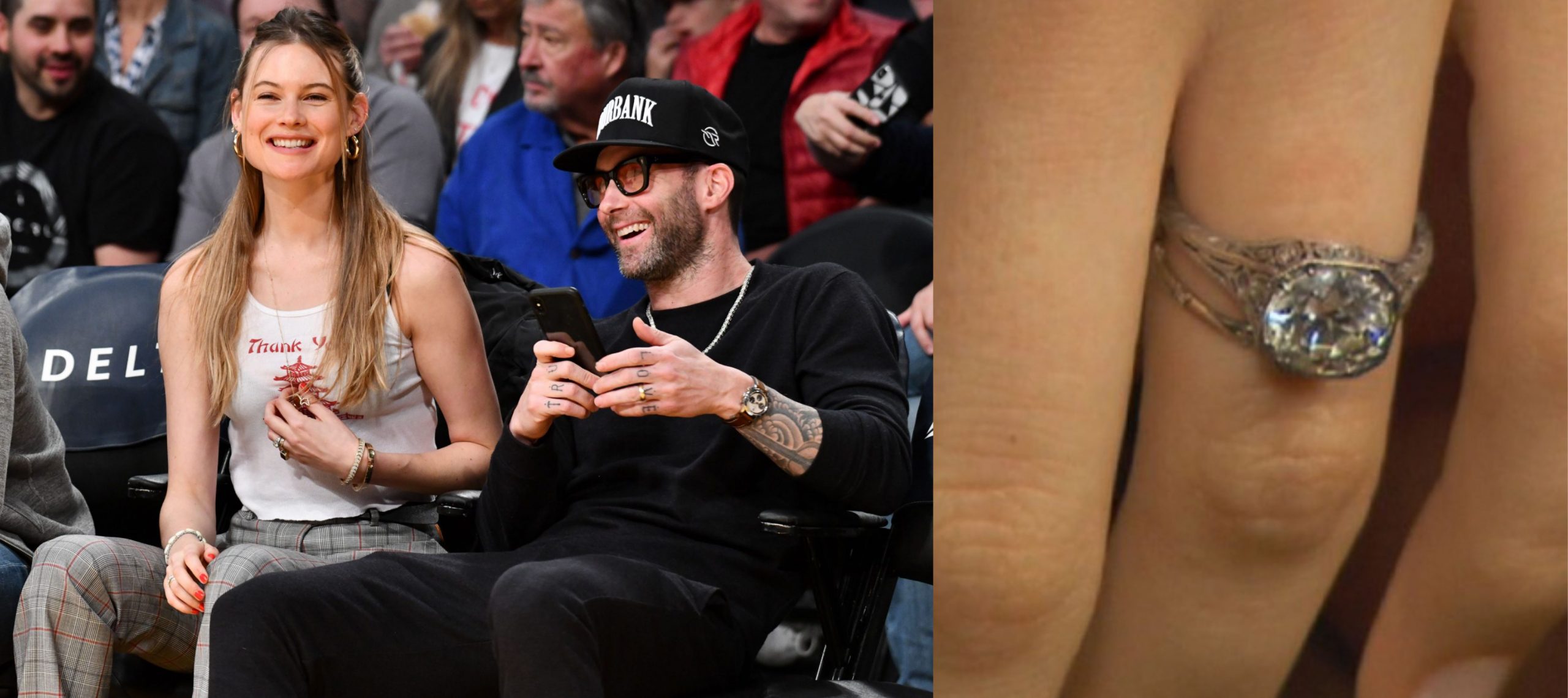 6. Emily Blunt
Golden Globe winning British actress Emily Blunt is another antique jewellery lover! Emily is regularly spotted on the red carpet wearing Victorian brooches in her hair and jaw-dropping old mine cut earrings. Her engagement ring from John Krasinski is a show-stopping Art Deco solitaire ring.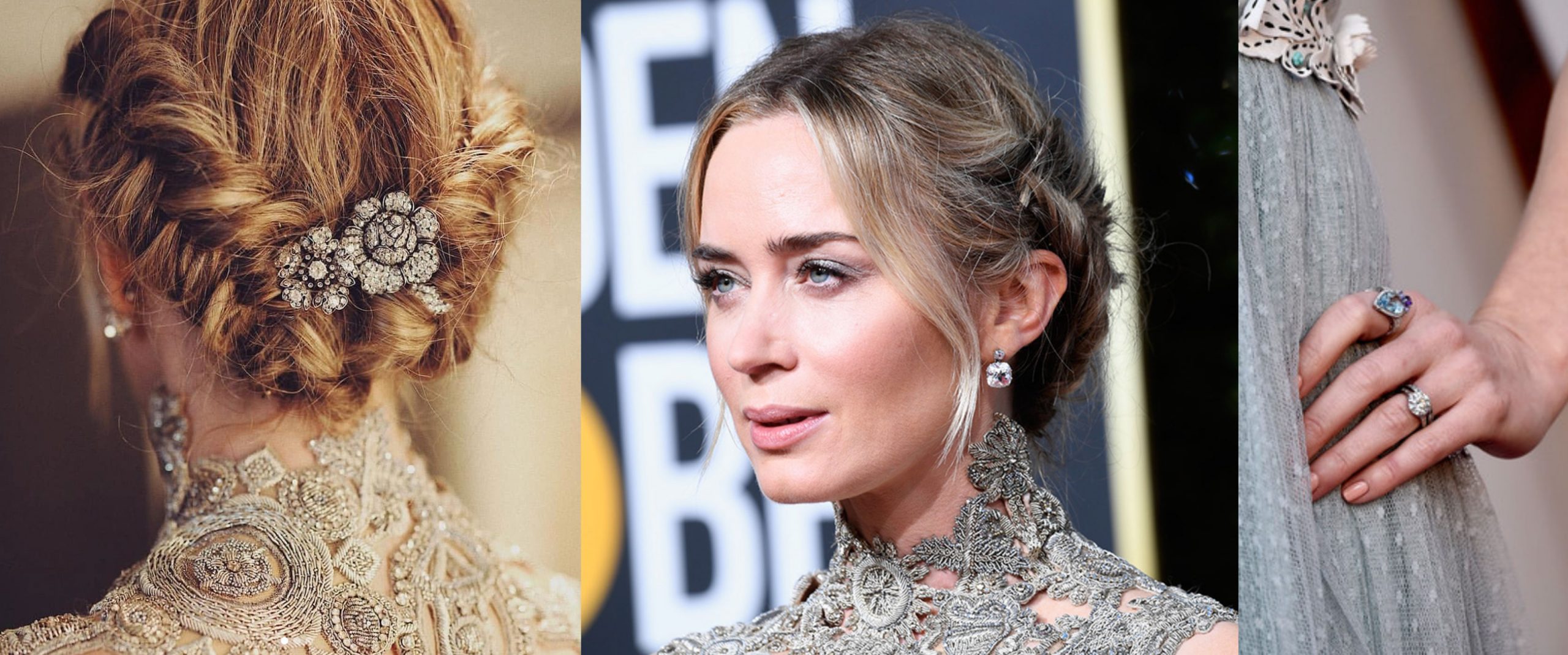 7. FKA Twigs
Tahliah Debrett Barnett, known professionally as FKA Twigs, is an English singer-songwriter, record producer, dancer, and actress, with fantastic taste in jewellery! Her short-lived engagement to her vampire boyfriend (who btw has been ranked as one of the highest paid actors!) came with a fantastic Art Nouveau ring featuring a pear shaped diamond with an approximate weight of 4 carats!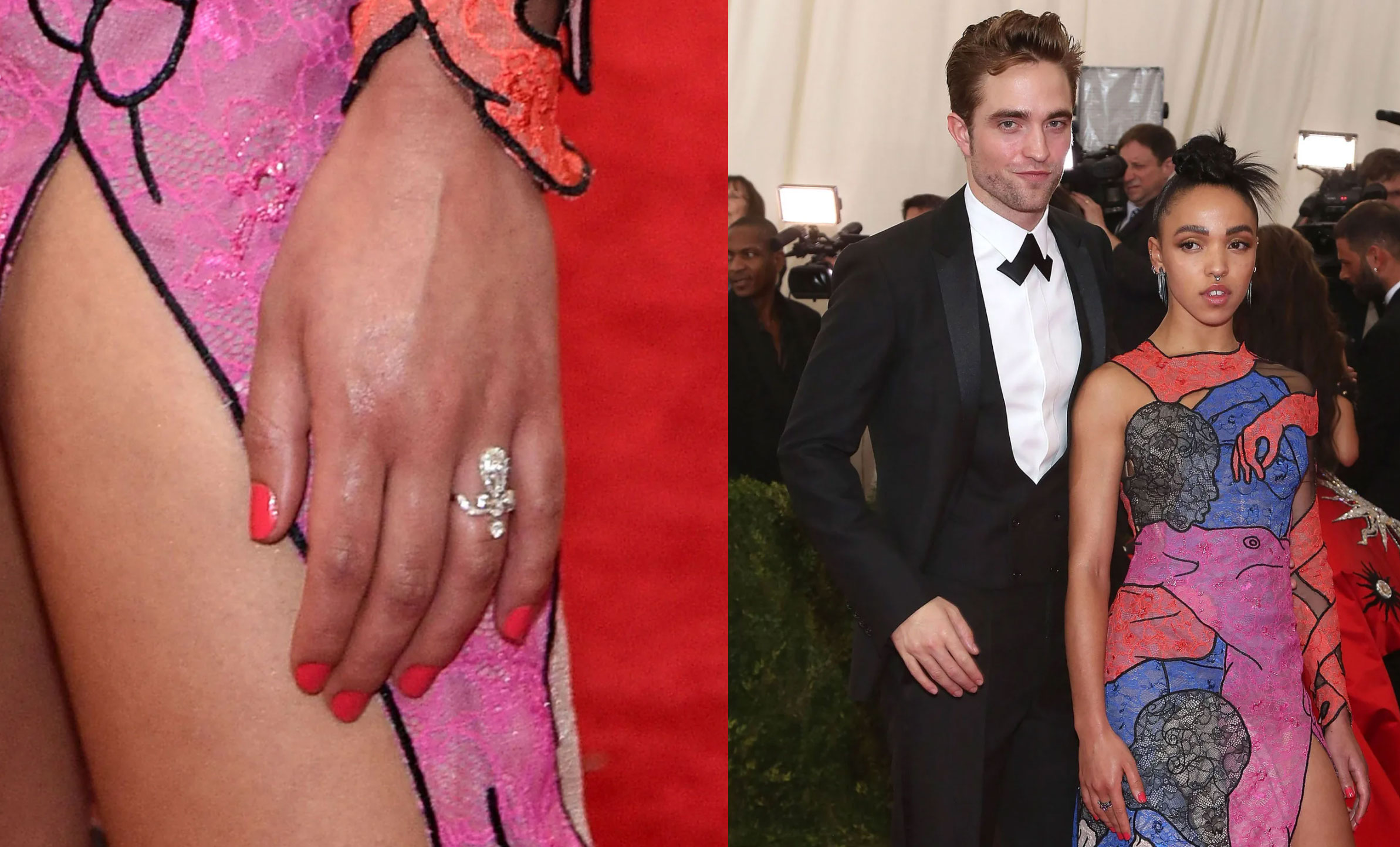 8. Jennifer Lawrence
Hunger games star Jennifer Lawrence has ben seen on the red carpet and other super glam spots sporting some fantastic 100 year old gems! Pictured below are some Art Deco bracelets, Art Deco jade earrings, and a fantastic Victorian crescent moon and star pendant. The pendant would been a Victorian brooch originally, a very innovative way to carry 1880's pieces into the 21st century!

9. Kate Moss
Kate Moss's rock and roll chic style works perfectly with the contrasting tones of the Victorian era. Pictured below in fantastic Victorian earrings. The bright white diamonds set in silver that make the diamonds sparkle beautifully! They add a little rock and roll edge to a classic red carpet look. Kate also opted for an antique Art Deco solitaire ring with diamonds on the shoulders and an intricately engraved Platinum shank.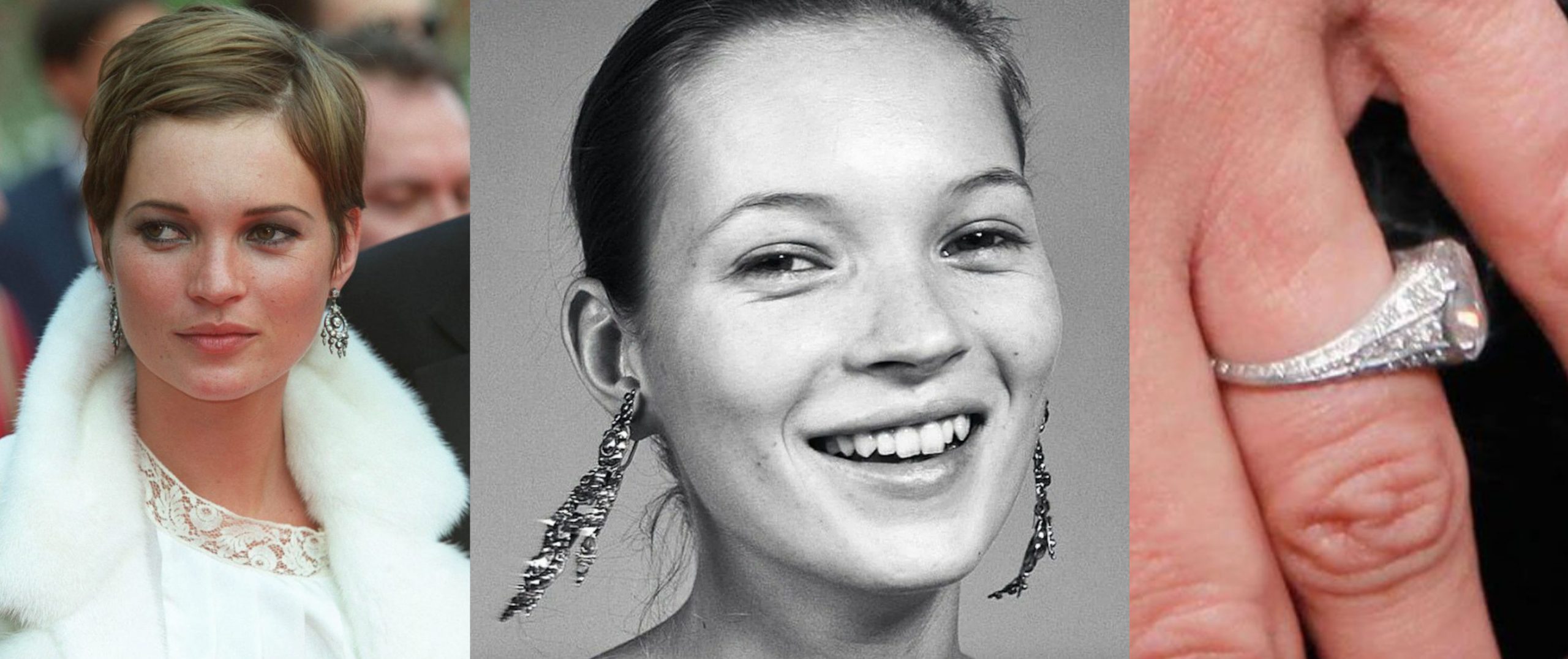 10. Meranda Kerr
Another Victorias Secret angle with a love for older things! Bloom proposed to Australian supermodel Miranda Kerr with this stunning Edwardian 18ct gold and platinum cluster ring with diamond set shoulders. A style typical of its time. However now both her relationship and her ring are a little piece of history!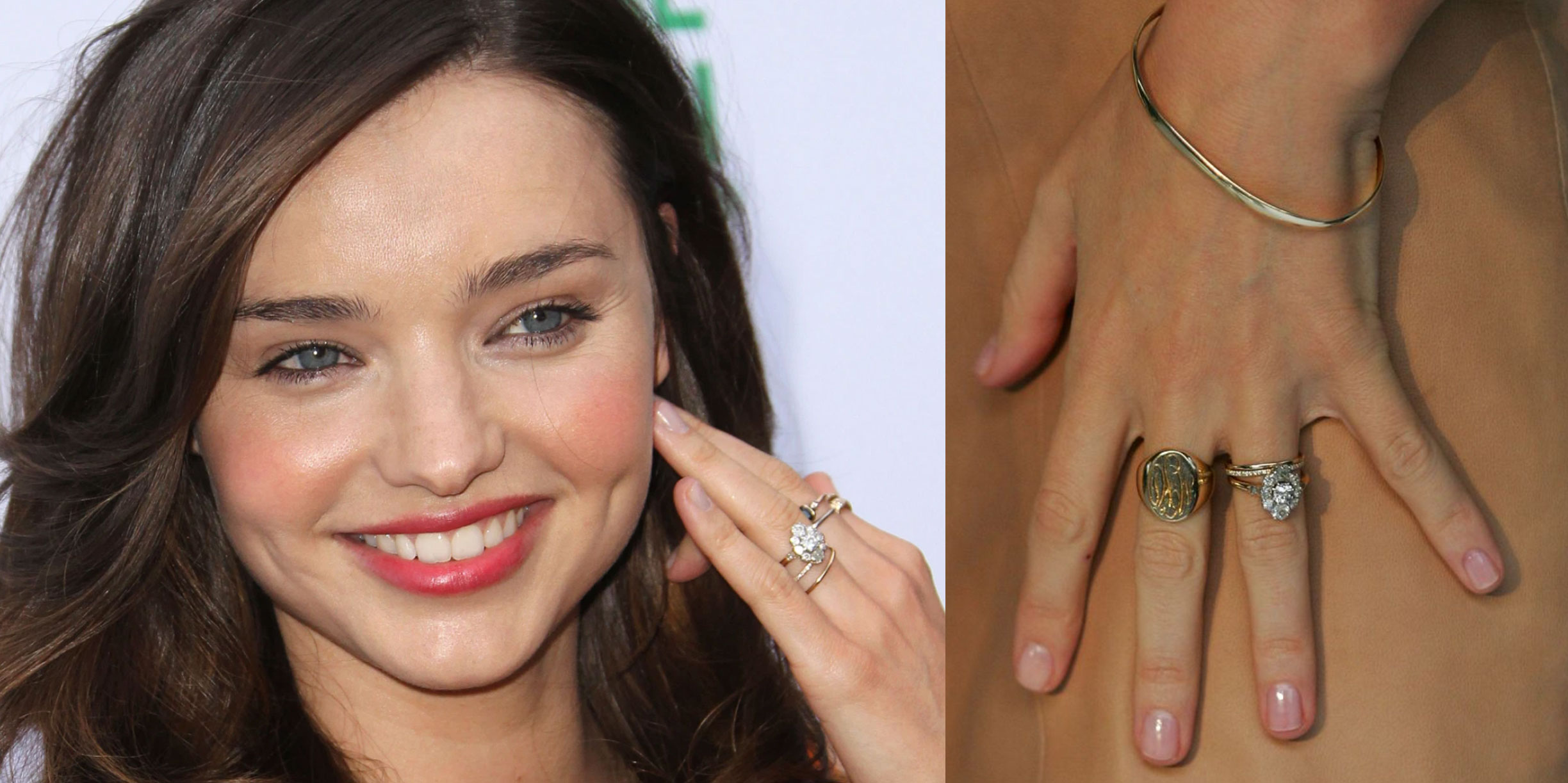 11. Nicole Kidman
Nicole Kidmans collection of antique jewellery is admired by many. The incredible necklace pictured below is most likely Victorian and with the matching earrings it is becoming harder and harder to find matching sets of Antique Jewellery. Nicole must have really done her research!

12. Naomi Campbell
Naomi Campbell, one of the five original supermodels is an undoubtably perfect fit for some fabulous Art Deco bling! The 90's icon was spotted at the 2019 Met gala with an abundance of fantastic Art Deco jewellery, including the three ruby and diamond bracelets pictured below.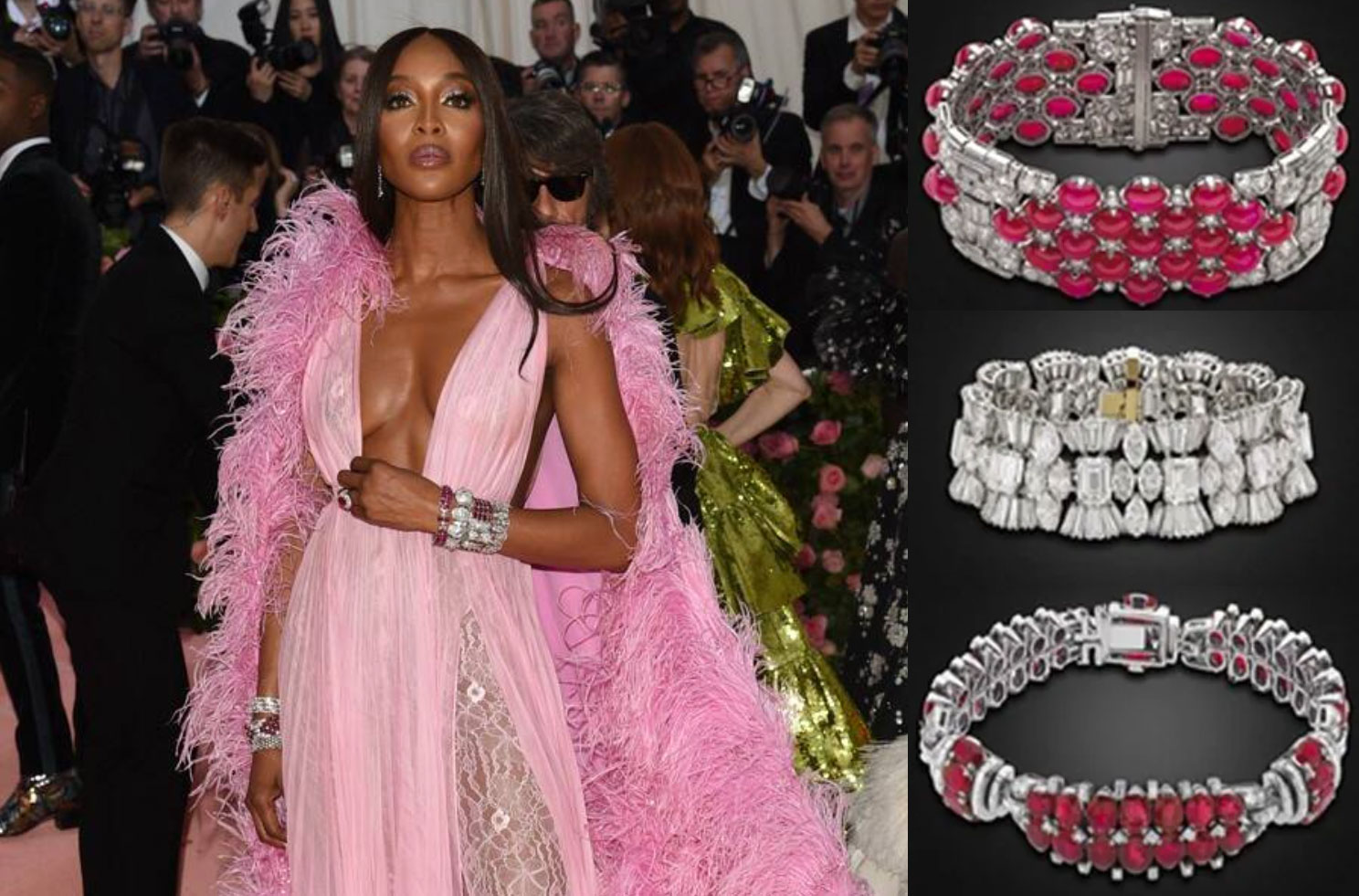 13. Sarah Jessica Parker
Sex and the city superstar Sarah Jessica Parker's collection includes some fantastic early pieces of jewellery. Here, she is pictured in a fantastic snake necklace most likely made in the 1880s. The central photograph shows Sarah in some jaw dropping early 20th century cluster earrings. At the met gala, Sarah wore a bold Victorian cameo surrounded by turquoise. She is also often spotted wearing Georgian Riviere necklace reproductions. It seems that she has taken a leaf out of Anna Wintour's book!