Wear The Rainbow
Abandon the matchy-matchy look and embrace a rainbow of colours to rock an eclectic, elegant style.
Whether you're out for lunch with friends in jeans and a simple t-shirt or dressed to the nines for a special event, there is little more confidently stylish than accessorising with fine jewellery in a playful riot of colour.
Channel your inner child with our rainbow-hued jewellery edit, from the Georgian era to the 1950s.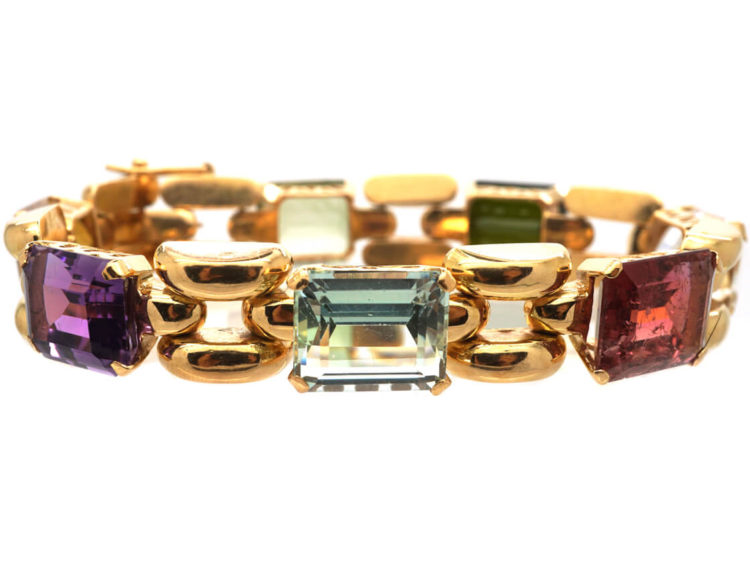 This striking 18ct gold bracelet was made in the 1940s. Set with a citrine, an amethyst, an aquamarine, a pink tourmaline, a rock crystal, a green tourmaline and a peridot, the overall impact is bold and extremely elegant.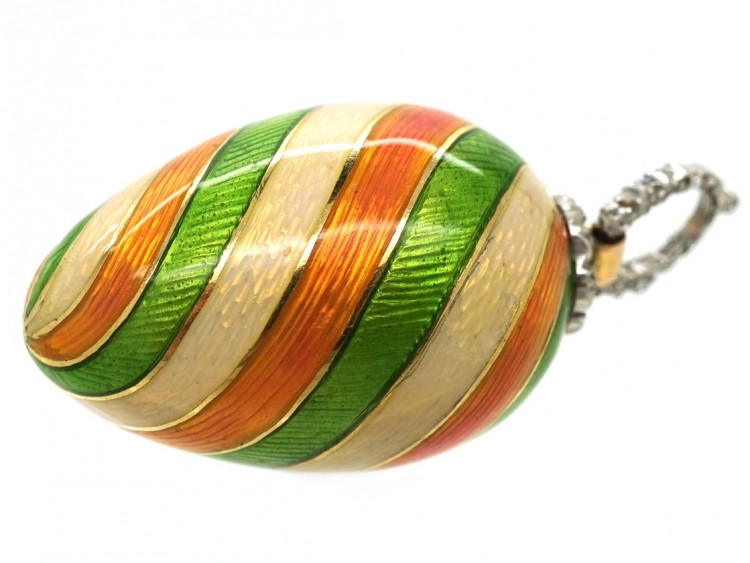 This spectacular Edwardian enamel and diamond egg is unusual and very striking, with its glossy, bold green, orange and cream stripes.
These unusual Swiss gold drop earrings are embellished with colourful enamel florets in the hues of a bright, early Autumn day. They are eye-catching and very pretty on.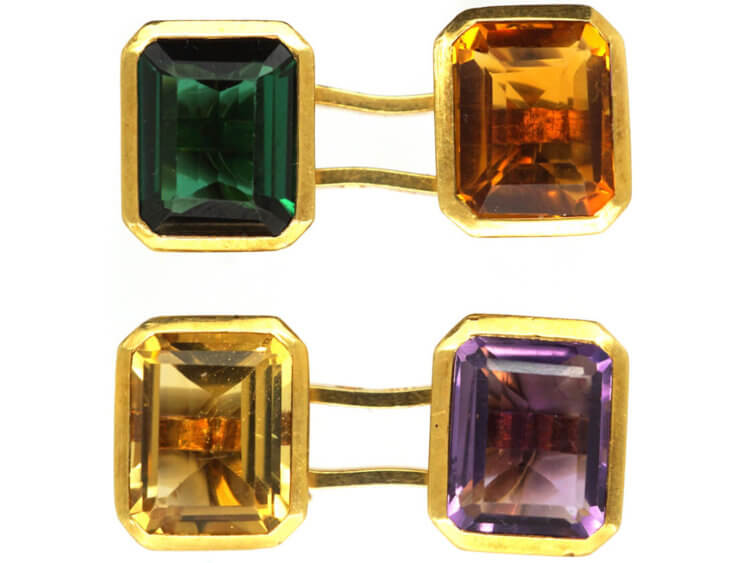 These beautiful and playful retro cufflinks boast an orange tourmaline, green tourmaline, citrine and amethyst. They are easily fastened to double cuffs with their gold dog clips.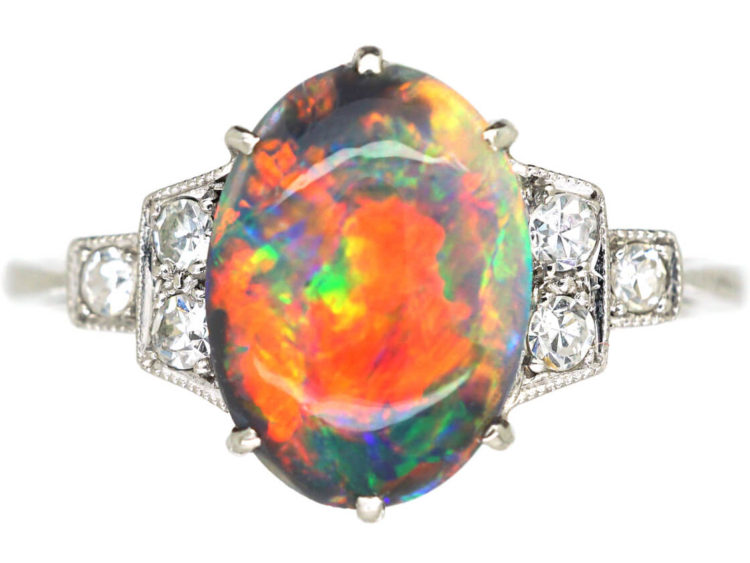 This large, fiery black opal and diamond ring is a stunning example of its kind. Displaying bright red, blue and green flashes, the black opal is from Lightning Ridge in Australia – the only place in the world where these stones can be found. A really striking Art Deco treasure.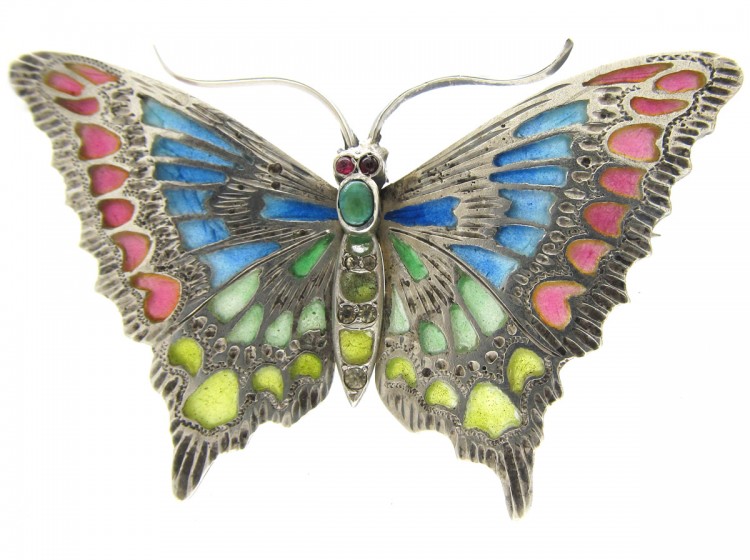 This silver gilt and enamel Art Nouveau butterfly brooch is very rare and beautiful example of the challenging 'Plique-à-jour' technique which effectively creates a miniature stained-glass piece. The brooch is in great condition, with a riot of colours which are as soft as they are bright.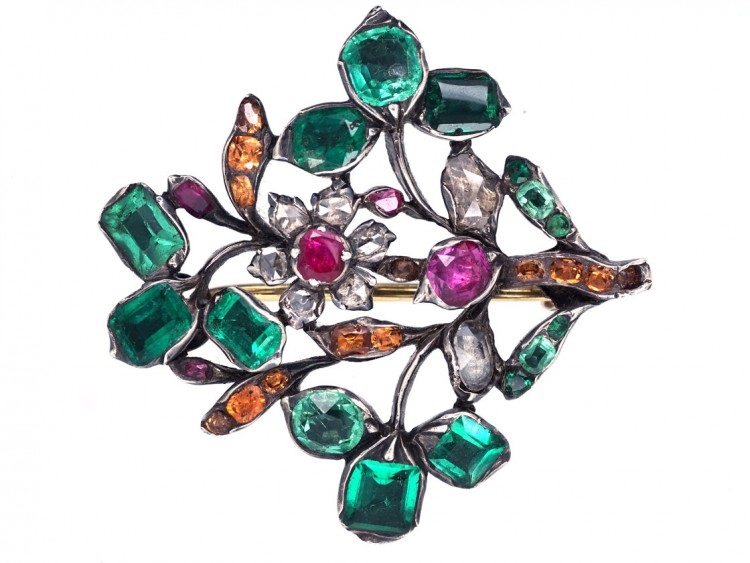 This rare Georgian Giardinetti brooch is a lovely example of the popular love tokens of the era. It is set in silver with a pretty array of diamonds, rubies, topaz and emeralds. This brooch was made around 1750.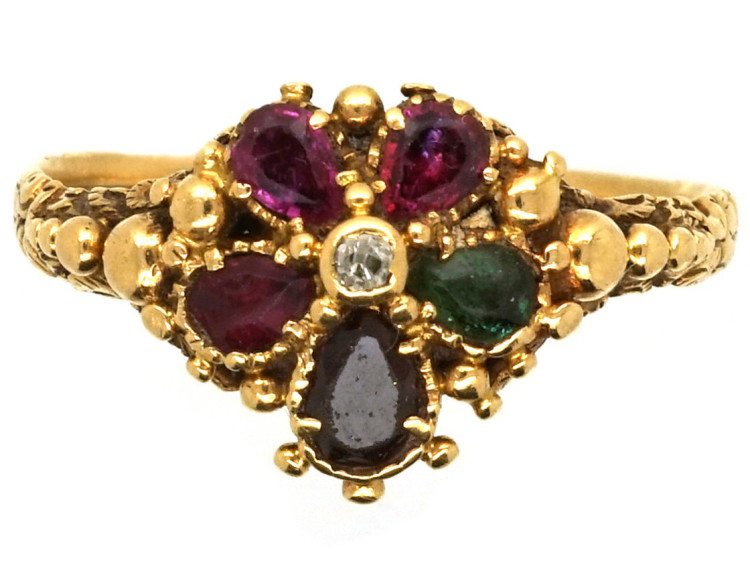 This extremely pretty late Georgian Regard ring is set in gold with 'pansy petals' in ruby, emerald, garnet, amethyst and ruby and a diamond in the centre. The first letter of every stone spells "Regard". These rings were popular love tokens in the 1800s.