The 14 Most Stunning UK Celebrity Engagement Rings
Looking for a bit of inspiration before buying an engagement ring? Look no further than these celebs. Love them or hate them, they've clearly done their research.
To help you on your journey to find the perfect engagement ring, we've gathered together some inspiration from the hottest UK celebrities right now, alongside some similar style rings from our one-of-a-kinds collection. As you will see, there really are no rules when it comes to finding the perfect piece. Big or small, understated or colourful, bespoke or vintage – all of these celebrity engagement rings deliver in their own unique way.
1. Holly Willoughby
TV favourite Holly Willoughby is seen on our screens wearing a stunning diamond solitaire ring stacked with a delicate eternity ring. The diamond is a round brilliant cut and has a gorgeous bright white colour. Solitaire rings such as these are the most traditional style of engagement ring and the Art Deco era provides some wonderful antique examples.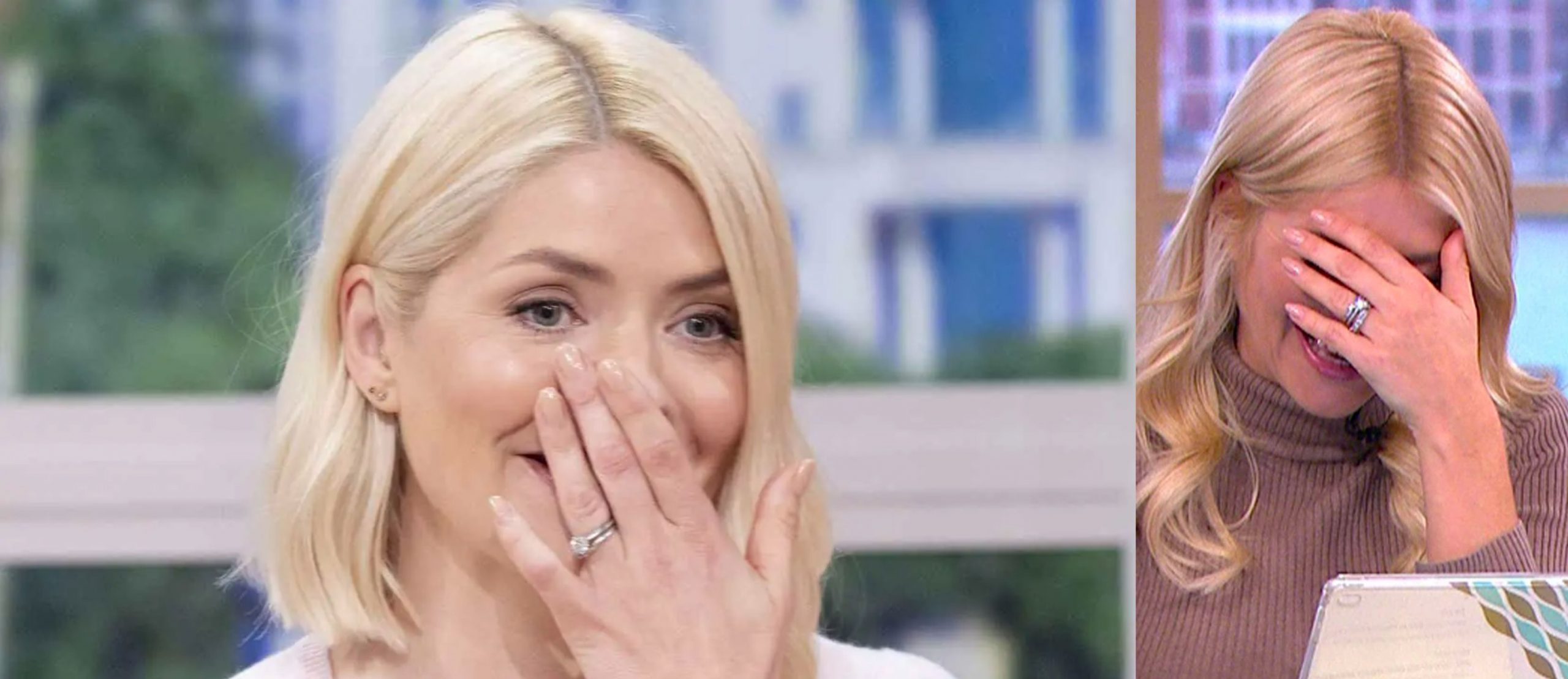 2. Billie Faiers
TOWIE veteran Billie Faiers announced her engagement to Greg Shepherd in February 2014. Greg designed the ring not far from our HQ in Hatton Garden and chose a bright white 5-carat brilliant cut centre diamond, set in platinum, with diamond encrusted shoulders. You can't go wrong with this classic engagement ring!

3. Vogue Williams
MIC star Spencer Matthews also proposed to his wife, Vogue Williams, with a custom-designed ring. The centre stone must be about 4 carats – before you've even taken into account the surrounding baguettes and trillion diamonds. The Art Deco era popularised this combination of a large central stone and surrounding baguette diamonds. Perhaps Spencer was inspired by the roaring twenties when he was designing this beauty!

4. Gemma Atkinson
Strictly Come Dancing's Gorka Marquez proposed to dance partner Gemma Atkinson on Valentines day this year! Gemma's engagement ring features a 1.50 carat oval diamond with pavé set diamonds around half of the shank. We love this more sparkly take on a traditional solitaire ring.

5. Emma Louise Connolly
Emma Louise Connolly and her beau, MIC's Oliver Proudlock, announced their engagement in 2018. The creative Proudlock designed her engagement ring with the 1920s in mind. The result is a gorgeous, geometric ring set with a large, old mine cut diamond with black diamonds surrounding the stone and what appear to be emeralds set around the ring and on the shank. It's a fantastic take on an Art Deco target ring and to make it extra special, the centre stone came from his grandmother's collection. Full marks, Proudlock!

6. Louise Thompson
MIC cast members Ryan Libbey proposed to pint-sized Louise Thompson in August 2018 with a gorgeous cushion cut diamond ring set in platinum with smaller diamonds surrounding the centre stone. All in all, a lovely, modern take on a classic Edwardian cluster ring. Bravo!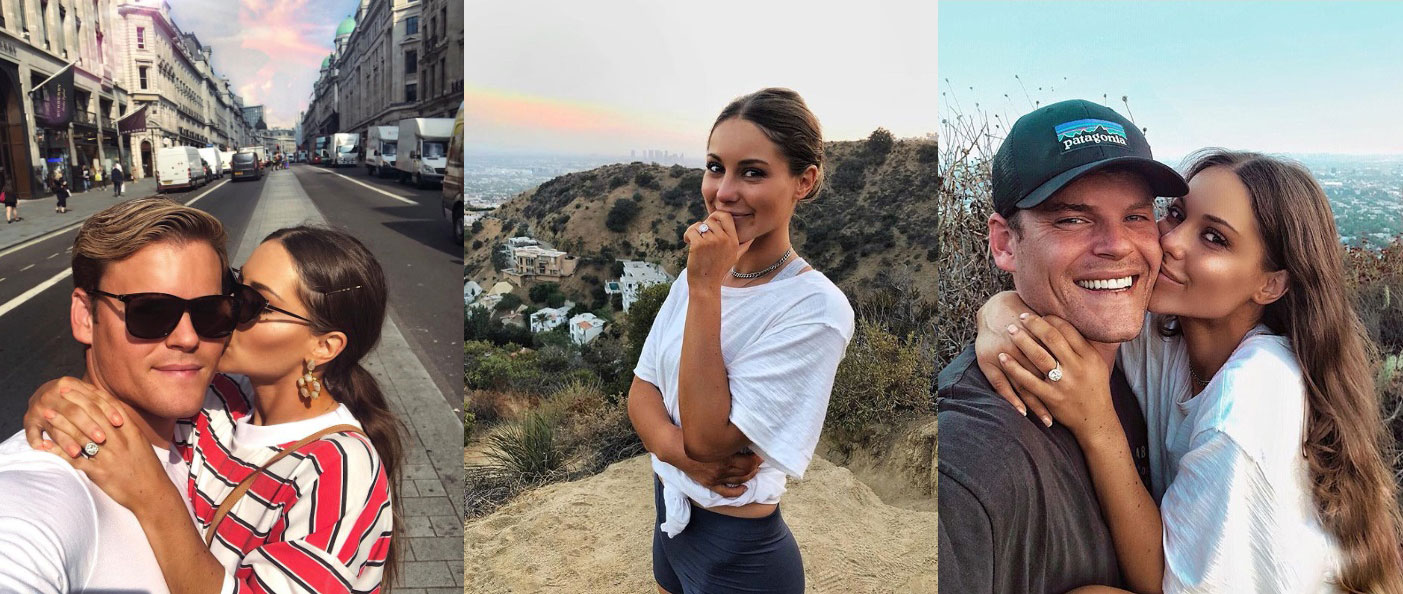 7. Michelle Keegan
Actress Michelle Keegan and TOWIE original Mark Wright announced their engagement in 2013. Michelle's ring features a whopping 5 carat square shaped diamond surrounded by smaller diamonds and is set in platinum. The enormous rock is a total show stopper and its square cut catches the light just perfectly. Swoon!

8. Millie Mackintosh
Millie Mackintosh's ring is a stunning example of a diamond daisy cluster ring. The Edwardian era, with its extravagant, floral clusters, was most famous for this pretty style of engagement ring. The ring's 18ct gold shank contrasts perfectly with the gorgeous diamonds, which are most likely set in platinum to keep them looking bright and sparkly! A classy ring if ever we saw one.

9. Olivia Attwood
Olivia Attwood's engagement ring features a stunning pear shaped diamond centred in a heart shaped setting and set in platinum. We have only found a few antique heart shaped rings over the years. And when we do, they sell fast!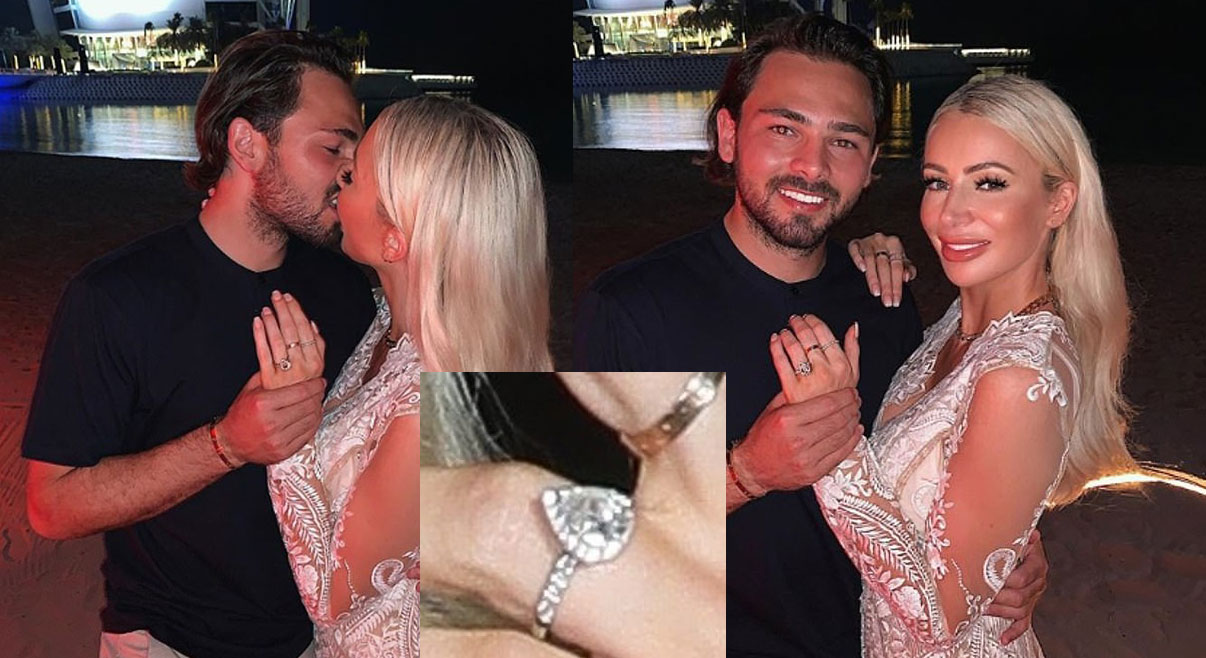 10. Victoria Beckham
Where do we start!? Victoria Beckham has been pictured with 15 engagement rings! You heard that right – FIFTEEN! Her collection features two gigantic emerald cut diamond rings, a very rare pink champagne diamond ring, a stunning cushion cut emerald, a mega 17 carat pear shaped diamond and many more! Her engagement rings are all unique and are all massive! We're not sure what is more impressive: her incredible collection of stones or the dent in David's wallet!

11. Katie Price
Katie Price is another celebrity with a rather large engagement ring collection. She also has a rather large collection of engagements… eight to be precise. So we can only imagine what her jewellery box looks like! Her collection includes an incredibly full-on pink heart shaped diamond (on brand) and so many more very sparkly rings, all very different but all equally impressive! A bit like her boyfriends, perhaps. So who's next, Katie?
12. Lucy Watson
MIC's Lucy Watson wishes to keep the details of her engagement ring private, which we respect. All we know is that her ring was made in the 1920s and that alone gets our vote! Annoyingly it's hard to get a clear idea of its style due to so few shots of her ring. We can definitely see that it is a bright white stone and we love that Lucy shares our love of Art Deco jewellery!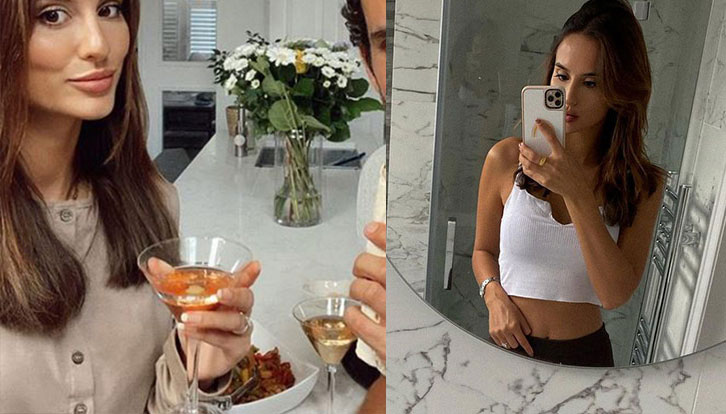 13. Carrie Symonds
Boris, maybe unsurprisingly, opted for an antique when choosing Carrie's engagement ring. Once belonging to an ancestor of his, the ring is an incredible, deep green emerald, most likely of Columbian origin. Twinkling diamonds, set in platinum, accompany the emerald in a beautiful Art Deco design. On this occasion Boris well and truly delivered – we should know as emerald rings are amongst our bestsellers!

14. Rochelle Humes
Rochelle is another celeb with a heart shaped engagement ring. Rochelle's ring, designed by luxury London jeweller Boodles, boasts an incredibly bright heart shaped diamond surrounded by smaller round, brilliant cut stones. It must look divine in the sunshine. Rochelle later chose to have that ring turned into a necklace and now has another beautiful oval cut solitaire diamond ring to boot.