Oscar Dunbar
The frontman who rocks antique jewellery
Photography & Direction: Ned Stewart
Styling: Amelia Levin-Sheffield
Shot on location at Speciale
Oscar Dunbar arrives at our shoot on Portobello Road, coffee cup in hand, and warns us he's not yet recovered from the weekend.
He has just hosted a party in a remote bothy in Knockengorroch, Ayrshire for 50 close friends. The theme? "Filthy Gorgeous", Oscar proclaims, whilst scrolling through images of bright young things on his battle-scarred phone. "Pretty wild… just us and 50 highland cows".
It's hard to believe that Oscar has barely slept the last few days. As he slumps in the mid-morning light, his boyish looks, shock of platinum blonde hair and restless charisma light up the room.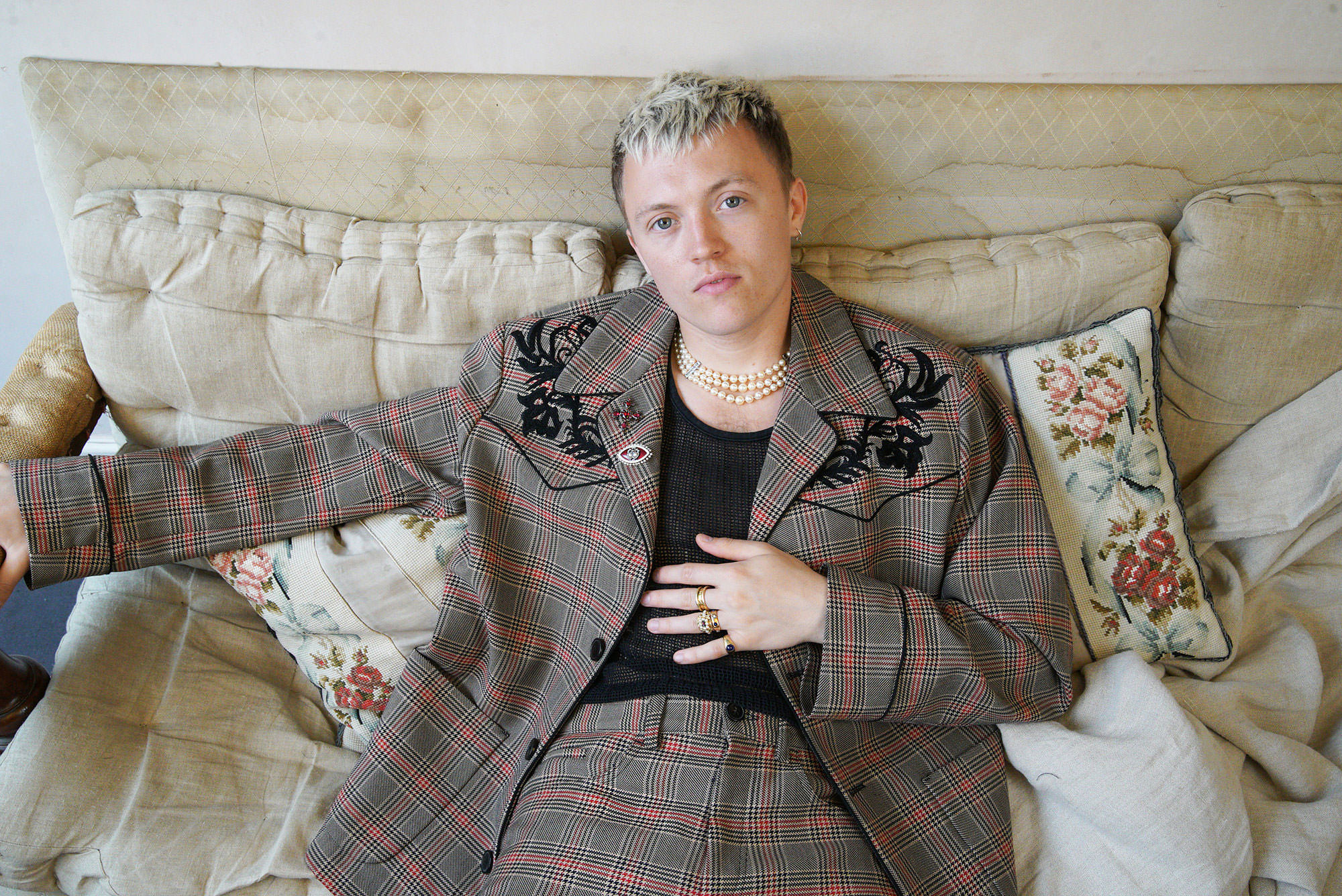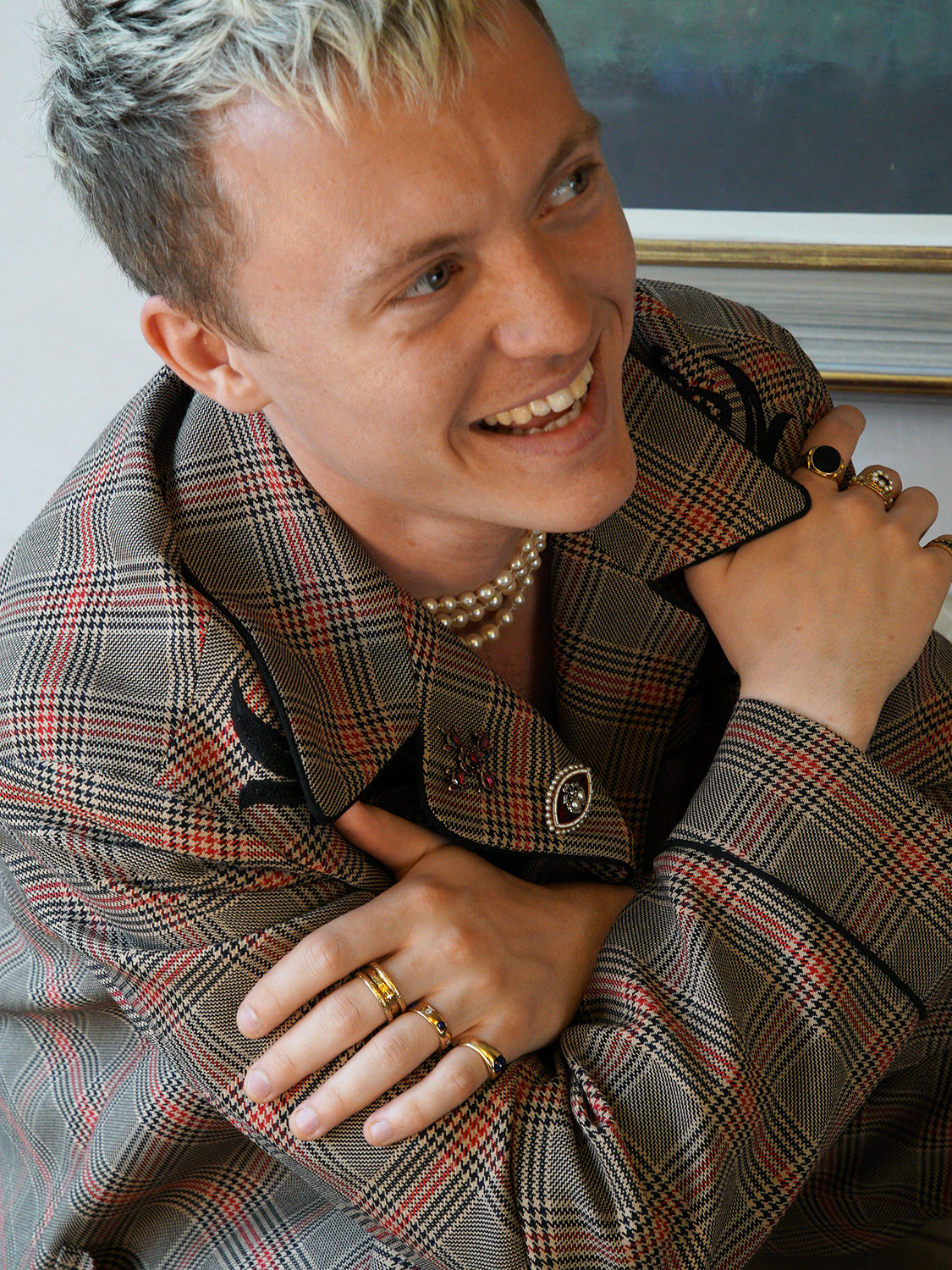 As frontman of Khartoum, the four-piece, "psychedelic indie-rock" band (named after the horse in The Godfather), Oscar regularly lights up rooms with his infectious blend of style, stagecraft and sound.
The band's monthly residency at member's club Laylow, in the shadow of the Trellick Tower, is the stuff of local legend. Even Mick Jagger has been spotted gyrating furiously in the front row.
Oscar is soon donning a Dries Van Noten checked suit (courtesy of @EddieWailes), alongside his own rock and roll staples: a string vest and cowboy boots. We present him with a tray of antique jewellery and excitedly he completes his look with a triple-layered Art Deco pearl necklace and a Georgian, garnet and split pearl heart-shaped brooch.
You know the look's worked when some old geezers heckle in the street when seeing a bejewelled Oscar through the shop window. "Perfumed ponce!", he jokes, referring to the pub scene in Withnail and I.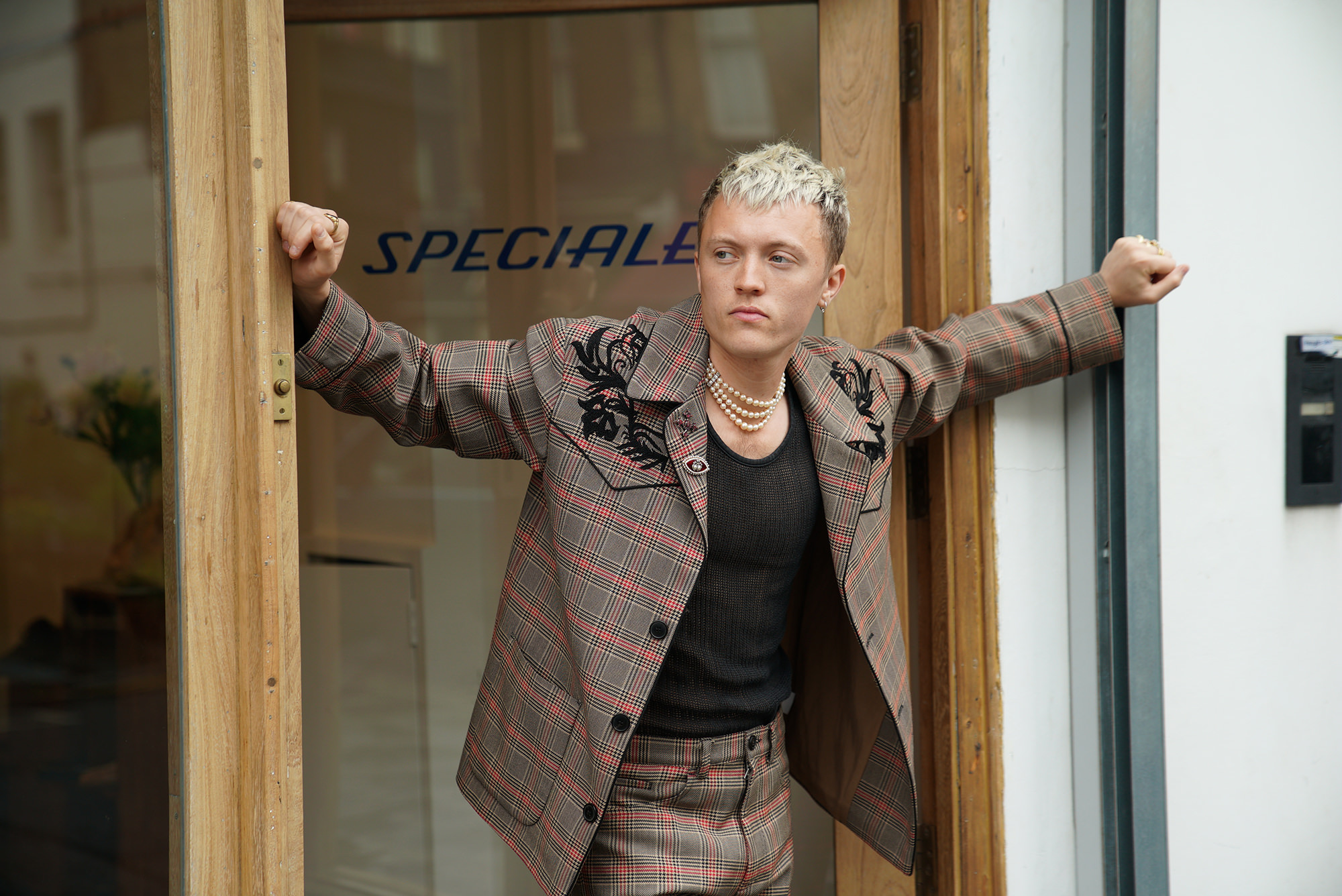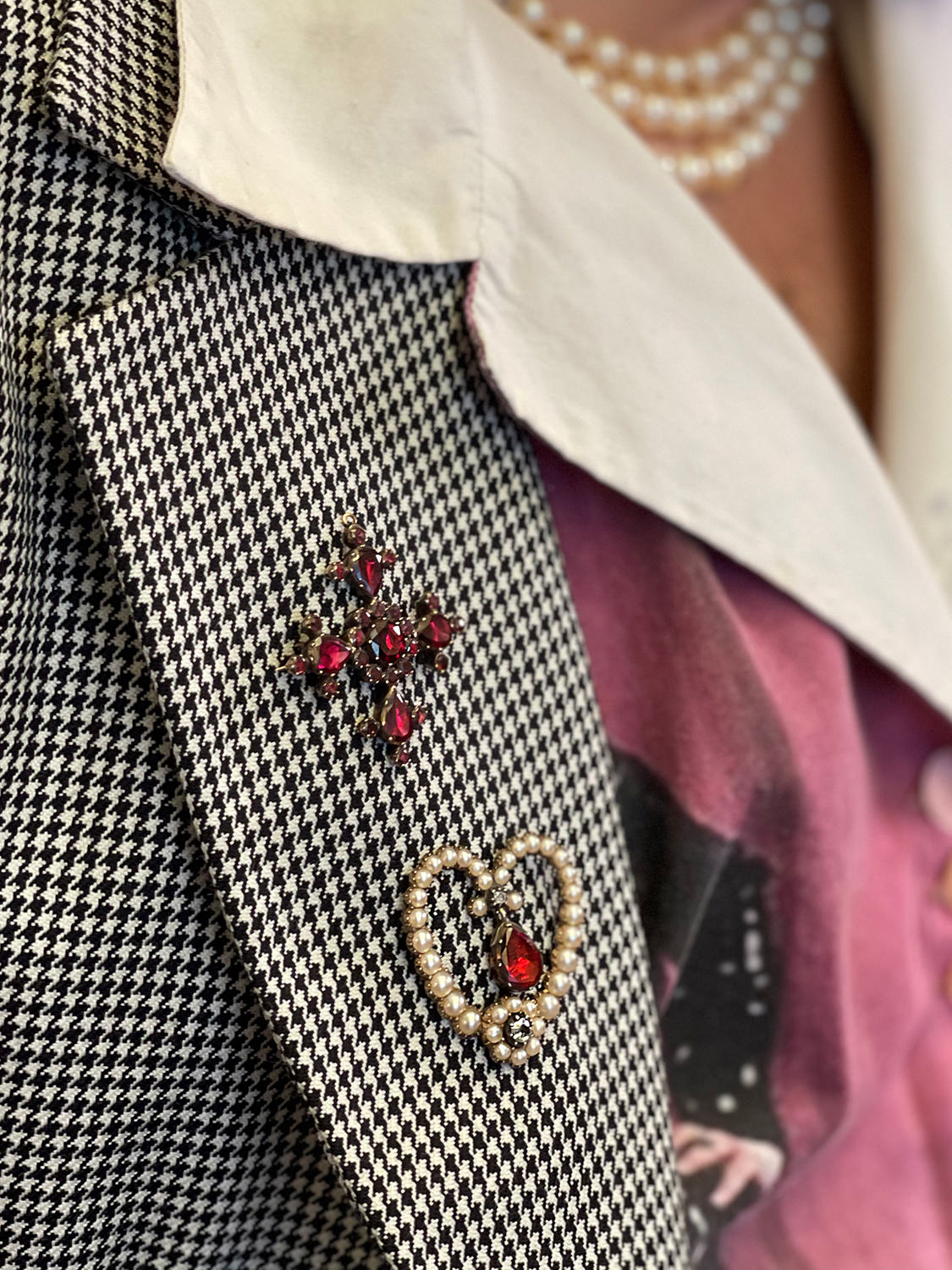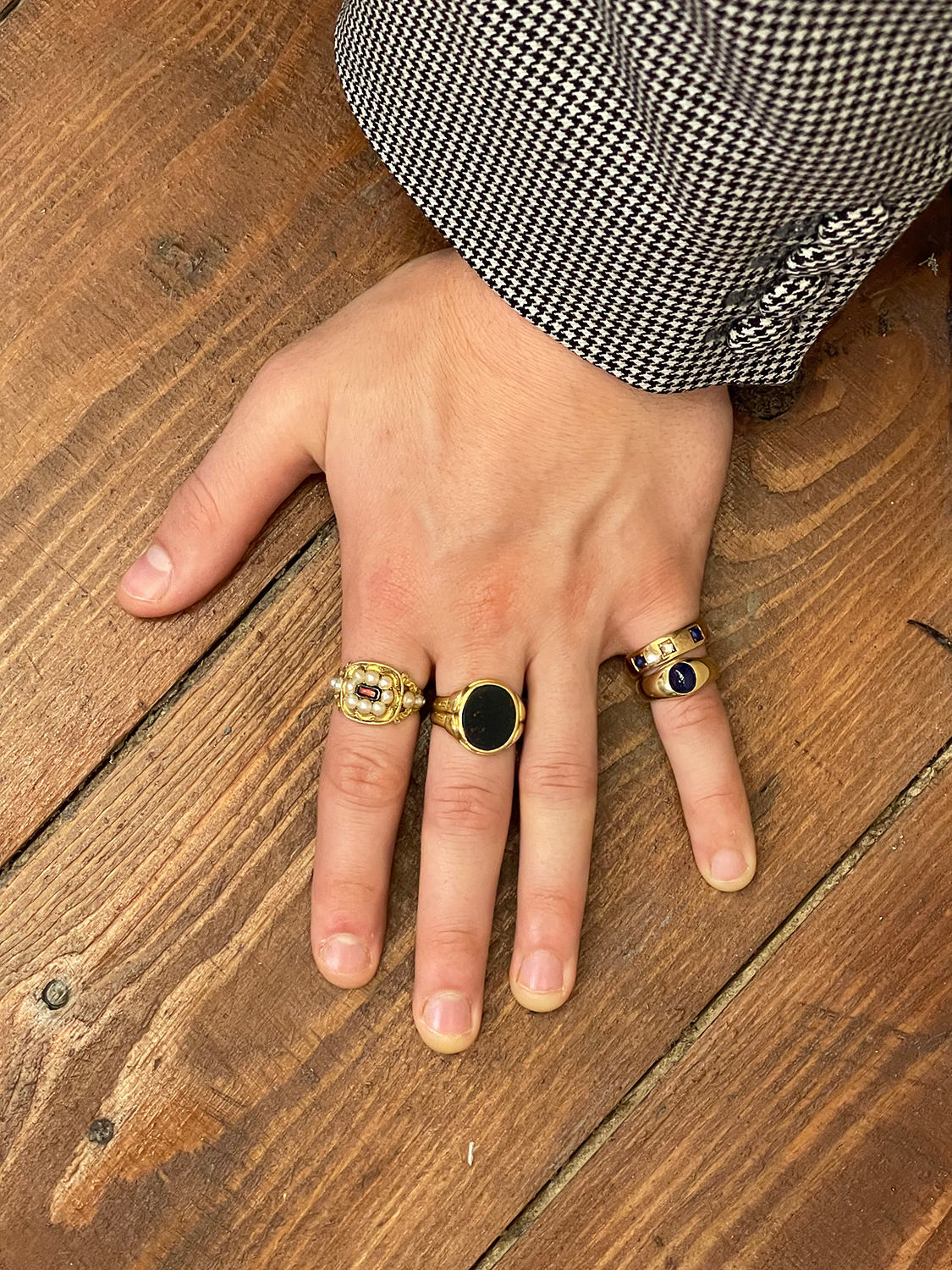 Soon, in full swag mode, it becomes clear that Oscar's not the type of person who likes to be categorized. Blurring conventional boundaries comes very naturally to him. Women love his look, men almost seem intimidated. "People don't care so much anymore", Oscar responds when I ask him about the stigma of men wearing women's jewellery. "It's a new frontier, let's ride into the sunset with a ring on every finger and pearls around our necks!"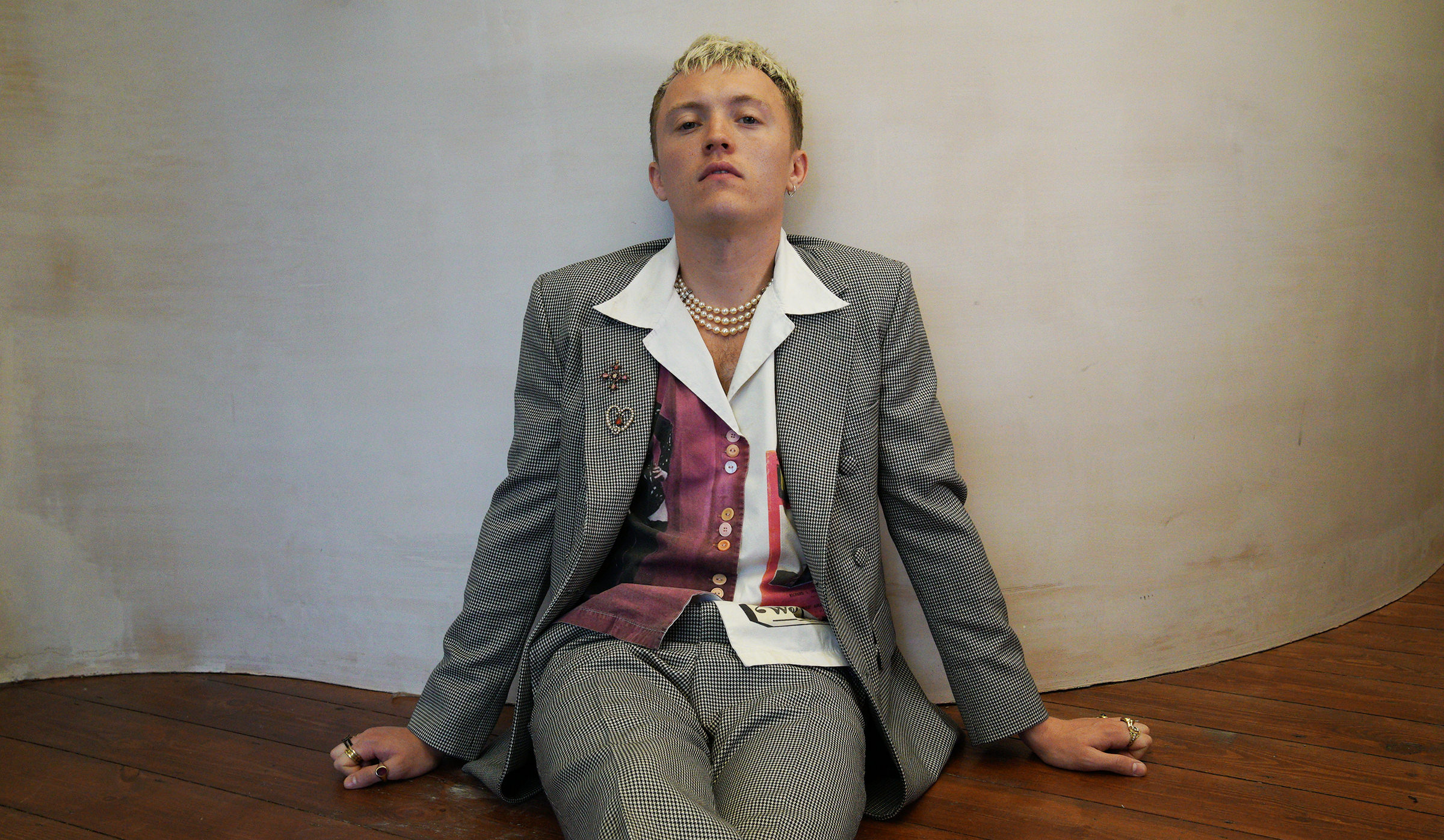 Oscar is now in his element, as we head up a damp Golborne Road to shoot our accompanying short film. Whilst most are sheltering under umbrellas, he strides with pride in a vintage houndstooth suit with an emblazoned 50s bowling shirt by Dilara Findikoglu. His hands are adorned with several macabre Georgian mourning rings.
Between takes, we enter a Pie and Mash shop to have a quick bite to eat. On arrival, the proprietor, Ruth, and her patrons are captivated by the sight of an angelic, pearl-clad boy eating at their table. We ask them whether they think the jewellery works and they give us their thumbs up. "He's gooorrrgeous", they declare unashamedly. "Filthy gorgeous!" he ripostes.
When leaving the shop another male passer-by attempts to break Oscar's stride: "You need to put more sauce on your pie, son!". Oscar thanks him for his advice.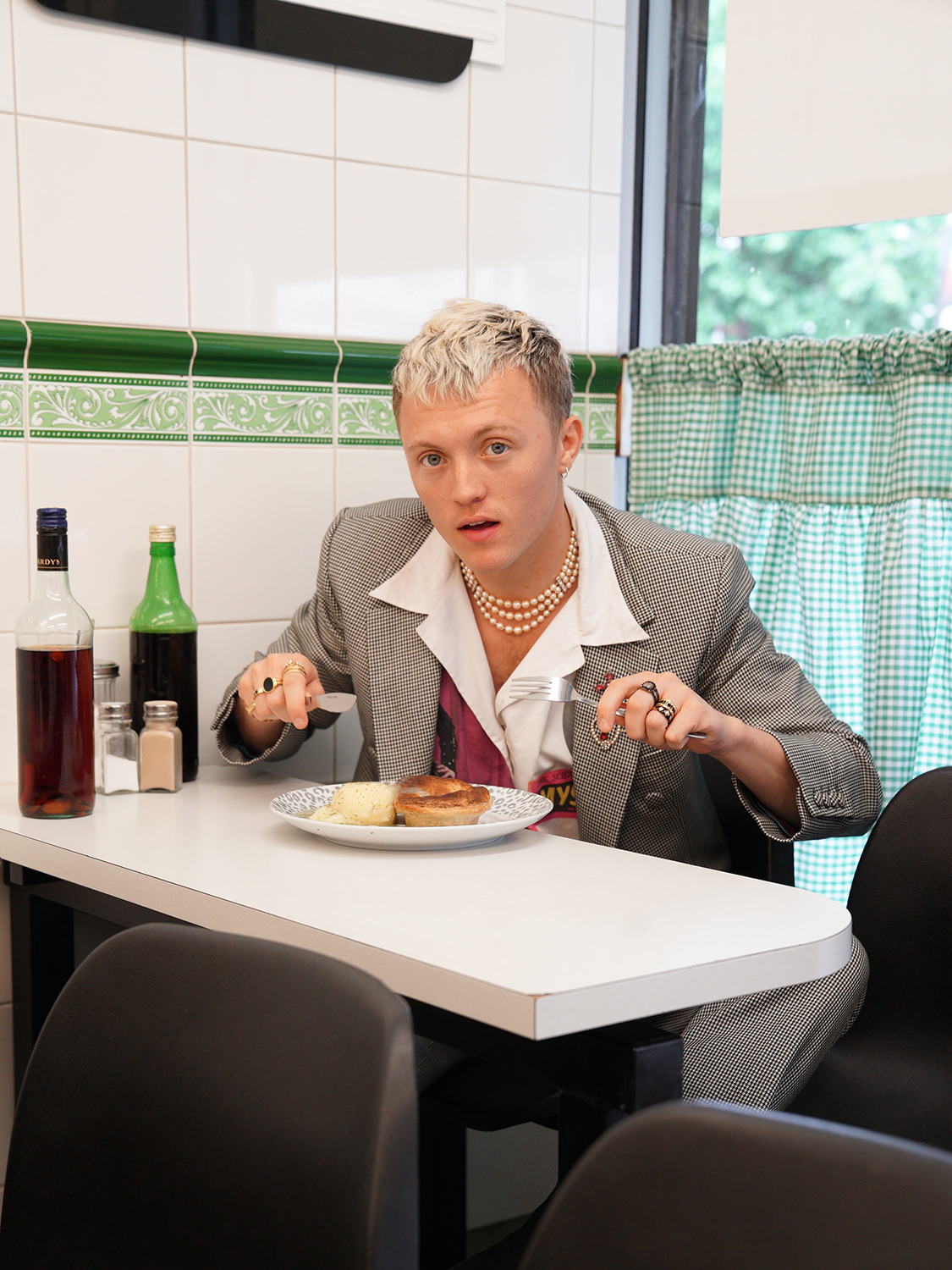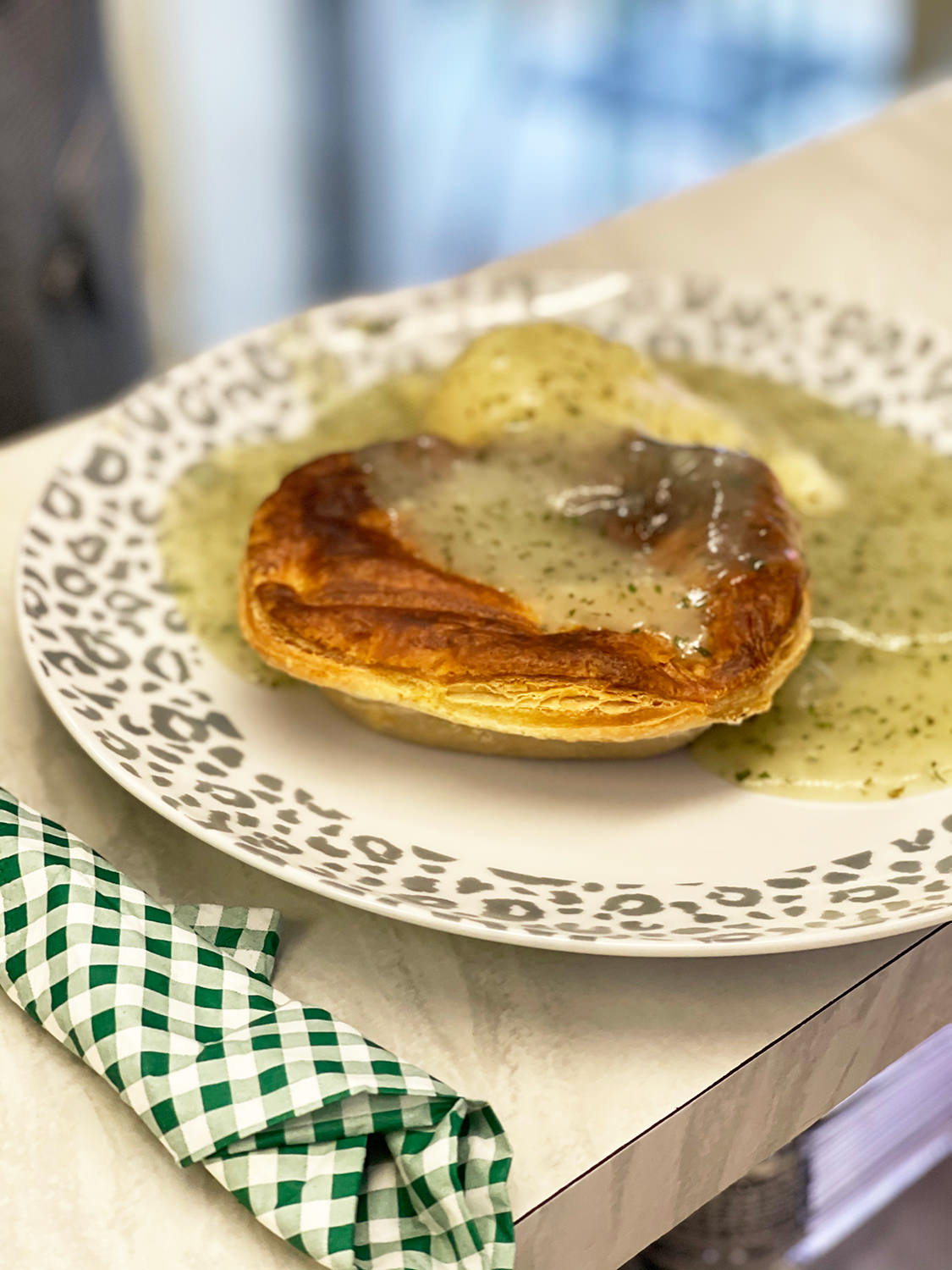 You definitely sense some sort of stardust when in Oscar's company. He carries himself with such verve and his restless energy lifts even the most mundane of situations.
But dig a little deeper and you'll find a sensitive and introspective side to Oscar. He is a young man on the start of a journey, making sense of things, often walking the tightrope between feelings of euphoria and uncertainty, lightness and darkness. "It's a slog a lot of the time", he says referring to the path he has chosen, "but I'd rather risk it now and put it all on the line."
Before long Oscar is heading off into the West London evening, with the same enthusiasm as when he arrived that morning. He is off to prepare for Khartoum's first post-Covid show at Laylow. Then more adoring fans at Latitude Festival the next weekend.
And beyond that, who knows? We reflect on our day with Oscar Dunbar. It feels like we may just have caught him on the verge of something special.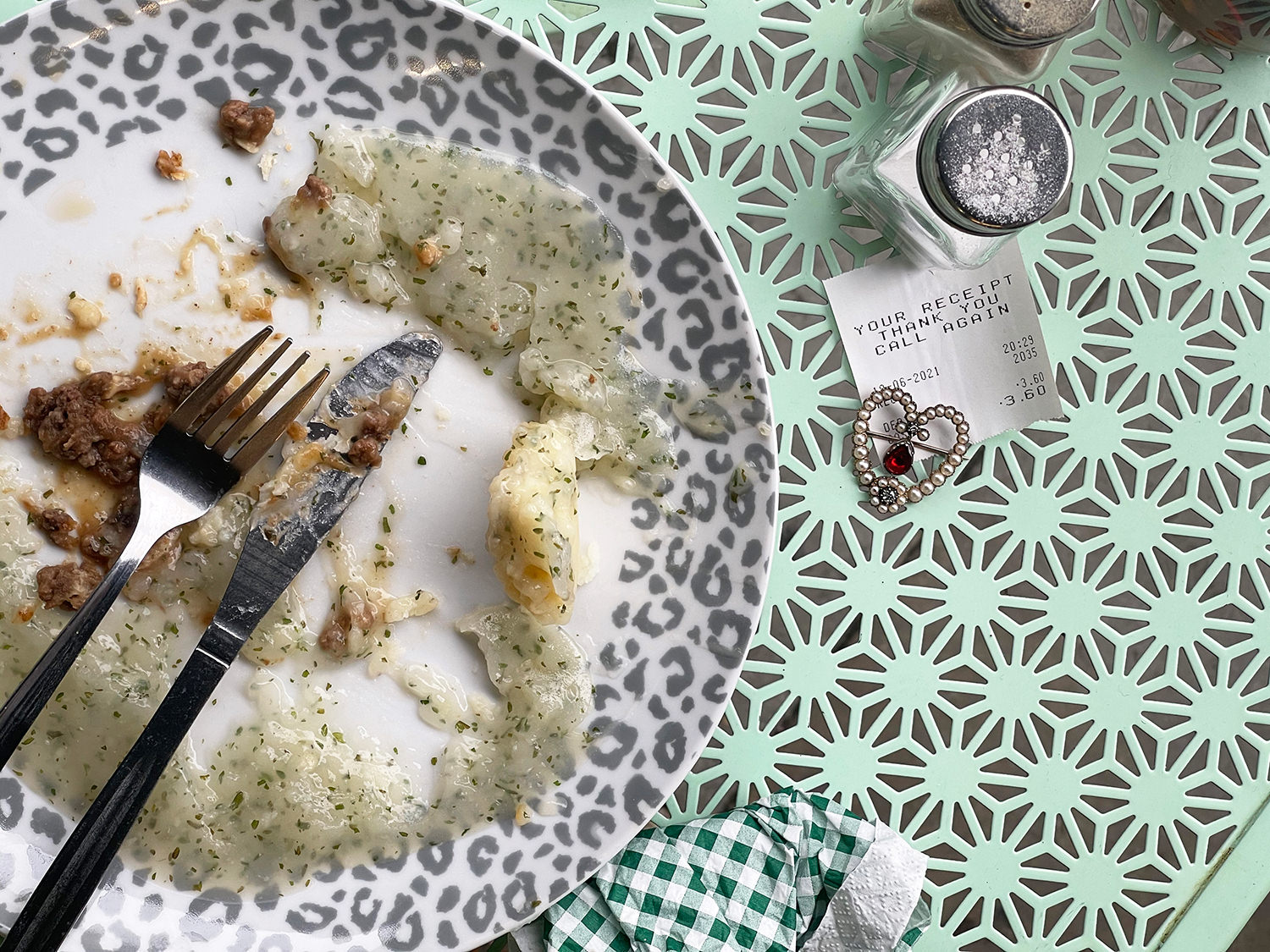 You're a pretty sharp dresser, Oscar!
Thank you very much, I try!
Does tailoring play a large part in your style?
Yes! I've picked up most of my suits down the Portobello Road, there's always a treasure there to be found. The hunt is what makes the garment even more special… I love knowing the history of it or just making up a story about it in my head. I like flared suits which I have few of and I wear Bella Freud suits at my shows. Working with my stylist Claudia Saadeh has been great also, she's got an amazing eye. She got me in a vintage John Galliano shirt for our upcoming music video.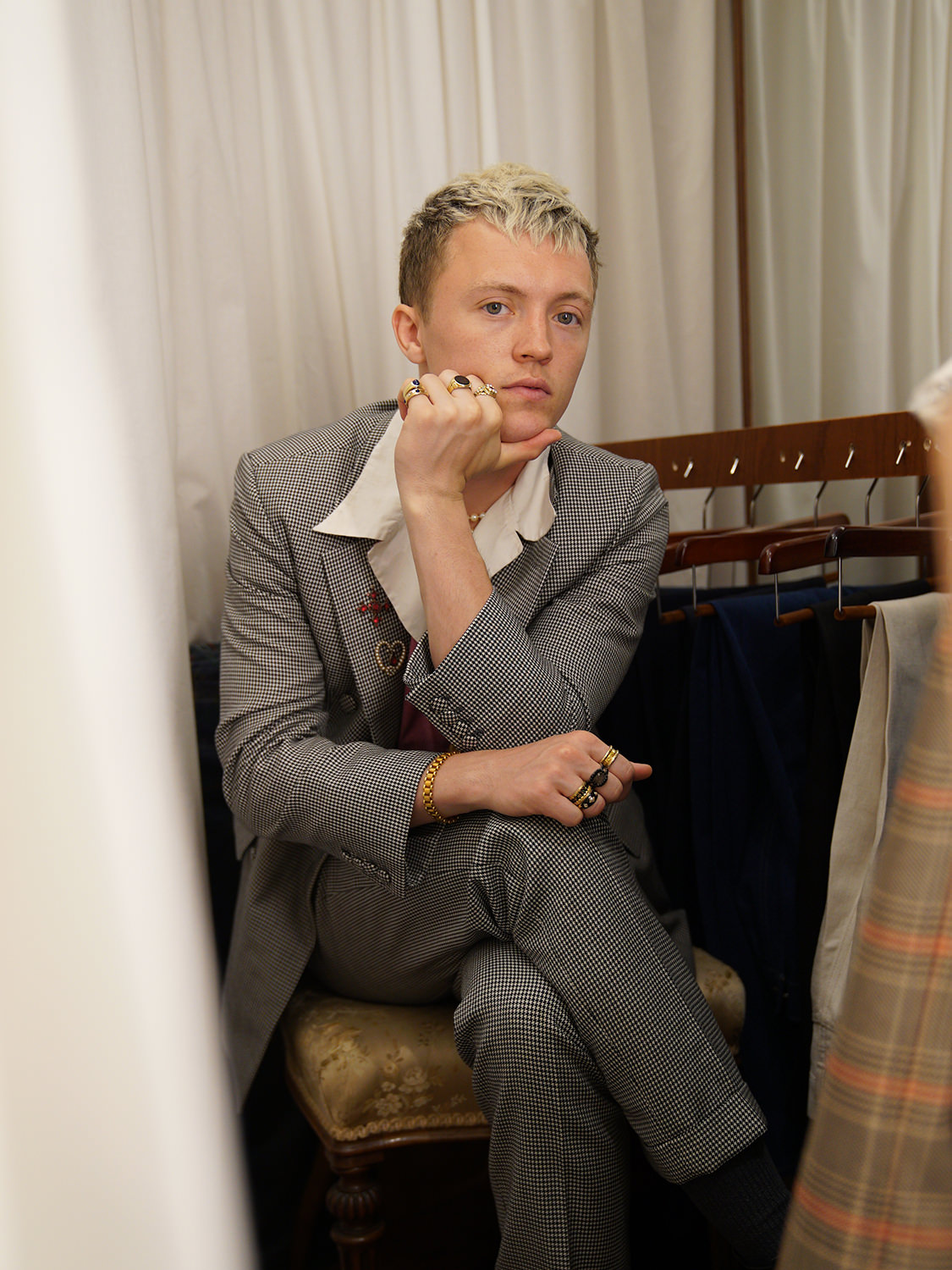 Who are your style icons?
Dennis Hopper, Gram Parsons and Grace Jones.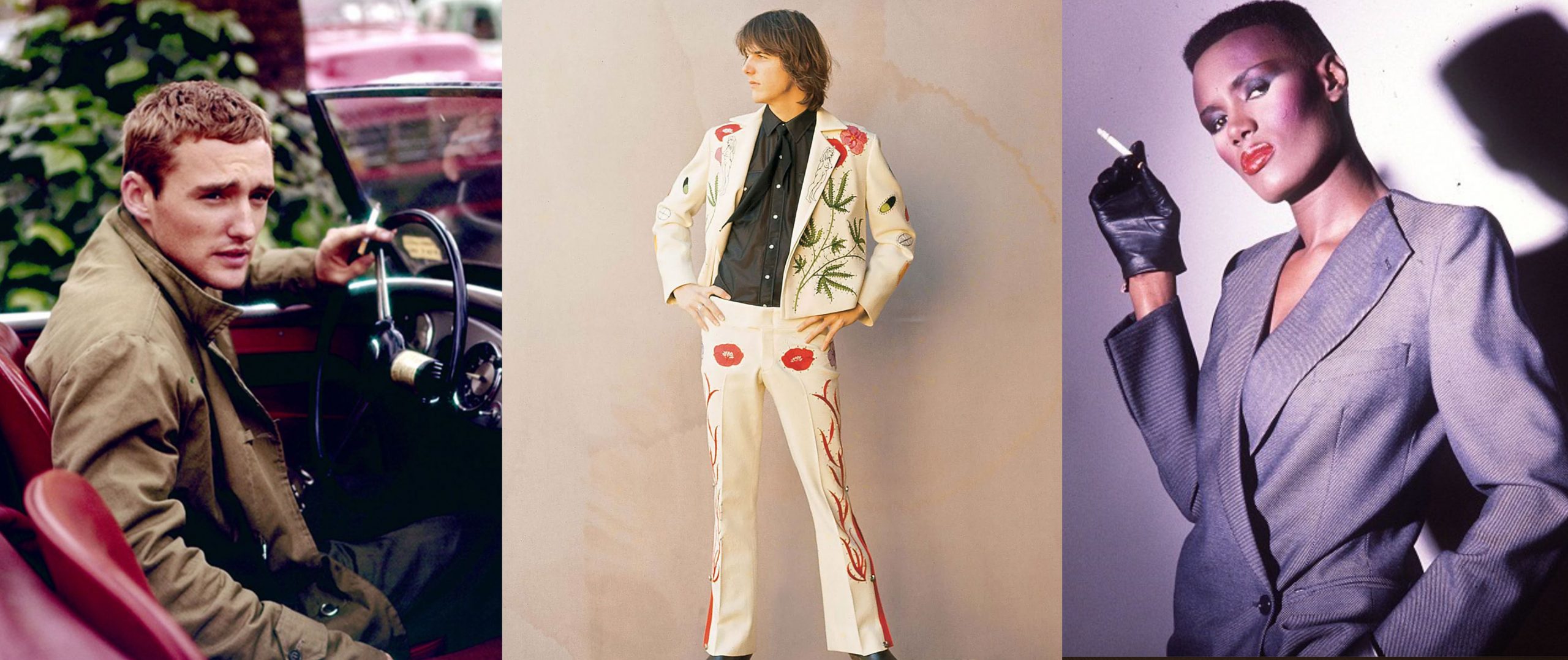 Why do you think demand for men's jewellery has grown so much in recent years?
I think there is less stigma now attached to guys wearing jewellery… I find myself wearing more just out of habit and I'm always looking to buy more. Most of the people who inspire me wear jewellery in some form or another. I'm into Lil Nas at the moment and he wears a good amount.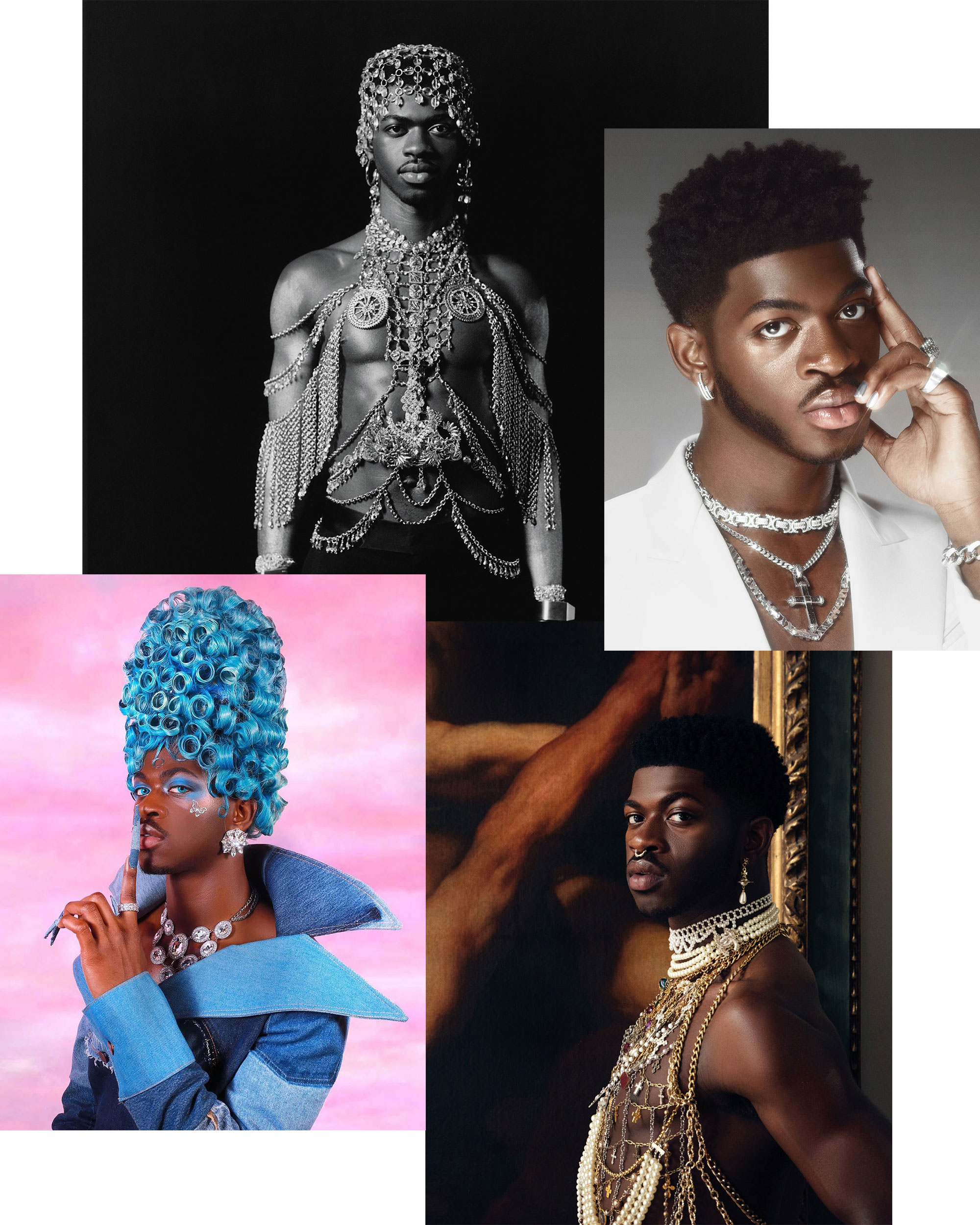 What about wearing items that traditionally might be seen as feminine? For instance, the pearl necklace in the shoot was pretty punchy.
I loved wearing that necklace! To be honest, I don't really see jewellery as feminine or masculine but just as something beautiful. I find brooches really help to enhance the shape of suit lapels, it's all one package. I think some people are a bit stuck in their ways and that's ok, whatever gets you through the night!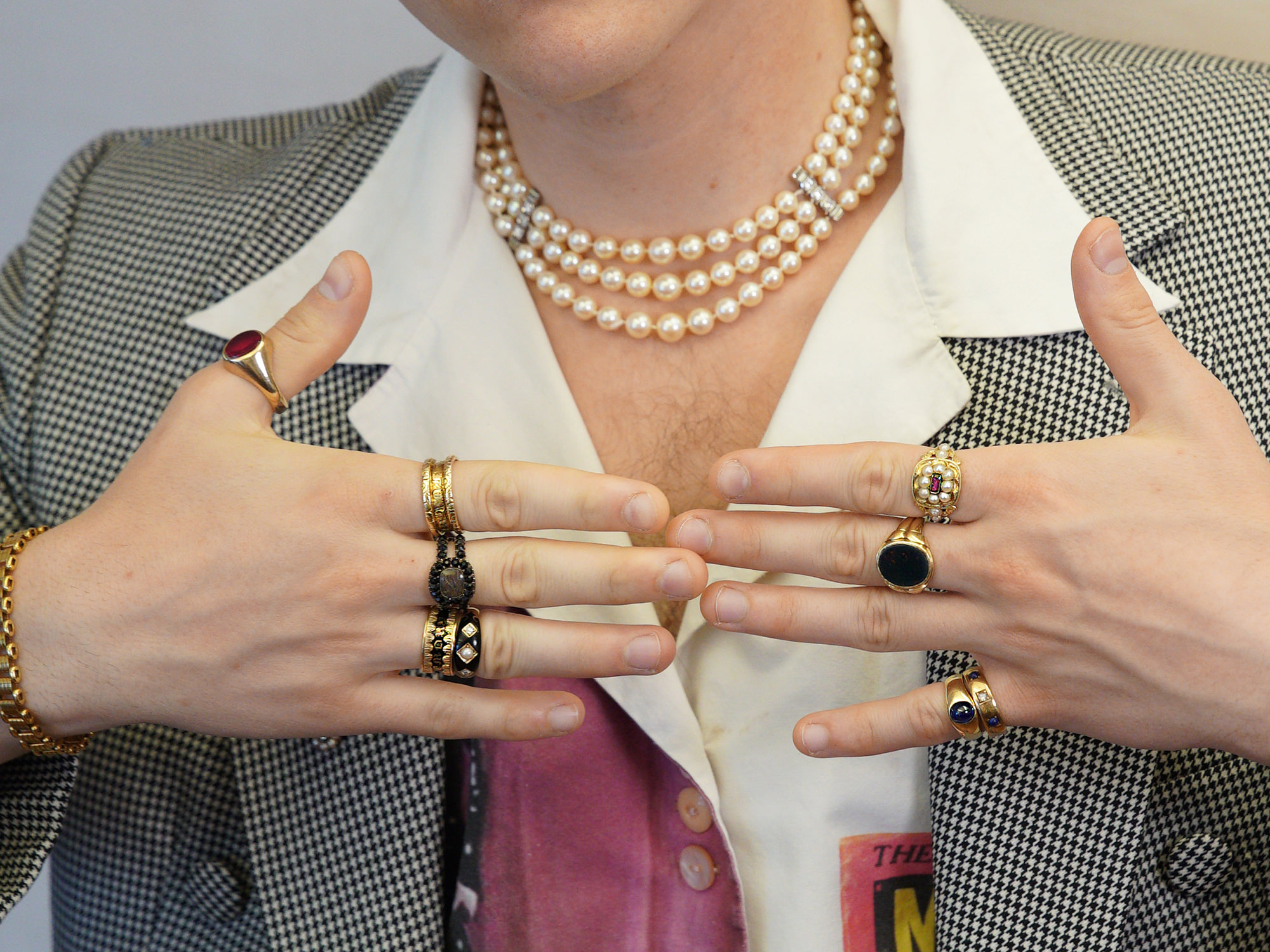 And what about antique jewellery specifically… what do you think makes it cool?
I don't see 'antique' in a passé way but more as an opportunity to add something beautiful with history to my life. All the jewellery I have means a lot to me personally, so it's always relevant for me as it's those moments which makes me who I am. The jewellery I have are markers in my life, like chapter headings. For instance, my grandmother has a signet ring of her family crest… its history and beauty has always fascinated me. I think that's what's so special about antique jewellery… the story behind it, where it's been and where it's going.
That's what we like to hear! Were there any particular pieces from the shoot that you particularly liked?
I loved wearing the macabre Georgian rings! They felt heavy with mood. I think black jewellery can be very seductive.
Does the exact date and origin of the jewellery matter to you or is it more the general feeling of old jewellery that appeals?
A bit of both really! The ring I just got from AJC was made in 1989 in Birmingham. It gets me thinking that maybe the maker was listening to Pump Up the Jam as they crafted it? Top tune that… I think the ring sings…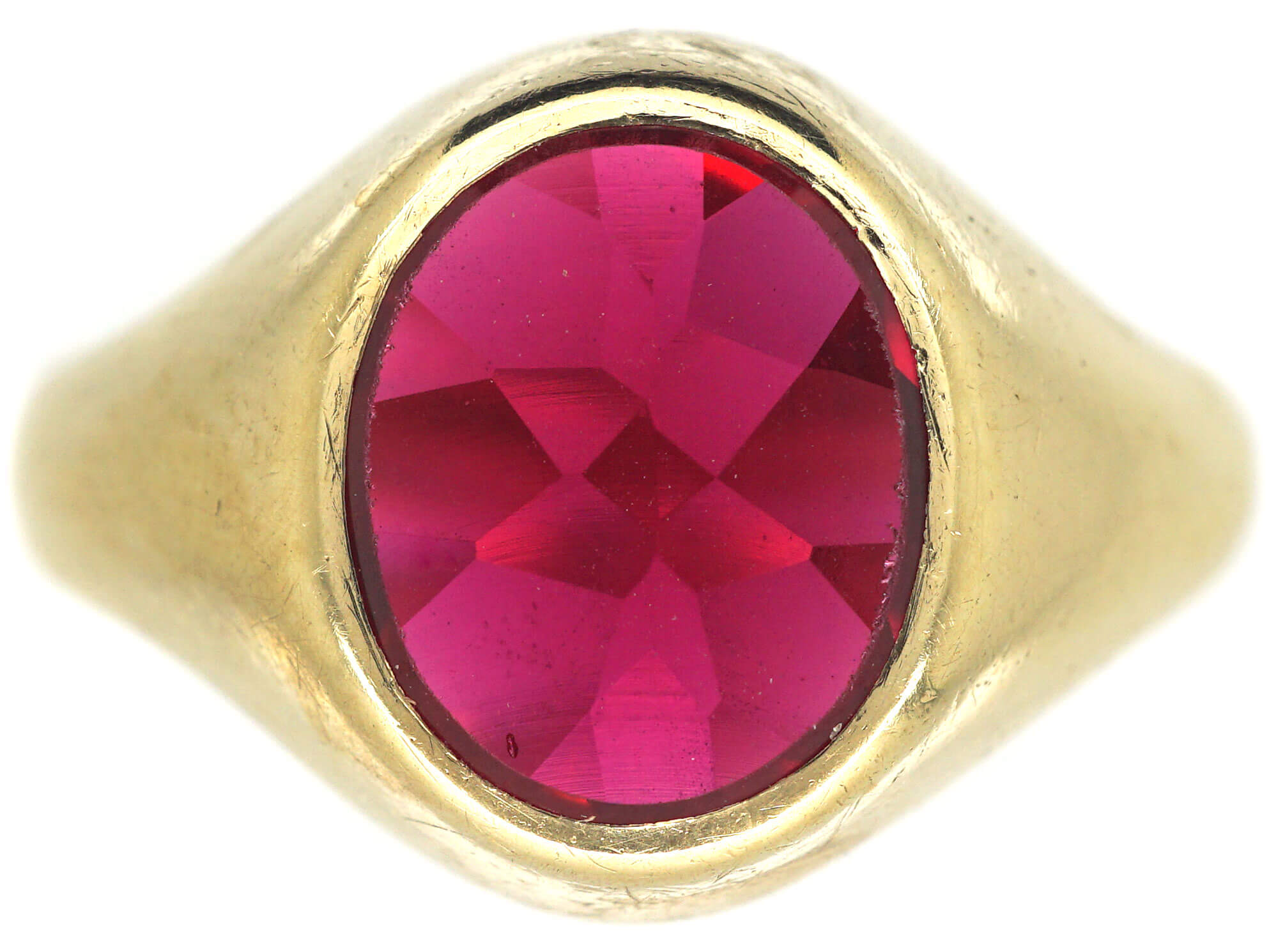 I know it's a bit of a buzz word now, but does sustainability matter to you in everyday life and fashion?
Of course! I try to avoid buying new clothes and stick to finds at the market. It's good to know where whatever you're buying has come from.
What is your creative process?
I love a morning coffee on the Golborne Road and a stroll to Little Venice. That part of town has always been home and I return to it for inspiration. Travelling and meeting new people has always inspired me, i think also trying your hand at another creative outlet can benefit the main one. I got quite into upholstery a few years back which gave me a whole new lease of life.
What does the future hold for you?
Our debut LP, Vultures, has just dropped. To celebrate we're playing at Laylow on the 9th October, followed by a gig in Dalston on 12th October. Beyond that, I want to keep making music… and wearing AJC whilst doing it!
You can see Khartoum play at Laylow on 9th October and The Victoria, Dalston on 12th October
Their debut LP, Vultures, is available now
Oscar Dunbar's AJC Edit