Victorian Vauxhall Glass Bug Brooch
This is a great looking bug! His wings and upper body are facetedA faceted stone has small, flat-cut surfaces that make a sparkling effect on transparent stones. Facets act as both mirrors and windows. Reflecting light and channelling light into a stone where it refracts and re-emerges. Vauxhall glassThrough the eighteenth century and on into the middle of the nineteenth, Vauxhall glass was a popular gem substitute. Intense hues of highly reflective purple, orange, red, green and blue were set into butterfly, snowflake and flower motifs on necklaces, bracelets, earrings, brooches and hair combs. Made in the Vauxhall Glassworks in London, this jewellery w... More with an edging of round glass and glass eyes. There are two kite registration marks underneath which is unusual. During the VictorianJewellery made in the the Victorian era (1839-1901). Era a diamond-shaped Design Registration Mark (1842-1883), known as a "kitemark" was used on jewellery and other decorative arts. These marks were stamped to indicate the date a particular design was registered, similar to a patent mark. Kitemarks from 1842-1867 consisted of the "Class" at the top within a circle, the "Year" at the top, the "Month" at the left pointA unit of weight for a diamond, being one-hundredth of a metric carat. It is used for weights that are decimal fractions of a carat, and all figures after the second decimal point are, in the diamond and jewellery trade, generally discarded., "Day" at the right and "Bundle" number at the bottom. From 1868-1883 the "Day" was at the top, "Bundle" on the left, "Year" on the right and "Month" at the bottom. This practice stopped in 1884. I think this bug dates from around 1870.
£675
or from
£58.30/month
with
0%
for
12 months
More Info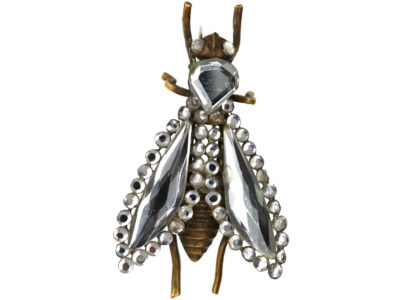 Condition
Very Good, slight chip underneath the glass on the right wing which was probably there when it was originally set
Measurements
Length 4.5 cm
Width at widest point 2.5 cm
Ready to try it on?
Discover our friendly jewel box in the heart of London's Mayfair
Book Your Appointment