Victorian Cabochon Garnet Oval Brooch
A small garnetDescribes a group of several closely related minerals. Garnets come in a variety of colours, however the most common colour is dark red. In descriptions, 'garnet' tends to refer to dark red stones unless otherwise specified. brooch set with an oval cabochonA polished, not faceted, dome shaped stone - either round or oval with a flat polished base, primarily used as a cut for phenomenal stones such as cat's eyes and stars.
garnet which is bordered by two rows of Bohemian garnets. It was made in Austro-Bohemia circa 1880.
On Hold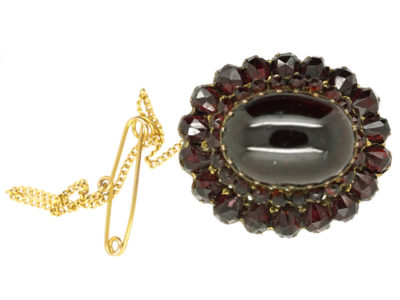 Hallmarks
Unmarked, very low carat gold
Safety chain unmarked, tested to 9ct gold
Measurements
Height 2 cm
Width 2.2 cm