Victorian Vauxhall Glass Guard Chain
An attractive long chain composed of facetedA faceted stone has small, flat-cut surfaces that make a sparkling effect on transparent stones. Facets act as both mirrors and windows. Reflecting light and channelling light into a stone where it refracts and re-emerges. glass beads. It was made circa 1880 when Queen Victoria was in heavy mourningRings made especially to mark the death of a loved one. Often called 'memento mori' rings. Rare examples survive intact and are highly collectable. for Prince Albert and set a fashion for black jewellery. This material is sometimes called French jet which is somewhat confusing as it is not jet. However it is shinier than jet and tougher and was a very popular alternative.
£275 27% Off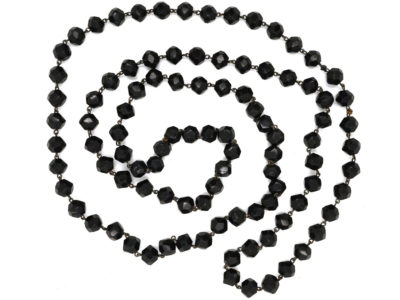 Measurements
Length 140 cm
Beads diameter 1.1 cm
Ready to try it on?
Discover our friendly jewel box in the heart of London's Mayfair
Re-opening on July 1st
Book Your Appointment
You Might Also Like