Victorian Tortoiseshell Pique Earrings Inlaid with Gold & Mother of Pearl
A lovely pair of tortoiseshellAn organic material (not a shell) that is obtained, not from a tortoise, but from the overlapping horny top plates (called 'blades') covering the carapace (upper shell) of certain marine turtles, preferably the hawksbill turtle found of the West Indies and Brazil and the loggerhead turtle found near the Celebes. double hoop earrings in great condition. They were made circa 1870. When Prince Albert died there was born a fashion for black jewellery in sympathy with Queen Victoria's loss. Many items were produced in Whitby jet and tortoiseshell which at first were plain and then, as the century wore on the items became more decorative and were inlaid with gold and silverA metallic element which is malleable and ductile, and white in colour, making it ideal for use in jewellery. It is usually mixed with copper to improve its hardness.
and mother of pearlThe iridescent inner layer of certain molluscs such as oysters or abalones which is used as a decorative inlay. to lighten the look.
Sold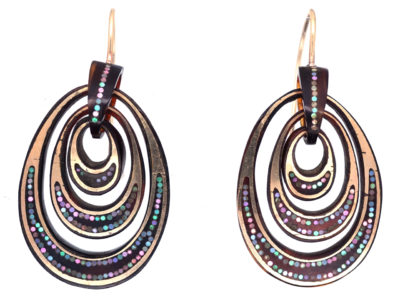 Measurements
Height 1⅜ in / 3.5 cm
From top of wire to base just under 1 ¾ in / 4.4 cm