Victorian Tortoiseshell Pique Drop Earrings
An unusual pair of tortoiseshellAn organic material (not a shell) that is obtained, not from a tortoise, but from the overlapping horny top plates (called 'blades') covering the carapace (upper shell) of certain marine turtles, preferably the hawksbill turtle found of the West Indies and Brazil and the loggerhead turtle found near the Celebes. drop earrings that have been inlaid with fine silverA metallic element which is malleable and ductile, and white in colour, making it ideal for use in jewellery. It is usually mixed with copper to improve its hardness.
work. The actual process was really clever. It involved heating the tortoiseshell and then pressing the silver pattern in to it. It is very hard to reproduce, so these pieces are sought after and are rare in good condition.
£975 23% Off
or from
£64.78/month
with
0%
for
12 months
More Info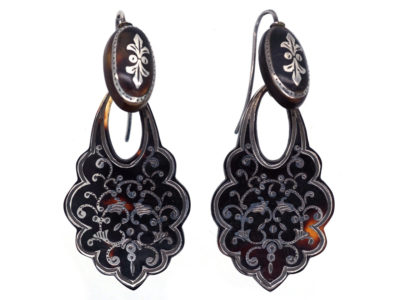 Hallmarks
Maker's mark JH in a monogram on the back of each earring
Measurements
Height 1⅝ in / 4.1 cm
Width at widest point ¾ in / 1.9 cm
Time to Hunker Down
Unfortunately, due to Coronavirus, we cannot accept appointments, until further notice
More Info
You Might Also Like