Victorian Gold Cased Seal of a Greyhound
An unusual sealA stone or metal plaque carved with an image (an intaglio) but with design reversed so that it is readable when impressed in wax.
of a greyhound that was made circa 1860. The greyhound has been finely modelled and has a ring attached to the collar. The base is a plain oval carnelian​A translucent red variety of chalcedony which in its turn is a form of cryptocrystalline quartz. ​Carnelian has​ been known and used since antiquity when it was sourced from the surfaces of the Egyptian and Arabian deserts. The ​most prized carnelian has a true blood-red color.. A lovely piece to wear on its own or with other items on a medium length chain.
Sold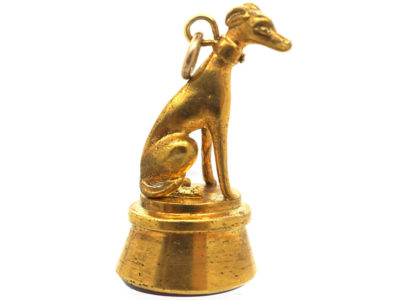 Hallmarks
Unmarked, tested to 15ct gold over metal
Measurements
Height 3cm
Base 1.4cm by 1.1cm