Victorian 18ct Gold, Diamond and Pink Spinel Cluster Ring
This is a large ring set with a deep reddish pink spinelFrequently called "Balas Ruby", a term derived from Badakshan, the name of the district in Afghanistan which is said to have been the source of the finest stones in mediaeval times. Spinels are often mistaken for rubies, perhaps the most famous of these is the "Black Prince"s Ruby" in the Imperial State Crown which is actually a red spinel and the "Timur Rub... More. Spinels are naturalA natural stone is called such because it has not been subjected to any treatments. More stones and the red colour that closely resembles a rubyOne of the most valuable gemstones on earth. From the corundum family, the red variety being ruby and the blue, sapphire. With the exception of the diamond, corundum is the hardest of the gemstones on the Mohs scale scoring a 9. More is very sought after. It is surrounded by good white old mine cutAn 18th, 19th and early 20th century diamond shape, typically cushion or asymmetrical, marked by a small table, a high crown and a large culet. Culets are the small flat facets at the bottom of a stone which appear to the untrained eye as a hole in the middle of the stone. Before the advent of modern machinery which allows for the precise faceting we see tod... More diamonds. It was made circa 1880 and was probably sold as a ruby at the time! In antiqueRefers to jewellery of at least 100 years of age.
More jewellery, one will hardly ever encounter spinels although the jewellers from days gone by may have used them as rubies and did not realise that red spinels are even rarer. A famous example is the 'Black Prince's Ruby' which was actually a large, irregular cabochonA polished, not faceted, dome shaped stone - either round or oval with a flat polished base, primarily used as a cut for phenomenal stones such as cat's eyes and stars.
More red spinel weighing 170 caratsThe unit of weight for a diamond or other gemstone and also for a pearl. Abbreviated 'ct', 1 carat is equal to 0.2 grams. In reference to gold, a unit of purity or fineness of gold and gold alloy, expressed as a number out of 24 parts by weight, e.g. '24 carat' signifies pure gold, '18 carat' 18/24th gold in the alloy, et cetera. Also abbreviated as 'c... More (34 g) set in the front of the United Kingdom's Queen Elizabeth II's State Crown. The spinel is one of the oldest of the Crown Jewels, with a history dating back to the middle of the 14th century. It has been in the possession of England's rulers since it was given in 1367 to its namesake, Edward of Woodstock,"Black Prince". So this ring would make a very impressive engagement ring. Your very own crown jewel!
Sold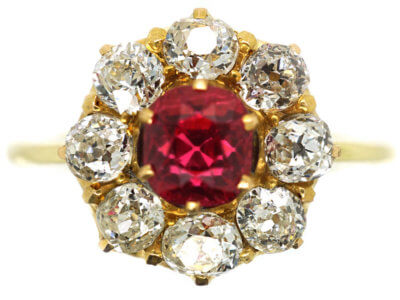 Materials
Gold Diamond Spinel
Hallmarks
Unmarked, tested to 18ct gold
Measurements
Spinel 75 points
Diamonds approx total weight 1.20 carats
Diameter 1.5 cm
Virtual Viewings
View our pieces in high resolution in the comfort and safety of your home
Book Now
Best antique jewellers in London. So helpful, honest and friendly. And have amazing stock!

— Toby Wafta

Buying an engagement ring isn't an easy experience but the team not only made the process pain free, they also helped me pick the perfect ring. Friendly, knowledgeable and with a great selection of antique rings. Would highly recommend

— Jack McCombe

Highly recommend. So excited to give this engagement ring a new life to live ❤

— Francheska Palmer

The engagement ring we bought from the AJC was perfect, and the service provided was very friendly and attentive. I haven't got anything bad to say!

— Jack Allen

Excellent service and managed to supply exactly the ring I was looking for after weeks of search elsewhere.

— Christopher Darlow

Service was unbeatable - worked to an extremely tight time scale and delivered without a hitch. The ring is perfect and I'm proud to see it on the hand of my fiancé. You guys have made us both very happy!

— Oscar Barrett

Excellent experience from start to finish, I didn't have a clue what I was doing when looking at engagement rings but was very happy with my purchase. And it seemed to do the trick as she happily said yes :)

— Matthew Carpenter

Can't say enough about the amazing service we received. They have the most exquisite selection of jewellery and really take the time to help you decide. I would strongly recommend a visit.

— Jane McNicholas

Olly was so lovely and helpful, which is exactly what you need when you're buying an engagement ring.

— Grant Zubritsky