Victorian 15ct Gold Round Drop Earrings set with Diamonds
A very useful pair of 15ct62.5% pure gold (or 625 parts pure gold and 375 parts other metals). Popular during the Victorian, Edwardian and Art Deco eras but was discontinued in the mid-1930s. gold earrings that were made circa 1880. They have good detail with a rope edge and star settings with an old mine cutAn 18th, 19th and early 20th century diamond shape, typically cushion or asymmetrical, marked by a small table, a high crown and a large culet. Culets are the small flat facets at the bottom of a stone which appear to the untrained eye as a hole in the middle of the stone. Before the advent of modern machinery which allows for the precise faceting we see tod... More diamondA precious, lustrous gemstone made of highly compressed carbon. Diamonds are one of the hardest materials known to mankind. Colours of diamonds range from colourless, yellow, orange and brown to almost black. Natural coloured (or 'fancy') diamonds can be extremely rare. The cut, colour, clarity and carat weight of a diamond are the criteria jewellers use... More in each one. They can be worn on a daily basis.
Sold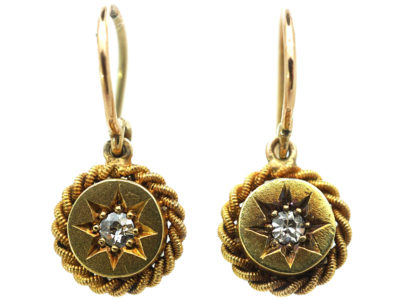 Love these earrings, they never date and look so chic!
Measurements
Diameter 8mm
Diamonds approx total weight 10 points