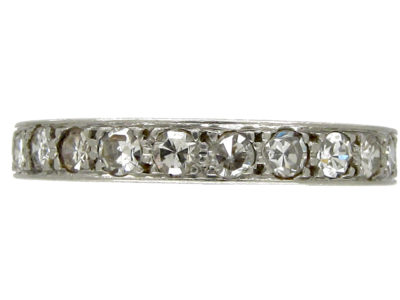 A channel set diamondA precious, lustrous gemstone made of highly compressed carbon. Diamonds are one of the hardest materials known to mankind. Colours of diamonds range from colourless, yellow, orange and brown to almost black. Natural coloured (or 'fancy') diamonds can be extremely rare. The cut, colour, clarity and carat weight of a diamond are the criteria jewellers use... More eternity ringA ring given as a symbol of lasting affection, typically set with an unbroken circle of gems.
. Eternity rings are often given on the birth of a first, or last child as a symbolic gesture.
On Hold
Hallmarks
Marked 0.62 for total carat weight
Measurements
Diamonds weighs approximately 0.02 pts each
Unsure of Your Size?