Victorian Oval Gilt Metal Locket set with Amethyst Paste
An attractive oval shaped locket with repousse and engraved detail on the front with a foil backedA thin metal foil placed behind a gemstone within a closed-back setting to improve its optical performance. Metallic foil improves the reflectivity of certain gemstones, whilst coloured foils act as colouring agents when placed behind colourless materials, such as paste and rock crystal. These stones were typically set in silver closed backs to shield the fo... More amethystOne of the most popular gemstones, which has long been considered valuable. Amethysts range in colour from light to dark purple; the deeper purple stones are considered to be the finest. pasteGlass made to resemble gem materials, which may be moulded, faceted, carved, etc. . It was made circa 1860 and was really the costume jewelleryJewellery designed for wear with current fashions and usually made of inexpensive materials. Usually applied to two classes of jewellery: gem-set imitations, which resemble precious jewellery but are made of silver (sometimes rhodium-coated) or pinchbeck and set with substitutes for gemstones, e.g. marcasite, paste or synthetic gemstones; although usually th... More of the time as it imitated an 18ct75% pure gold (or 750 parts pure gold and 250 parts other metals) gold and amethyst locket. It is in fact 18ct gold that has been gilded on to a metal base. It is sometimes called PinchbeckAn early 18th century alloy of copper and zinc (9 parts zinc and 48 parts copper) invented by Christopher Pinchbeck. Another formula consisted of 83 parts copper and 17 parts zinc. It looks like gold, wears well and maintains its colour. but that is an earlier term. It opens to reveal one glazed compartment for a photograph. It looks lovely worn on a medium length chain.
£295
or from
£25.48/month
with
0%
for
12 months
More Info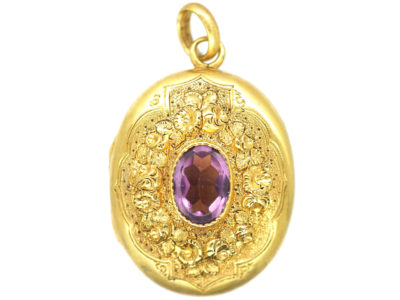 Measurements
Height 3cm
Height from top of loop to base 4cm
Width at widest point 2.4cm
Ready to try it on?
Discover our friendly jewel box in the heart of London's Mayfair
Re-opening on July 1st
Book Your Appointment