Victorian 18ct Gold & Malachite Carved Monkey Pendant
A very unusual 18ct75% pure gold (or 750 parts pure gold and 250 parts other metals) gold pendant with a chained monkey in the centre. The monkey has been carved from malachiteA dark green stone with bands of various shades of green. It is hydrated copper carbonate. and has rubyOne of the most valuable gemstones on earth. From the corundum family, the red variety being ruby and the blue, sapphire. With the exception of the diamond, corundum is the hardest of the gemstones on the Mohs scale scoring a 9. cabochonA polished, not faceted, dome shaped stone - either round or oval with a flat polished base, primarily used as a cut for phenomenal stones such as cat's eyes and stars.
eyes. It was made circa 1860. There was a fashion for malachite during the VictorianJewellery made in the the Victorian era (1839-1901). Age, and it was used in fine jewellery for the English gentry and grand sculpture in the palaces of the Russian Tsars. There was also a fashion for pet monkeys. Notes on Pet Monkeys and How to Manage Them by Arthur Patterson (London, 1888) advises that that the chief importers of monkeys to Britain were Cross, Carpenter, and Johnson of Liverpool or Jamrach and Abrahams of London. Monkeys were brought to Britain by sailors or dealers alongside traditional cargo from South America, India and south east Asia. Patterson's book includes a price list for various breeds of monkeys, revealing that marmosets could be had for 15 shillings whereas an orangutan could be as much as £100. This pendant is a far kinder way of keeping a monkey nearby!
£1,875 20% Off
or from
£129.55/month
with
0%
for
12 months
More Info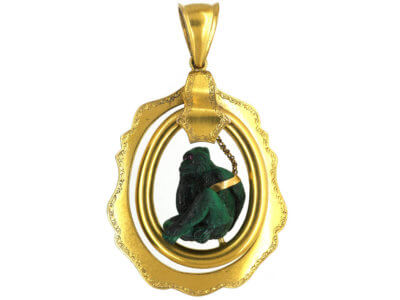 Never seen anything like this!
Provenance
Possibly Russian
Hallmarks
Unmarked, tested to 18ct gold
Measurements
Height from top of loop 55mm
Width 34mm
Time to Hunker Down
Unfortunately, due to Coronavirus, we cannot accept appointments, until further notice
More Info