Victorian 18ct Gold and Banded Onyx Snake Tie Pin
A spectacular large VictorianJewellery made in the the Victorian era (1839-1901). snake stick pin set with a cabochonA polished, not faceted, dome shaped stone - either round or oval with a flat polished base, primarily used as a cut for phenomenal stones such as cat's eyes and stars.
sardonyx. OnyxOnyx is an opaque black variety of polycrystalline chalcedony quartz. is a variety of chalcedonyA microcrystalline type of quartz occurring in several different forms including onyx and agate., which has bands of white and black, with black being more dominant. The snake represents eternal love and onyx was often used to remember a loved one, so it may have been a memorialTypically featuring skulls, urns and other symbols of death, these 16th-18th century jewels were inscribed with the names and dates of the deceased.  tie pin.
It was made circa 1870 when it was the height of fashion to wear black after Queen Victoria mourned the death of her loved one, the Prince Consort, Albert. Albert died in 1861 and Victoria continued to mourn his death until she died in 1901. Queen Victoria and Albert also had a great love for snakes and their meaning. Her engagement ring featured two snakes! All our tie pins come with a stopper at the end of the pin.
Sold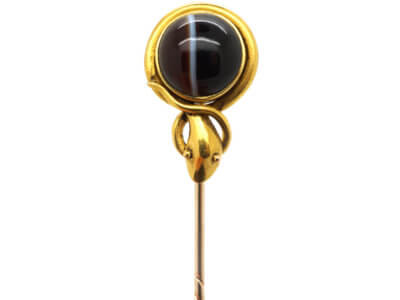 Big and bold !
Hallmarks
Snake is unmarked, tested to 18ct gold
Pin is unmarked, tested to 9ct gold
Measurements
Height 26mm
width 17mm
Length of pin 8.8 cm