Victorian 15ct Gold Hand Brooch Holding a Souvenir
A special 15ct62.5% pure gold (or 625 parts pure gold and 375 parts other metals). Popular during the Victorian, Edwardian and Art Deco eras but was discontinued in the mid-1930s. gold brooch of a beautifully modelled hand holding a card which says "Souvenir". The finger has a ring on it set with a cabochonA polished, not faceted, dome shaped stone - either round or oval with a flat polished base, primarily used as a cut for phenomenal stones such as cat's eyes and stars.
rubyOne of the most valuable gemstones on earth. From the corundum family, the red variety being ruby and the blue, sapphire. With the exception of the diamond, corundum is the hardest of the gemstones on the Mohs scale scoring a 9.. It is a mixture of matte and polished gold that adds contrast. It has a secure rub over catch that has been added at a later date.
£675
or from
£58.30/month
with
0%
for
12 months
More Info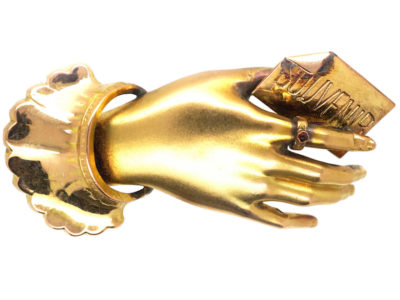 Condition
Small damage on the edge of the hand where it has been filed and tested
Otherwise, in good condition
Hallmarks
Unmarked, tested to 15ct gold
Measurements
5cm by 2.5 cm
Ruby 1 point
Ready to try it on?
Discover our friendly jewel box in the heart of London's Mayfair
Book Your Appointment
"Professional, passionate and super efficient!"

— Damiano, Milan

Purchased 5 or 6 items already from this shop and every time I am happy with the results. Quick shipment to Germany. Really satisfied, returning customer."

— Remco, Germany

"The Interest Free Finance which is now available is also super easy to set up and use. Couldn't recommend AJC more highly! (She said yes!)"

— Hallam, Sheffield

"The place to find unusual and beautiful jewellery. Service is friendly and helpful and delivery extremely prompt."

— Jenny, Marlborough

"I love my ring so much. I've worn it everyday, even when I'm sleeping. Your collection and service are excellent. I woukd like to get my next one at your shop."

— -Makiko, Japan

"Great website, great selection, London based, excellent & quick customer service. 10/10"

— Tom, London

"Always wonderful to work with. Piece was even beyond expectation! I will be back for more wonderful items!!"

— Lisa, California

"I live in Canada and was initially quite concerned at the prospect of buying jewellery online. However I could not be happier with my purchase and the speed in which I received my item. Could not say enough good things about the ring I purchased. Thank you."

— Alistair, Canada

"Buying an engagement ring isn't an easy experience but the team not only made the process pain free, they also helped me pick the perfect ring. Friendly, knowledgeable and with a great selection of antique rings. Would highly recommend."

— Jack, London

"Stellar team, great customer experience, knowledgeable and friendly. Will definitely be back"

— Javier, London

"Amazing company, friendly and helpful staff, they've helped me choose the most beautiful gifts. I cannot recommend them enough."

— Linda, London

"Great customer service. Very helpful. Beautifully packaged. Could not have asked for more! Highly recommended."

— Beverley, Staffordshire

"I bought my gorgeous Georgian ring from this company and they have fulfilled all my expectations. It had to be resized and they did a beautiful job considering the design of the ring and the postage was insanely quick! The packaging of my new ring was absolutely gorgeous. Finished with a bow!"

— Aimee, Reading

"This is my favorite antique store to visit in London. I've been there my last two trips to London and each time I've gotten amazing pieces. Olly has a great eye and a wonderful collection to select from. I definitely plan on going the next time I'm in London!

— Claire, Los Angeles

"I could not be happier with the customer service. Beautifully sourced antique jewellery, in a great central and traditional location. One very happy groom to be (fingers crossed)!"

— Nicki-Joe, Yorkshire

"Excellent service with personal attention to detail and the item fully matching the description and photograph. This is the first place I will go to for future purchases of fine antique jewellery."

— Richard, Northumberland

"Thank you for the whole experience. The website, your help and efficiency could hardly be bettered. Looking forward to seeing my new purchase."

— Pauline, Spain

"I live in the United States, and working with AJC was easier than going into a store here! They were easily accessible and we even did a video Skype session for additional looks. They had the ring sized and out and shipped to the USA by the next day. Simply an amazing customer experience!"

— Benjamin, Atlanta

"Wonderful selection of antique jewellery with fantastic customer service and punctual delivery!"

— Ed, London

"Fabulous service and customer care. I was very happy with the ring I purchased, it was just as beautiful in real life as displayed on the website. I would highly recommend The Antique Jewellery Company."

— Anika, Surrey

"Can't say enough about the amazing service we received. They have the most exquisite selection of jewellery and really take the time to help you decide. I would strongly recommend a visit."

— Jane, London

"Olly was so lovely and helpful, which is exactly what you need when you're buying an engagement ring."

— Grant, New York

"Service was unbeatable - worked to an extremely tight time scale and delivered without a hitch. The ring is perfect and I'm proud to see it on the hand of my fiancé. You guys have made us both very happy!"

— Oscar Barrett, Kent

"Excellent service - very personal, engaged and attentive. From advice on the provenance and suitability of the rings I had chosen, from a very well presented website, to ensuring that they arrived on time - faultless!"

— Edward, Wiltshire