Pencil & Pen by Samson Mordan & Co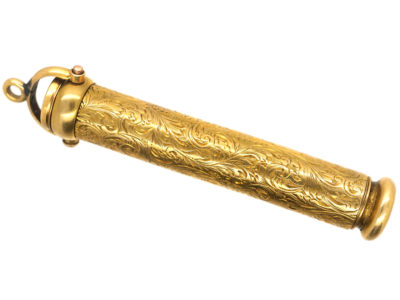 Sampson Mordan who was born in 1790 and died in 1843, was a silversmith and a co-inventor of the first patented mechanical pencil. During his youth, he was an apprentice of the inventor and locksmith Joseph Bramah, who patented the first elastic ink reservoir for a fountain pen.
In 1822, Mordan and his co-inventor John Isaac Hawkins filed the first patent in Great Britain for a metal pencil with an internal mechanism for propelling the graphite "lead" shaft forward during use, as an improvement on the less complex lead holders that merely clutched the pencil lead to hold it into a single position. These pencils are now highly collectible
Mordan bought out Hawkins and entered into a business partnership with Gabriel Riddle, an established stationer. From 1823 to 1837, they manufactured and sold silver mechanical pencils with the marking "SMGR". After the partnership with Riddle dissolved, Mordan continued to sell his silver pencils as "S. Mordan & Co." This gold pencil which also has a pen nib is marked S.Mordan & Co. Inset in to the top is a bloodstone with an engraved monogram.
A fun piece to wear on a chain !
Date & Origin
Victorian (1839-1901), English
Measurements
Full length when opened 11 cm
When closed 5.7 cm
Width 1 cm
Condition
Very Good
Hallmarks
Unmarked, tested to 18ct gold with metal internal parts
Marked "S Mordan & Co"
Provenance
English