Palladium Single Stone Diamond Ring With Stepped Diamond Shoulders
A beautiful palladium ring with a centre diamondA precious, lustrous gemstone made of highly compressed carbon. Diamonds are one of the hardest materials known to mankind. Colours of diamonds range from colourless, yellow, orange and brown to almost black. Natural coloured (or 'fancy') diamonds can be extremely rare. The cut, colour, clarity and carat weight of a diamond are the criteria jewellers use... More that weighs 1.10 caratsThe unit of weight for a diamond or other gemstone and also for a pearl. Abbreviated 'ct', 1 carat is equal to 0.2 grams. In reference to gold, a unit of purity or fineness of gold and gold alloy, expressed as a number out of 24 parts by weight, e.g. '24 carat' signifies pure gold, '18 carat' 18/24th gold in the alloy, et cetera. Also abbreviated as 'c... More. It is a brilliant cutA circular gemstone cut, especially for diamonds or other transparent stones, with 57 or 58 facets. This cut returns the greatest amount of brilliancy, fire, and white light to the eye, making it an immensely popular cut. Also known as the Modern Brilliant Cut, the American Brilliant Cut, or the Ideal Cut. More diamond with single cutA round stone with just 18 facets, top and bottom, used only on very small stones. More diamond stepped sides. Palladium is a rare metal from the same family as platinumDerives from the Spanish word 'platina' meaning 'little silver'. Acknowledged since the 1900s, platinum's durability and natural brightness has been and still is today highly treasured A metallic element prized for its rarity, whiteness, high tensile strength and insusceptibility to corrosion, platinum first became widely used in jewellery in the late ninete... More, it was discovered in 1803 by English chemist William Hyde Wollaston whilst analysing samples of platinum ore, that were obtained in South America. Hyde named it palladium after the asteroid Pallas.
Palladium only gained its own hallmarkSystem of marking precious metals, not required on antique jewellery, but sometimes marks can be found.
More in July 2009. There are only four precious metals that require a hallmark; silverA metallic element which is malleable and ductile, and white in colour, making it ideal for use in jewellery. It is usually mixed with copper to improve its hardness.
More, gold, platinum, and now palladium.
Palladium, like platinum is a noble bright white metal and it is therefore not affected by oxygen, meaning that it does not rust nor does it corrode. It also means that most acids will not penetrate it and damage the metal, keeping its brightness.
Palladium is about thirty times rarer than gold, and fifteen times rarer than platinum.
This ring is a modern ring in the Art DecoJewellery made in the Art Deco era (1920-1935). More style and is a beautiful design. It would be ideal as an engagement ring.
Sold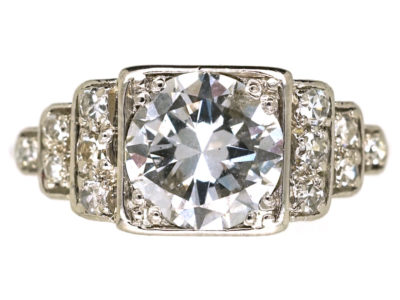 Hallmarks
999 for palladium
Assayed in London 2017

Measurements
Centre diamond 1.10 carats
I/J Colour
P1-P2 Clarity