Georgian 15ct Gold Seal with Amethyst Intaglio of Edmond Halley & His Comet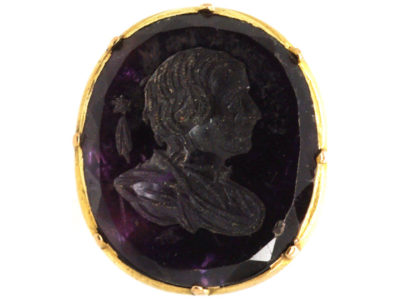 An interesting seal to commemorate Edmond Halley who was perhaps the second-greatest genius in the history of British astronomy. By chance, he lived at the same time as Isaac Newton.
Halley was born in 1656. Edmond turned to astronomy when he was in his teens and he went to Oxford University in 1673, where he proved himself a brilliant student. He soon came to the attention of the newly appointed Astronomer Royal, John Flamsteed, with whom Halley observed at Greenwich.
Halley possessed self-confidence and ambition equal to his intellect. Without waiting to finish his studies at Oxford, he persuaded his father to support him on a two-year trip to the island of St Helena in the South Atlantic, from where he planned to catalogue the southern stars as Flamsteed was doing for those in the north. Coming from any other 19-year-old, it would have sounded embarrassingly presumptuous. Halley returned in 1678 with the job accomplished. He was rewarded with the accolades of the Royal Society and its patron, King Charles II, who ordered Oxford University to award Halley his master's degree.
In 1682 a comet appeared. This was the comet that would one day bear his name.
This seal was made circa 1780.
Date & Origin
Georgian (1714-1830), English
Measurements
Height 2.7 cm
Base 1.8 cm by 1.6 cm
Condition
Very Good
Hallmarks
Unmarked, tested to 15ct gold
Provenance
English