Edwardian 9ct Gold and Pearl Heart tie pin
A really lovely 9ct37.5% pure gold (or 375 parts pure gold and 625 parts other metals) gold tie pin of a weeping or witches heart set with a natural pearlA pearl-bearing mollusc that has not been tampered with by man to produce a cultivated pearl will produce a 'natural pearl'.. The witch's heart, with its bottom curved to one side was originally worn as an amulet in ancient times to protect against evil eyes and from witches stealing milk or harming newborn babies. In Scottish culture it is called the Luckenbooth heart, and in the 18th century the token implied that the giver had become "bewitched to fall in love" with the recipient. It would make a wonderful wedding gift. All our tie pins come with a stopper at the end of the pin.
£125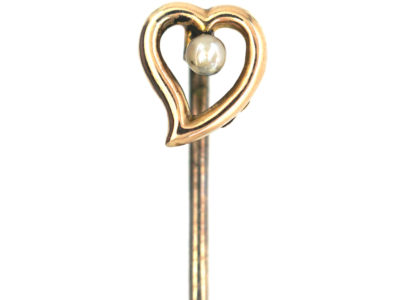 Hallmarks
Marked 9c (for 9ct gold)
Measurements
Top 8mm by 7mm
Length of pin
Ready to try it on?
Discover our friendly jewel box in the heart of London's Mayfair
Book Your Appointment