Art Deco Silver, Marcasite & Pearl Drop Earrings
A pretty pair of silverA metallic element which is malleable and ductile, and white in colour, making it ideal for use in jewellery. It is usually mixed with copper to improve its hardness.
articulatedWhen something has segments connected by flexible joints. drop earrings that were made circa 1920-1930. They are set with graded marcasiteThe marcasite of jewellery is in fact iron pyrite as marcasite itself is too brittle alone for the durability required of a piece. This jewellery marcasite is sometimes called 'fool's gold' given its heavily metallic appearance. Marcasite of this kind also offers a kind of iridescence, explaining its use as a more affordable diamond replacement that wi... More (iron pyrites) and cultured pearls in a pierced work design. The effect is light and lovely when worn.
Sold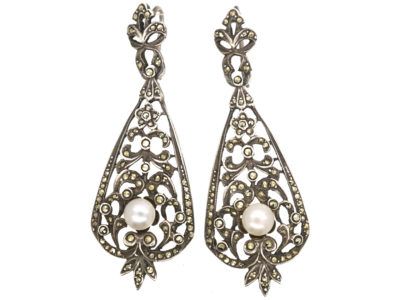 Materials
Silver Marcasite Pearl
Hallmarks
935 (for high grade silver)
Measurements
Height 5.5 cm
Width at widest point 2 cm