Art Deco Platinum Target Ring Set With Diamonds & Sapphires
A beautiful platinumDerives from the Spanish word 'platina' meaning 'little silver'. Acknowledged since the 1900s, platinum's durability and natural brightness has been and still is today highly treasured A metallic element prized for its rarity, whiteness, high tensile strength and insusceptibility to corrosion, platinum first became widely used in jewellery in the late ninete... More targetA cluster in the shape of a target or bull's eye, with concentric circles of alternating gemstones. Originally these were given as love tokens in the Edwardian era, where each gemstone provided a secret meaning. ring. It was made circa 1920-1930 and is set with a central diamondA precious, lustrous gemstone made of highly compressed carbon. Diamonds are one of the hardest materials known to mankind. Colours of diamonds range from colourless, yellow, orange and brown to almost black. Natural coloured (or 'fancy') diamonds can be extremely rare. The cut, colour, clarity and carat weight of a diamond are the criteria jewellers use... More that measures 40 pointsA unit of weight for a diamond, being one-hundredth of a metric carat. It is used for weights that are decimal fractions of a carat, and all figures after the second decimal point are, in the diamond and jewellery trade, generally discarded.. It is surrounded by ten smaller diamonds and a bandA type of ring which is an equal width all the way round. They are traditionally used for wedding rings.
of shaped baguetteFrench for "rod." A step-cut used for narrow, rectangular faceted stones, mainly those of a small size. cut sapphires around the edge. The shouldersThe point on a ring where the central section meets the shank or band, often carved, decorated or inlaid with small diamond accent stones. have two small diamonds in each side. It is very smart and good looking when worn and would be ideal as an engagement ring.
Sold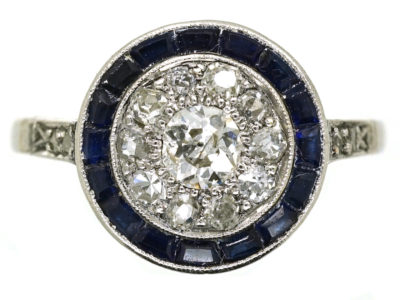 Hard to find and in lovely condition!
Hallmarks
Unmarked, tested to platinum
Measurements
Diameter 1.2 cm
Centre diamond 40 points
Other diamonds approx total weight 50 points
Sapphires approx total weight 40 points