18ct White Gold, Platinum, Sapphire & Diamond Cluster Ring
A good looking sapphireBlue is the best-known colour for this gemstone but it can be found in all colours of the spectrum. After diamond, sapphire is the hardest gemstone.
More and diamondA precious, lustrous gemstone made of highly compressed carbon. Diamonds are one of the hardest materials known to mankind. Colours of diamonds range from colourless, yellow, orange and brown to almost black. Natural coloured (or 'fancy') diamonds can be extremely rare. The cut, colour, clarity and carat weight of a diamond are the criteria jewellers use... More cluster ring. The shankThe circle of metal that attaches to the decorative part of a ring and encircles the finger. More is 18ct75% pure gold (or 750 parts pure gold and 250 parts other metals) More white goldWhite gold is an alloy of gold and at least one other white metal - most often nickel or palladium (both of which act as a bleaching agent to reduce the natural yellow colour of the gold). More and the top is platinumDerives from the Spanish word 'platina' meaning 'little silver'. Acknowledged since the 1900s, platinum's durability and natural brightness has been and still is today highly treasured A metallic element prized for its rarity, whiteness, high tensile strength and insusceptibility to corrosion, platinum first became widely used in jewellery in the late ninete... More. It is set with a good mid to deep blue sapphire which weighs around 2.5 caratsThe unit of weight for a diamond or other gemstone and also for a pearl. Abbreviated 'ct', 1 carat is equal to 0.2 grams. In reference to gold, a unit of purity or fineness of gold and gold alloy, expressed as a number out of 24 parts by weight, e.g. '24 carat' signifies pure gold, '18 carat' 18/24th gold in the alloy, et cetera. Also abbreviated as 'c... More. It is surrounded by twelve bright white well matched diamonds. It would be ideal as an engagement or dress ring.
Written by Olly Gerrish
Sold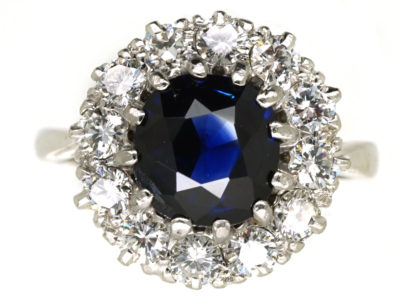 Materials
Gold DiamondSapphire
Hallmarks
18ct Plat ( for platinum )
Measurements
Sapphire 2.5 carats
Diamonds approx total weight 84 points
Virtual Viewings
View our pieces in high resolution in the comfort and safety of your home
Book Now
The Responsible Choice
Buying antique jewellery is both ethical and eco-friendly as harmful and destructive mining processes are not needed to make an item yours. So give yourself a pat on the back!
More info
Our 5 Point Promise
We always stay true to our core values, embodied in The AJC Guarantee:
Quality, Rarity, Knowledge, Peace of Mind and The Personal Touch
More info
Best antique jewellers in London. So helpful, honest and friendly. And have amazing stock!

— Toby Wafta

Buying an engagement ring isn't an easy experience but the team not only made the process pain free, they also helped me pick the perfect ring. Friendly, knowledgeable and with a great selection of antique rings. Would highly recommend

— Jack McCombe

Highly recommend. So excited to give this engagement ring a new life to live ❤

— Francheska Palmer

The engagement ring we bought from the AJC was perfect, and the service provided was very friendly and attentive. I haven't got anything bad to say!

— Jack Allen

Excellent service and managed to supply exactly the ring I was looking for after weeks of search elsewhere.

— Christopher Darlow

Service was unbeatable - worked to an extremely tight time scale and delivered without a hitch. The ring is perfect and I'm proud to see it on the hand of my fiancé. You guys have made us both very happy!

— Oscar Barrett

Excellent experience from start to finish, I didn't have a clue what I was doing when looking at engagement rings but was very happy with my purchase. And it seemed to do the trick as she happily said yes :)

— Matthew Carpenter

Can't say enough about the amazing service we received. They have the most exquisite selection of jewellery and really take the time to help you decide. I would strongly recommend a visit.

— Jane McNicholas

Olly was so lovely and helpful, which is exactly what you need when you're buying an engagement ring.

— Grant Zubritsky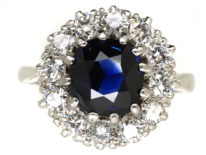 18ct White Gold, Platinum, Sapphire & Diamond Cluster Ring
Sold Retro (1940s)№ 726K
Please use the form below to let us know you are looking for something similar to this item.
Please note the specifics and include a price range if desired. The more information you provide, the better we can be of assistance.
Alternatively you can call us directly on +44 (0)20 7206 2477 or email us at enquiries@antiquejewellerycompany.com.
Interested in finding something similar to purchase?
Constantly buying, we add to our website collections daily so something may be just around the corner. Or, as we continue to buy, we will keep your requests in mind.
While every piece of antique jewellery is often unique, we are happy to notify you if we find something similar.
Delivery
We are pleased to offer Free Worldwide Delivery on all orders
UK Orders
Sent by DHL
Arriving end of next working day *
* Orders must be placed before 2pm
International Orders
Orders up to £500
Sent by Royal Mail
2 working days to Western Europe *
4 working days to Eastern Europe *
6 working days to the Rest of the World *
Orders above £500
Sent by DHL
Arriving end of next possible working day
* These are estimates only and can vary slightly
Please Note
Ring sizing will add a 2-3 days to the delivery estimate

Please Note
We are unable to redirect orders once items have been dispatched
All items are fully insured and sent at the risk of The Antique Jewellery Company
Once dispatched, your full end-to-end tracking details will be provided via email
All orders require a signature upon receipt
Items will be sent out within 24 hours of receipt of payment
We do not ship on Saturdays or Sundays
We do not ship to a postal box address
Customs, Taxes & Duty
We have no authority over a local country's customs department
In most countries, duty does not apply when purchasing antiques aged over 100 years old. We will mark your purchases as 'antiques' to ensure this is the case.
You may be liable to pay local taxes on imported goods. Usually your country will have a website or customs office providing you with the relevant rates. Otherwise get in touch with us and we are happy to look into it for you.
Further partial restrictions on importation of items such as ours exist in specific countries. Please contact us to make sure your country does not fit into this bracket.
International and want your package to arrive super fast?
Choose Express at Checkout
Next business day to the USA • 2 business days to major European cities • ROW 1-3 business days
We are unable to ship to the following places:
Bangladesh (BD), Burma (MM), Central African Republic (CF), Comoros (KM), Cuba (CU), Equatorial Guinea (GQ), Falkland Islands (FK), Guinea Bissau (GW), India- IN), Iran (IR), Korea, North (North Korea) (NP), Pakistan (PK), Russia (RU), Sierra Leone (SL), Somalia (SO), Sri Lanka (LK), Sudan (SD), Tajikistan (TJ), Turkmenistan, Republic Of (TM), Ukraine (UK)
The Responsible Choice
Our jewellery is Conflict Free and Eco-Friendly and when purchasing an item from us you can be sure you are not contributing to any unethical procedures.
When buying new jewellery you can never be 100% sure that they are not conflict free.
Choosing antique means:
you are buying conflict-free
you are not contributing in any way to a locally destructive cycle of violence, warfare, economic inequality, exploitation and human suffering
you can have total confidence that your money is not supporting industrial practices that destroy the environment, poison the land or displace disadvantaged people
you are helping to eliminate the need for more mining and lessening the demand for new diamonds and precious stones
your item most likely predates any regional conflicts associated with the diamond trade and precious gemstone mining
you will be reducing your carbon footprint
you are acting as conservator rather than consumer
30 Day Free Returns
At The AJC we stand behind every item we sell with a 100% Satisfaction Guarantee and are confident that your jewellery purchase will exceed your expectations.
However, if you are not entirely satisfied with your purchase, we offer a Full, Money-Back Guarantee on all purchases.
Please make sure you notify us before you return your item/s.
UK Returns
FREE
Please return the item to us within its original packaging (including padded envelope) and enclose in the pre-paid and addressed plastic envelope that accompanies your order
Please drop off the parcel at your local Post Office® branch for dispatch
Please do NOT post in a post box
International Orders
Buyer pays return postage
Please mark the package as 'Return of sample merchandise, origin UK, item over 100 years old'
You will be responsible for arranging to have the item(s) returned to us, and for any costs incurred
We strongly recommend that you use FedEx to return your items to us, as we are not responsible for items which do not reach us
Please be aware that international customs duties and sales taxes are NOT refunded for shipments outside the European Community (EU)
We will accept returned goods for a refund under the following conditions:
Please email or telephone us within 30 days of receipt of the item/s to let us know of your intention to return the item
Please return the item/s to us within another 48 hours via a secure and insured service, at your expense
Items must be returned in the same condition as they were in when received by you - damaged, broken or altered items (including re-sizing) will not be accepted for a refund
We will refund the full purchase price of the item/s within 48 hours of receiving the item
The refund will be in the same form as the original payment. If paid via credit card, please allow a few days once the refund is processed to show on your statement, depending on your issuing bank
Please make sure you get in touch with us before returning any purchase
The AJC Guarantee
We value our customers' peace of mind over everything.
We therefore created our 5 point promise.
1. Quality
We take great pride in our collection of antique jewellery, one that embodies only the very best from across the ages. Under no circumstances will you find any reproductions and, unless stated clearly, all our items are in good condition and 100% original, free from enhancements.
2. Rarity
All our items are one-offs, quite often commissions, meticulously handmade by skilled craftsmen of old. With the steady increase in international, mass-produced jewellery, our antique jewellery has a timeless beauty and charm that simply cannot be replicated.
3. Knowledge
With over 35 years of experience in the London trade, Olly Gerrish has a reputation as one of London's leading antique jewellery authorities; only the best examples from her stock are selected for the site.
4. Peace of Mind
Investing in a piece of antique jewellery can be a daunting process. We value our customers' confidence and peace of mind above all and strive to uphold a culture of trust and decency at all times. Our reputation for providing expert advice and support for our customers should reassure prospective customers. Should a customer for any reason be unhappy with their online purchase we will not hesitate to offer them a 30 day full money back guarantee.
5. The Personal Touch
Finding the perfect piece should be a fun and enlightening experience. To help achieve this we are here to lend our customers a helping hand and provide impartial expert advice. Building lasting relationships is far more important to us than a quick sale.
| UK | mm / inches | USA / Canada | France | Japan | Germany |
| --- | --- | --- | --- | --- | --- |
| C | 40.2 / 1.580 | 1½ | 40½ | 12¾ | - |
| D | 41.5 / 1.634 | 2 | 41½ | 13¼ | 2 |
| E | 42.7 / 1.684 | 2½ | 42¾ | 13¾ | 3 |
| F | 44.0 / 1.739 | 3 | 44 | 14 | 4 |
| G | 45.2 / 1.788 | 3½ | 45¼ | 14½ | - |
| H½ | 46.5 / 1.836 | 4 | 46½ | 15 | 7 |
| I½ | 47.8 / 1.888 | 4½ | 47¾ | 15¼ | 8 |
| J½ | 49.0 / 1.941 | 5 | 49 | 15¾ | 9 |
| L | 50.2 / 1.992 | 5½ | 50¼ | 16 | - |
| M | 51.5 / 2.042 | 6 | 51½ | 16½ | 12 |
| N | 52.8 / 2.092 | 6½ | 52¾ | 17 | 13 |
| N½ | 54.0 / 2.146 | 7 | 54 | 17¼ | 14 |
| O½ | 55.3 / 2.196 | 7½ | 55½ | 17½ | 15 |
| P½ | 56.6 / 2.249 | 8 | 56¾ | 18 | 16 |
| Q½ | 57.8 / 2.300 | 8½ | 58 | 18½ | 17 |
| R½ | 59.1 / 2.350 | 9 | 59¼ | 19 | 18 |
| S½ | 60.3 / 2.400 | 9½ | 60½ | 19½ | 19 |
| T½ | 61.6 / 2.463 | 10 | 61¾ | 20 | 20 |
| U½ | 62.8 / 2.504 | 10½ | 62¾ | 20¼ | 22 |
| V½ | 64.1 / 2.567 | 11 | 64¼ | 20¾ | 23 |
| W½ | 66.0 / 2.608 | 11½ | 66 | 21 | 24 |
| Y½ | 67.3 / 2.658 | 12 | 67¼ | 21¾ | 25 |
Ring Sizing
We are pleased to offer complimentary sizings on all ring purchases, undertaken by one of the best jewellers in the business.
Please note:
Our offer is only valid on the first ring purchase per customer.
Thereafter, ring sizings are charged at £60 each.
Sizings usually take 2-3 working days but can vary depending on our jeweller's workload. We always try and get rings sized as quickly as possible.
We have marked clearly beneath our items which rings can be sized. If you are unsure please let us know.
Certain rings are not able to be sized due to their design, eg. eternity rings or Georgian rings with ornately carved shanks. In these cases we feel the integrity of the rings would be damaged if sizing took place.
Don't know your size?
Don't know her size?
Sometimes it can be tricky finding out her size without being caught. In these circumstances we recommend saving your free sizing until after you've proposed orthe recipient has received their ring. Just send your ring back to us via secure post or visit us at our London showroom and we will measure your partner's finger and take it to get sized. Free sizing will remain valid for 1 year after purchase.
Payment
We accept the following forms of payment:
Interest Free Finance
We offer our customers in the UK the chance to spread the cost of their purchase with up to 12 months Interest Free Finance.
For more information on Finance and to check your eligibility click here.
Installments
We accept installments on a case by case basis
Weekly, fortnightly or monthly
Maximum timeframe 3 months
To discuss what works for you please contact us
Concerned about security?
All transactions are processed by PayPal, our third-party payment partner
PayPal is highly secure, using industry-leading technology to keep your information safe
Visit the PayPal site for more information
The Antique Jewellery Company does not store any financial information