18ct Gold Diamond Cluster Ring
DiamondA precious, lustrous gemstone made of highly compressed carbon. Diamonds are one of the hardest materials known to mankind. Colours of diamonds range from colourless, yellow, orange and brown to almost black. Natural coloured (or 'fancy') diamonds can be extremely rare. The cut, colour, clarity and carat weight of a diamond are the criteria jewellers use... More cluster rings are always popular and this ring is a good example. The diamonds are a good bright white and well matched with a total weight of 1.50 caratsThe unit of weight for a diamond or other gemstone and also for a pearl. Abbreviated 'ct', 1 carat is equal to 0.2 grams. In reference to gold, a unit of purity or fineness of gold and gold alloy, expressed as a number out of 24 parts by weight, e.g. '24 carat' signifies pure gold, '18 carat' 18/24th gold in the alloy, et cetera. Also abbreviated as 'c... More. They are mounted in white goldWhite gold is an alloy of gold and at least one other white metal - most often nickel or palladium (both of which act as a bleaching agent to reduce the natural yellow colour of the gold). More. The shankThe circle of metal that attaches to the decorative part of a ring and encircles the finger. More is 18ct75% pure gold (or 750 parts pure gold and 250 parts other metals) More gold.
Sold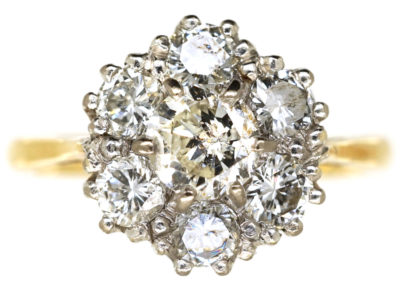 Condition
Very Good, centre diamond draws colour.
Hallmarks
Unmarked, tested to 18ct gold
Design no 16318
Measurements
Diamonds approx total weight 1. 50 carats
Virtual Viewings
View our pieces in high resolution in the comfort and safety of your home
Book Now
Best antique jewellers in London. So helpful, honest and friendly. And have amazing stock!

— Toby Wafta

Buying an engagement ring isn't an easy experience but the team not only made the process pain free, they also helped me pick the perfect ring. Friendly, knowledgeable and with a great selection of antique rings. Would highly recommend

— Jack McCombe

Highly recommend. So excited to give this engagement ring a new life to live ❤

— Francheska Palmer

The engagement ring we bought from the AJC was perfect, and the service provided was very friendly and attentive. I haven't got anything bad to say!

— Jack Allen

Excellent service and managed to supply exactly the ring I was looking for after weeks of search elsewhere.

— Christopher Darlow

Service was unbeatable - worked to an extremely tight time scale and delivered without a hitch. The ring is perfect and I'm proud to see it on the hand of my fiancé. You guys have made us both very happy!

— Oscar Barrett

Excellent experience from start to finish, I didn't have a clue what I was doing when looking at engagement rings but was very happy with my purchase. And it seemed to do the trick as she happily said yes :)

— Matthew Carpenter

Can't say enough about the amazing service we received. They have the most exquisite selection of jewellery and really take the time to help you decide. I would strongly recommend a visit.

— Jane McNicholas

Olly was so lovely and helpful, which is exactly what you need when you're buying an engagement ring.

— Grant Zubritsky